The Story⚡
As the end of the year draws to an end, exhibitors are counting on 9 movie titles to pull back movie goers to the big screens. – We are calling this event "The Last Hurrah"
Tell me more
There are over 9 local titles + Wonder woman set to hit the big screens for the last hurrah.
In this post, we will do a quick dive of what the movies are about, who directed them and more importantly what specific dates are they rolling out.
Let's Kick Off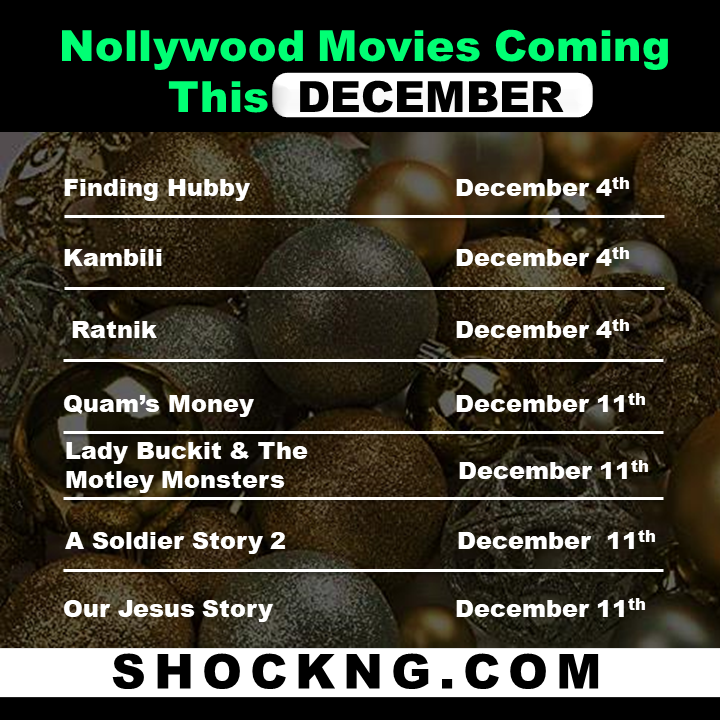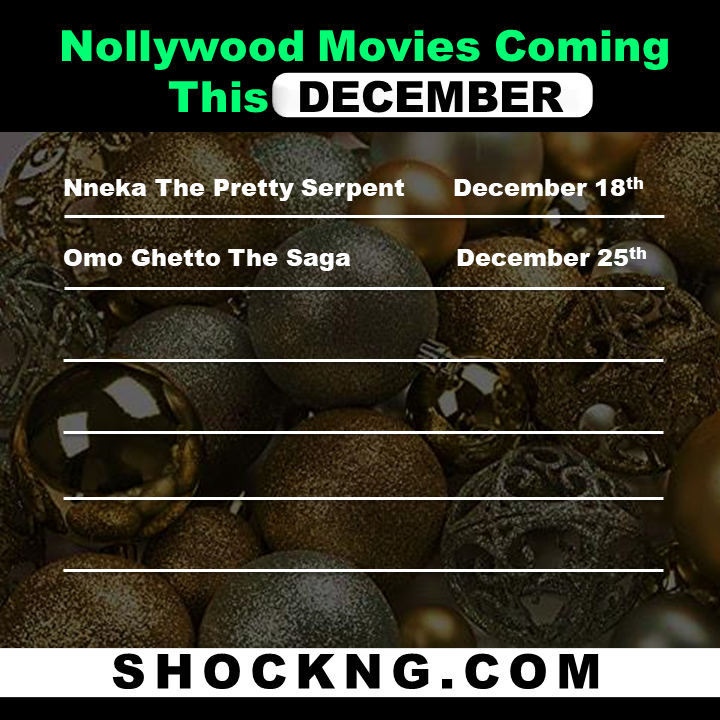 Finding Hubby
Directed by Femi Ogunsanwo from the viral blog series written by Tunde Leye.
The rom-com titled Finding Hubby follows the adventures of 35-year-old Oyin Clegg and her friends Toke and Gloria as they kiss the many frogs in the quest to find their prince.
In the process, they are forced to ask important questions about their friendship, love and life ultimately asking – Finding Hubby or Finding Happy?
The movie stars Ade Laoye, Kehinde Bankole, Muna Abi, Tope Tedela, Tina Mba, Efa Iwara, Omowunmi Dada, others.
Quick plug: Read our interview with the director here
Theatrical debut – December 4th 2020
Kambili
Another rom-com directed by ace director Kayode Kasum and distributed by Film one.
'Kambili: the Whole 30 Yards' is a highly relatable story of a young woman's quest to be married before she turns 30.
Nancy Isime plays Kambili Maduka, an irresponsible spendthrift and in the feature, she embarks on a plan to convince her boyfriend that she could be his dream woman.
Theatrical Debut: December 4th 2020
Ratnik
Want to finally see some Nigerian sci-fi ?? This is for you.
Set in a remote Africa town during the early days of World War III: A brazen special trooper returns home from the war-front to find her only sister at the verge of becoming the undead due to the abuse of a certain chemical substance.
The race to save her life begins a new kind of war where the most advanced war machine known to man is unveiled.
Ratnik is directed by Dimeji Ajibola and distributed by Blue pics.
We heard you will get a free comic book if you watch, so hurry to the cinema when you get the first chance.
Ratnik features Osas Ighodaro, Meg Otanwa, Bolanle Ninolowo, Adunni Ade, Paul Utomi, Karibi Fubara, Ani Iyoho, Tope Tedela.
Theatrical Debut: December 4th 2020
Quam's Money
When everyone had thought that Rockstar director Kayode Kasum would chill to rest after his back to back feature length movies – Apparently he wasn't.
He Collaborated with the Inkblot Team and House 21 TV during the global pandemic to make something for the holidays.
'Quam's Money' follows the story of Quam Omole ( Falz), a security guard-turned-millionaire, whose life is thrown into chaos after he loses N500 million to a group of fraudsters.
Naz Onuzo who wrote the film has confirmed that this is indeed a sequel to one of inkblot's early feature films – New Money.
if you want to see some Falz the badh guy action with Nse Nkpe Etim, howbeit with comic relief – This picture is perfect for you.
The Film stars Onyebuchi Ojieh, Michelle Dede, Karibi Fubara, Blossom Chukwujekwu, and Jemima Osunde.
Lady Buckit and the Motley Monsters
This would be the very first feature length animation movie to make a cinema run.
The feature follows A precocious, self absorbed little girl finds herself in wildly unfamiliar territory. There, she encounters a band of highly unusual characters who change the course of her destiny.
Voice actors on this project are Kalu Ikeagwu, Casey Edema, Bimbo Akintola, Francis Sule, Patrick Doyle, Bola Edwards, Jessica Edwards.
Distributed by Genesis cinemas, the feature has set its Theatrical debut for December 11th 2020.
Read our exclusive interview with the animation director Bisi Adetayo here.
A soldier's Story 2
if you haven't heard or seen anything about this movie, where have you been ?!
A Soldier's Story: Return from the Dead is directed by Frankie Ogar and it is a sequel to the A soldier story released back in 2015.
The feature is set in two African countries: Nigeria and the fictional Watz Republic, and explores the thematic concerns of love in uncertain circumstances, war, terrorism, insurgency, women's rights, and emigration.
Starring in the film are Baaj Adedule, Tope Tedela, Somekele Idalamah, Daniel K Daniel, and even veteran Nollywood actors like Segun Arinze and Alex Usifo.
Read our revealing convo with the film director about making a franchise here.
Theatrical date: December 11th 2020
Our Jesus Story
Imagine Jesus was born a Nigerian. His best food is Jollof rice with two wraps of moi-moi and titus fish…..LMAO!!
Yes, it is exactly what you think, someone had the idea of reimagining the world acclaimed Jesus story and made it Nigerian.
Don't Judge, Watch The Trailer and decide if your folks at home will dig this to watch this season that baby Jesus is born.
Theatrical Debut: December 11th of 2020
Nneka The Pretty Serpent
Directed by Tosin Igho under the Play Network banner. Nneka the pretty serpent is coming back to life on the big screens this December.
Idia Aisen has been unveiled to be Nneka in the very first brand new trailer.
So far, people who have been waiting for its release are very pleased and excited.
The feature is distributed by Genesis picture and stars Bimbo Ademoye, Bovi, Beverly Osu, Kenneth Okolie, Zack Orji, Beverely Naya, Waje, Chioma Akpotha, Charles Inojie, Femi Branch.
Theatrical Debut: December 18th of 2020.
Omo Ghetto The Saga
Funke Akindele is coming back to the big screens this year but this time with her very own successful IP – Omo Ghetto.
Omo Ghetto's plot is woven around a set of twins who are separated at birth and are living completely different lives.
One is a ghetto kid and leader of a notorious female gang, while the other is raised in affluence and has anger issues.
The picture is co-directed by her Husband – JJC Skills and features Chioma Akpotha, Eniola Badmus), Bimbo Thomas , Akah Nnani, Alex Ekubo , Zubby Michael, Deyemi Okanlawon , Timini Egbuson, Mercy Aigbe and Toke Makinwa.
Film One is distributing.
Theatrical Debut: Decemeber 25th 2020
In Summary
There are two ways to look at this bountiful scheduling for the last hurrah.
Audiences will see this numerous titles and will be spoilt with options. Having no choice tome out for at least one or two.
The other is that this domestic titles should have been giving more time to breathe to increase the chances of more revenue gain.
Anyhow you look at this is totally fine.
But pick a title and watch with your friends – Make it your last Hurrah for a "not so good year" of 2020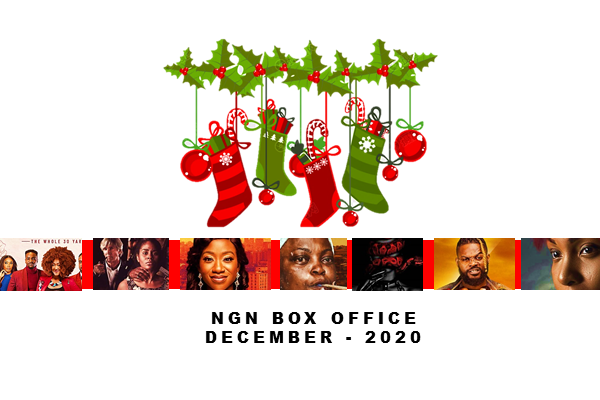 Thank you for reading this.
Shockng.com Covers the Business of Film and the Biggest movies that screen in Sub Saharan Africa.
Let's be friends on Twitter @Shock NG