Nollywood is regarded as one of the most attractive creative industry in Africa.
In this exclusive interview, Femi D Ogunsanwo shares his journey into this industry, how he got the "Baptism of Fire" that shaped his early career experience and his strategic advice to filmmakers struggling to raise funds for new projects.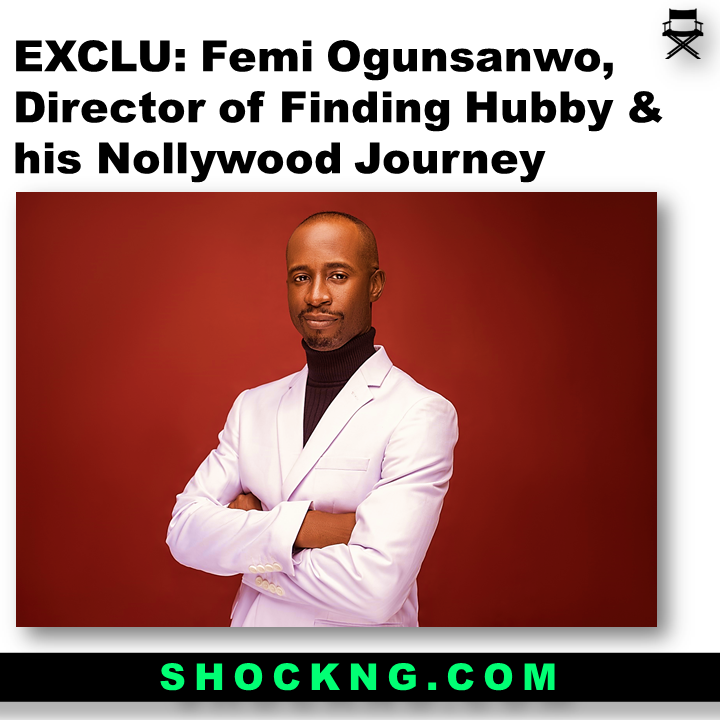 Let's start the Conversation.
Hello, kindly introduce yourself?
Hi, my name is Olufemi D. Ogunsanwo, Film director/Executive producer based in Lagos, Nigeria.
How did you get started in filmmaking?
I studied Finance at the University of North Texas and during my stay I registered for a minor in a film.
This was during the era that filmmaking wasn't so cool, so I told no one about this decision.
plus, I didn't want to get in trouble. it was kinda unofficial.
My school – UNT, has a faculty of radio, television and film with the students & staff running a cable TV network.
This was also my secret reason to pick this university.
With all these facilities, I was able to work on film projects that gave me a lot of experience.
I then moved back to Nigeria in the beginning 2009.
What's the first Nigerian Film you ever made?
My first film project in Nigeria that I made was a feature film titled ZR7: The red house seven in 2010.
Do not ask me the meaning of that title. (Laughs) go on YouTube, you will find it there.
ZR7 is about the classic life of boarding school adventure involving TJ with six of his friends (Rolly-D, Chiedu, UK, Tokunbo, Femi & James) while in JSS 1 (7th grade).
The boys are initially shocked by all the hoops they have to jump in order to survive teachers, wicked seniors, dining hall food, cutting grass, washing toilets and all the other regular experiences anyone in a public Nigerian boarding school would experience.
TJ and the boys accidentally sees a man and two female students in an uncompromising position, what they do with that information is not their only problem in school, but the resulting scandal would change their lives far beyond their wildest dreams.
The film was shot in my Alma Mater HBC- Ilorin and I collaborated with Udoka Oyeka who is my best friend's younger Brother.
We both wrote, directed and funded the film.
This project made me realize that a lot of the things I learnt about film abroad don't necessarily apply here in Nigeria.
Some of my formed beliefs didn't work.
In Nigeria you can have everything planned out like we did on ZR7 and the principal of the school will say "pack your load, be going"
And you will be like" what happened? Sir/ma but we had a location agreement that was even signed!
…eh ehen, did I sign it?
You came to my school with your crew, you did not tell me anything. Get out.
There at that moment, if you don't re-negotiate – You are doomed because money has been disbursed 3 weeks upfront to Hotel, Food, equipment, cast and crew for a fixed date and time.
There is no refund anywhere even if the film has not been completed.
No location, No Film.
This event made me to understand that yes, in America filmmaking is hard and some films made there are even rubbish but here in this country there is that hard part plus the Nigerian Factor that can come from anywhere.
This is one of the reasons I don't talk negative about any Nigerian films.
Reviewers and critics have that as a job which I have nothing against.
But I don't, because I was baptized by fire and I still experience it all the time.
There is a huge difference between shooting a short film and a feature film and the baptism of fire thing hardly happens to you on a short film.
You don't rent hotels or pay welfare one month of food for a cast and crew of over a 100 and don't experience this baptism.
My film journey here in Nigeria started with a feature film rather than a short which was where this huge experience happened to me. – The baptism of fire. I still experience this baptism till today on big projects I work on.
I also learnt that if I had done this project on my own, It would have screwed up big time.
Partnerships are indeed everything.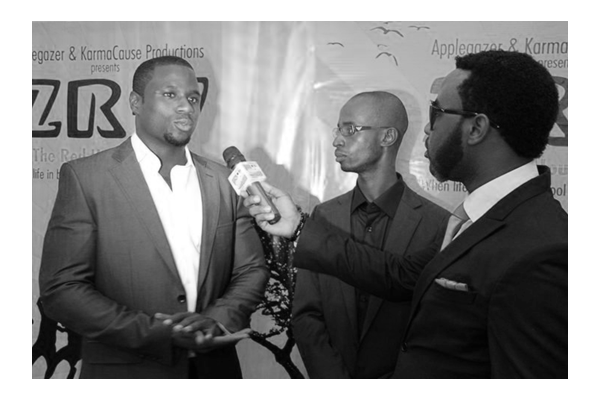 Any particular reason why you did a feature as opposed with starting out with a short?
I am not sure. I think we were just trying to think big. Our personal money made that film and it was important we made it back.
Short film is done as a "come and know me as filmmaker"
Back then, I was not big about people knowing me and was more concerned about making my money back. All of that fame was not my thing.
Did you make it back?
No. we did not.
Okay, can you share how much you made in box office earnings?
I wish I can remember the earnings.
I am not sure I am forgetting because my colleagues then said we will not talk about it ever again because the money was very small.
However, I did not regret making this film because everywhere I was known and opportunities I got was because of ZR7 trailer.
I did not know anyone in the industry or even know anyone in the corporate world who sent me mails to work with them.
ZR7 did all that for me.
Now this question you asked, filmmakers generally don't answer because it can be complicated and I will explain.
Imagine all the money I have in the world is N100 and I used it to make a film making me go broke
However 2/3 years later that film that made me broke is now bringing in opportunities that feed me and even gives me the opportunity to execute/fund another film project.
That's what happens
Back to question, in retrospect I look at that situation and think "how much were we really going to make"
There were only 7 cinema locations????!
Nah. Next question please.
What happened after this Baptism?
Udoka did more of his acting after ZR7 and I pivoted into corporate videos and documentaries. I liked it.
Made living in Arrangement in 2015 where I met Munachi Abii and Charles Etubiebi plus got to work with Sam Edehi again( he was in ZR7)
All are good actors and are now cast in Finding Hubby.
In 2015, I met Dare Olaitan and collaborated for a feature length project- Ojukokoro ( Greed)
I learnt the hard way very early which is why I am all up for collaborations but I also tend to be careful because having a wrong partner that you are not on the same thinking wavelength with, can make projects go south.
This happened to me pre 2015.
Before Ojukokoro, I had been asked to direct an M-net series that was 40 episodes.
After, I got to work again on other M-Net series projects as a Director: Jemeji with Showrunner Victor Sanchez Agahowa & Ajoche with James Omokwe as its Showrunner.
During Ajoche, I worked again with Dare to make knockout blessing which was in cinemas 2018.
Since then two other series :Unbroken and Enakhe.
Finding hubby was shot with before Enakhe and I collaborated with Leye Tunde.
What is Finding Hubby all About?
This feature is about the lives of three girls who are single, strong and independent. They are trying to maneuver their way through the different expectations from the Nigerian society.
That's the core of the film. These ladies are happy and successful in their chosen careers but the Nigerian society all brings things that are unnecessary to their lives.
So all of this drama is seen through the eyes of Oyin – Hence it is called the Oyin Clegg Story.
Finding Hubby is an adaption of a popular blog series, do you think that gives you an edge at the box office?
Absolutely, FH had been downloaded more than a million times by an online audience.
While doing research for this adaptation, I realized that the IP has a lot of fans.
The number of Radio listeners, Tunde's site and from other sites showed that the blog has a huge domestic audience.
One of writers on the project is also an avid fan.
These are very interesting numbers and I am excited.
How many days of shoot did you do for Finding Hubby?
2 weeks. We shot finding hubby in 2 weeks.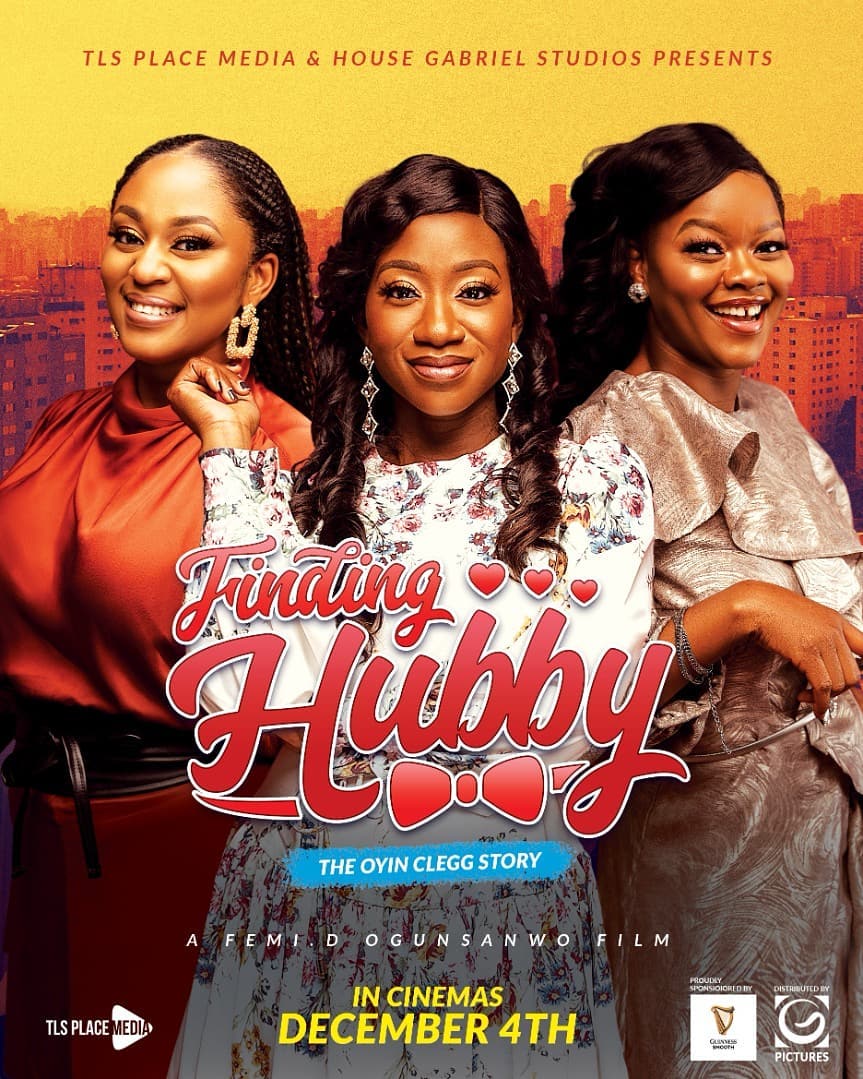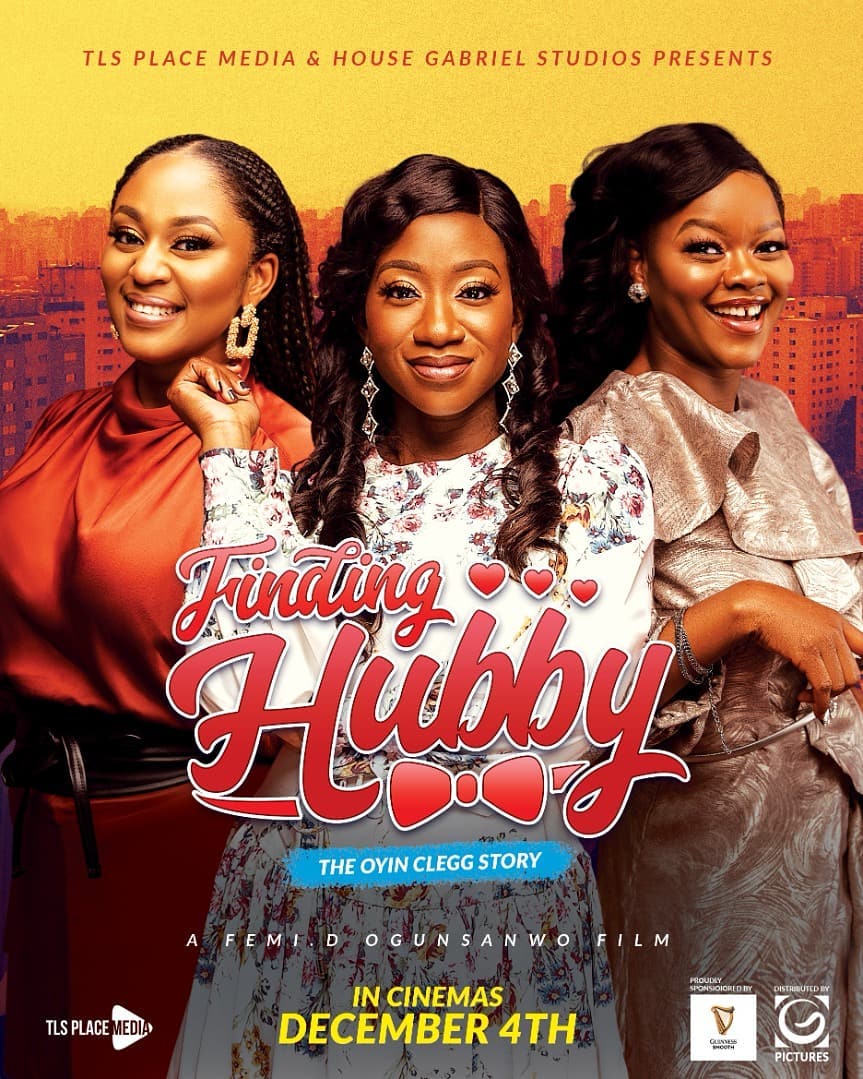 Have you ever worked with bad actors?
I like working with good actors that don't give me headache.
Personally there is too much stress that goes into making a Nigerian film and I cannot add actors that are not professional.
I cannot knowingly attach one to my projects.
People will talk, Friends will tell you. But you will still experience some and I did with my two koro koro eyes.
What I do, If I am in this situation is to find a way to make it work.
I mean sometimes, the problems are not actors; we might have hired an unprofessional crew member that is driving your actor mad.
So, it comes both ways and you have to manage the situation.
I am curious to know why you chose genesis as your distributor, Can you share?
I like what they stand for and they are very professional.
From my own personal numbers, they have the highest number of cinemas locations in the country that are currently functional.
And as a producer, I want my film to be in as many places as possible even though I know the distributor; will try to get my film in all cinemas.
I feel there is an advantage to this. This is my official reason.
What's the most challenging thing for you working on this project?
Time Management.
I was working on Enakhe in Benin whilst finishing Post Production for finding hubby.
It was tough but 1o years of experience + technology helped me to ease this challenge.
What do you for fun when not working?
Back in college, I took golfing. I plan to pick up golf again for fun.
What's the one thing holding Nollywood back?
Nollywood is part of Nigeria.
In the last 10 years, do you know how many times a project has secured written paper contracts to use a location and yet, they still told us carry your things and go or say we want more money??
Look, Nollywood has been growing without a lot of help but it would grow significantly as Nigeria gets better.
One time I was hanging out and some guys knowing fully well that I was a filmmaker was talking down on the industry.
He was a working with a certain bank. So I talked back to him.
Oga your bank app is very useless. Total Rubbish.
I yabbed him and his bank for like a while, listing all the functionalities or services that they do not have.
He replied saying, which bank do you use that is doing all this things….
I told him, when I was in the university the bank I use Bank of America
He lamented ohh how can you be comparing us to bank of America??!
Game Over. How can you be comparing us to Hollywood???
AHH, that's true oh, he said.
Now I could have told him directly not to compare Hollywood to Nollywood as both are on different levels but I chose to to yab his work place well so for him to get context.
For me, Nollywood is growing and getting better.
We cannot do magic and out outgrow the country.
Another example is the issue of copyright. Our laws are weak for protections.
These days, writers are even scared to send out work for previews and edits due to zero protection of IP.
Court case is now 3 years, who wants to go through all of that??
In other countries, there are serious consequences' for IP theft but not here.
Also look at the number of screens we have + tickets prices, it is still not enough, in terms of revenue.
What advice would you give a filmmaker struggling to raise funds?
Find the right people to collaborate with. If you are a filmmaker, it might not be your thing to sit with investors to raise funds.
Make sure they are good at it and then get them on board
This really makes funding less difficult.
Final Question, What should audience's expect from Finding Hubby?
Expect to be entertained for your money's worth and enjoy a fun ride with Oyin Clegg.
The film will be amazing. Shout to my collaborators Tunde Leye, Zainab , The cast and crew for making this project a reality.
Thank you for time
Thank you for having me!
Finding Hubby hits the Big Screens Nationwide December 4th – Get Tickets.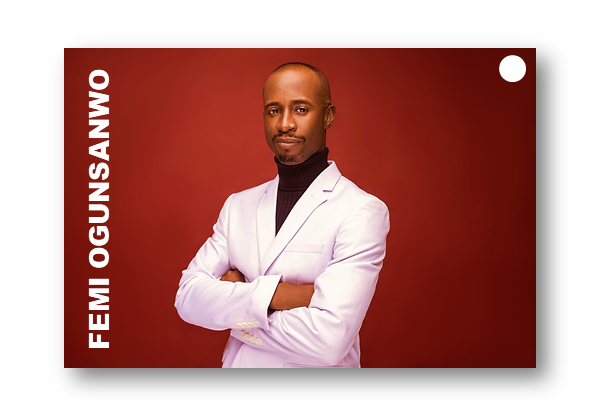 Shockng.com Covers the Business of Film and the Biggest movies that screen in Sub Saharan Africa.
Let's be Friends on Twitter @Shock NG