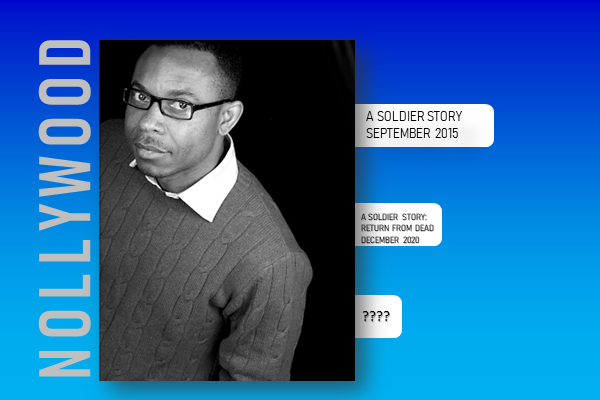 2020 is not yet over. A Nigerian filmmaker is placing a huge bet on turning the unnerving year around.
In this Exclusive interview, Film director Frankie Ogar shared with us his journey to making his ambitious movie franchise: A Soldier Story.
As well as insights and opinions on how distributors can contribute to the growth of film making in Nigeria.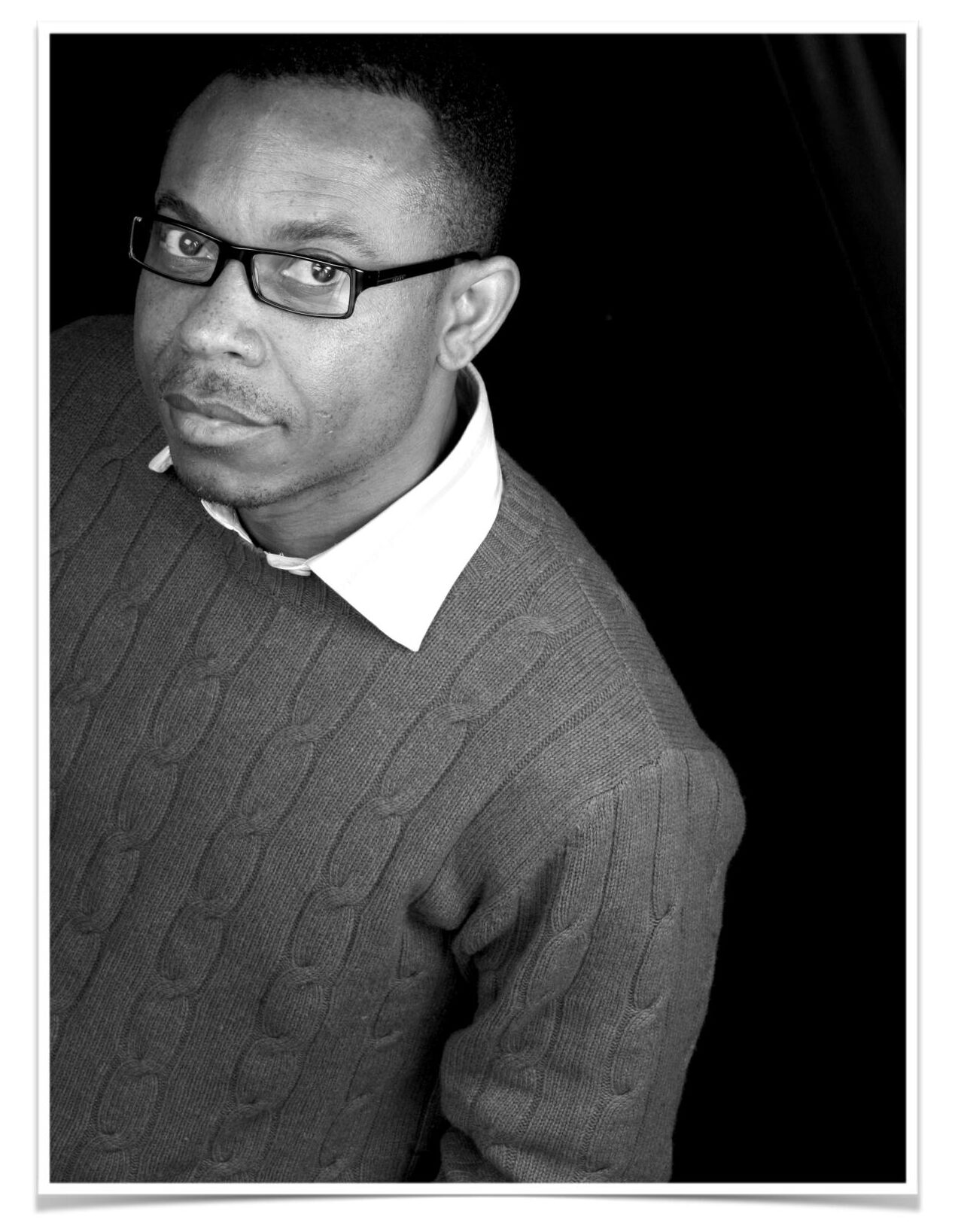 Kindly introduce yourself?
Hello, my name is Frankie Ogar. Film director from Nigeria.
I grew up reading a lot of comic books at an early age which fueled my love for image and eventually moving pictures (film-making) and later I picked up the habit of listening to recorded radio shows on my Walkman.
My favorite presenters were Jenny Francis of Choice FM, Al Mathews of Radio 1, Frankie Crocker of WBLS, JAJ, Patrick Okey of RN2 and Furu Amasu of Radio Rivers 2.
They all kept me company as I drew.
After my secondary school I got a radio presenting job by being bold, asking the execs there to try me out even when they insisted there were no more openings.
The following year I gained admission into The University of Jos and my fan base extended even further amongst my college peers known by my On-Air personality name Frankie Fresh.
I relocated to The United Kingdom after my Youth Service and while in England, I got admission into the London Film School but left to study Computer Visualization and Animation at The University of Luton, now Bedfordshire University.
Unfortunately, Luton wasn't ready to start the course that semester so I was offered Computer Sciences or Internet Technologies and these courses had no direct bearing with my film studies so I was in a dilemma having left The London Film School.
Fortunately a month into my Internet Technologies studies, my earlier application to Birmingham City University came through and I quickly moved to Birmingham City University for my Masters in Media Production, Television majors.
Now why I really desired studying at this college was because of their industry placement programme for their students which gives the students a chance for true industry experience.
I got placed in Aquila TV where I learned post-production work and finally upon graduation BBC3 which is the entertainment arm of BBC called me for a new spot that just opened up for one of their program titled: FAT Nation – this was a mind-blowing experience for me and opened my mind to a lot of things.
Later on I worked with David King a top cinematographer with Calton TV now ITV in Birmingham UK, learning a lot under him before deciding to relocated to Nigeria.
Why did you come back to Nigeria?
I wanted to make films.
The film industry has been growing and I had this dream of being a filmmaker in Nigeria.
I saw a lot of Nigerian productions in the UK which I loved and I wanted to contribute as well.
Now under the Good luck Jonathan era, the federal government had created (Project Act Hollywood) a fund for Nollywood filmmakers to create films of good quality that would market Nigeria to the international market.
I pitched for it as well as hundreds of companies and eventually got picked.
But we got token funds to make a film, I was looking for a lot more but as they say half bread is better than none.
With this token, I called a friend of mine Martin Gbados and told him this is how much I have, perhaps he could be interested in a partnership.
He himself had done a film that featured pro footballer Jay Okocha in the US but did not go well.
And he was very helpful to a lot of Nigerian artists who came over to the United States, helping them get connects.
but here we are as friends back in the country. Dude, what do we do?
This is what I have got. Are you interested?
That was how our film partnership combining funds and experience took place.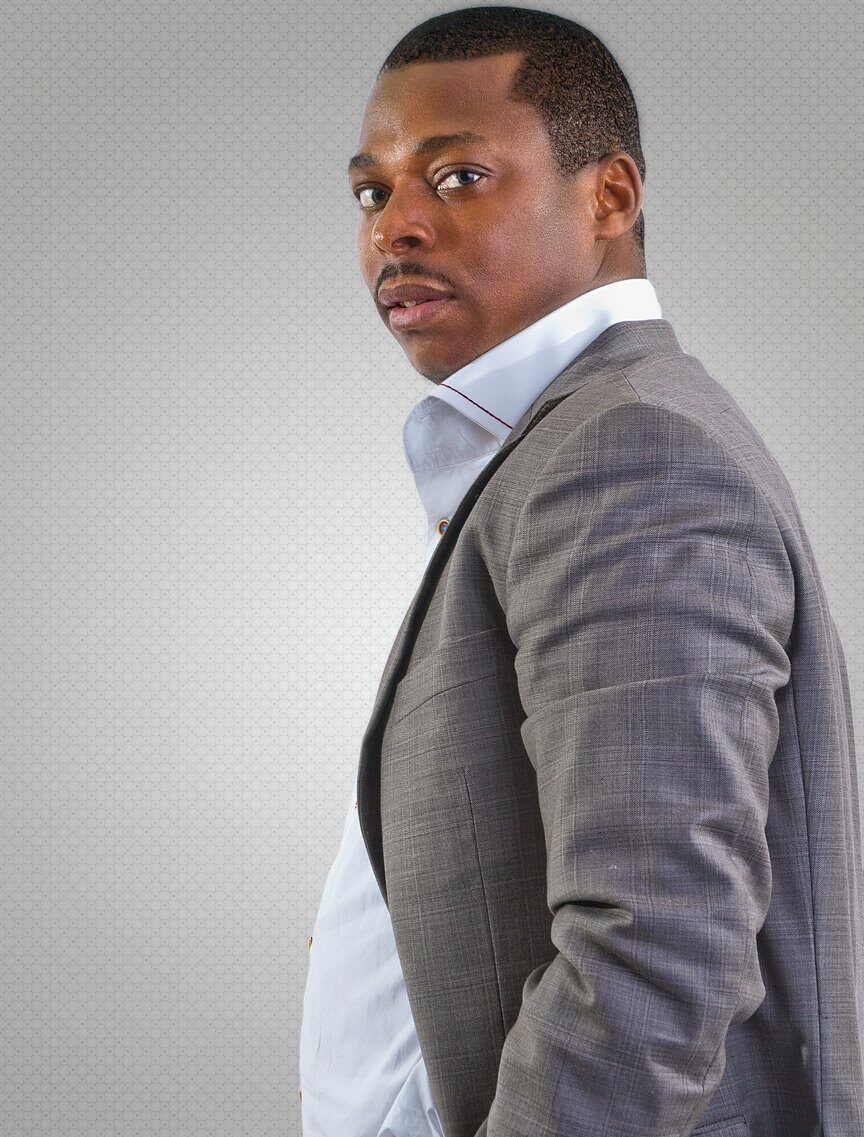 We established that I would write and direct. He would produce.
Two other friends joined in and we kicked off Soldier Story 1
This was my major first film even though I did some other things earlier that didn't work – but yea that's how it all started.
Also, from the word go I had written three parts to create a franchise which my partners were all excited for.
When was the first part released and did it attain your box office expectations?
October 2015.
That's a bit broad. It did meet our expectations in technical and artistic quality.
But did it meet our expectations financially? – Maybe Not
And this comes from the marketing part of the film, then the distribution channels and all that but the good thing is the film won the highest number of awards for that year 2015/2016.
All the people that worked in the film got breaks like Daniel K Daniel and Sambassa Nzeribe got their first AMVCA's and many other awards after with their careers skyrocketing.
I won the best director awards in NEA as well.
So yes, I can say it met our artistic expectations – but financially you know how it is.
Your first kick in there, you are building an empire and it will take time to make all the money
if you go in there just because you want to make money then maybe you can say it did not meet your expectations but we never lost money.
We broke even and I think that is a great thing for the first time.
so yes, it met our expectations.
For your sequel release in December 2020, what are you going to do differently and who are you going with as your film distributor?
For A Soldier story 2 : Return from the dead, we are trying to do a lot better than last time in terms of marketing.
You would have noticed that we have been doing a lot of posting online, you can't neglect the online platforms, it has become really powerful.
Also, we are marketing to international VSOD firms. That's one area we are looking at.
Locally, we have got a date locked for December with Genesis Cinemas as our distributors.
Let's talk about the film plot, characters and actors…what really excites you the most and why?
So the story reflects what is currently going in the world and has been happening for a long time.
Foreign companies finance projects in Africa and you think it is free like a gift but it is a Trojan horse.
Now when you realize this, you have sold your soul. A character in the film named bossman says
"You come here, you give me dynamite, you give my enemy dynamite. You light the fuse and go back to your country"
We kill ourselves. For what?
This and other elements such as love: love for a friend, brother, sister, country. Standing for truth in the face of adversity, the ability to go the extra mile to honor ones promises irrespective of circumstances are some of the themes we explored in the film.
While a A Soldier's story deals with the stories of real military men and women it goes beyond that.
A Soldier's Story is about the soldier in everyone of us. Your ability to stand up for what is right, to stand up for the oppressed to fight for those who cannot defend themselves.
That's what A Soldier's Story is all about. The Soldier in us.
The characters in A Soldier's Story are sometimes larger than life, for instance the character Bossman and his goons can be a bit boisterous and in your face but they all have a role to play in the circle of life.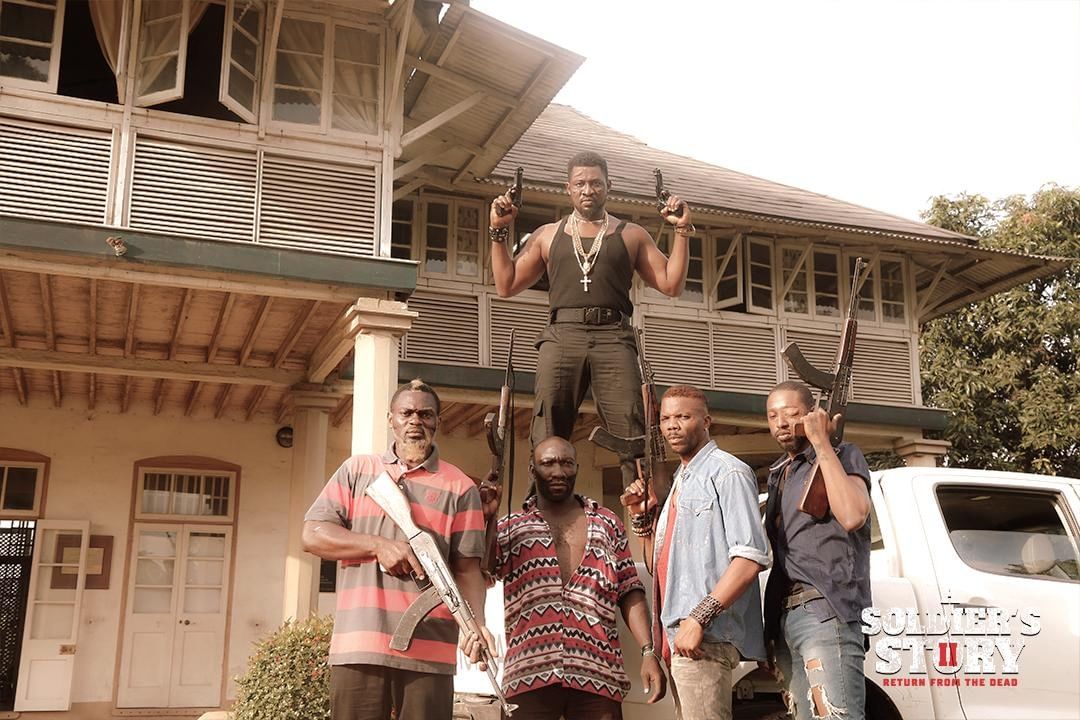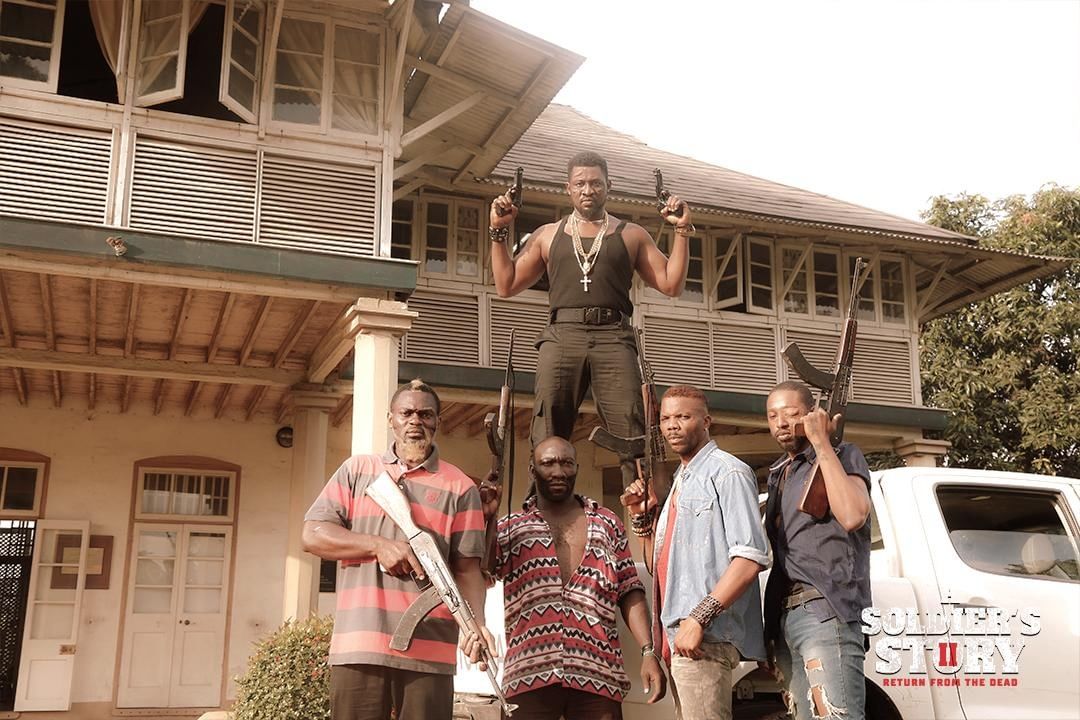 Bossman may be a rebel and a warlord who most times exploits the situations to his benefits but deep within him, he still has some compassion for his people and the oppressed and is willing to stand up against foreign oppression.
We can also see the soldier in Miss Zaya, a simple secretary to Mr Hammersmith.
She is a single woman in this small African town working for a white expatriate from England who has made a pretty good livelihood in Watz Republic, the fictional country they live in.
She is not married, no love life per sei but she is willing to put her life on the line to fulfill a promise she made to a friend.
One of the very exciting aspect of A Soldier's Story is the idea of this fictional country Watz Republic and their accent which was well received by the viewers in the prequel.
So this time we have decided to introduce a little of their Language.
You can hear Bossman once in a while speak to his goons in their local language.
We intend to explore this in the course of the franchise, develop their dialects hopefully and create a recognizable Watz Republic language as the franchise grows.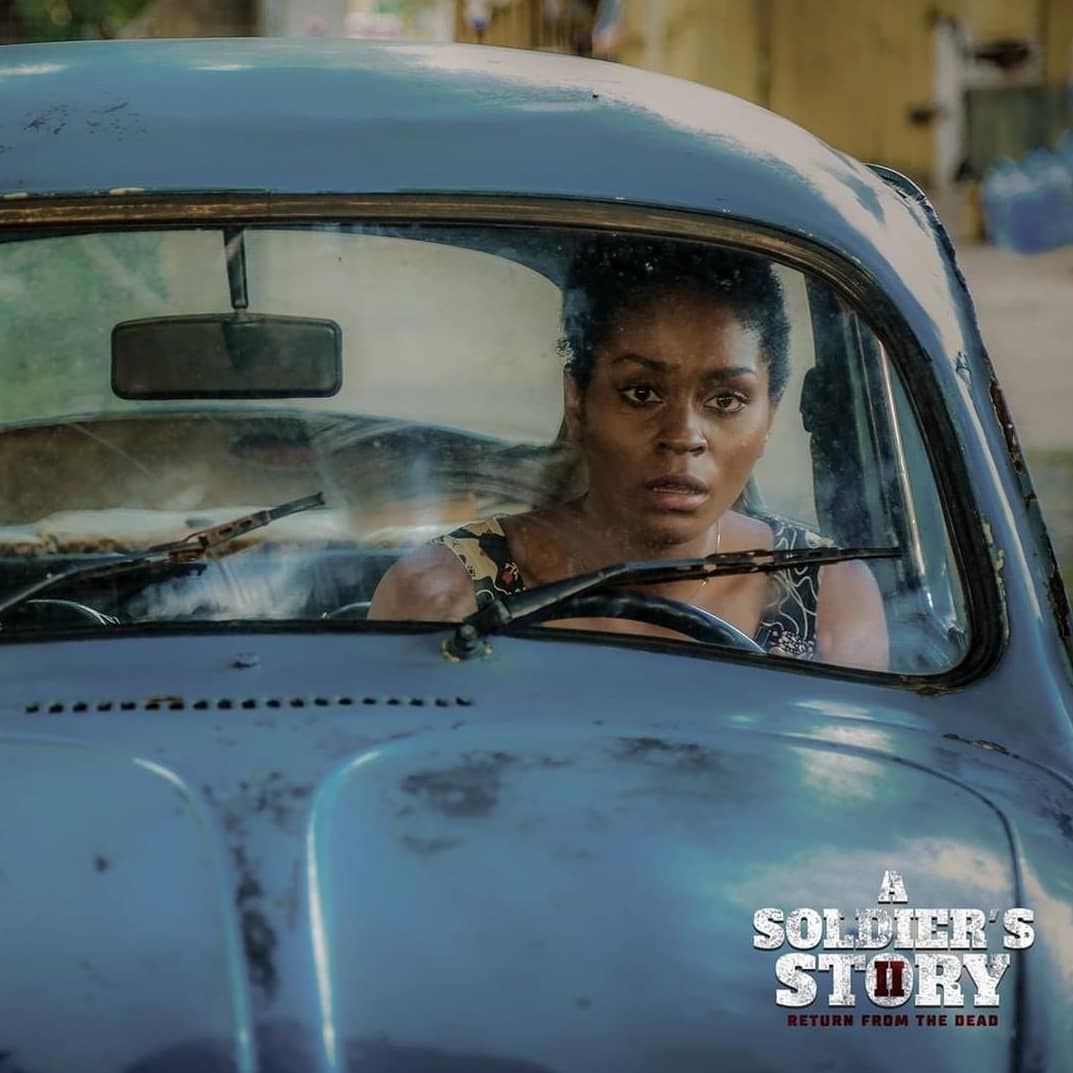 We went for the most suitable actors for the roles in A soldier's Story 2, so in terms of acting I found my actors pretty true to the characters they represented.
Ace TV presenter from Zimbabwe Vimbai Mutinhiri – Ekpenyong plays a character from the fictional country. she also found the accent easy to speak in the project.
My business partner, Martin Gbados who produced the film was of the opinion that we should expand internationally for the cast in this sequel.
So we got Eric Roberts who has a Golden Globe and an Oscar nod to star in the film and then John Vogel who played two roles in the film.
For that, we worked with Hakeem Effects who totally made him look different for the two roles in the film.
Totally unrecognizable. This resulted much better than we envisioned.
So yes – That's what I am really excited for this sequel.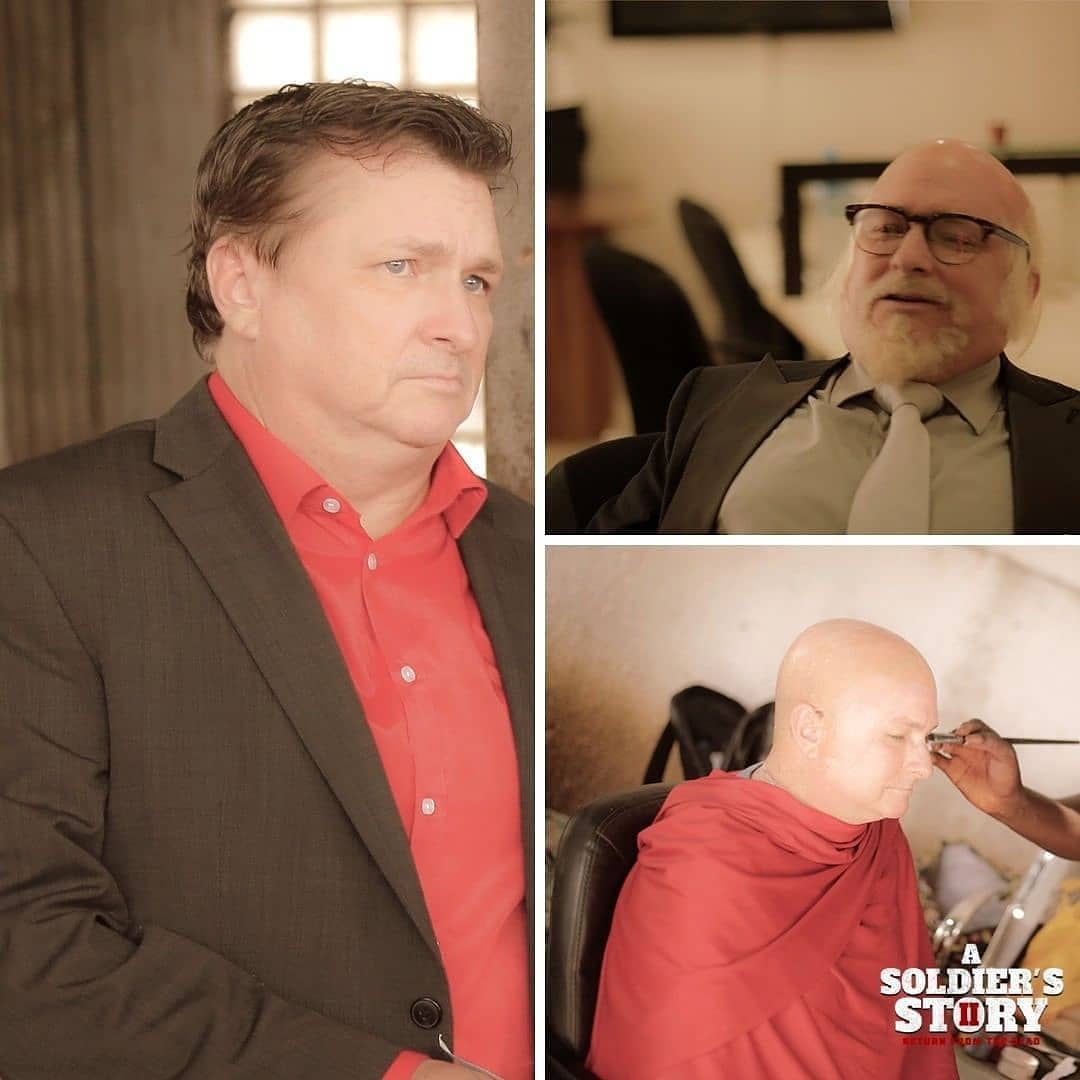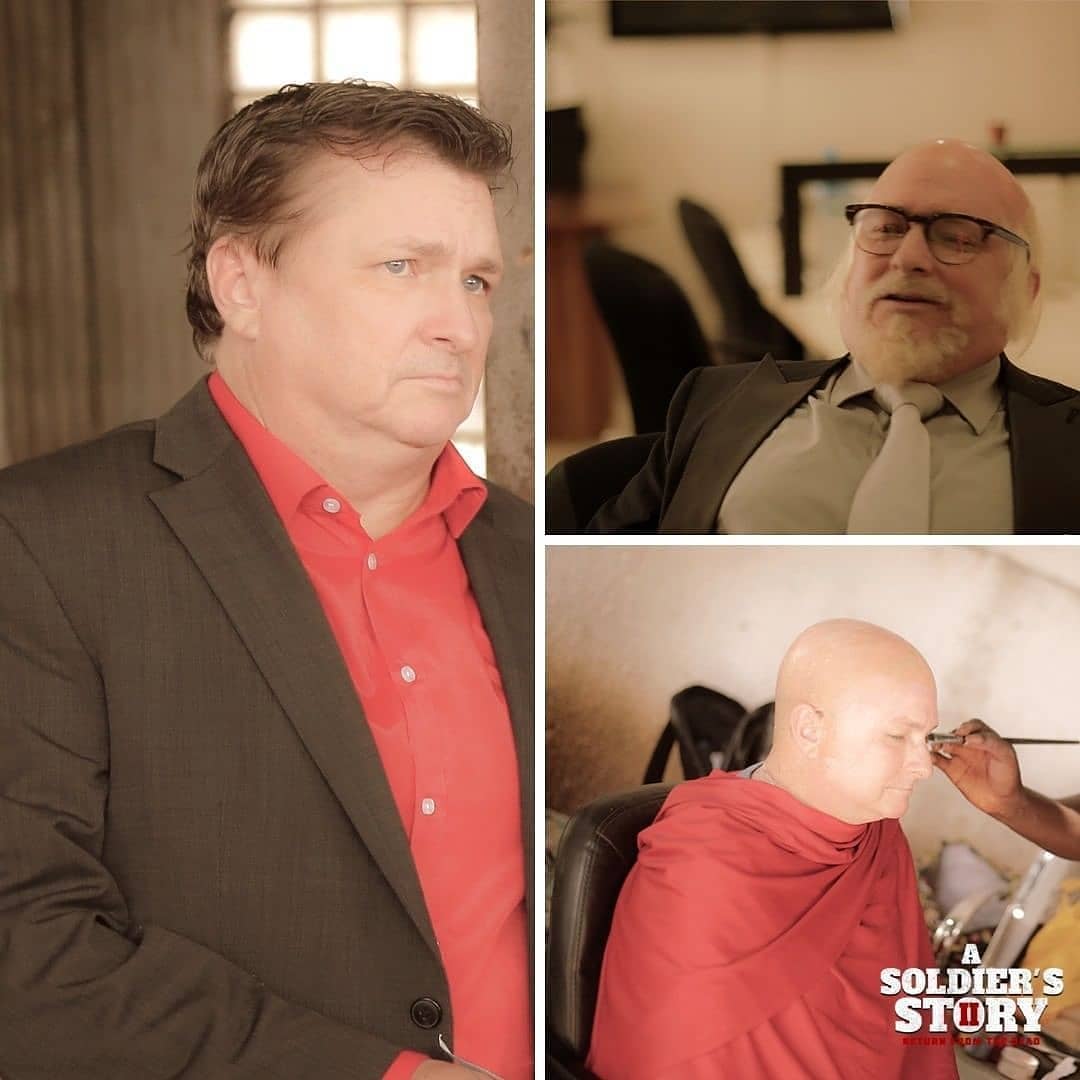 Do you think the pandemic will have any form of impact on your ticket sales?
You can't really say.
We have to look at this from the half full, half empty idea.
Half-empty in the sense that what if the cinemas don't open by then due to a reoccurring of more cases.
That's the negative part of it, but the world has been fighting back.
On the other half which is full- a lot of people have been locked in their homes.
They are tired of being indoors and want to go out as soon as they are free to do so.
For me, I would pick this half-full perspective for the impact of the pandemic on ticket sales.
Is Nollywood Growing?
Yes, Totally.
Maybe not as fast as it should but that's not the problem of the filmmakers alone.
I would rest that on the shoulders of many industry players, including the film distribution companies, film screening houses, policy makers in government, and even the SVOD and broadcast companies operating in Nigeria as well as the filmmakers ourselves.
Starting with the distribution companies, they give preference to the big studio films which from every indication, points that they have to pay for (Either by upfront payments or some payments arrangements).
Given such arrangements, it makes business sense that they will have to do everything within their means to recover monies invested and hopefully make some profits.
So what would be the rational scenarios for any such investors?
Promote those movies as much as possible, Get the best screen times in the cinemas for those movies, give those movies more Screens and keep them in the cinemas for longer periods to get the most ROI.
On the other hand, the distributing companies do not pay the Nigerian filmmakers for their films, rather they come to a screening sharing agreement of certain percentage to the distributing company, the screening houses and the filmmaker.
These monies come months after screening ends.
Based on this arrangement, the filmmaker gets approximately 50% of his film screening proceeds for the big players to 45% and even 30% depending on how the film performed and the contract agreements.
Let's bare in mind that since the big studio films need to be given the best screen times, more screening time and kept longer in the cinemas, while their Nigerian counterpart fights for the rest of the available times.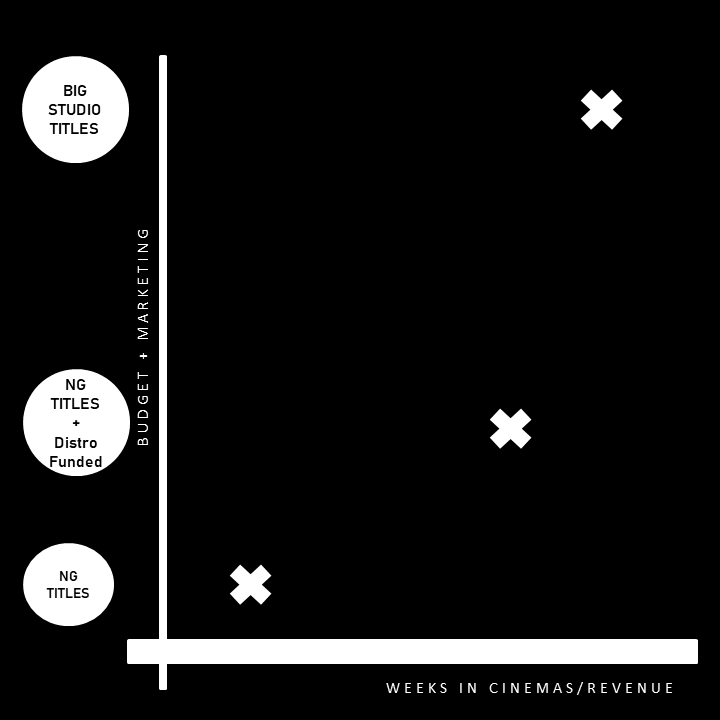 In broadcasting you have what is referred to as Prime Times, those are when you get the best exposure for your product and content and it results in better sales for advertising firms.
So if an average programme is aired at Prime Time and a fantastic programme is aired at 10 PM at night on a Wednesday how do you think both programmes will fair?
So how does that look for the Nigerian filmmaker? Not Good Right?
That is the industry practice and even the distribution companies cannot sometimes help it because there are bigger players (The Big Studios) who like all the multi-national corporations dictate the terms for the smaller African and Asian companies.
Having said that, there are also Film distribution companies in Nigeria who now own film production companies and the same scenarios are being played out all over again in the Nigerian film markets.
These companies can frustrate top quality films not made by their production companies in the process of promoting their not exactly great product to the detriment of the market as a whole.
So you end up with films that have been over-hyped and excellently promoted.
This heavily disappoints audiences who go home saying "Nollywood Films are substandard"
Whereas there are truly excellent stuff being made but the audience does not get to see them because the filmmakers do not have the kind of muscle, and infrastructure to reach the audience that are truly eager for quality content.
The irony of this is while we aim to make quick monies based on our myopic business strategies, if we do not develop our industry, it will be overrun by big foreign companies and the Nigerian companies will naturally go out of existence.
But the Nigerian filmmakers will remain because they will be paid to make the content by the foreign entities and paid better too.
Now speaking about our policy makers, while there are different funds available for filmmakers in the United States, Europe, Asia etc, there is absolutely nothing of such in Nigeria.
The former administration due to seed money and youth empowerment idea by The World Bank, created Project Act -Nollywood which was the first even grant by the government for the industry.
Every major player in the film industry benefited from either training, funding or some seed monies to produce films that will stimulate the industry and create jobs for young Nigerians.
My humble self got some seed money from that grant and the franchise A Soldier's Story was birthed and every major film industry player in Nigeria back then got something from it.
With the coming of the new administration that project idea was discarded.
While the CBN says they have created Funds for media production in the forms of loans, filmmakers are unable to access the loans because of the stringent requirements.
So, we continue to struggle on our own to fund our industry.
The Broadcast and SVOD companies in operation in Nigeria have continually continued to cut down on their acquisition fees making it almost non lucrative to make a quality film in Nigeria.
Picture a scenario where an SVOD company gives a producer approximately N3 Million to N4 Million to make a movie and then own the rights of the film, so the only hopes of that producer is that the film goes to the cinemas and he or she will make some monies from the cinema runs.
The Catch 22 however is a N3 million film never makes the cinemas these days considering the quality out there, so that producer will have to find a way of making a little off the N3 Million to survive on.
Needless to say such content won't pass QC of standard SVOD companies outside Nigeria.
Finally, everyone wants to become a filmmaker in Nigeria, just like you have with the music industry.
So people are just shooting away, on YouTube, Instagram and every platforms they can.
what you get is so much content that will not pass standard QC in a standard industry but because they keep posting regularly they probably get followers and if they can create followers, they will regard themselves as "influencers" and shockingly now filmmakers.
The problem with this is, such people will now approach our local SVOD and broadcast companies in the names of filmmakers and find a N1 million to N2 Million fees as a lot of money.
They accept these offers and bring their substandard productions to these broadcast companies who want to fill their airtime by any means necessary.
Bottom line, since the broadcast companies do not worry about their Quality Control, they have no business buying quality content for a higher fee from a real filmmaker.
So the Nigerian audience are unhappy with the poor quality content on those stations and draw a blanket analogy "Nigerian content is poor" and they switch to platforms like Netflix and other online companies.
So in terms of growth. Yes there is growth.
I have seen a couple of films that have been in cinemas and VOD platforms and I can tell that the content has really moved up.
Nollywood is indeed growing artistically and technically but in terms of budgets, infrastructure and finance – it is still dragging and it really needs investing in.
You did post production work abroad, tell me why and more?
we were really intentional about our work and we worked with a visual production house in Serbia.
This company has done major visual effects jobs in Hollywood films.
I knew them and been in contact but never done any business.
I told my partner martin about involving them and getting a deal with tough negotiations which he was very good at.
Once we were ready, we got them to the table and had meetings.
They eventually got on board but before that, they told us our budget was very very low.
Now mind you, that low budget that we presented to them for the small visual effects we wanted can fund five "Nollywood Blockbusters" put together here.
The only reason why they considered us eventually was because they want to do business in Africa and they could use this project as a start.
The color grading aspects of our film too is also different.
Filmmakers here rely on LUT. I don't do that because it is generic.
It doesn't create a particular look for you. You are just lifting off someones else look and putting it on yours.
Which just makes your film look the same.
It totally makes sense to create your look for your film which is what we did.
So when you look at A Soldier Story 2, it looks like a film not a TV Drama.
Color correction is so much important and it is like a Ferrari without a paint job.
Once you do a paint job on the Ferrari, that's when you have a Ferrari.
Tell me some challenges you faced in shooting this sequel and how you solved them?
So we initially thought we had an investor.
The budget had been submitted for approval and been giving the go-ahead.
We were expecting money in the account but the money never showed up.
That money never came in till we finished.
But we pulled through.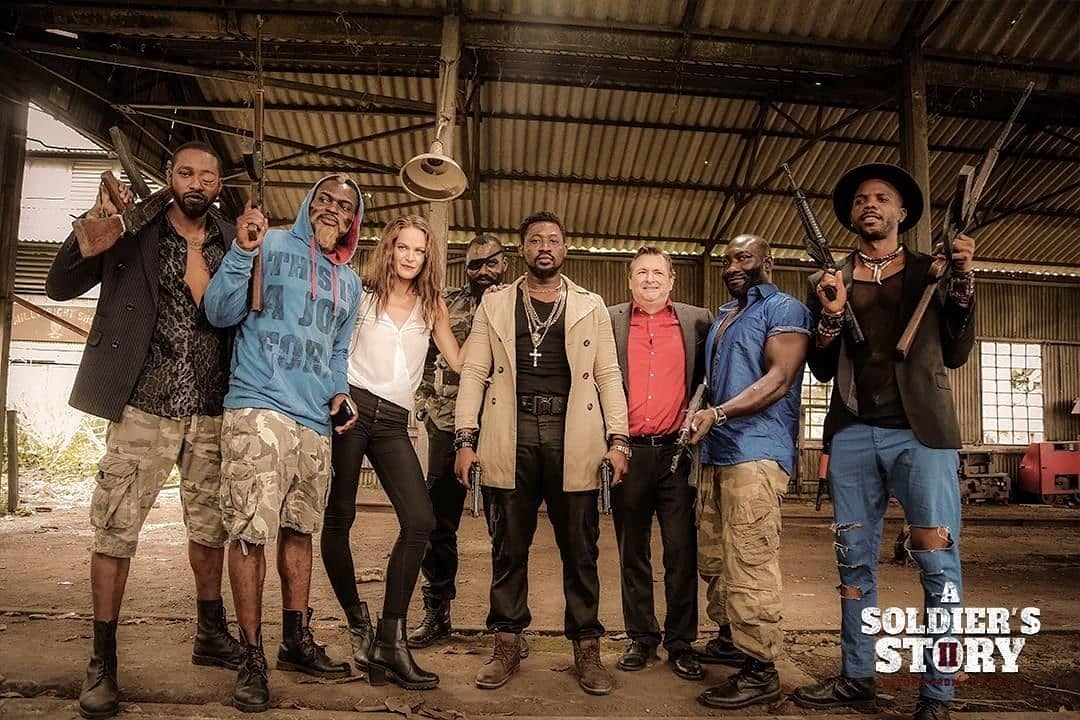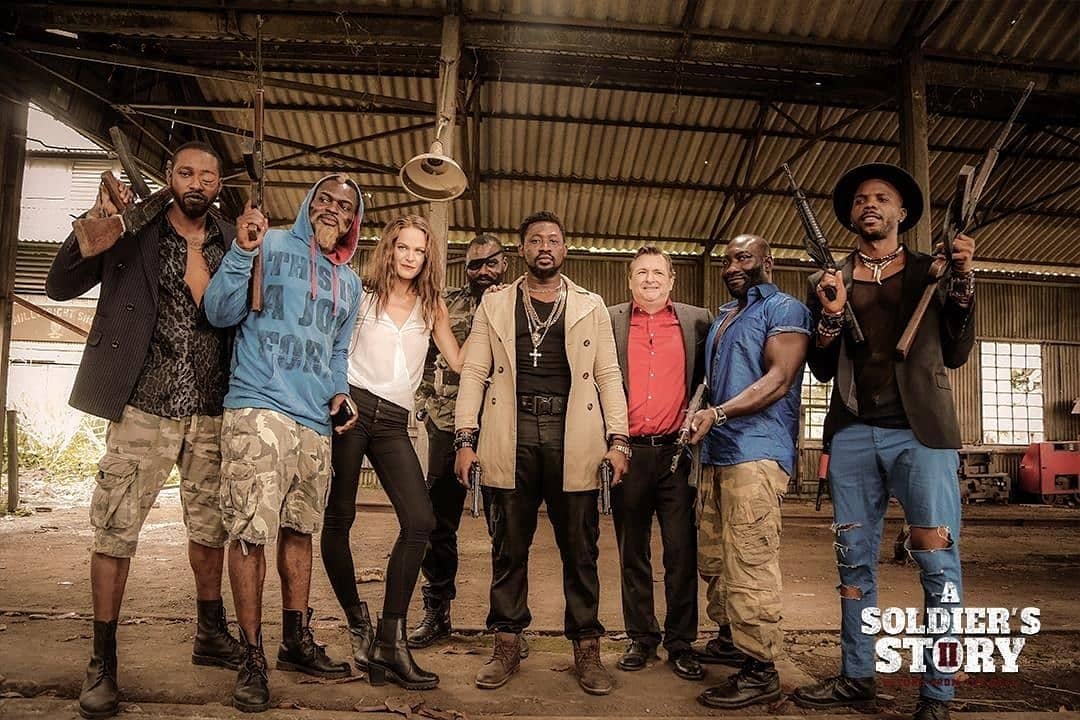 How many days of shoot did you do?
We did almost 30 days on to shoot. It really took a lot of time. It was a busy production.
Is the film ready as we speak?
It is still in post. It has been rolling on and on.
Yes, the film is ready but a few little things are being added, every now and then.
We are expecting the final cut back this August end.
What is the minimum you want this film to gross earn box office?
We would like a minimum of $1 Million
Plug a couple of names who you are thankful for in the making of this sequel
Is it through this project? yes.
I would start with my business partner. Martin Gbados we have worked together all the way.
My third business partner as well who would not like to be mentioned.
All the actors who stuck through with us especially Daniel k Daniel, Sambasa, Somkele Iyamah- all of them. Even when things weren't looking good. They supported all the way. A big thank you to them.
The sound guy in the united states, Scott Jennings. He has been understanding and never relent-full.
Finally, I give thanks and glory to the Silent Partner of this project, my Lord Jesus Christ who in our darkest and most difficult hours made ways and opened closed doors for this project to get here.
(Kindly note, these names are just for this project alone, not my film career)
Thank you for speaking with us
My pleasure. Thank you for having me.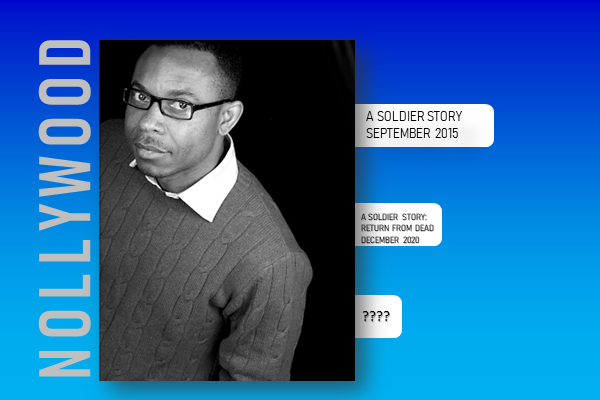 A Soldier story 2: Return from the dead hits the big screens this December 2020. Anticipate.
Thanks for reading this post.
Follow us now on Twitter @ShockNG and don't miss out on latest industry news.