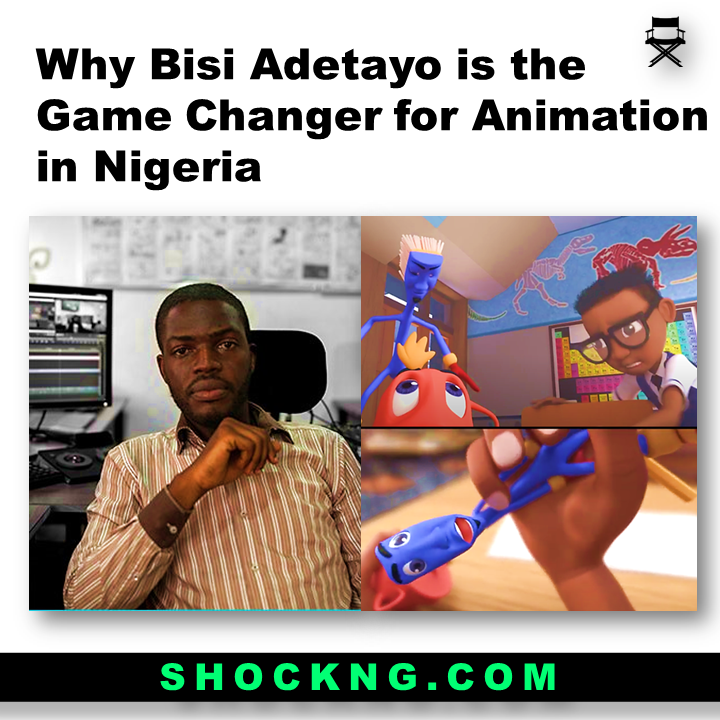 For a fact it is known that no single animated feature length film made 100% locally has successfully attempted a run at the Domestic box office.
This will change on the 11th of December with Lady Buckit and the Moptley Monsters – an animated film directed by Bisi Adetayo.
Read our insightful conversation to learn his journey into animation, when did the project get started and how he strategically placed his company on this path 10 years ago.
Let's begin.
Kindly introduce yourself
Hello my name is Adebisi Adetayo, a Lagos based 3D animation, motion designer.
How and when did you get onboard this project?
Mid late 2019, I was called by a colleague of mine that I met far back in 2007.
He then told me that he had a project he had been working on sometime but had difficulties. I was then introduced to the people directly involved and an interview ensued.
A brief period of silence then later, I was called on by the consultant producer for a prospect meeting where I was then asked
"can it be done for real or should they go to another country to do it? "
To answer this, I showed them a short animated film my company did a while back, the producer looked at it and his confidence was boosted that yes, this could be done in Nigeria.
From there on other proceeding's kick off and that was how Lady Buckit and the Motley monsters started.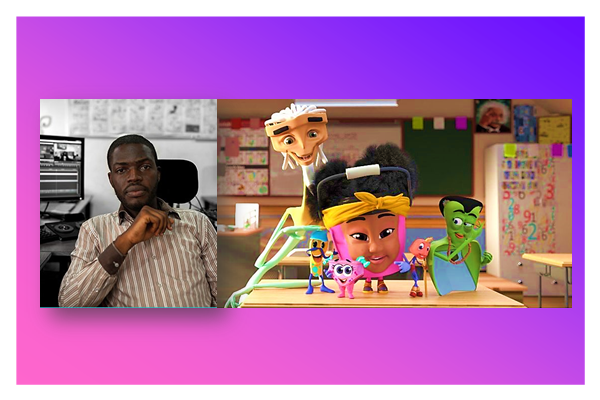 Animation comes with a set of limitations especially here in Nigeria, tell me if there was a time one of these limitations almost cancelled the project?
Here in Nigeria, the biggest limitation to making an animation is education and the fact that basic amenities such as power is lacking which is one of two major challenges we had.
Asides that, there was no surmounting challenge.
I believe that when there is proper education, no matter the challenge that comes, you would always know how to beat it. Maybe you need to re-strategize or restructure your work flow, You would know exactly what to do.
And I as a person being involved with a few other foreign projects, I have people I can always discuss with.
Yes there are limitations but they are very much tied to the education of the team who are actually involved in the project.
This is the first time an animated feature film will have a cinema run, tell me why you think this has taken so long??
This is a good question.
First, it has to do with the fact that there is no educational structure.
Second, people don't believe that it can be done at such a scale
Doing animation on a small scale of one minute or 15 minutes is not the same thing as doing animation like 80 minutes – the challenges are completely different.
I can't speak for anybody but for most of the studios in Nigeria, the teamwork available to achieve such a scale of animation are very very few. Unlike my company that has over 23 animators – not that big a number but it is just good enough to get the job done.
These are some of the reasons why we do not have a scale of project being done to completion.
They have been several attempts to do such but there needs to be a proper structure for it to be successful.
In essence, the structure to scale + team work was the problem?
Yes.
My Company over the past 10 years from 2014 has been able to groom animators that can work together as a team.
Animation is very big. It is multi-faceted with different templates from writing a script for it down to conceptualizing designs.
Now if you have just one person well trained and well equipped in animation doesn't guarantee success.
You need a team of people who are well groomed and well skilled with individualized area of focus.
This takes time just like how highly specialized surgeons are groomed in their respective fields.
What we have successfully done at 32 ad which is the company I work in, is to create a school as far back as 2014 through 2019 building up this highly specialized animators that can function as team.
You must have been wondering why you haven't heard of such a studio.
We did not focus on commercials. All we focused on was training a team.
Now that team structure was used to execute and produce Lady Buckit and the Motley Monsters.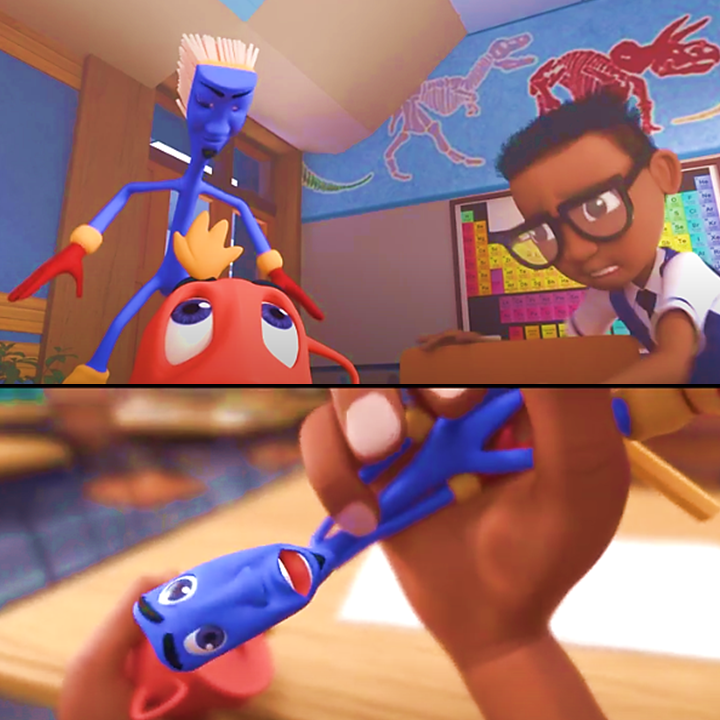 Let's talk more on your company and journey into animation?
This is my 20 years anniversary in animation.
My journey began after writing WAEC exams in 2000. My mum brought home a book to prep for Cambridge advanced exams.
I discovered a CD attached to the back of the book named "animation made with "which sprouted my desire to go into animating and gave me my first knowledge.
Then in 2006 after, I was in Olabisi Onabanjo for biochemistry by then and got an opportunity to design for one of my professors. This project gave me a placement in a gaming animation studio company
This was my first leverage to experience how a studio actually works for real.
From there to south Africa, then back to Nigeria.
2011, I became a licensed auto desk instructor.
2014, I started 32 ad when I retired my job at genesis studios where I was a colorist and technical director.
32 ad was meant to be a training studio for animators and I knew that if we want to build anything to last we must educate first.
The gap to me was clear which I why I considered education very important.
Since then we have turned out animators that are now professionals, own their studios and are sought after for big projects.
we built a reliable team.
How many creatives were involved for this project?
Including voice-over artist, over 60 creatives worked on this film.
For field based animators involved, we had 32 in total.
All Based in Nigeria.
It was massive. The EP did a lot to be able to pull such a creative workforce.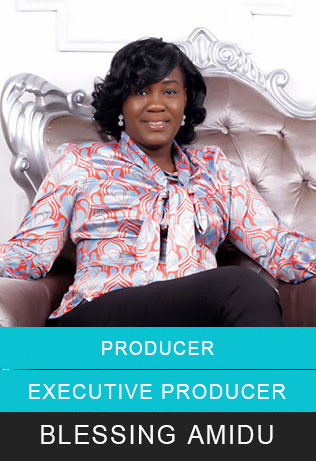 What was your baseline budget?
Sorry, I can't discuss this.
I don't think I have privilege to tell you that.
Did Covid 19 affect your work?
Yea, COVID and the EndSars protests had an effect on our delivery timeline.
Can you tell me how many months this project took?
It has been very tight.
*After the debut of the project in cinemas in December, I will reveal this
What excites you the most about this project?
The story of the film is beautiful and the imagery was rendered in glorious 4K.
Also, the voice over actors from Nollywood were amazing!
I never believed Nollywood actors could listen to directions for animation but I have been proved wrong.
The delivery was excellent.
Music score again was good as well and you would listen to it over and over again.
Who handled casting for the project?
For the casting I was little a bit involved, but the executive team Blessing Amidu, Chris Ihindero was heavily involved for full casting.
Is animation paying your full bills or this is just one of the other things you do?
Yes it does. I have in doing for over 20 years involving in different aspects. From color finishing to training, scripting and animation tools dev.
Like I said, it is big field and one can unravel.
If you have taken your time to properly educate yourself in it, the income you get will be sufficient for you.
So yes, it pays my full bills. This is what I do full time.
What do you for fun when not working?
Spend time with family and play with my kids.
Final Question, Based on your experience, what advice would you give a creative living here?
Spend time to groom yourself to be relevant beyond the borders of your country.
Learn to collaborate. People really don't care if you skillset is relevant if you can't work on a team.
Thank you for you time
Thank you
Lady Buckit And The Motley Mopsters debuts in cinemas Friday 11th December 2020. Get Tickets
https://twitter.com/LBMMTheMovie/status/1322460594432315392
Thank you for reading
Let's be friends on Twitter @Shock NG