The Story ⚡
Of the three domestic films that made an intentional run during valentine's box office window, Still falling Movie raked in the most revenue of N30.40 Million after 5 weeks.
Here is a data report that looks at its other competitors and a profile of what it did differently.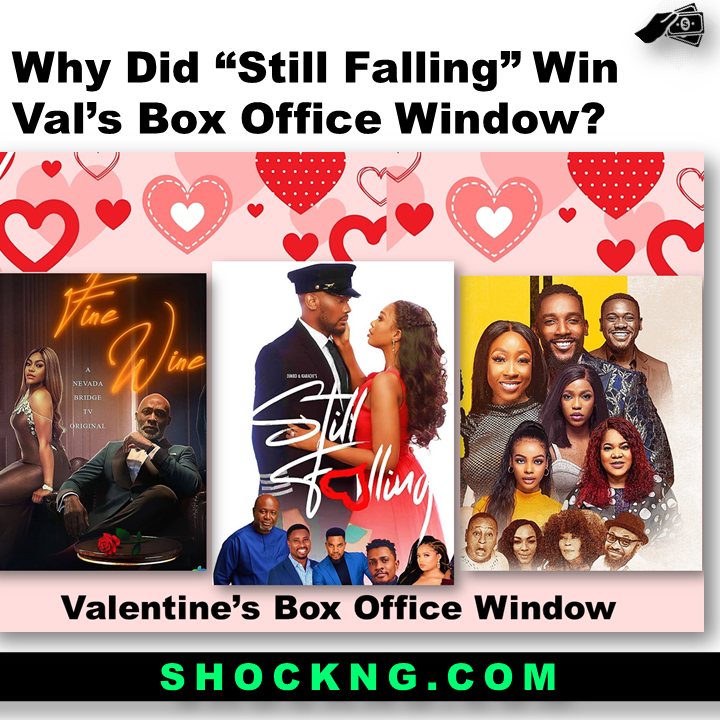 Tell Me More.
The Val's theatrical window examined starts from Feb 12th – March 18th 2020 and the three films in competition for market attention include 2 weeks in Lagos, Fine wine and Still falling.
2 Weeks in Lagos
2 weeks in Lagos, a love story Ejikeme and Lola. Their lives collide when Ejikeme an investment banker comes home from the United States with Lola's brother Charlie to invest in Nigerian businesses. It is love at first sight for them and as they embark on a journey of discovering this new love, but they have to contend with the political ambitions of Ejikeme's mother who is planning a marriage between him and the only daughter of Otunba Ayodeji, a political juggernaut who is considering Ejikeme's father as his running mate for the Nigerian Presidency.
The picture directed by Kathryn Fasegha stars Beverly Naya, Mawuli Gavor, Joke Silva, Jide Kosoko, Tina Mba, Toyin Abraham, Shaffy Bello, Fathia Williams.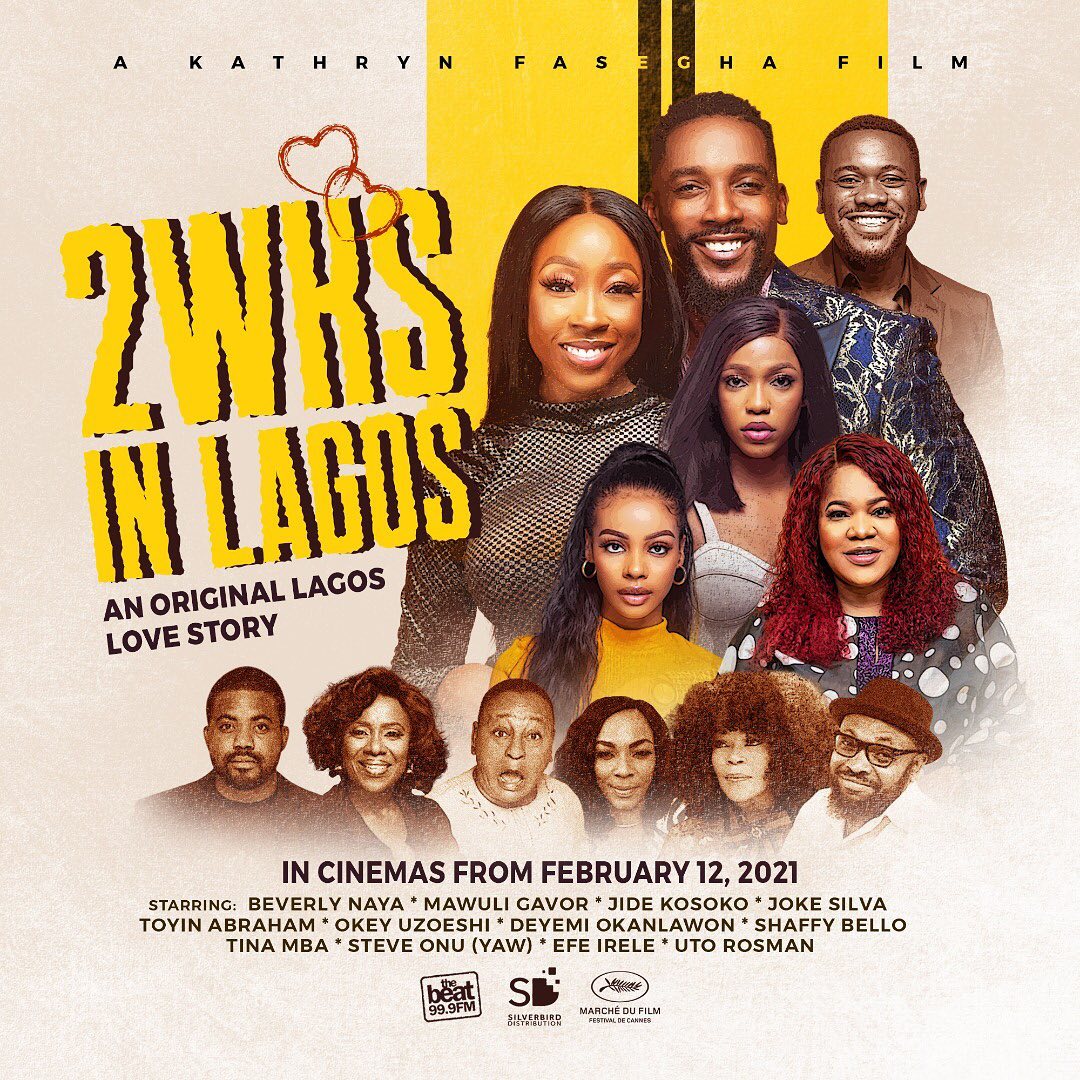 Fine Wine
Fine Wine follows the story of a lonely but rich older man that genuinely falls in love with a younger woman and finds himself between the crossfire of society and in competition with a younger man for her heart.
The rom-com directed by seyi babatope stars Richard Mofe-Damijo, Zainab Balogun, Nse Ikpe-Etim, Ademola Adedoyin, Belinda Effah, Ego Nwosu, Keppy Ekpenyong.
Produced by Neville Sajere, the title is distributed by Blue Pictures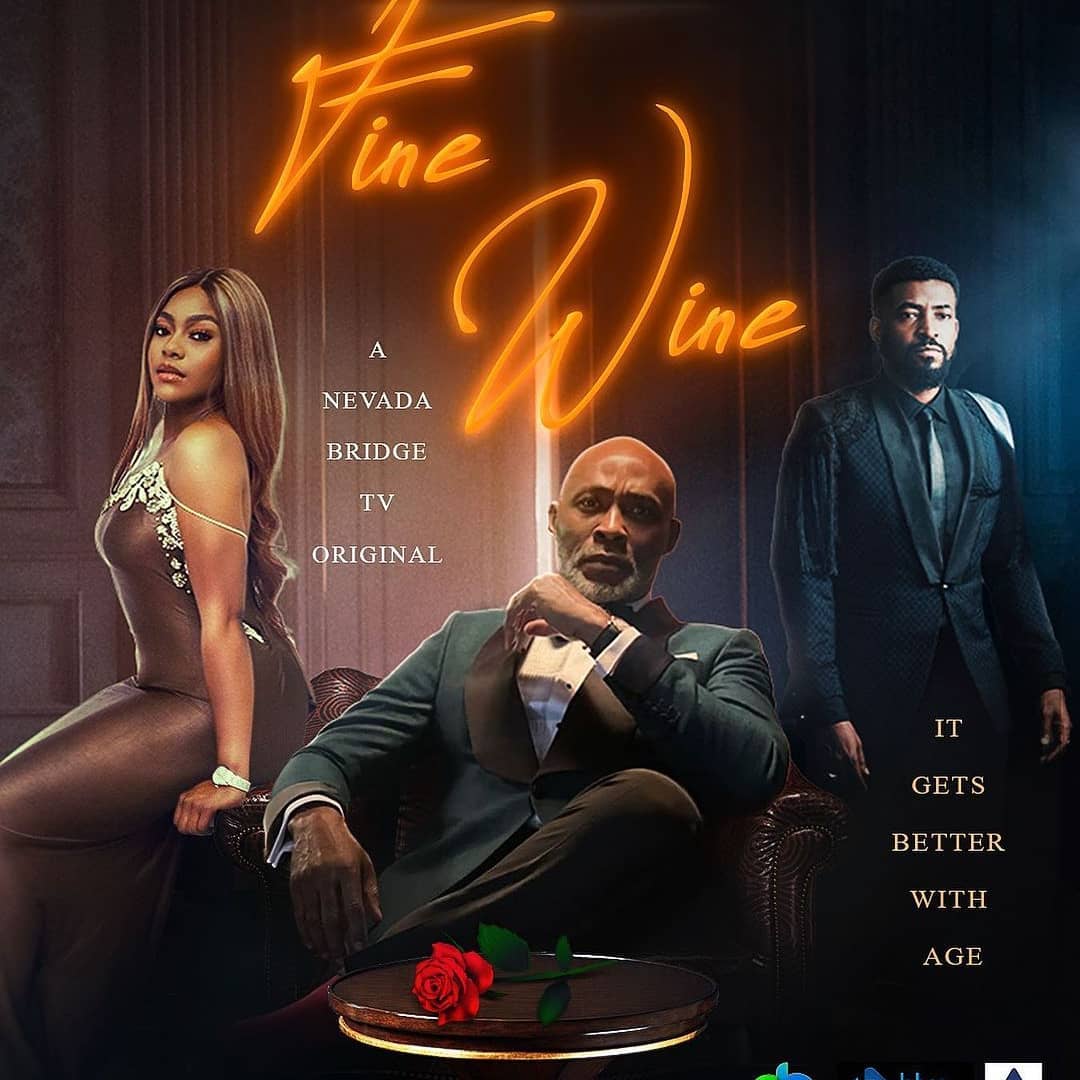 Still Falling
Still Falling' follows the story of former lovers Bono Kuku and Captain Lagi Gowon.
The two strong characters and how they collide and are permanently changed in the events that ensue, after a re-union that brings back memories of a toxic relationship.
This feature of opposites love and hate, faith and doubt, grace and guts, triumphs and regrets will get everyone taking a deeper look at their motives and choices.
How much is hidden behind painted doors? Can we truly know someone? Are we as steady in faith as we think we are or are we Still Falling?
Still Falling is co-directed by Karachi Atiya and Dimbo Atiya and distributed via Genesis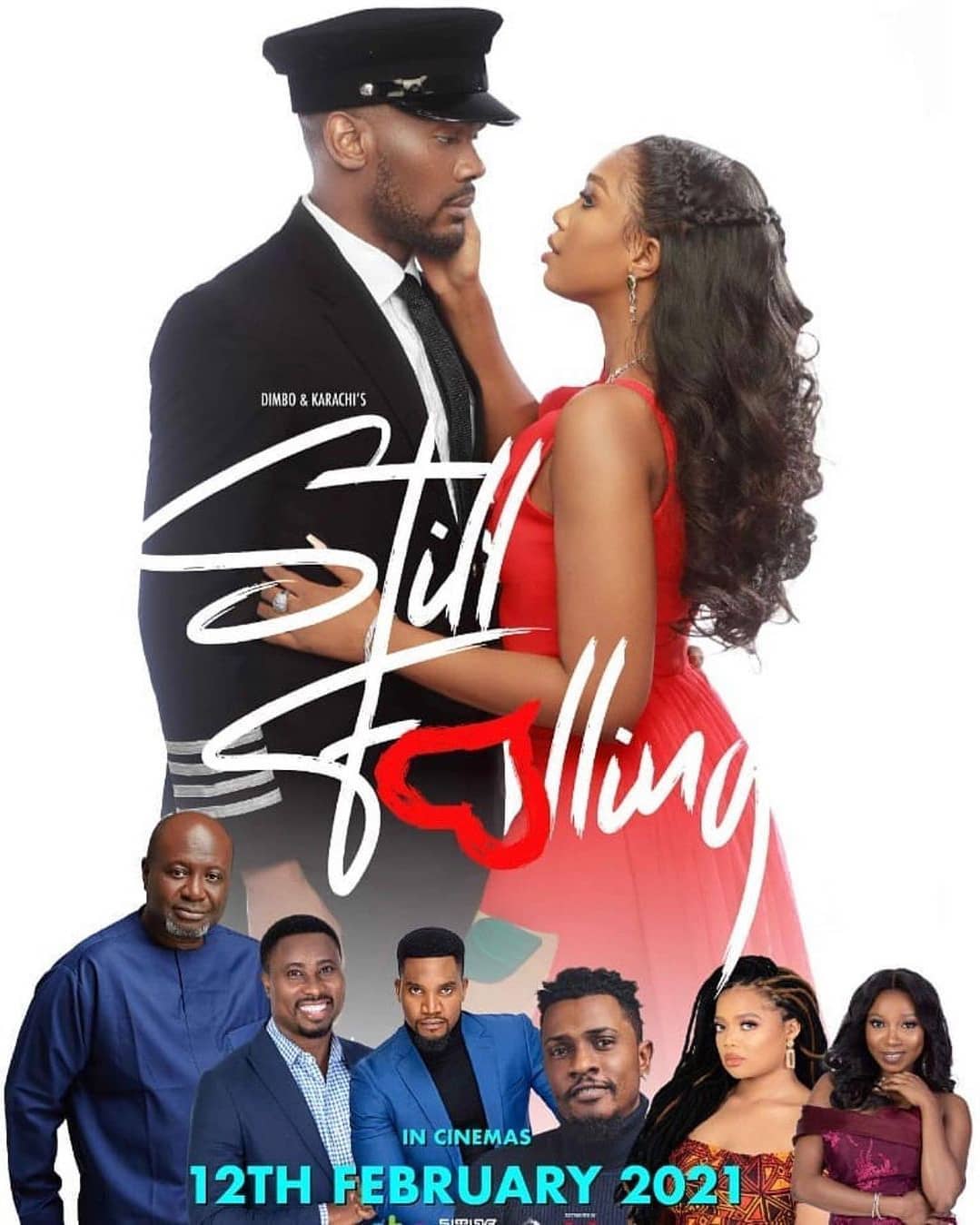 How much did they make?
Here is a quick look at how Nigerian movie goers spent their money, concurrently towards this 3 rom-coms that hit the big screens from Feb 12th 2021.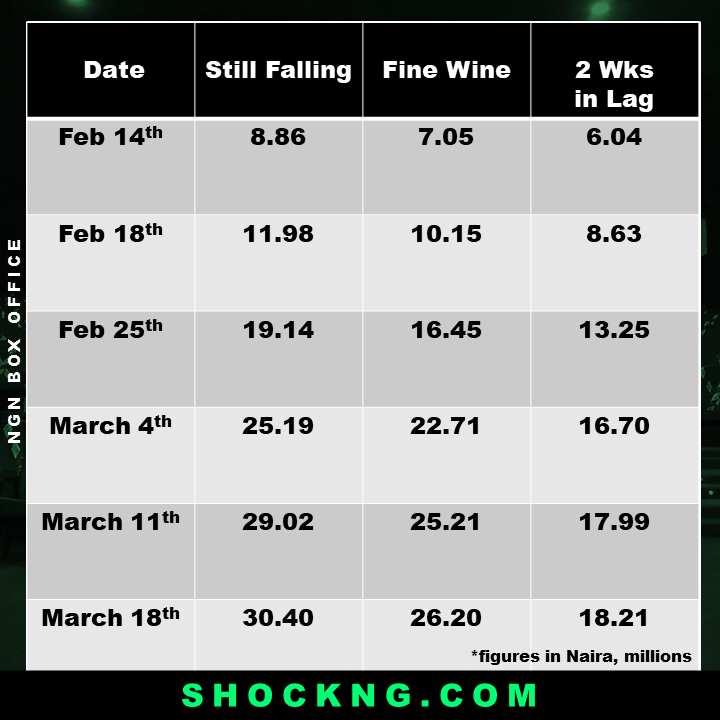 2 weeks in Lagos generated N18.21 Million from a starting point of N6.04 Million which indicated that its week on week revenue was drained up fast.
Fine Wine kicked off its opening weekend with N7.05 Million giving Still Falling a tight competition that opened N8.86 Million.
A close look at the box office figures reveals that the third weekend was where fine wine slowed in revenue which gave still falling the revenue lead during this theatrical window.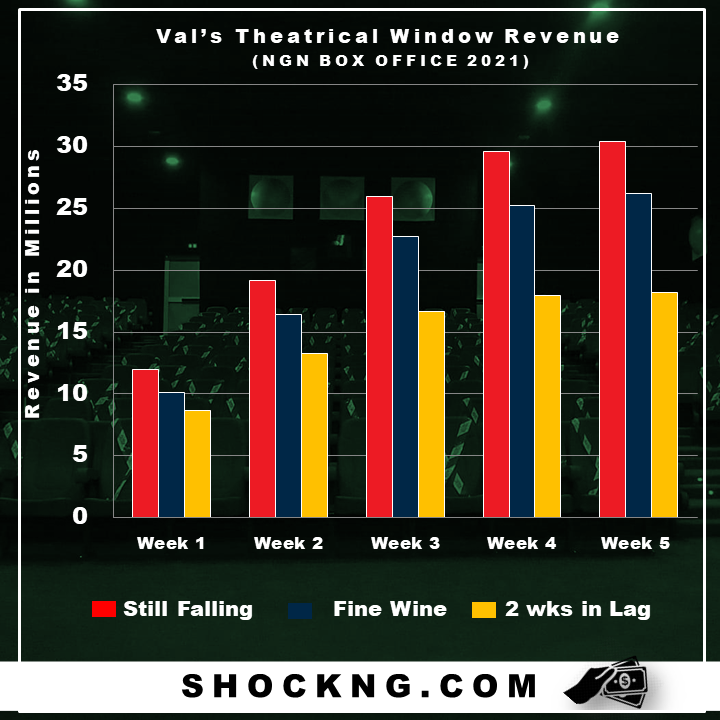 Why did still falling rank high?
From our observations, one of the main reasons why "still falling" ranked higher in revenue was because of its major OOH Campaign that far outweighed its digital efforts.
This campaign gave the film the right visibility to its target audience – Married Couples.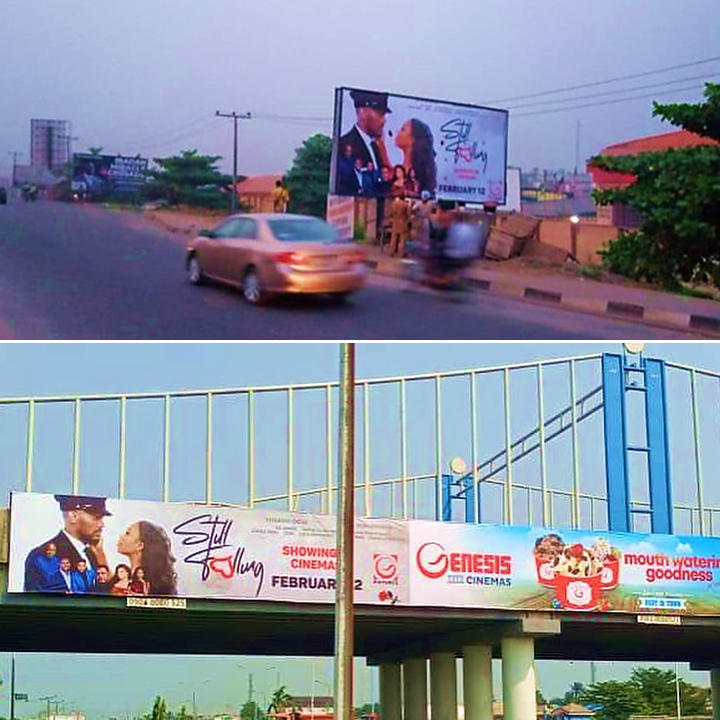 One major reason that this lead gap also happened is distribution economics.
Genesis ranks as the top 4 distributor in West Africa. Having great showtimes with the right number of screens can determine what a film can make at the box office.
Genesis which served as a distributor was able to play this card effectively for still falling from Feb 12th through March 18th 2021.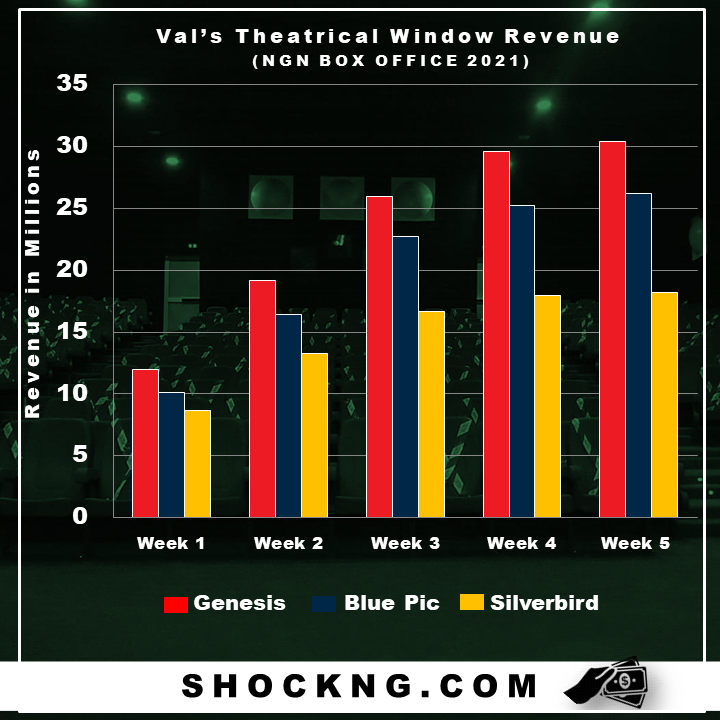 Summary
Strategic Traditional advertising for film marketing has proved to work but it is not cost effective.
Will the amount spent on OOH's campaign justify the box office figures generated ? – one can't really say.
However, one thing is clear. If you are coming to the box office, come with a robust marketing budget and know what channels you are spending it on.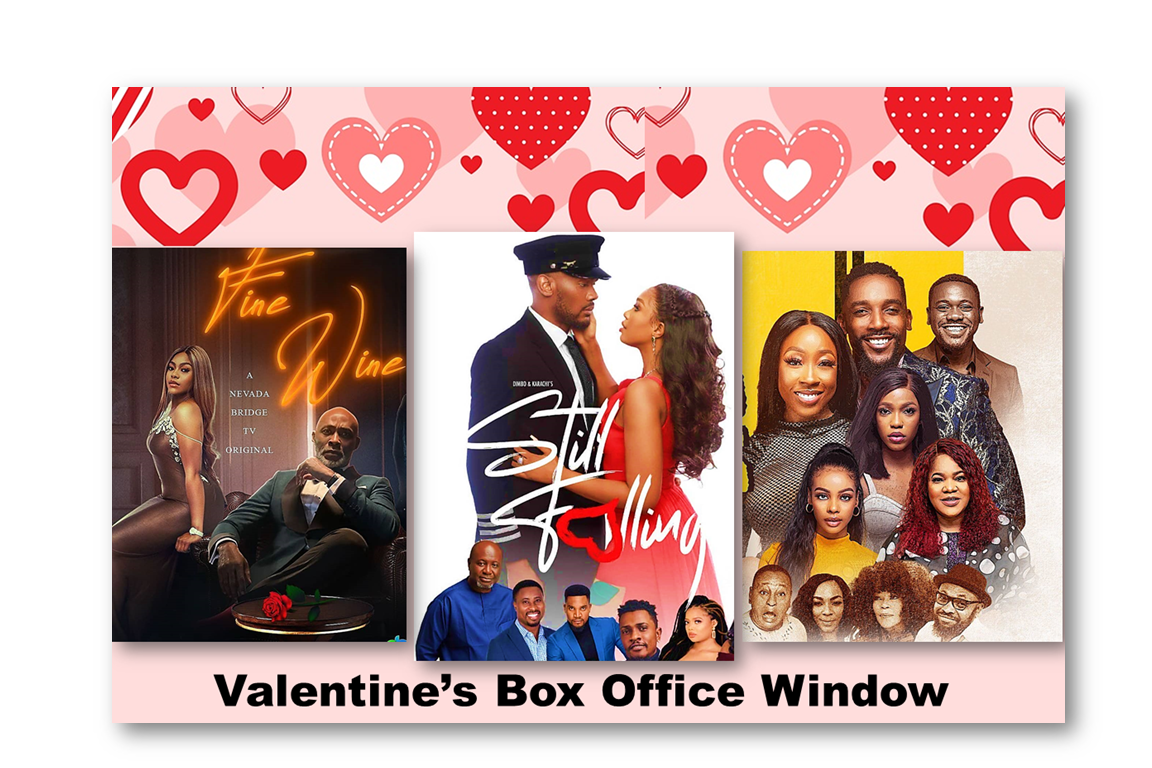 Thank you for reading
Shockng.com Covers the Business of Film and the Biggest movies that screen in Sub Saharan Africa.
Let's be Friends on Twitter @Shock NG