The Story ⚡
Getting big title domestic feature films every month, The licensing folks at Netflix Naija are shopping around town and not joking around.
Here are the 9 new movies that would hit the streaming platform this month of April.
If you are a subscriber to the service, then you are indeed one lucky streamer spoilt with Quality options to chillax.
Let's begin.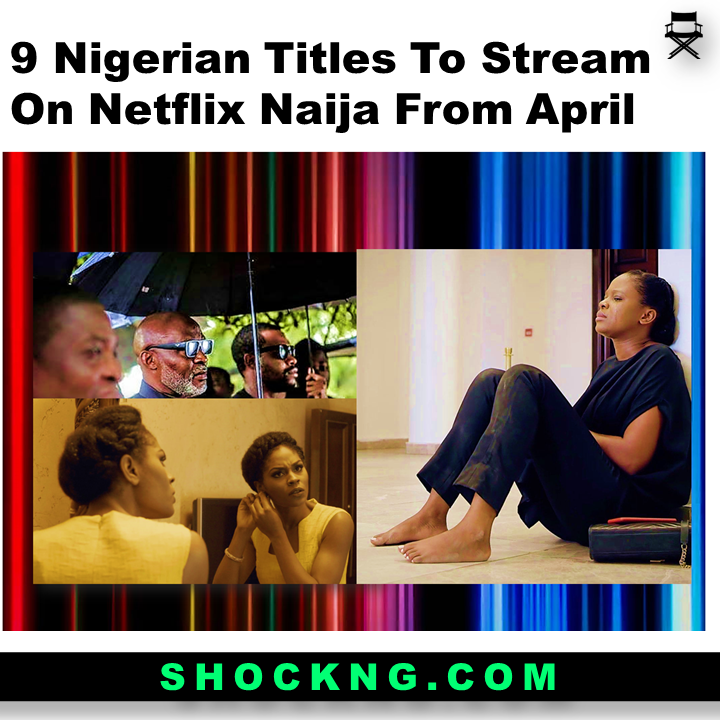 God Calling – 2nd April
Directed by bodurin sasore and released in 2018.
God Calling is a story of redemption that looks at the life of Sade, her family and her faith through the lens of an unconventional encounter with God in this modern age.
The Fisherman's Diary – 4th April
Directed by Enah Johnscott and released in 2020
The movie follows the story of Ekah who is determined to go to school in a village of fishermen where a girl child's education is considered a taboo. Her drive to break this old adage gets her embroiled with her father, Solomon's past.
Ojukokoro – 9th April
Directed by Dare Olaitan and released in 2016
Ojukokoro tells the story of what happens when a broke manager in a money laundering petrol station, decides to rob the petrol station that employs him but along this journey finds out that there are different kinds of criminals that are also interested in the same cash.
Awon Boys – 14th April
Directed by Tolulope Itegboje and Released in 2019
"On the streets, everybody is an area boy"
The Documentary film which tracks the goings and comings of eight area boys across three Lagos ghettoes provides us audiences an handle for interrogating and understanding who an area boy is, where they come from and what motivates them.
Doctor Bello – 16th April
Directed by Tony Abulu and released in 2013
Brilliant Cancer specialist Dr. Michael Durant is emotionally troubled, wrestling with the traumatic loss of his 10 year old daughter from Cancer. Immersing himself in his work in the hospital, away from his wife who blames him for their childs death, he forms an unlikely bond with a sick, loving, but rambunctious seven year old boy Sam, the son of a rich Jewish couple who are major contributors to the Hospitals Cancer Research Fund.
Unfortunately, Sams health deteriorates drastically, and soon, he slips into a coma, with only a few days to live. Dr. Durant becomes desperate, willing to risk anything to save the childs life.
Olobiri – 21st April
Directed by Curtis Graham and released in 2015
Based on True Events. A story about the 1st oil well drilled in Nigeria and how the impact has affected a small Nigerian Delta Village ( Oloibiri) and the lives of those involved.
This Lady called life – 23rd April
Directed by Kayode Kasum and released in 2020
Becoming a chef is Aiye's greatest desire. But. She is a young, struggling, single mother who has been abandoned by her family. To settle for defeat, or to fight against all odds to become the chef of her dreams? That is the question.
Seven – 30th April
Directed by Tosin Igho and released 2019
Rich and irresponsible Kolade is given the unthinkable task to survive seven days in Ajegunle or lose his inheritance. There He will go through events that will either make or break him.
Thank you for reading
Shockng.com Covers the Business of Film and the Biggest movies that screen in Sub Saharan Africa.
Let's be Friends on Twitter @Shock NG