The Story⚡
Toyin Abraham's Ijakumo is breaking box office expectations.
This post gives you a breakdown of the numbers so far, why this numbers matters and what happens next.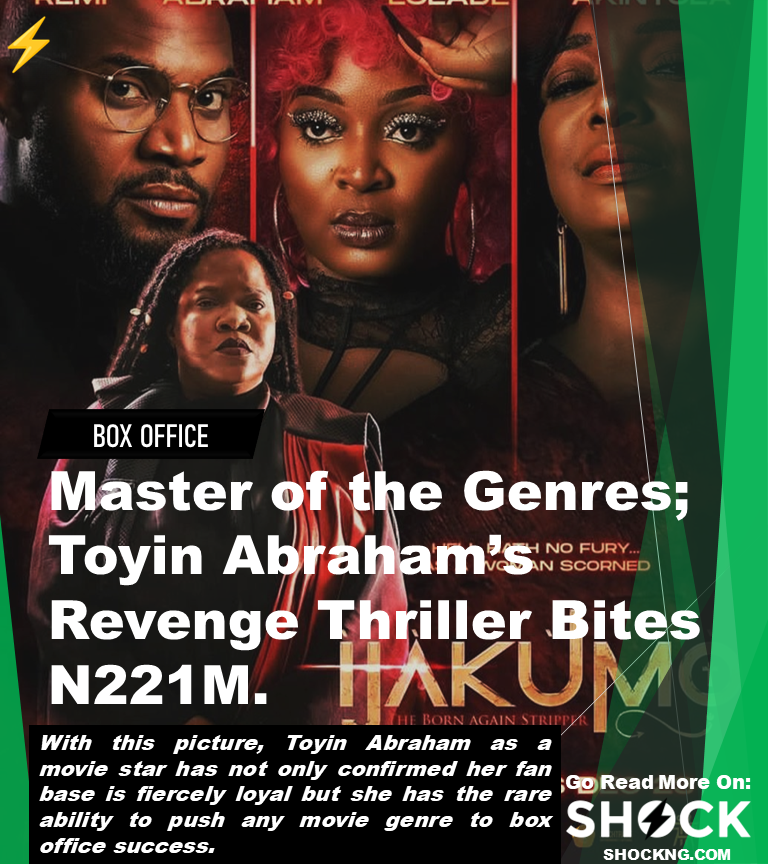 Tell Me More
The 23rd of December knew the entrance of a new box office title, "Ijakumo" by Toyin Abraham. Before the box office release of the movie, it had premiered on the 18th of December, and this premiere recorded the presence of dignitaries. It also had the governor of Lagos State, Babajide Sanwo-Olu in attendance.
The film tells the story of a wealthy and flamboyant pastor who begins an affair with his church's worship leader after finding out that she's his favourite stripper. This action of his opens up Pandora's box of troubles beyond his imagination.
"Ijakumo: The Born Again Stripper" was written by Anthony Kehinde Joseph and directed by Adebayo Tijani. It stars Toyin Abraham, Kunle Remi, Bimbo Akintola, Olumide Owuru, Lolade Okusanya, Debbie Shokoya, Antar Laniyan, and a host of others.
The thriller title grossed N30.44 million in its first 3 days and made N88.28 million in 7 days. That week, it ranked as the fourth movie on the Nigerian box office leaderboard behind "Battle on Buka Street", "Avatar: The Way of Water" and "Black Panther: Wakanda Forever".
In 10 days, it had made N137.08 million and N164.84 million. It took the third position that week, moving past "Black Panther 2".
In its third weekend, it raked in N192.79 million and crossed the N200 million mark in its third week. It made a ticket sale of N205.26 million.
"Ijakumo" became the second title in its fourth week, after "Battle on Buka Street". That weekend, it made N221 million.
3 Days — N30.44 million
7 Days — N88.28 million
10 Days — N137.08 million
14 Days — N164.84 million
17 Days — N192.79 million
21 Days — N205.26 million
24 Days — N221 million
This first December release by Toyin Abraham has so far taken a big bite at the box office and has together with Funke Akindele's "Battle on Buka Street" posed as major domestic competitors against "Avatar: The Way of Water". Though the global sci-fi title has made almost $3 billion globally, local competition has stunted its performance. After 4 weeks, the James Cameron movie has made N348.80 million.
It is worthy of note that "Ijakumo", a suspense thriller, has proven false the allegations that Toyin Abraham can only make comedy movies. Examples of her comedy titles that her audience is familiar with include "Alakada Reloaded" which grossed N74.33 million and "Fate of Alakada" which made ticket sales of N113.22 million.
We can say that Toyin Abraham is attentive to her critics. Now, her non-comedy flick has made a hit. This also proves that she has a loyal fan base.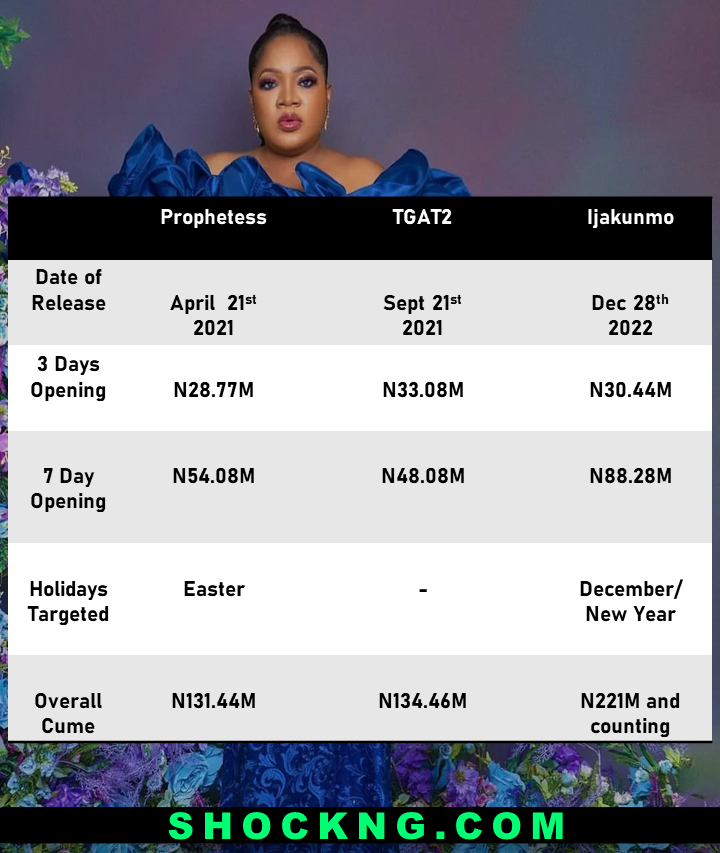 "Ijakumo: The Born Again Stripper" is a major improvement to Toyin Abraham's last box office outing, "The Ghost and the Tout Too" — a sequel to a 2018 film directed by Charles Uwagbai.
"The Ghost and the Tout Too" was directed by Michael Akinrogunde.
The title had a 3-day weekend opening of N33.08 million and a first-week opening of N48.08 million. It proceeded to make N68.93 in its second weekend and N78.01 million in two weeks.
At the end of its theatrical run, the film grossed N134.40 million.
Aside from her own productions, Toyin Abraham also takes lead roles in other movies. One of the movies she has taken lead roles in include "Prophetess" directed by Niyi Akinmolayan and debuted on the 21st of April, 2021. The title, released during an Easter period, grossed N131.44 million.
To respond to the question of whether Toyin Abraham is bankable for the Nigerian box office, it appears that the answer is obvious. Over the years, she has proven to be bankable for any box office outing. As a talent, she is reliable. She has performed well as a lead cast in several box office titles. She has a fan base that movie producers can be confident of to pull crowd to cinemas.
The more distribution platforms a talent can penetrate, the higher the chances of their increased bankability. Toyin Abraham is such a bankable talent.
Currently, in the fourth week, we can say that "Ijakumo" is on its way to joining the N300 million Nigerian box office club. With the reception enjoyed by the title and "Battle on Buka Street", the acceptance of local titles by the Nigerian audience can be observed.
Notwithstanding, is it safe to say the titles are successful just because of their qualities or because of their producers?
Follow @shockng for more Nollywood business insights.