The Story⚡
In 2022, the most-watched series on Netflix Nigeria is "Alchemy of souls", a Korean drama that has spent more than 6 months on the top 10 charts.
Asides from these metrics, the top 5 rankings are dominated by series from Korea.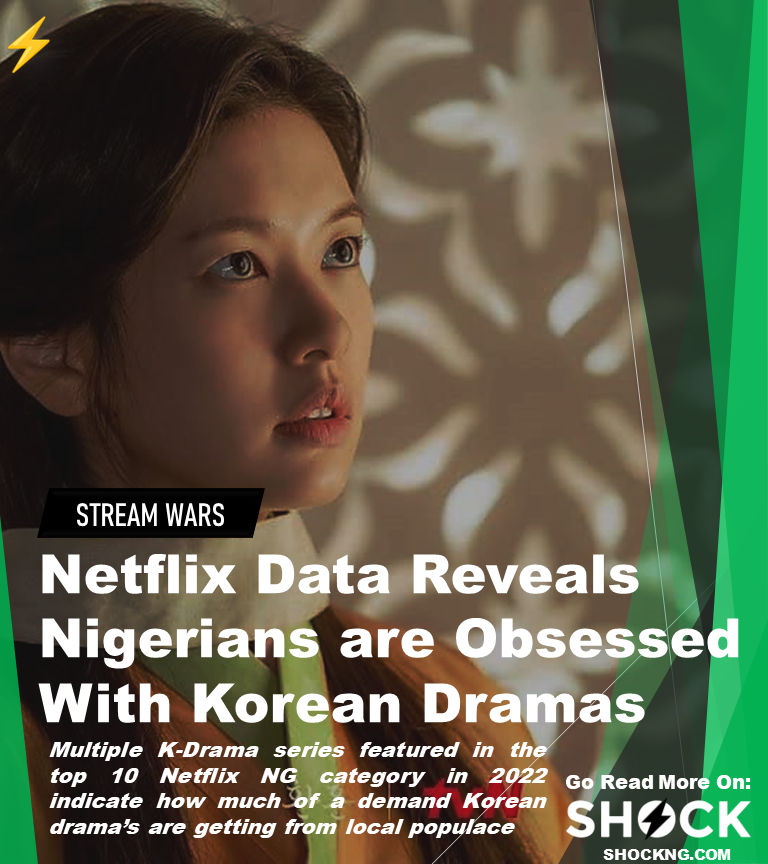 Tell Me More
From a storyline about zombies to a young lady falling in love with her boss and a lawyer whose dolphinated eureka-filled moments will make your heart flutter.
See the list of TV shows Nigerian consumers watched the most in 2022.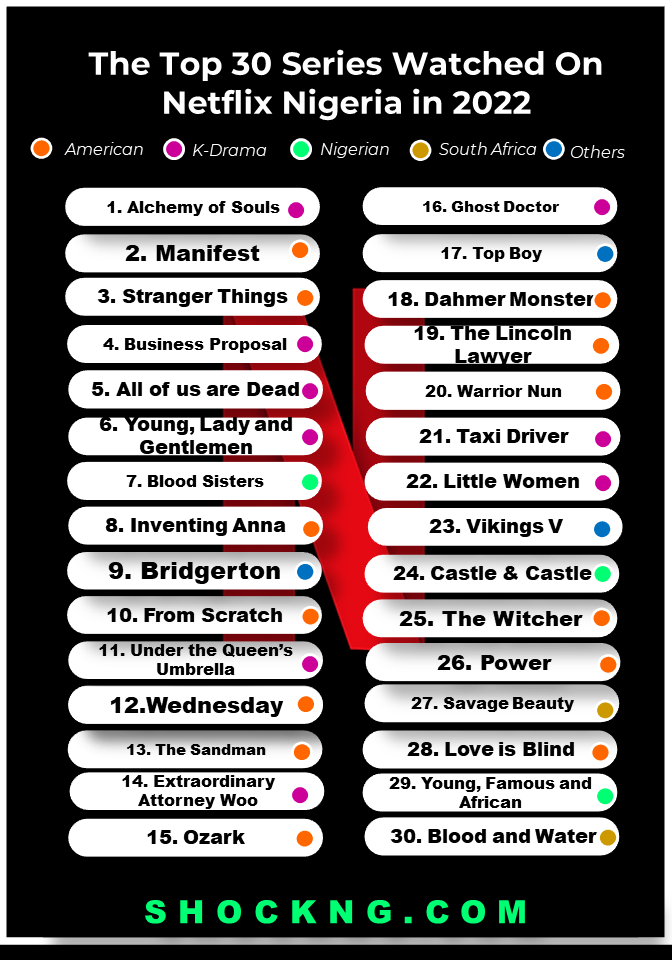 Alchemy of Souls
Plot: Ill-fated from birth, a man shunned by a renowned family of sorcerers aims to reclaim his powers even if it means serving a blind servant as master.
Number of episodes: 30
Trailer:
Business Proposal
Plot: In disguise as her friend, Ha-ri shows up to a blind date to scare him away. But plans go awry when he turns out to be her CEO and makes a proposal.
Number of Episodes: 12
Trailer:
All of us are dead
Plot: A high school becomes a ground zero for a zombie virus outbreak. Trapped students must fight their way out or turn into one of the rabid infected
Number of episodes: 12
Trailer:
Young, Lady and Gentleman
Plot: She took the job because it included room and board. But, working for a rich chaebol family comes with its ups and downs.
Number of episodes: 52
Under the Queen's umbrella
Plot: Joseon's royal mothers all want the same thing; for their sons to be king. They're not above cheating- nor do they fear the risks that live ahead.
Number of episodes: 16
Trailer:
Extraordinary Attorney woo
Plot: With a genius-level IQ, woo learns to embrace her extraordinary self while forming a tight-knit community of friends and allies.
Number of episodes:16
Ghost Doctor
Plot: The Ghost of an arrogant surgeon with a golden touch possesses the body of a first-year resident making him the most sought-after physician overnight
Trailer:
Number of Episodes: 16
Taxi driver
Plot: A former special forces soldier delivers revenge for victims of injustice while working for a secret organisation that fronts as a taxi company
Number of episodes: 16
Little Women
Plot: Three sisters, who only have each other and never enough money, get entangled in a conspiracy involving the rich and powerful.
Number of episodes: 12
Tangent
The chart below shows that Korean drama is the second most watched type of content by Netflix Nigerian consumers.
Shows from Nigeria and South Africa take a low percentage of 10 and 7 respectively.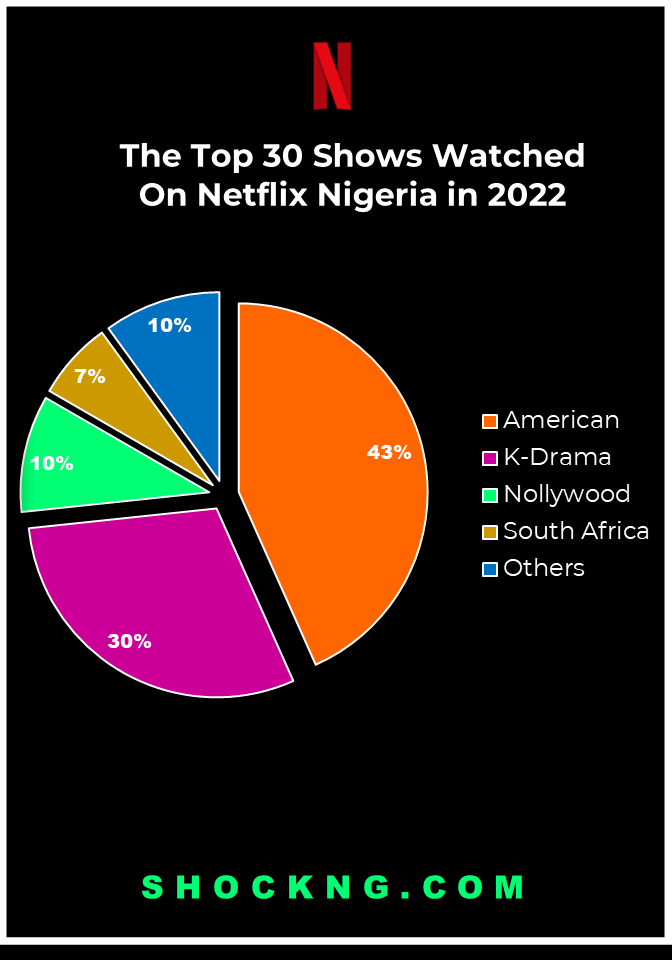 Global Data
This Korean drama wave is global as well. The official Netflix data revealed All Of Us Are Dead is the most-watched TV show on its platform in the year 2022.
See the full list below.
In Summary
The rise of Korean drama globally has been phenomenal.
In the past 4 years, they have become a huge staple in entertainment today.
Using Immersive storytelling, its creators have continued to attract a global and domestic audience. South Korean popular culture has always been known throughout the world, but its recent popularity in music with K-Pop and Cinema has led K-dramas to become known amongst viewers and also Hollywood.
With the phenomenon we witnessed in 2021 of the Netflix series 'Squid Game', its intriguing plot has appealed to the Western market and has further brought K-dramas to wider audiences.
The same was witnessed here in Nigeria, as Squid Games was the number one title for the year 2021.
In 2022, the genre took a cut of 30% in the top 30 list. This shows how much demand the titles are pulling and how consumers enjoy watching them.
Korean drama has witnessed the most growth in demand, showing how it has moved from niche consumers to the mainstream.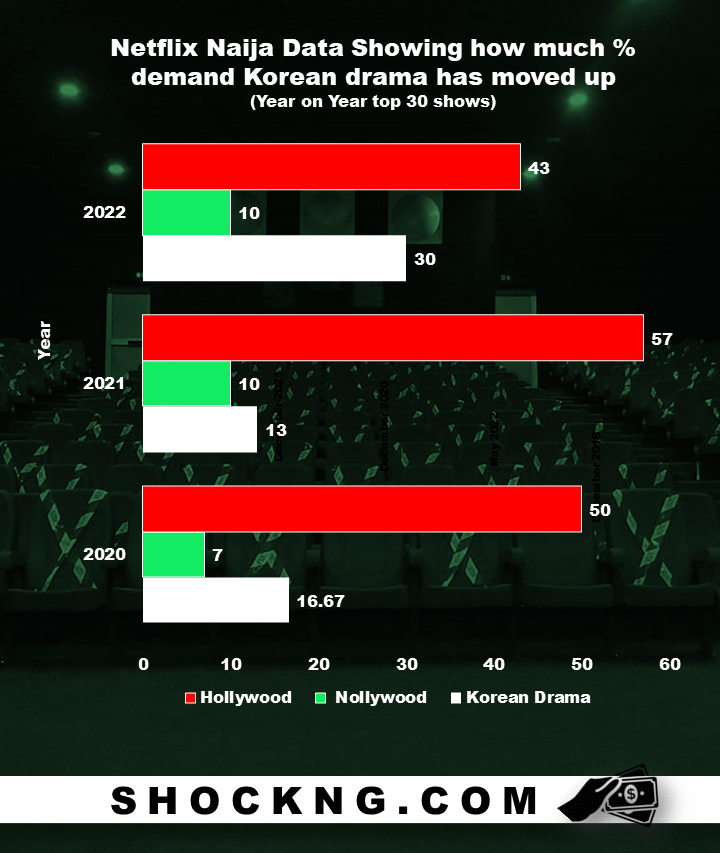 Thanks For Reading
Shockng.com Covers the Business of Film/TV and the Biggest Creators in Sub-Saharan Africa.
Let's be Friends on Instagram @shockng