The Story ⚡
If there is any country that loves watching TV series as much as movies, Nigerians will definitely be among the top consumers in the world.
This is why we are looking for some data to understand what type of TV Shows do domestic consumers prefer to watch – and of course, insights, as well as surprises, were found.
American Shows
With 17 titles made by Americans on this top 30 list, Nigerians unquestionably love American TV Shows.
Sex/Life, The Good Doctor, New Amsterdam on the top of this list are global hit shows that have proven to be favourites here in Nigeria. The first title is a drama series with an ensuing conflict of hot sexual tension between two individuals, so yes – must watch.
The other two titles are medical dramas that centre upon a hospital with the suspense stakes far higher than in most other shows. These guys have found out the secret of how to dish a perfect plate of drama, conflicts and cliffhangers that spectacularly serves consumers curiosity and keeps them coming back for more.
So no matter if they end in tragedy or not, the show delivers a never-ending source of compelling stories with high rewatch value for viewers.
This creates a fandom that then raves about it, automatically creating buzz for the series, driving its popularity metrics.
David Shore, creator of "The Good Doctor" which ranks 6th on the list reveals that what fascinated him in making this series was the conflict between intellect and emotion which is clearly well communicated in the show based on the 2013 South Korean series of the same name.
Nollywood Shows
Only 3 titles created and produced by Nigerians appear on this list to make a poor representation of 10%.
Kemi Adetibas's King of Boys: The Return of the king is the 1st Nigerian title to pop up on the list. The seven-part series featuring Sola Sobowale, Toni Tones, Nse Ikpe Etim, Illbliss, Deyemi Okanlawon, Efa Iwara debuts as a Netflix Original on August 27th 2021.
Despite its huge local buzz, the title IP struggled to beat international shows that were on Netflix but nonetheless ranking a solid 7th position on this list reflects the intensity of its fandom.
Arese Ugwu's Smart Money Woman is the 2nd Nigerian title that ranks 13th on this most-watched list.
The show tells a story of love, friendship, and relationships from the perspective of African women and how they tackle issues with money and other socio-cultural pressures they face in their lives. The cast is led by a female ensemble that includes Toni Tones, Osas Ighodaro Ajibade, Ini Dima-Okojie, Lala Akindoju and Ebenezer Eno.
Pearl Osibu and Jola Ayeye are credited as writers with Bunmi Ajakaiye as series director.
Despite not getting the marketing treatment of an original, the show held its own and became a series hit on the platform in 2021.
If Netflix executives don't sign up for a second season with the showrunner, that's a really huge miss based on these impressive metrics.
Castle and Castle is the 3rd and final Nigerian title that made the top 30.
Produced by Ebony Life Studios in 2018, the glossy legal series was picked up by Netflix as a Nigerian Orignal series in 2020 for a second season and officially released on the platform in September 2021.
The legal drama has some serious star power that should easily rival KOB metrics but it didn't.
There is clearly a demand for Nigerian legal drama and if the show gets renewed for a 3rd season, the metrics would judge the true demand of this type of content – deep or just surface level.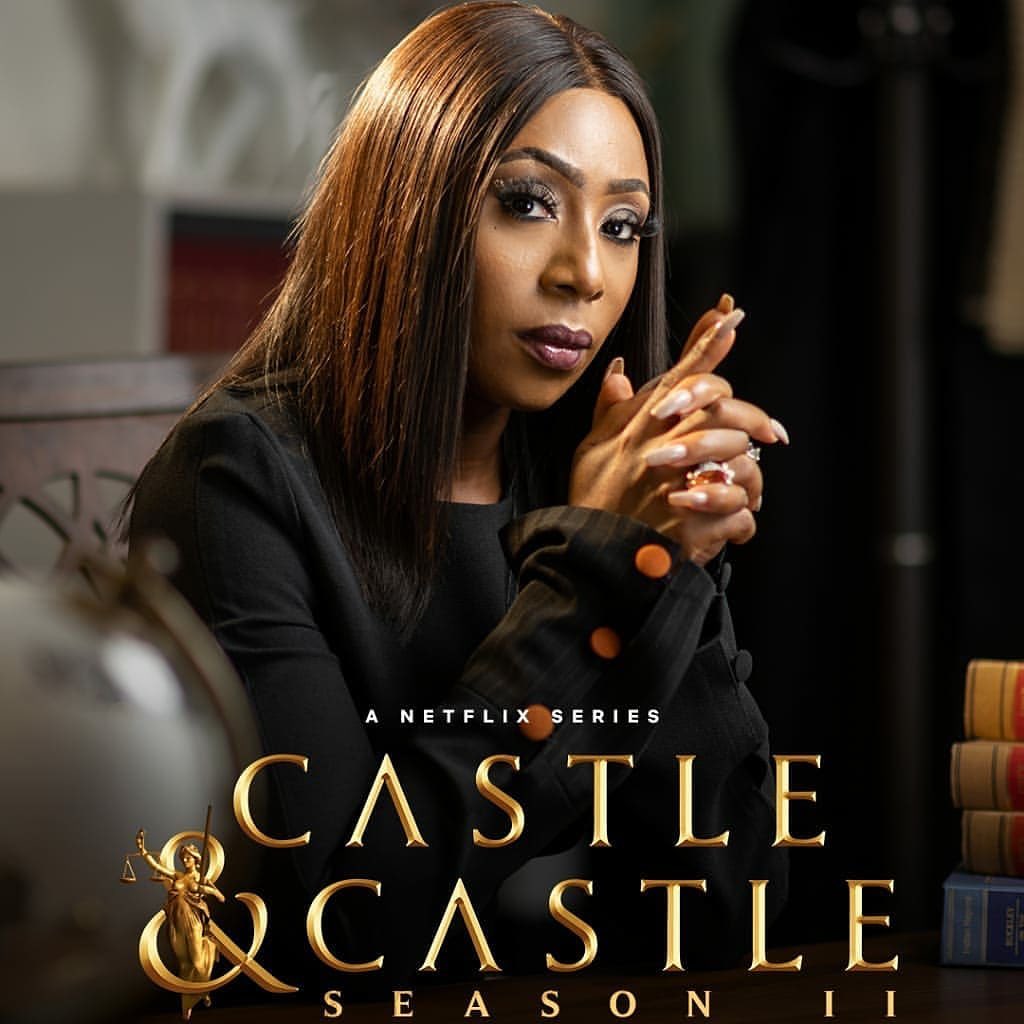 K-Drama
No Surprises, Korean drama dominates this compiled list with Mafia drama "Vincenzo" and Thriller "Squid Game" taking the top 2 spots. However, what is striking is that only four titles of this genre made this top 30 list.
Nigerians love Korean characters so much that it would seem more titles would pop up on this rankings but that didn't happen.
Only four Korean drama titles made this top 30 list which shows how niche this genre really is and not yet mainstream.
The other 2 series asides from the above mentioned are: King's Affection, a historical drama and Tale of 9 Tails, a fantasy romance drama about a Gunmiho who leaves his home in search of the reincarnation of his one true love.
Animation
Cocomelon, a sing-along TV show for kids and the League of Legends "Arcane" are the only animation title that made the list.
The first title which ranks in the top 5 gives a hint on how Netflix Nigerians who are parents regularly use this particular content to entertain their kids.
For context, the streaming hours of this kids content beat the streaming hours of one of the biggest IPs from West African turned series – that's saying something there.
Are you reading this list and haven't binged watched Arcane? Mental. You're missing out.
The hit show based on the popular league of legends characters is just insane. Beyond the visualisation of a futuristic high-life society, the rich mythology of magic and advanced technology underpinning the world-building – the shows brilliantly captures and explore in an unforgettable steampunk style.
Some of the designs take inspiration from Disney's Treasure Planet or Atlantis: The Lost Empire in the way it proposes crystals as an alternate energy source. Though these elements are nothing we haven't seen before, the show contextualises them within a framework of brilliant writing.
Created by Christian Linke and Alex Yee under the french based studio Fortiche, the show has received a 100% rating from Rotten Tomatoes, nominated for several animation awards and has been touted to be one of the best animation masterpieces series Netflix has ever produced as an Original.
British, French, Mexican Shows
These are the shows that are assembled under the others category.
Making up to 13% on the list, titles included are Shonda Rhimes "Bridgerton", French hit spy show "Lupin", Mexcian hit crime drama "La Casa de Papel" and Spanish thriller "Who killed Sarah"
Finding a common thread on these titles to understand consumer preference is hard to see but two words combined to give a keyword helps – Cultural Intrigue.
Subscribers are watching this long-form content because of their fascinating interest in the culture of the country the title is set in as well as other factors that may include less comedy and more suspense.
Here is a quick glance at the top 30 most-watched shows on Netflix Nigeria in 2021.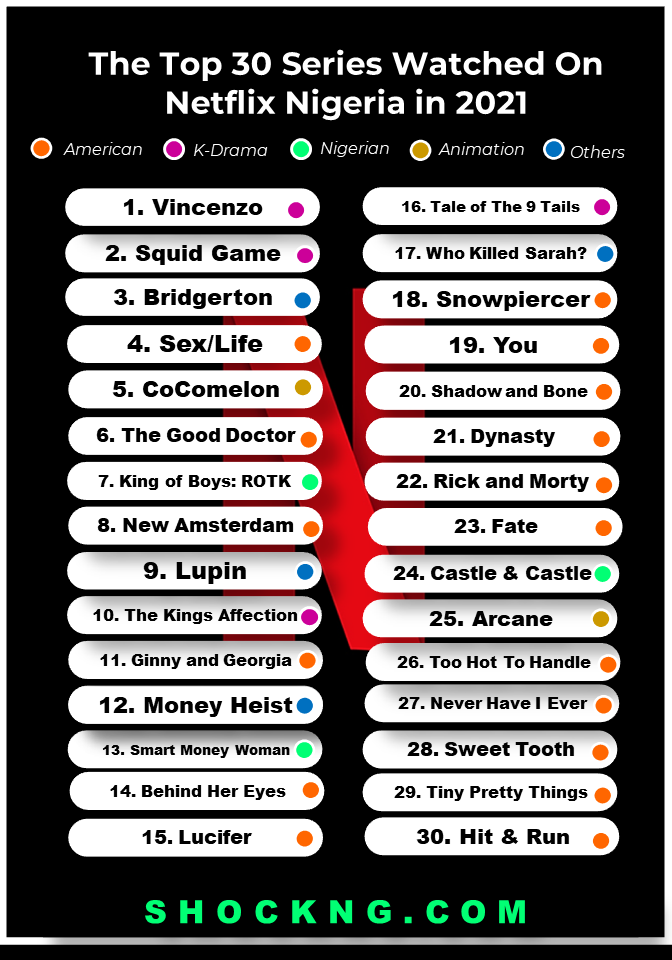 In Summary
The fact that Sex Education, Cobra Kai, Maid and Queen Gambit did not make is this list is very much surprising.
One would have thought all that hype would convert to some good ranking, but here we are.
Remove Multichoice and the Nigerian TV is dead space.
The business policy of local TV executives asking content producers to buy airtime is a direct consequence of the underdeveloped Nigerian TV space we see today. if they had forged partnerships with established producers, their content catalogue would have been improved over time and streamers such as Netflix might take up streaming rights and even formed tv deals with them such as that as Dragon studio/TVN.
However, that's not the case. Short term gain against long term profits keeps happening to distribution owners who don't give a damn about the content value and this always affects the creative industry one way or the other.
Nigerian Netflix consumers love American TV content, followed by Korean Drama, then Nollywood and then others that include British, Mexico and Spanish serials. With these established preferences, it is poignant to say that if Netflix really wants massive subscription growth, Original series needs to flow like a river on their service come 2022.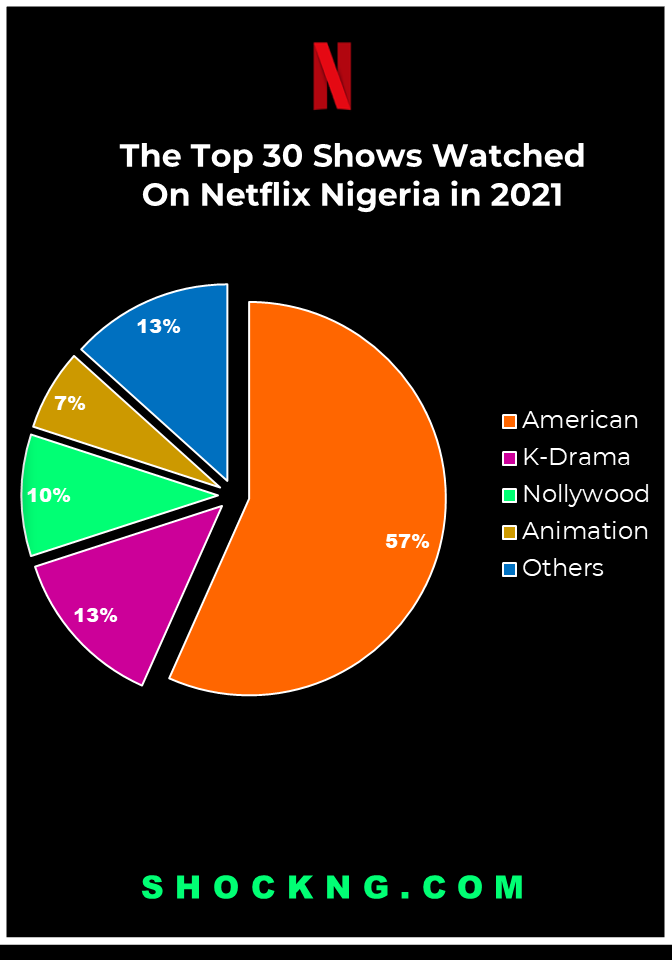 Thank you for reading
Shockng.com Covers the Business of Film/TV and the Biggest Creators in Sub Saharan Africa.
Let's be Friends on Instagram @Shock NG