The Story ⚡
In the film industry, a select few creators have achieved massive financial success with their Intellectual property that has gone global.
From actors to producers, these individuals have made a name for themselves and amassed great wealth through their work in film.
According to Genuine impact, see the full list below the names: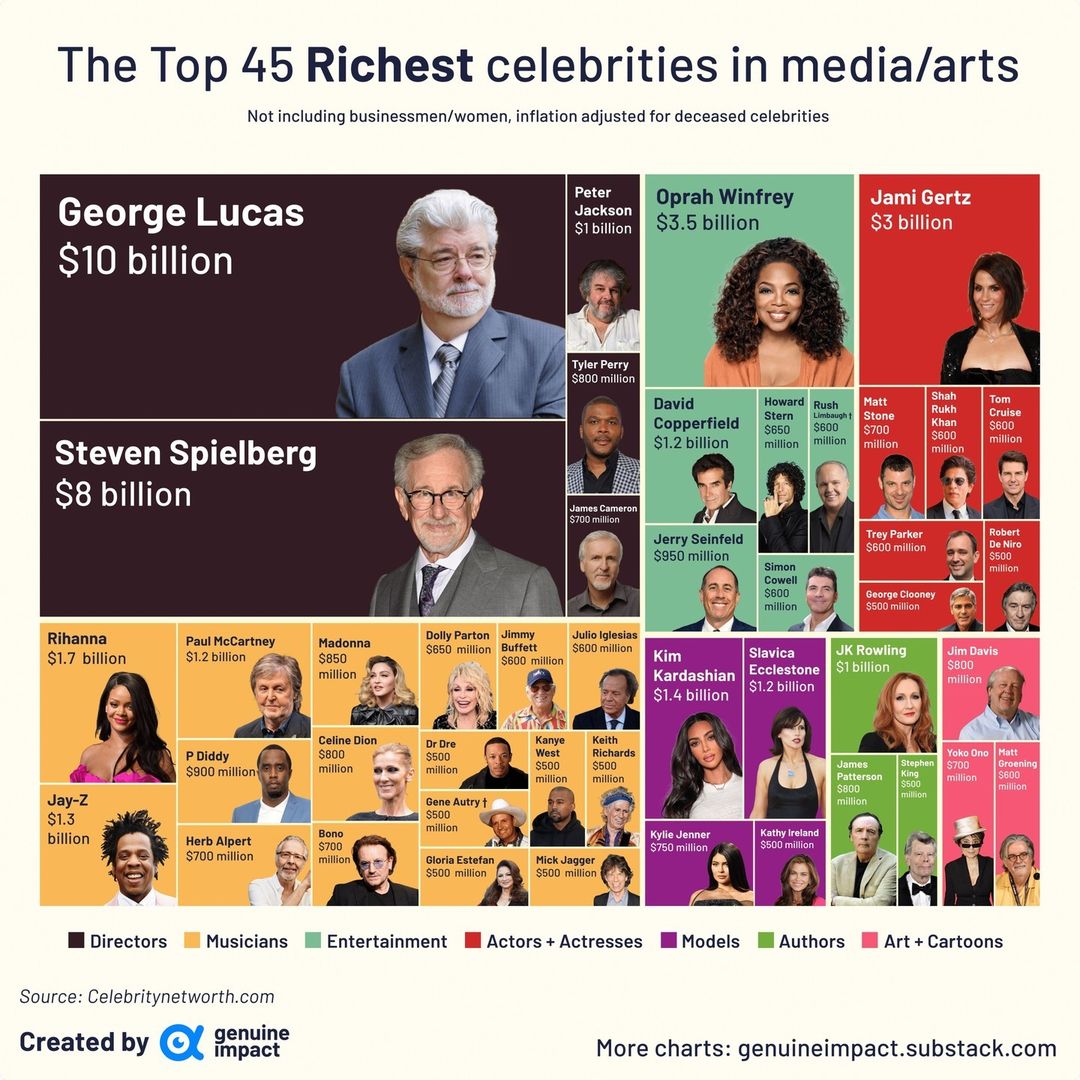 George Lucas
Founder of a number of media companies, Creator of the Stars Wars and Indiana Jones franchise, George Lucas is an American filmmaker and creator of the Star Wars and Indiana Jones franchise, he also has some of the highest-grossing films in his portfolio. Valued at $10 billion, George Lucas is not only the richest celebrity in media and arts but also the wealthiest celebrity in film.
Steven Spielberg
American film director, writer and producer, Steven Spielberg comes second on the list with a net worth of $8 billion. Multi-award winning Steven Spielberg began his career on the set of a 1960 pilot episode Night Gallery, he soon became a widespread commercial success thanks to the first film in the Indiana Jones franchise Raiders of the Lost Ark (1981). Other movies in his portfolio are Ready Player One, War of the Worlds, Jurassic Park (1993), Saving Private Ryan (1998).
Peter Jackson
Coming in at number 3 among the richest celebrities in media is Peter Jackson. Peter Jackson is a New Zealand film director, screenwriter and producer. He is best known as the director, writer and producer of the Lord of the Rings trilogy (2001–2003) and the Hobbit trilogy (2012–2014).
Other notable films include Heavenly Creatures (1994), the horror comedy The Frighteners (1996), King Kong (2005), the World War I documentary film They Shall Not Grow Old (2018) and the documentary The Beatles: Get Back (2021). He is the fourth-highest-grossing film director of all-time, his films having made over $6.5 billion worldwide. Peter Jackson is valued at $1 billion.
Tyler Perry
Tyler Perry is undoubtedly one of the richest celebrities in media with a net worth of $800 million.
Tyler Perry is an American actor, filmmaker, playwright, and entrepreneur, he has built a media empire that includes films, television shows, and a production company. The creator and actor behind the Madea character, Tyler Perry's films vary in style from modern filmmaking techniques to filmed productions of live stage plays, and many of his stage-play films have been adapted to feature films. He is the first African American to own a major film studio and has achieved incredible success with his popular Madea series.
Outside his creative pieces, Tyler Perry has also acted in films not directed, written or produced by himself, including Star Trek (2009), Alex Cross (2012), Gone Girl (2014), Teenage Mutant Ninja Turtles: Out of the Shadows (2016), Vice (2018), Those Who Wish Me Dead (2021), Don't Look Up (2021).
James Cameron
James Cameron is a Canadian filmmaker, he first gained recognition for writing and directing The Terminator (1984). The filmmaker's portfolio includes Aliens (1986), The Abyss (1989), Terminator 2: Judgment Day (1991), and the action comedy True Lies (1994). He wrote and directed Titanic (1997) and Avatar (2009), with Titanic earning him Academy Awards for Best Picture, Best Director and Best Film Editing. He is valued at $700 million.
In Summary
The film business, both at the local and international levels is highly based on entrepreneurship. While many creatives focus solely on their craft, it is essential to also think about the business side of things. This includes building a brand, developing a marketing strategy, and finding ways to monetize your work.
The film industry offers enormous potential for success and financial gain and with hard work, determination, and a little bit of luck, there is no limit to what can be achieved in the exciting world of film.