The Story⚡
Netflix, Showmax and Prime Video are current front-runners in the stream wars taking shape in Africa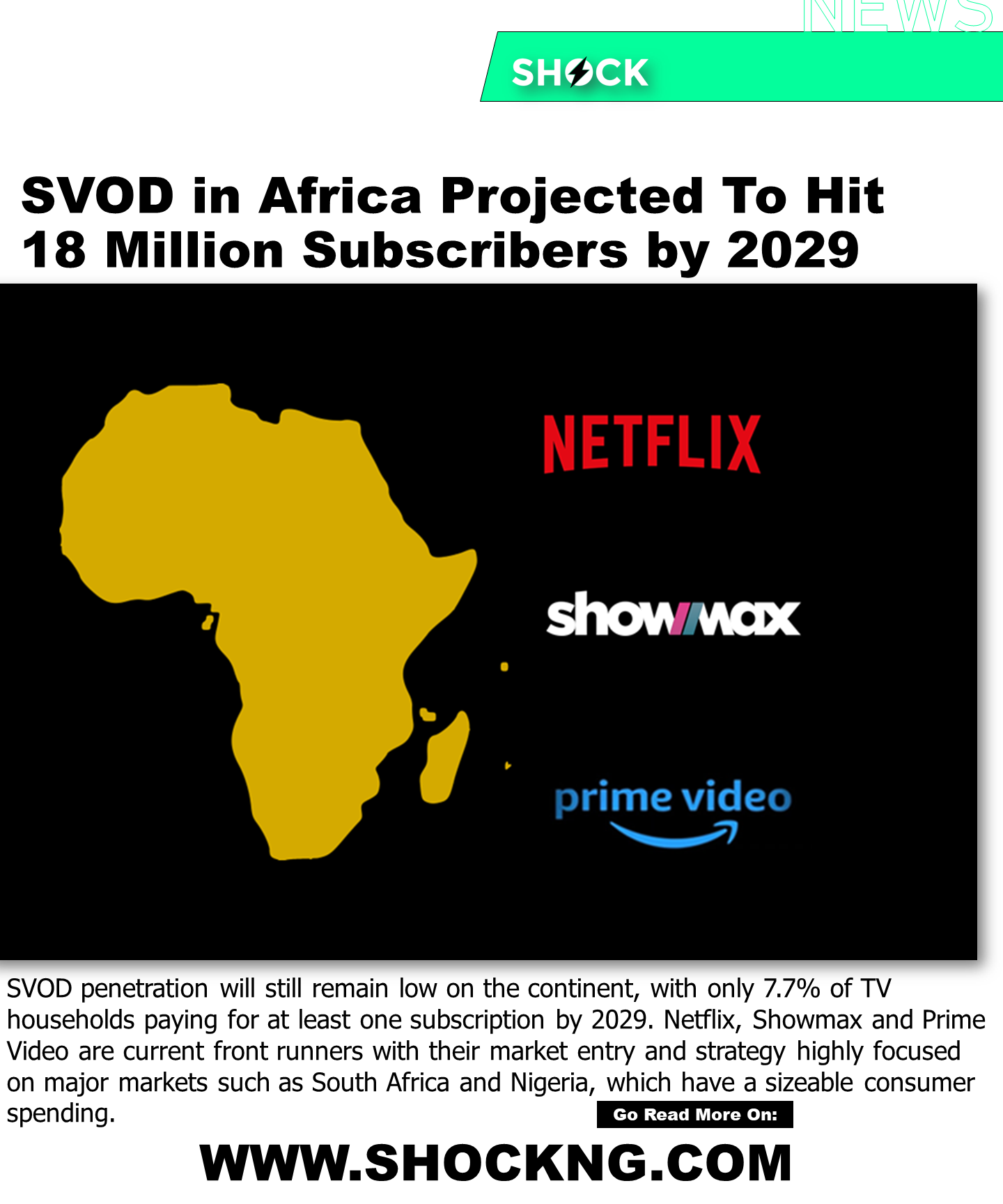 Tell Me More
Subscription video-on-demand (SVOD) is a video-on-demand monetization method used by streaming platforms to give viewers full access to their entire catalogue of content in exchange for a fixed subscription fee for a particular period.
With the market entry and strategy highly focused on major markets such as South Africa and Nigeria, which have sizeable consumer spending – there are 3 major contenders currently putting in the work for market growth on the continent. Digital TV Research has projected that the total number of subscriptions from the continent will be in double digits before 2029.
Netflix currently leads the market share with a 2023 year-end prediction of 3.4 million subscribers and a 2029 prediction of 7.55 million subscribers.
Owned by South African pay TV provider MultiChoice, Showmax takes second place and will have 4.4 million paying subscribers by 2029; nearly three million more than in 2023.
By the end of 2021, Prime Video was estimated to reach 575 thousand subscriptions in Sub-Saharan Africa. In 2026, the number of subscribers to Prime Video is projected to double and reach 1.9 million.
However, despite this fast growth, SVOD penetration will still remain low on the continent, with only 7.7% of TV households paying for at least one subscription by 2029.
2023 Programming Strategy So Far…
Original programming from streamers has significantly increased this year. Here is a look at Nigerian titles released so far and some interesting metrics to adjudge performance.
Prime Video
Gangs of Lagos – Released in April 2023 as the first original from Prime. Gangs of Lagos, an action title acquired from Jade Osiberu's Greoh Studios was the perfect way to kick off Prime Video's original programming lineup.
After a solid 30-day run, Prime Video revealed that the title was a global success as it featured on the top 10 most watched non-English language titles on its streaming library.
⚡️🗞️BREAKING – Nigeria's Gangs of Lagos named top 10 most watched non English language title on Prime Video!

>> The title directed by Jade Osiberu is Prime Video's first African Original, a direct-to-streaming crime action released on streaming service on Friday 7th of April,… pic.twitter.com/g3mFLK2Xxt

— S H ⚡ C K ! (@Shockng) June 20, 2023
Showmax – Wura is Showmax's first Nigerian telenovela that debuted early in the year 2023. The series which has up to 100 episodes has tremendously captured young urban audiences and has shown very high engagement with its growing fan base.
One thing that shines about the series is its strong characters, plot arcs and well-written episodic suspense. Based on our internal consumer research, Wura is one of the most highly anticipated and engaged scrpted series from Showmax 2023 lineup.
What are you doing this Saturday?

>> Your faves are coming to our Twitter spaces to talk the biggest moments in "Wura"

Set a reminder below and don't miss the juice. #ShockspacesxWura pic.twitter.com/a2VZTvC8ZP

— S H ⚡ C K ! (@Shockng) July 14, 2023
Netflix – Jagun Jagun is fresh off the original programming lineup by Netflix. The Yoruba epic title acquired from Femi Adebayo dusted the new titles such as Marry My Dead Body (Korean) – Adipurush (India) – The Raid Redemption (Indonesia) to rank 5th on the global non-English chart.
Data from Flix Patrol revealed the title performed well in the United Kingdom, Brazil, Jamaica, Panama and 35 other countries.
🟢⚡JUST IN: Early performance metrics for "Jagun Jagun" reveals the title has registered 2.1M hours viewed on the Netflix streaming platform.

>> The title has spent 3 days on the platform and currently ranks as the 5th title in the non-English global charts category. pic.twitter.com/XeZsuDhPoF

— S H ⚡ C K ! (@Shockng) August 15, 2023
In Summary
This Africa SVOD forecast indicates that Africa largely remains an untapped region in the Video on Demand concept.
If Originals from the Big 3 keep doubling year on year with more intentional marketing efforts, market share would increase and more global successes would be achieved.
In 6 years, it will be interesting to see which streamer has been able to gain more market share and up its subscription numbers.