The Story ⚡
In 2022 and beyond, the big 4 will invest significantly into Nollywood to unlock subscription growth.
How this impacts the industry is the big question we're thinking about and this piece divulges 7 potential dimensions that may be a reality.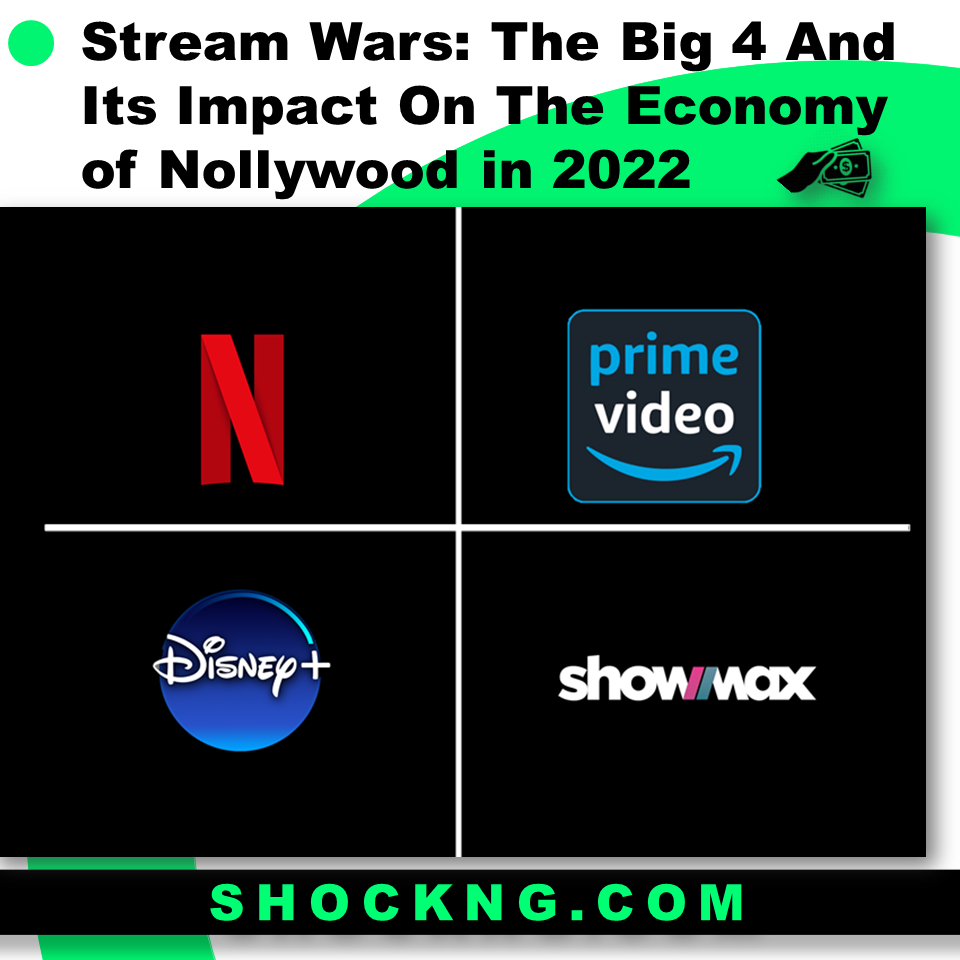 Tell Me More
Netflix, Amazon prime video, Disney Plus and Showmax are the big 4 streaming companies that will lead content spending for a share in the viable African streaming market.
Data research reveals that by 2026 these companies will double in subscription numbers with Nigerian and South Africans bringing the bulk of user growth.
However, to meet these numbers, local content funding in numbers of billions has to be poured into the market to aggressively drive consumer acquisition.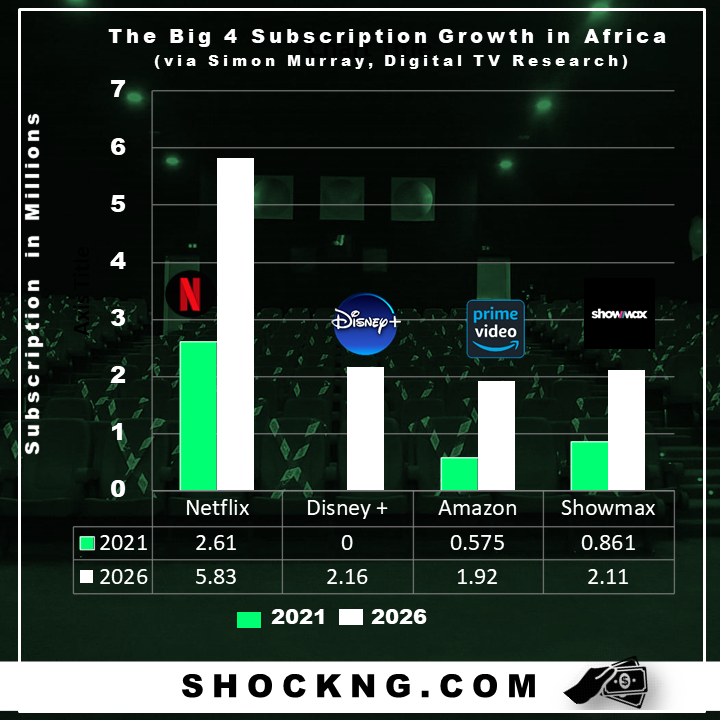 This data forecast means exclusive deals for established filmmakers and production studios will massively roll out in the next five years. Commissioning of original movies and tv shows, licensing of content as well as advertising efforts will be the model of investment for these companies to create value for their respective streaming services to hit subscription targets from the continent.
So far, the following are the content deals set in motion:
Netflix: Slate deals with Mo Abudu, Kunle Afolayan and Kemi Adetiba have been dotted and announced.
Showmax: Ghana Jollof and three un-announced shows by big-name Nigerian creators.
Amazon Prime: Post theatrical license deal with Inkblot, Anthill and its plans to outbid Netflix in 2022.
Disney: Service to be available in 13 African countries including Nigeria by 2022 Q4.
2 out of 4 from the above-listed companies have begun these investment efforts and the rest (Amazon prime video and Disney) will not only match this funding drive but double it just to grab a piece of the market share.
Currently, Netflix takes the early lead in this streaming investment, especially with its recently glossy campaign launch "Nollywood is Home"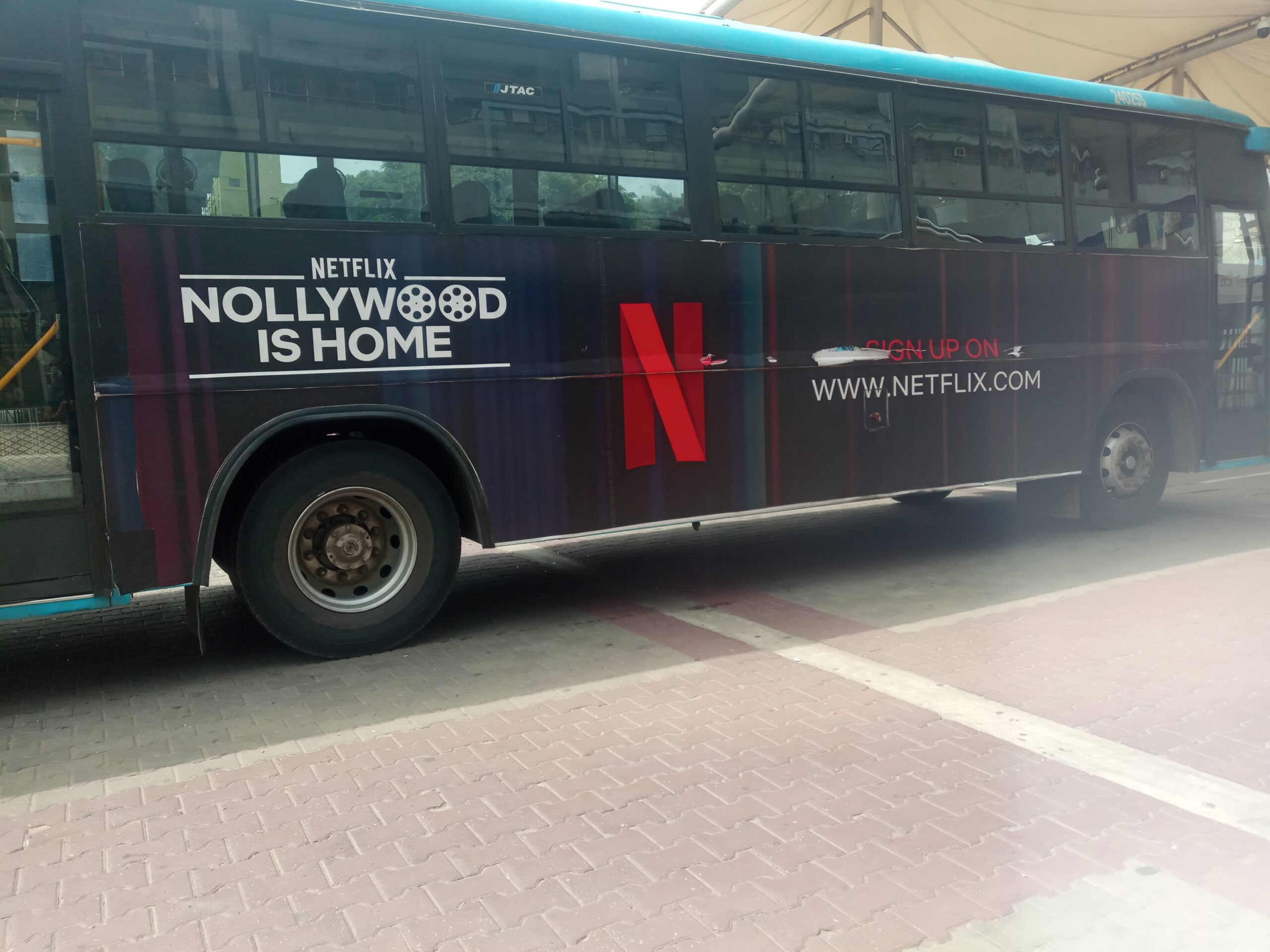 Also, the number of users streaming on the platform seems to be hitting high numbers with evidence pointing to heavy negative reviews from its first content push of the year – Chief Daddy 2.
Now that you know who the big 4 are and their plans, here is how their impact might be felt.
Mass Market
Reaching Mass appeal has been a huge challenge for Nollywood filmmakers to overcome.
In the '00s, Television was the only way for films and tv projects to reach mass appeal, then came VHS, VCD/ DVD era. Nigerian producers quickly thrived in this new market creation for a while but piracy cut back profits. The business model then adapted to "let's turn up the volume to beat the pirates" drastically slowed storytelling growth and made this path of distribution stagnant.
The rise of cheap smartphones and affordable data plans seems to have opened up the next golden opportunity to reach this mass market but the investment to build such a scale of local distribution is lacking.
Same set of problems goes for the local exhibition market with investor profit margins being ridiculously low or non-existent.
Streaming companies investing in Nollywood can solve this problem. Their platforms can build, grow and invest in local distribution that can help the work of filmmakers reach mass appeal without them worrying about recoupment of profits.
For them, it is growth over profits as their flywheel is on a global scale.
As long as subscriptions keep up year on year, the big 4 platforms will continue to stay and invest which in turn helps the industry finally gain mass appeal and grow.
Consumer Profile and Tastes:
What makes a hit for the box office audience might not necessarily be so for the streaming audience. Why?
The profile of the box office audience is clearly different from moviegoers who experience movies on their smart devices in the comfort of their homes.
This means that for streaming companies to meet the taste of streamers, several commissioned projects termed as "Originals" must be far different in taste, style and genre.
Executing this set of projects will paint the industry in a new and better light to convince those who have lost hope that something great can come out of Nollywood.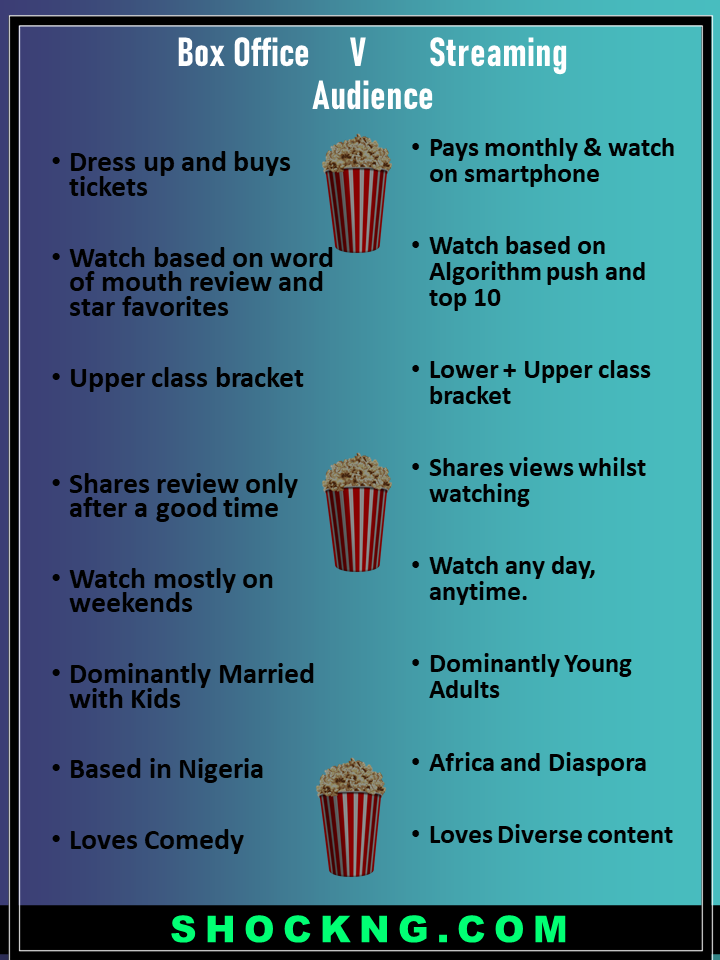 Audience Feedback
No longer will ticket sales signal that a film is good.
The impact of streaming will change this as audiences are watching and live-tweeting/updating their status with their thoughts per minute.
With this new feedback system, a community of streamers are united in what they are watching, what they like and what they don't like.
And the feedback is apologetically raw because they are paying every month and they deserve to be valued.
This finally means film studios have to listen and do research on what the consumer wants and not look at box office history to create projects.
Bargaining Without Structure
This is the moment that bodies of Nollywood chapters and Unions should stand up and bring the big 4 to the table to bargain for good working conditions, favourable pay and benefits – however, that's not the case.
Deals are already being signed with established production studios who will now have full autonomy on setting fees, compensation and benefits. This means that there is no binding agreement on what industry standard to follow and exploitation will most certainly happen with creatives getting the short end of the stick.
For industry growth to happen, creators, both new and existing must be well compensated based on a generally agreed payment structure of residuals and participation fees and it seems Nollywood has just missed this vital aspect.
Volume Over Quality
No doubt, the big 4 will play the volume game. Their value proposition is to get more African subscribers on their service with the lowest CAC possible (Customer Acquisition Cost).
If it means licensing any type of film priced a ridiculously low figure, why not?
Netflix strategy for 2021 utilized this scope as it got a bunch of films that could pump up its "Nollywood Library" however, its execs were smart enough to localize licensing i.e. only available in some African countries.
For titles that were globally available, their quality was good enough and the amortization calculated seemed like a good investment.
With the big 4 in town, let's hope producers don't see this as a window to keep churning out crap to monetize for short term gains.
Here is a video that explains why "crap content has low amortization rate" and hence a bad route to follow.
Global Crossover
Africa's music has crossed over and so will our movies.
It is no longer of if but a matter of "when"
For a long while, talent and creators in the Nollywood space have found this cross over hard to accomplish. With the big 4 now in play, it doesn't seem impossible anymore.
If our stories can travel, why not the brains behind them?
The more we have people working on international projects, the more opportunity the industry can now attract. This is a major impact the big 4 can make happen.
Finding new MVP's
Can streaming platforms discover and mint a new Nollywood star? Yes.
It will definitely happen that at a point in time, new faces or directors that debut on the big 4 platforms will become a "hotshot" in the market.
This will especially happen for newly debut directors who can prove their artistry and credibility by having a critical hit show on the streaming platforms. When this happens, it truly means we are about to reach the peak of the streaming age.
Nollywood distribution has been broken for more than 9 years and with the big 4 on the rise, new talents who consistently land roles in different projects on all platforms see an increase in their profitability and star power.
And just maybe there is a chance that a new star chain model can be built.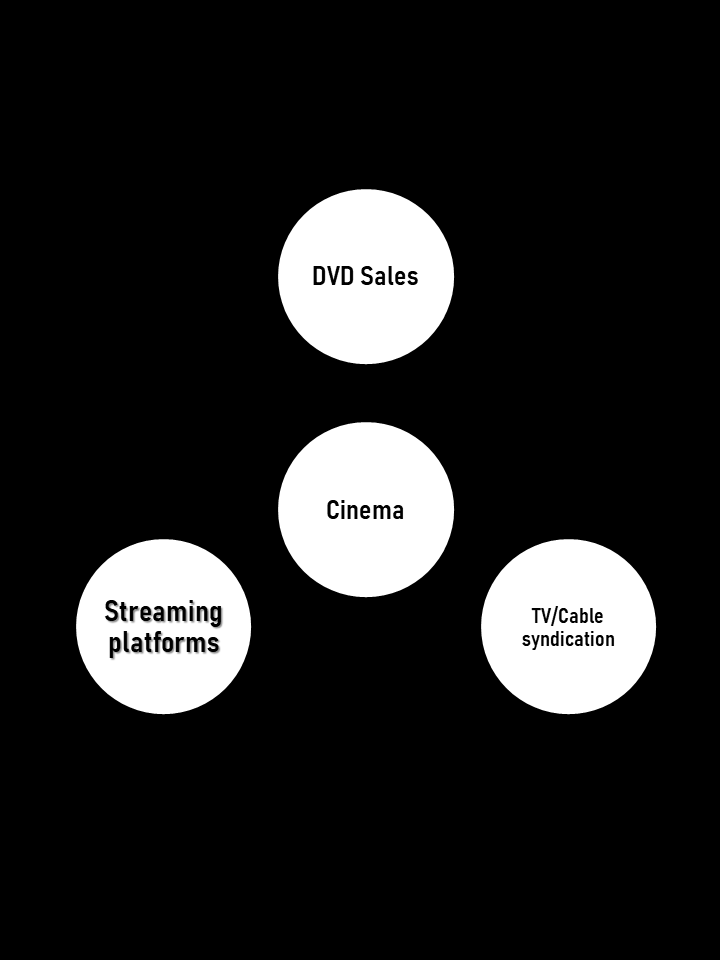 In Summary
Content is Queen, Distribution is King.
The streaming race is on and we would be tracking the impact of this big 4 investment on the economy of Nollywood and perhaps even see a surprising dimension that we didn't expect.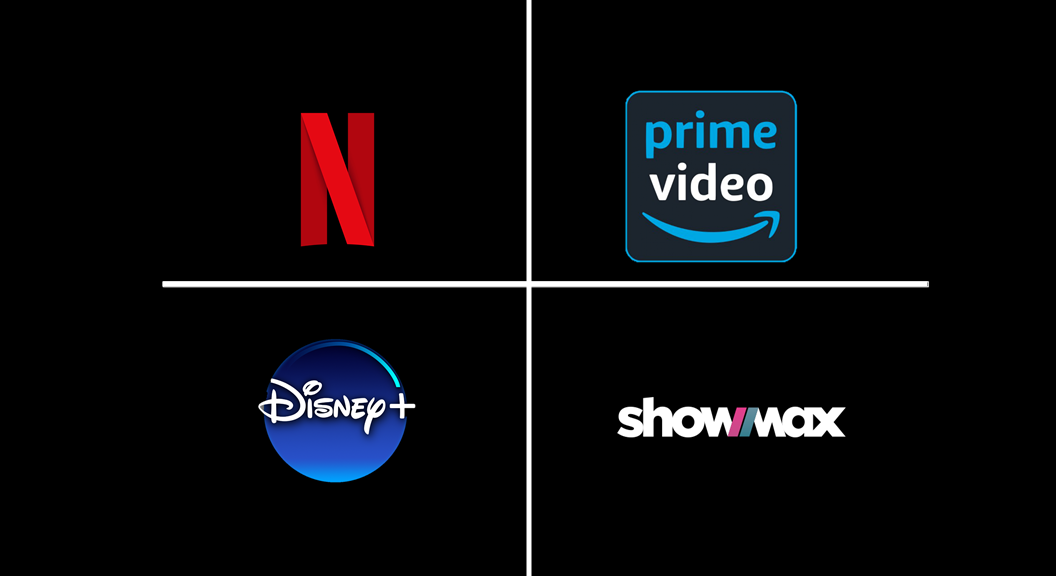 Thank you for reading
Shockng.com Covers the Business of Film and the Biggest movies that screen in Sub Saharan Africa.
Let's be Friends on Instagram @Shock NG