The Story⚡
The yearly cycle has begun. For an industry that works so hard and shows so much potential, 2023 is the year that will show if indeed the global commercial potential is real and not fumes of dreams.
As we begin our coverage this year, it is a must to discuss what this year hopes to bring.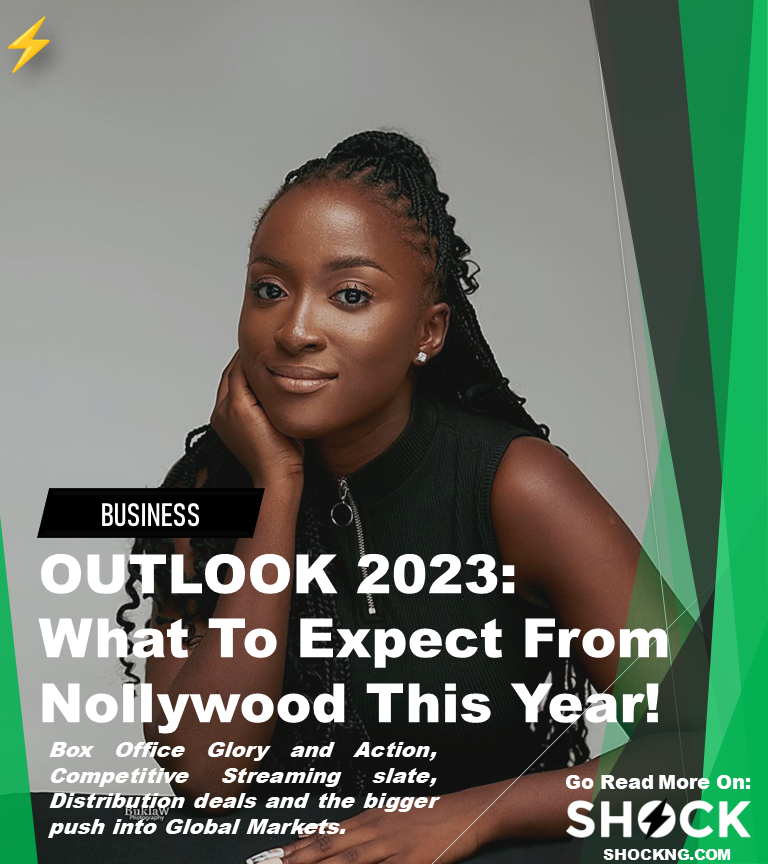 Box Office 2023
There is so much coming to the big screens this year, however, there is a fear of what happened in 2022 might take place again. The drought of N70-N180M titles – now known as the mid-tier hits.
Of course, the noise of King of Thieves, Brotherhood, Ijakunmo and Battle on Buka street overshadowed the grimness of the above, producers should be ready to fight even harder with better products and roll-out strategies to avoid this drought.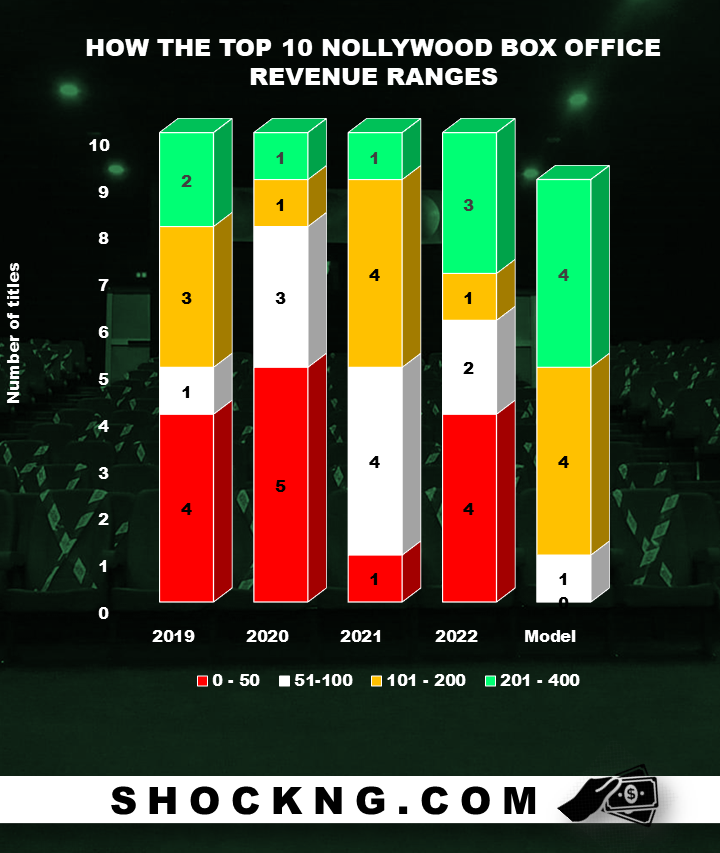 In 2022, the industry only minted one hit in the N101 – 200M category and way too many titles that made less than N50M
At this point in the industry, titles with less than N50M should not make it to the top 10 list at all.
They should rather be filled with hits above N100M.
Why? The number of mid-tier hits made by local titles shows how competitive it is in the market. Based on the above data, Nollywood titles, overall, were not competitive in any form at the 2022 box office.
Streaming in 2023
International streaming platforms Showmax, Netflix and Prime Video in 2022 made tangible efforts to push Nollywood into global demand via its platforms.
Showmax: After a hit unscripted show, showmax made a content splash for Nollywood that roared to life in Q4.
From Diiche, Flawsome, Crime and Justice Lagos and Wura, a telenovela led by Scarlet Gomez. The streaming service has quickly become a strong contender in the local stream wars.
2023 will see how the market is really feeling about this push as the service has two Big brother franchises to pull eyeballs to these titles.
Netflix: Blood sisters, Glamour girls and Anikulapo went global in over 50 countries. The streamer also launched its first Young Adult series that became an instant hit locally and gave the industry new stars to work within 2023.
Based on the top 30 Nollywood data, it is very clear that Netflix relaxed its licensing spree and might have lost out to the competition on titles available.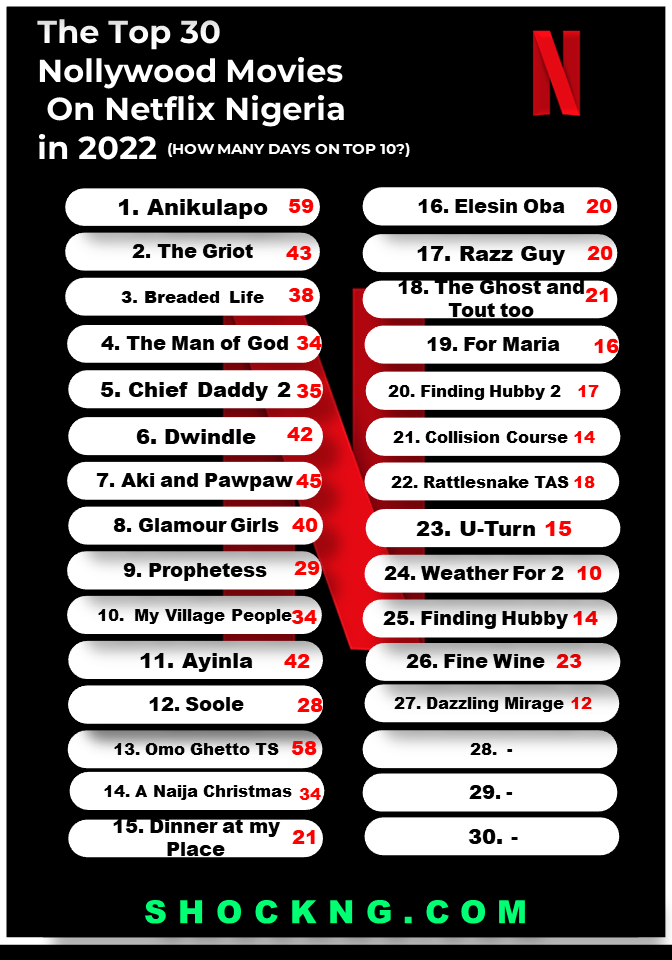 Prime Video: After signing an output deal with Anthill and Inkblot, a first picture deal with Nemesia studios and an Overall deal with Jade Osiberu. Whilst the output is already yielding results, the rest of the deals will be more in focus this year and perhaps more output deals signed with studios.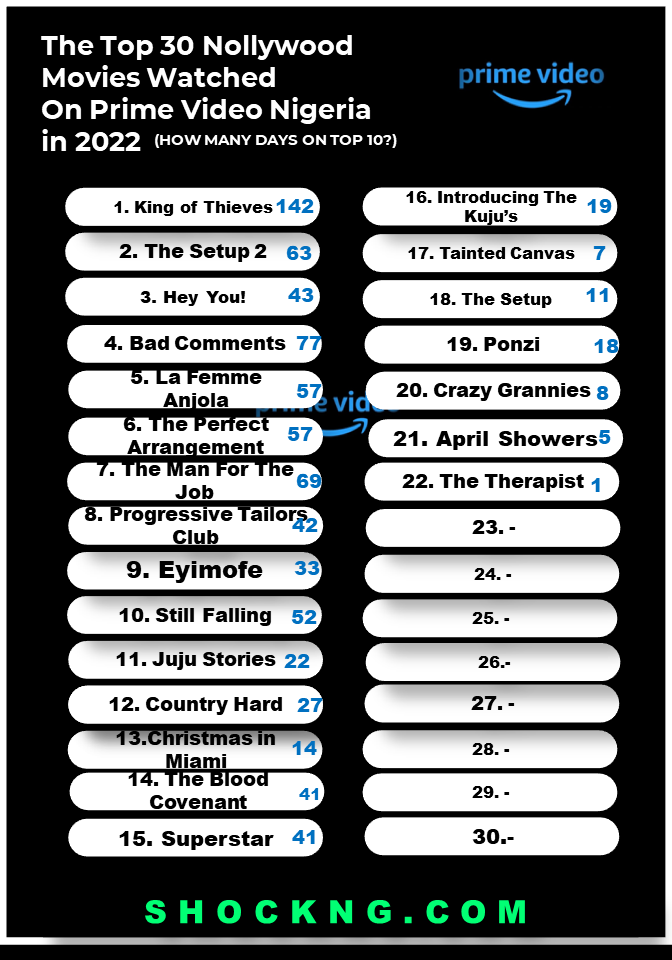 Disney: It is still unclear if the Cinderella juggernaut will commission titles from Nigerian creators to push its market entry strategy. For now, there are only two titles in play. "Iwaju" animated series and the Madu documentary co-directed by Kachi Benson
HBO: Word on the street is that HBO execs have been setting up secret meetings with top-tier creators from Africa to launch a high-concept limited series. The global recession might have impeded talks but let's see how the year runs. Fingers crossed for the announcement.
Canal Plus and Paramount Plus have 2024 plans with the latter snagging Busola Komolafe from multichoice to lead acquisition efforts and the former still executing in South Africa via a co-production agreement with Showmax.
Comic Executive, Roye Okupe Bagging Global Deals and Building an African Multiverse
Talent Discovery
2023 continues to be an exciting year for Nigerian talents. The African crossover has begun with Tosh Gitonga's Netflix original "Disconnect 2" featuring Wole Ojo and Meg Otanwa.
Our eyes are hot on Shaffy Bello, Genovevah Umeh, Kunle Remi, Bimbo Ademoye, Wale Ojo, Kehinde Bankole, Tobi Bakre, Chioma Akoptha and other surprises ahead.
Deals and Funding Raise
More dedicated Nollywood funds might be inked this year. In 2023, we are tracking 4 funds.
The Film One $1Million Fund: Launched in 2021, it is the first-ever international capital fund created specially for investment in Nigerian films. Core investors in the $1 million fund are Huahua Media, and Empire Entertainment (South Africa).
LaVida Studios: Chioma Ude's LaVida studios has secured a $50 Million Investment from Pan African Capital Holdings Limited.
The Anakle Fund: Set up in 2021, the fund seeks to help younger filmmakers realise their own projects either by "buying the IP or funding what they are doing". One of the younger filmmakers they are working with is Akay Mason, the director behind the time travel film Day of Destiny, critically-acclaimed Elevator Baby and recently recently-released Superstar.
The Labari Africa: With a $3 million raise, Labari Africa Productions has been launched by director Femi D. Ogunsanwo and financial sector execs Tunde Leye and Adedayo Amzat.
Comic Executive, Roye Okupe Bagging Global Deals and Building an African Multiverse
The Business of Nollywood: Looking Back at 2022
2022 was the year of the announcement.
Every month, the industry was encumbered with milestones, exciting industry directions and new records all driving up the business of film and TV in Nigeria.
Here are the headlines that caught our attention and would have an impact in 2023/2024.
Comic Executive, Roye Okupe Bagging Global Deals and Building an African Multiverse
January
Prime Video confirms Prime Video Output deal with Anthill Studios
Film One Unveils slate of indie Film and TV projects.
February
Dinner at my place become a surprise hit, wins Valentine's day audiences.
Omo Ghetto: The Saga spends 98 days on Netflix Nigeria Top 10!
April
Nemesia first-look deal is confirmed.
May
Bidding war for Nollywood titles by Prime Video and Netflix Executives.
Ebony Life's "Blood sisters" is a Global hit with 11 Million views
Comic Executive, Roye Okupe Bagging Global Deals and Building an African Multiverse
NBC Code Null and void
June
Damilola Orimogunje "For Maria" is licensed to "All Blk streaming" for US and Canada regions.
Kehinde Bankole in Disney Plus Project "Kizazi Moto"
Film Executive, Harmisha Daryani announces the "Nollywood Goes To India" project
$50 Million Lavida Investments led by Affrif founder "Chioma Ude"
July
Glamour Girls a Netflix hit in July
Nemsia's Breath of Life cast and plot details disclosed – Wale Ojo to Lead.
Oyinye Odokoro to star in New Sky Original series "Unwanted", production kicks off in Italy.
Wangi Mba Uzokwu promoted to Head of Local Originals in Amazon Studios.
Iyanu series greenlighted by HBO/Cartoon Network – Roye Okupe as showrunner.
Comic Executive, Roye Okupe Bagging Global Deals and Building an African Multiverse
August
Gangs of Lagos, LOL unveiled the First Amazon originals
Bolu Essien's Becoming Abi unveils Netflix Date.
TSU2 Bombs.
King of Thieves finishes with a record hit of N320.80M, and heads to Prime Video.
Nigerian Oscar selection "The Milkmaid" arrives on Prime Video Africa.
Death of Biyi Bandele.
September
TWK hits big with N113.87M + with Nigerian Talent Jimmy Odukoya.
Jade Osiberu Prime Video Deals, Hire Lala and Steven as Film and TV executives.
Diiche Launches on Showmax
October: LASG strike deal to build a mega Film City
Kunle Afolayan's Anikulapo mints a Netflix hit
MTV Shuga Naija returns
October
Disney Plus sets "Madu" documentary, revealed to be co-directed by Kachi Benson.
Stanley Kalu deal with 20th century
Passport hit N71M box office cume
Eyimofe lands US HBO Max licensing deal.
November
Flawsome launch
Historic Black Panther 2 African premiere done in Lagos, Nigeria.
Afrexim $100M Deal with Silverbird Group
December
Labari Africa raises $3Million pre-seed.
Netflix Nigeria's First Young Adult Series "Far From Home" Launches Globally, gets audience acclaim
Studio canal announces Nigerian writers for "Agoodjie" Series
CJ Obasi's Mami Wata heads to Sundance
Biafra TV series at BBC, led by Argo Films
⚡BREAKING: The BBC is currently developing a Nigeria civil war series with Argo Films, David Oyelowo's production company.

>> The 6-part series is set in the UK and Nigeria, with the story unfolding across 2 timelines: the present day, and the 1967-70 Biafra War. pic.twitter.com/QlbKcI2Ywa

— S H ⚡ C K ! (@Shockng) December 14, 2022
Shanty Town unveiled as Netflix Original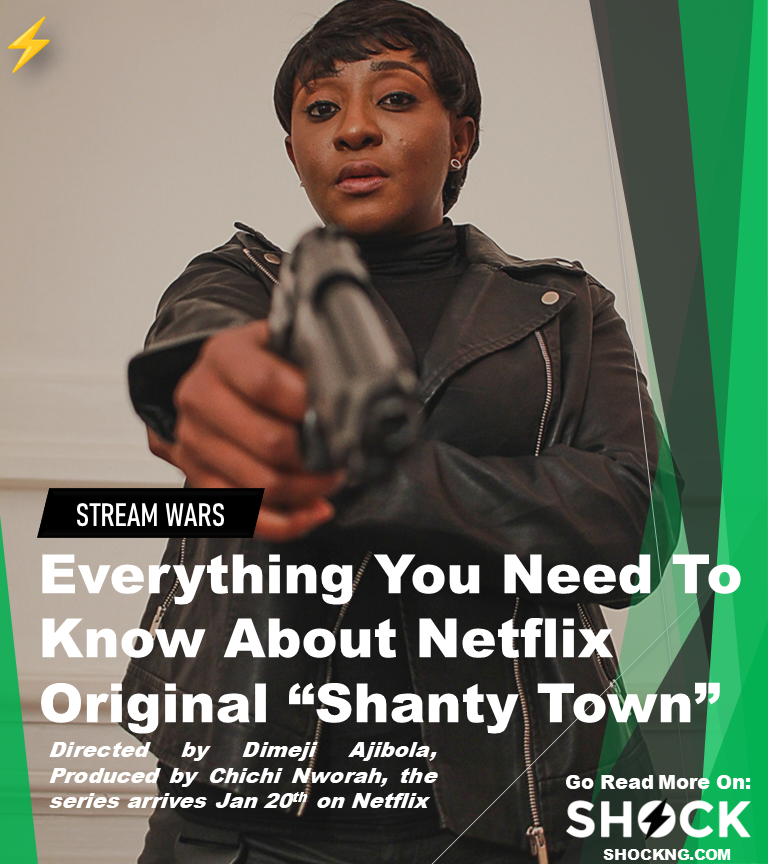 In Summary
Box Office Glory and Action, Competitive Streaming slate, Distribution deals and the bigger push into Global Markets.
This is what the shock team hopes to cover this year.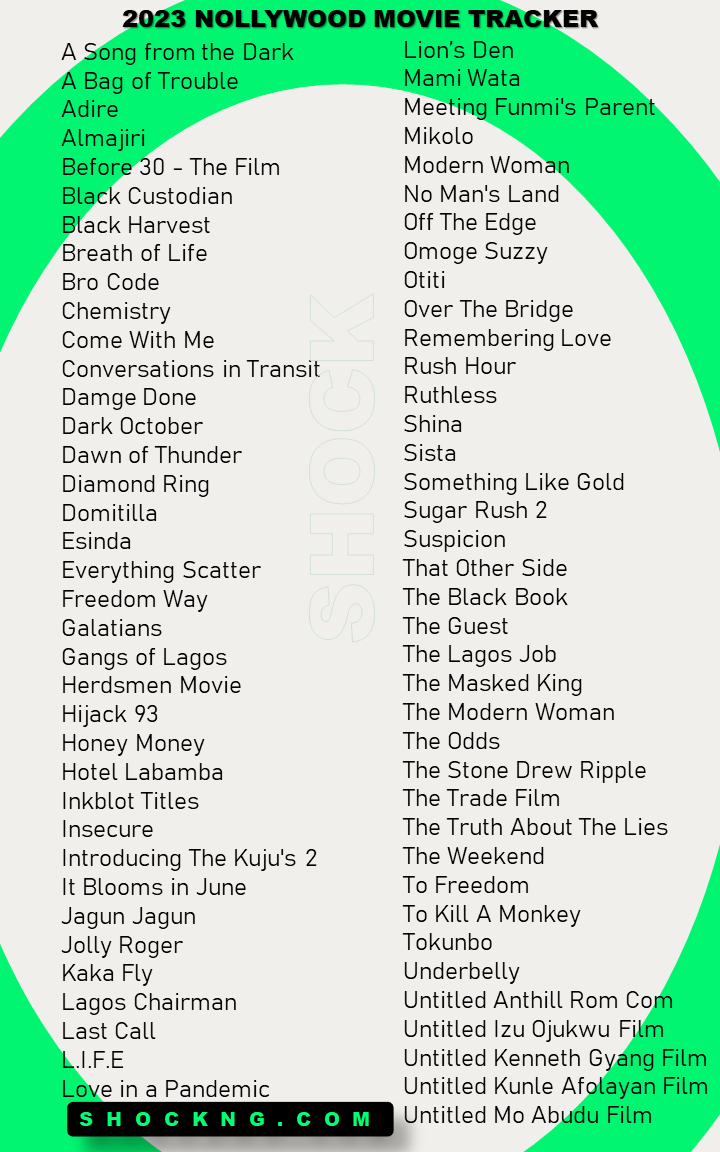 Give us the smoke, bring us onboard your projects and let's write down industry-changing headlines.
Reach out: [email protected]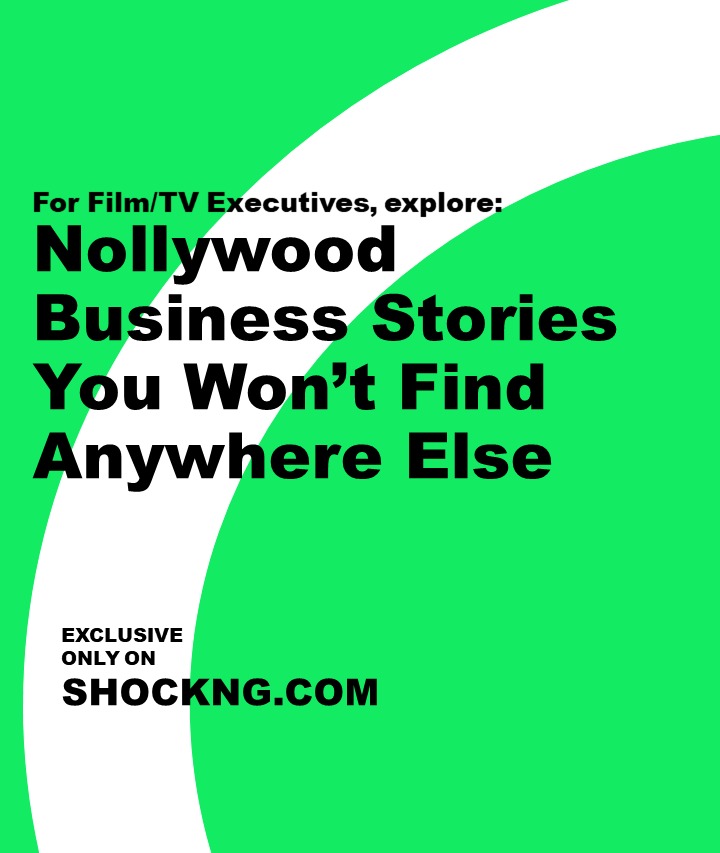 Thanks For Reading
Shockng.com Covers the Business of Film/TV and the Biggest Creators in Sub-Saharan Africa.
Let's be Friends on Instagram @shockng