The Story⚡
The Nigerian audience got stuck on some hot, captivating flicks on Netflix, and here are the top 30.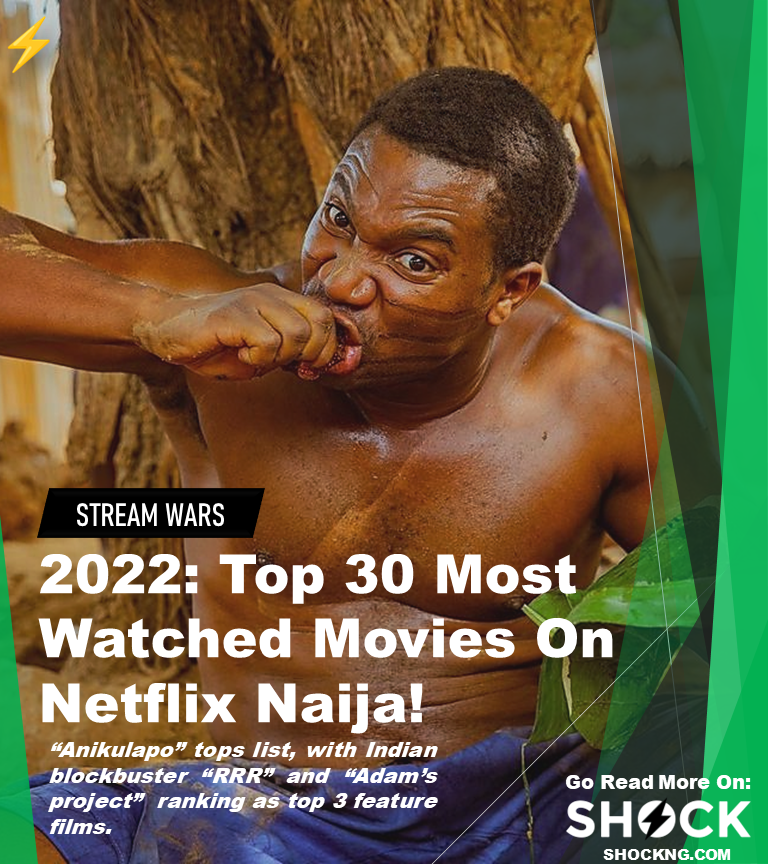 Tell Me More
The year 2022 was a big year for Netflix, as it gained a huge audience in Africa's most populous black nation. The media company made a mark on the Nigerian audience through both its local and international content.
From feature films to original series, Netflix captured Nigerian viewers with some highly intriguing and captivating pictures this past year. It is interesting to note that the Nigerian audience had varying tastes, and here's a breakdown of the top 30 most-watched movies on Netflix Naija.
30.
Do Revenge
Do Revenge is a 2022 Hollywood comedy film directed by Jennifer Kaytin Robinson, who co-wrote the screenplay alongside Celeste Ballard.
The synopsis reads Popular Drea wants revenge on her boyfriend for publishing her sex tape, and exchange student Eleanor is haunted by a rumor. The two teenagers team up to take action against their tormentors.
The film stars Camila Mendes, Maya Hawke, Austin Abrams, Rish Shah, and Sarah Michelle Gellar. Date of release – September 16, 2022.
29.
The Royal Treatment
The Royal Treatment is a 2022 American romance film directed by Rick Jacobson and written by Holly Hester. This romantic flick tells a story about a New York hairdresser, Izzy, who seizes the chance to work at the wedding of a charming prince. When sparks start to fly between the two of them, love and duty are put to the test as the time of the wedding draws closer.
The Royal Treatment stars Laura Marano, Mena Massoud, Julie Edwards, and many others.
Release date January 20, 2022.
28.
Dinner At My Place
Directed and written by Kevin Luther Apaa, Dinner At My Place follows a young man ready to pop the question to his girlfriend on a romantic dinner as he gets interrupted when his overdramatic ex shows up uninvited.
This romantic comedy stars Bisola Aiyeola, Sophie Alakija, Timini Egbuson, Gabriel Ameh, and many more.
Release date – 28 Jan 2022
https://www.youtube.com/watch?v=biR-mJIeOuE
27.
Yaksha: Ruthless Operations
Yaksha: Ruthless Operations is a 2022 South Korean spy action film directed by Na Hyeon. The film stars Sol Kyung-gu and Park Hae-soo. Based in Shenyang, China, the film revolves around the leader of an espionage agency's black ops team and a prosecutor who was demoted to the espionage agency. The film was released worldwide on April 8, 2022, on Netflix.
26.
Tyler Perry's A Madea HomeComing
Directed and written by Tyler Perry, A Madea HomeComing is a romantic comedy featuring Tyler Perry, Cassi Davis, David Mann, and many others. The synopsis read: Madea's back and she's not putting up with any nonsense as family drama erupts at her great-grandson's college graduation celebration.
Date of release: 25 February 2022
25.
Day Shift
A hard-working, blue-collar dad just wants to provide a good life for his quick-witted 10-year-old daughter. His mundane San Fernando Valley pool cleaning job is a front for his real source of income: hunting and killing vampires.
Directed by J.J Perry and written by Tyler Tice and Shay Hatten, action-comedy Day Shift stars Jamie Foxx, Dave Franco, and Natasha Liu Bordizzo.
Date of release 12 August 2022
24.
The Man From Toronto
The Man from Toronto is a 2022 American action comedy film directed by Patrick Hughes. The film stars Kevin Hart and Woody Harrelson, Kaley Cuoco, Jasmine Mathews, Lela Loren, Pierson Fodé, Jencarlos Canela, and Ellen Barkin. The synopsis reads
A case of mistaken identity forces a bumbling entrepreneur to team up with a notorious assassin in hopes of staying alive.
Date of release June 24, 2022
23.
A Naija Christmas
A mother's Christmas wish – and the grand prize that comes with it – sets off a fierce competition between her sons. A Naija Christmas was directed by Kunle Afolayan and written by Kemi Adesoye. It stars Onikosi Bukola Abioye, Lateef Adedimeji, Abayomi Alvin, and many others.
Date of release 16 December 2021
22.
The Sea Beast
The Sea Beast is a 2022 computer-animated adventure film directed by Chris Williams, who co-wrote the screenplay with Nell Benjamin and produced with Jed Schlanger. The film stars the voices of Karl Urban, Zaris-Angel Hator, Jared Harris, and Marianne Jean-Baptiste.
It tells the story of a sea monster hunter and a young orphan girl who joins his group of sea monster hunters on their search for the elusive Red Bluster.
The film began a limited theatrical release on June 24, 2022, before debuting on Netflix on July 8.
21.
The Pirates
The Pirates: The Last Royal Treasure is a 2022 South Korean period adventure film directed by Kim Jeong-hoon and starring Han Hyo-Joo and Kang Ha-Seul. A spiritual sequel to the 2014 film The Pirates, the film is about the adventures of pirates who gather in the sea and search for the royal treasures that have disappeared without a trace.
It was released on Netflix on March 2, 2022.
20.
Through My Window
Through My Window (Spanish: A través de mi Ventana) is a 2022 Spanish romance film directed by Marçal Forés from a screenplay by Eduard Sola, based on the novel of the same name by Ariana Godoy. The film stars Julio Peña, Clara Galle and Pilar Castro.
Release date 4 February 2022.
19.
Troll
Troll is a 2022 Norwegian monster film directed by Roar Uthaug.Starring Ine Marie Wilmann, Kim Falck, Mads Sjøgård Pettersen, Gard B. Eidsvold, Pål Richard Lunderby, and Eric Vorenholt. The film follows a ragtag group of people who must come together to stop an ancient troll that was awakened in a Norwegian mountain and prevent it from wreaking havoc.
Release date 1 December 2022.
18.
Lockdown
Lockdown is a 2021 Nigerian psychological thriller film written and directed by Moses Inwang. The film stars Omotola Jalade-Ekeinde, Tony Umez, and Charles Awurum in the lead roles. The film was produced by a collaboration among studios Sneeze Films, FilmOne, iFactory Films, and CEM Media Group.
The film is based on Nigerian medical doctor Ameyo Adadevoh who was credited with having curbed a wider spread of the Ebola virus in Nigeria by placing patient zero, Patrick Sawyer, in quarantine despite pressure from the Liberian government.
Release date 28 May 2021
17.
Omo Ghetto: The Saga
Omo Ghetto: The Saga also known as Omo Ghetto 2 is a 2020 Nigerian gangster comedy film co-directed by Funke Akindele and JJC Skillz.
The film tells a story about Twins who are reunited, as a good-hearted female gangster and her uptight rich sister take on family, crime, cops, and all of the trouble that follows them. It stars Funke Akindele, Chioma Akpota, Nancy Isime, Eniola Badmus, Bimbo Thomas, Deyemi Okanlawon, and Mercy Aigbe in the lead roles.
Release date 25 December 2020.
16.
Soole
Soole is a 2021 Nigerian-comedy film produced by Adunni Ade and directed by Kayode Kasum. Soole is a story of a Catholic nun named Veronica played by Adunni Ade who travels from Lagos to Enugu after failing to fund an orphanage home. In her journey to Enugu, she opted for a cheap option ride popularly called 'Soole' where she met different commuters like herself. The journey from Lagos to Enugu featured a lot of drama including an armed robbery attack on their way to Enugu
The film is Adunni Ade's debut production and stars Sola Sobowale, Lateef Adedimeji, Femi Jacobs, Meg Otanwa, Shawn Faqua, Bukunmi Oluwasina, Eso Dike, Teniola Aladese, Saidi Balogun amongst others.
Date to release 21 November 2021
15.
Ayinla
Ayinla is a musical eponymous film based on the life of Ayinla Yusuf popularly known as Ayinla Omowura, an Apala musician who was stabbed to death by his manager named Bayewu in a bar fight on 6 May 1980 at Abeokuta. The film premiered on 13 June 2021 in Lagos and was released to theatres on 18 June 2021.
Directed by Tunde Kelani, the film was set in the 1970s and early 1980s and shot in Abeokuta, Ogun State.
Lateef Adedimeji assumed the role of Ayinla, starring alongside Omowumi Dada, Bimbo Manuel, Ade Laoye, Kunle Afolayan, Bimbo Ademoye, and Mr Macaroni.
Date of release 18 June 2021
14.
My Village People
Directed by Niyi Akinmolayan and written by Bovi Ugboma, My Village People tells a tale of how a young man's weakness for women lands him in trouble when he is caught in a bizarre love triangle with witches.
The film stars Fares Boulos, Sophie Alakija, Rachel Oniga, Zubby Michael, Nkem Owoh, Ada Ameh, and many more.
Date of release 11 June 2021
13.
Prophetess
Prophetess is a 2021 Nigerian sports comedy film directed by Niyi Akinmolayan. The film stars Toyin Abraham, Kehinde Bankole, Uzor Arukwe, Stan Nze, and Tina Mba in the lead roles. The film follows Ajoke, a local Spiritualist, who makes a bogus prediction about a football match which sets off a chain of events that escalate beyond her control. With her life threatened by several aggrieved parties, she enlists the help of her twin sister to save her
Date of release 2 April 2021.
12.
Aki & Pawpaw
Relocating to the vibrant city of Lagos, two troublesome brothers search for social media fame after crossing paths with a powerful influencer.
Directed by Biodun Stephen and written by Ozioma Ogbaji and Stephen Oluboyo, the comedy-drama starred Osita Iheme, Chinedu Ikedieze, and Chioma Okafor in lead roles.
Release date 17 December 2021
11.
Glamour Girls
Glamour Girls is a 2022 Nollywood movie directed by Bunmi Adesoye and produced by Abimbola Craig. It stars Nse Ikpe-Etim, Sharon Ooja, Joselyn Dumas, Toke Makinwa, and Segilola Ogidan as women embarking on glamorous and luxurious lifestyles through escorting.
Date of release 24 June 2022
10.
Dwindle
Dwindle is a 2021 Nigerian comedy film based on the story of Sogo and Buta, two friends who hijack a car and venture into cabbing, and how their lives take a drastic turn when their path runs into assassins who have just kidnapped the state governor. The picture was produced by Mimi Bartels for FilmOne Productions and directed by Kayode Kasum and Dare Olaitan. It stars Funke Akindele, Bisola Aiyeola, Jidekene Achufusi, Gregory Ojefua, Broda Shaggi, Adedimeji Lateef, Timini Egbuson, Efa Iwara and Uzor Arukwe.
Release date 16 July 2021.
9.
The School for Good and Evil
Directed by Paul Feig, The School for Good and Evil tells a story about best friends Sophie and Agatha who find themselves on opposing sides of an epic battle when they're swept away into an enchanted school where aspiring heroes and villains are trained to protect the balance between Good and Evil. The picture stars Kit Young, Sophia Anne Caruso, and Cate Blanchette in lead roles.
Date of release 18 October 2022
8.
Chief Daddy 2
The Beecroft family is ready to spend all of Chief Daddy's inheritance, but not if the CEO of his company has anything to do with it.
Directed by Niyi Akinmolayan, this flick stars Chika Agwuike, Dakore Akande, Funke Akindele, and many others.
Release date January 1, 2022
7.
Man of God
Directed by Bolanle Austen-Peters, Man of God follows Samuel, as he forsakes his harsh religious upbringing to live his own life but his soul remains caught between the world and the faith he left behind.
The film stars Akah Nnani, Osas Ighodaro, Atlanta Bridget Johnson, and Dorcas Shola-Fapson in lead roles
Date of release 16 April 2022
6.
The Tinder Swindler
The Tinder Swindler is a British true crime documentary film directed by Felicity Morris. The documentary tells the story of the Israeli conman Simon Leviev (born Shimon Hayut) who used the dating application Tinder to connect with individuals who he then emotionally manipulated into financially supporting his lavish lifestyle on the pretext he needed the money to escape his "enemies."
Date of release 2 February 2022
5.
Breaded Life
Breaded Life is a drama-comedy that follows an irresponsible young man in conflict with his mother who wakes up one day and to his surprise, no one he knows can recognize him, except for a local bread hawker.The film stars Timini Egbuson, Bimbo Ademoye, Dior Adele. It was written and directed by Biodun Stephen
Date of release 16 April 2021
4.
The Griot
The Griot follows a shy but skilled storyteller who comes to blows with his best friend who tries to take credit for his tales and win the heart of the woman they both love. The story was directed by Adeoluwa Owu and written by Temilolu Fosudo and Dapo Lanre-Badmus. It stars Adedimeji Lateef, Abimbola Adebajo, and Yewande Adekoya in lead roles.
Release date 9 September 2021
3.
The Adam project
The Adam Project is a 2022 American science fiction action comedy film co-produced by Skydance Media, Maximum Effort, and 21 Laps Entertainment. It was directed by Shawn Levy from a screenplay written by Jonathan Tropper, T.S. Nowlin, Jennifer Flackett, and Mark Levin. The movie stars Ryan Reynolds, Walker Scobell, Mark Ruffalo, Jennifer Garner, Catherine Keener, and Zoe Saldaña. The plot follows a fighter pilot (Reynolds) from the future, who goes back in time and encounters his younger self (Scobell).
Release date March 11, 2022
2.
RRR
RRR is a 2022 Indian Telugu-language epic action drama film directed by S. S. Rajamouli, who co-wrote the film with V. Vijayendra Prasad. It was produced by D. V. V. Danayya of DVV Entertainment. The film stars N. T. Rama Rao Jr., Ram Charan, Ajay Devgn, Alia Bhatt, Shriya Saran, Samuthirakani, Ray Stevenson, Alison Doody, and Olivia Morris. It centres around two real-life Indian revolutionaries, Alluri Sitarama Raju (Charan) and Komaram Bheem (Rama Rao), their fictional friendship, and their fight against the British Raj. Set in the 1920s, the film explores the undocumented period in their lives when both the revolutionaries chose to go into obscurity before they began the fight for their country.
Release date 25 March 2022
1.
Anikulapo
Aníkúlápó is a 2022 Nigerian epic fantasy film that follows a zealous traveller who encounters a mythical bird with the power to give him another chance. The film was produced by Kunle Afolayan and it stars Kunle Remi, Bimbo Ademoye, Sola Sobowale, Hakeem Kae-Kazim, and Taiwo Hassan.
Released on 30 September 2022
Analysis
In this top 30 list, 16 were Nigerian, seven were Hollywood, and the rest were from Bollywood, Korean, Norwegian, and Spanish.
This data from Netflix points to the fact that although the Nigerian audience has a mix of tastes, a huge portion of its 2022 watch was Nollywood content. It is also important to note that the most-watched film on Netflix Naija in the past year was Anikulapo, with 8.7 million streaming hours. This reinforces the fact that the Nigerian audience still seeks out good Nigerian traditional content.
Top of this Netflix Naija list were Anikulapo, RRR, and The Adam Project. From this, we can observe the diverse taste of the Nigerian Netflix audience, as these three films are projects from three different film industries (Nollywood, Bollywood, and Hollywood, respectively). In addition to these three distinct industries, the Nigerian audience also enjoyed a healthy dose of Korean content, with Yaksha: Ruthless Operations, and The Pirates: The Last Royal Treasure.
Another important point to observe is that the most popular genre among the Nigerian audience was drama and drama comedy.
In comparison with 2021's list, Nollywood films are still taking up 53.3% of the top 30 watch list from Netflix.
Interestingly, Funke Akindele's Omo Ghetto: The Saga, released in 2020 also made the list, proving how much of a powerhouse the filmmaker is in the industry.
The film has been featured on Netflix's Naija's top 30 movies for two years in a row!
Genres
This data gives an important pointer to the genres that caught the eye of the Nigerian audience. The most watched genre for the year 2022 was the drama and drama-comedy genre. Another genre that was most watched was romance with films like The Royal Treatment, Dinner At My Place, Tyler Perry's A Madea Homecoming, and Through my Window.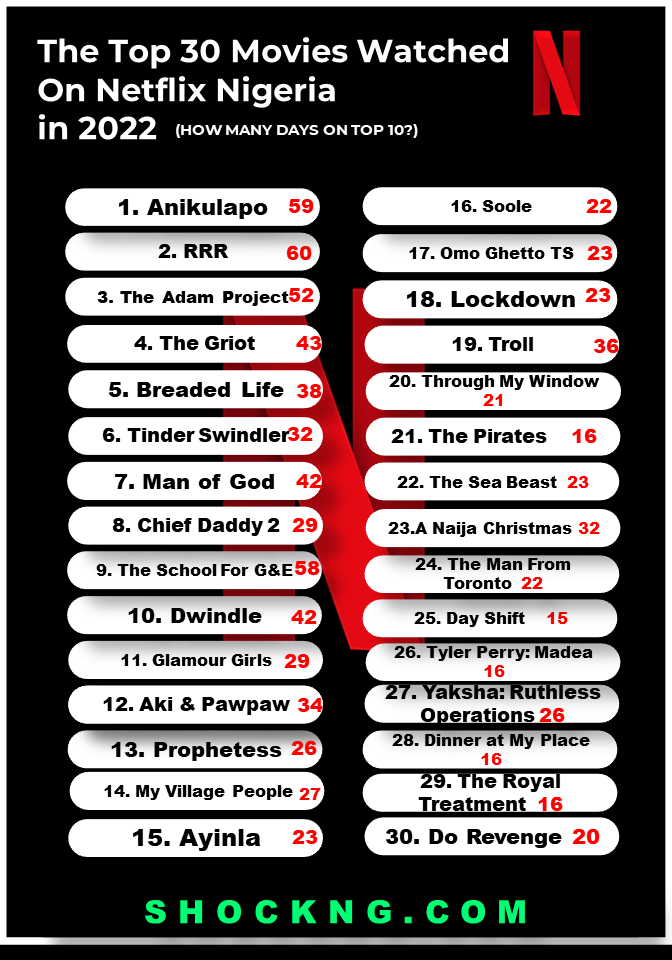 In Summary
The year 2022 was an adventurous year for both Nollywood creatives and Netflix, filmmakers were given the opportunity and support to put out good content. 2023 for the film and TV industry will be a year one to look out for.
Going by this data set, we anticipate a year of new faces in Nollywood, groundbreaking genres and niches, and also bigger budget films.
Following this movie data set, it will be interesting to see if the Nigerian audience stays glued to Nigerian content or if foreign film industries begin a rigorous strategy of converting Netflix Naija into its home base.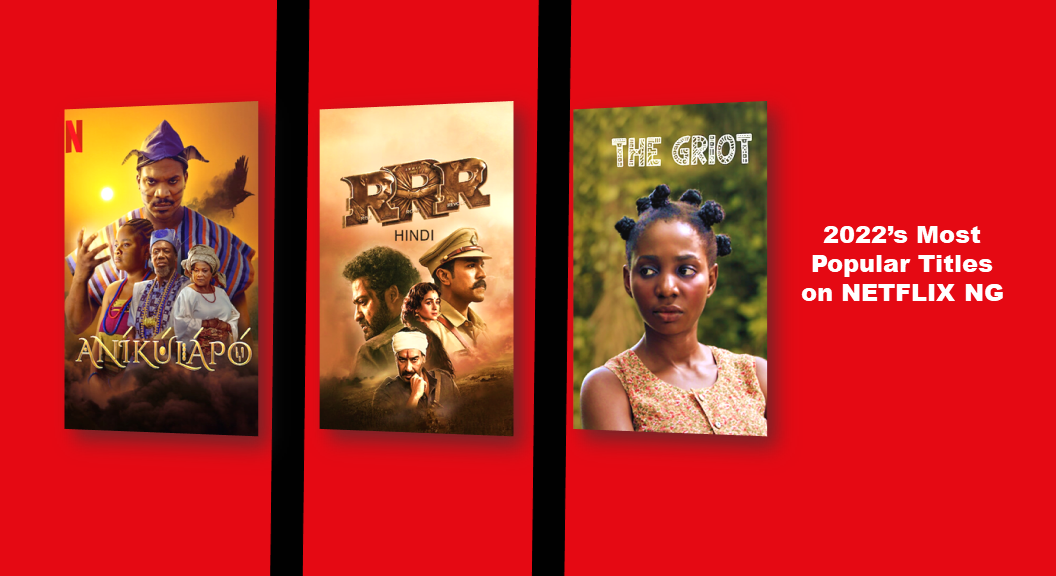 Thanks For Reading
Shockng.com Covers the Business of Film/TV and the Biggest Creators in Sub-Saharan Africa.
Let's be Friends on Instagram @shockng