The Story ⚡
Nigerian Media Mogul Mo Abudu seems to have no future plans for the domestic box office.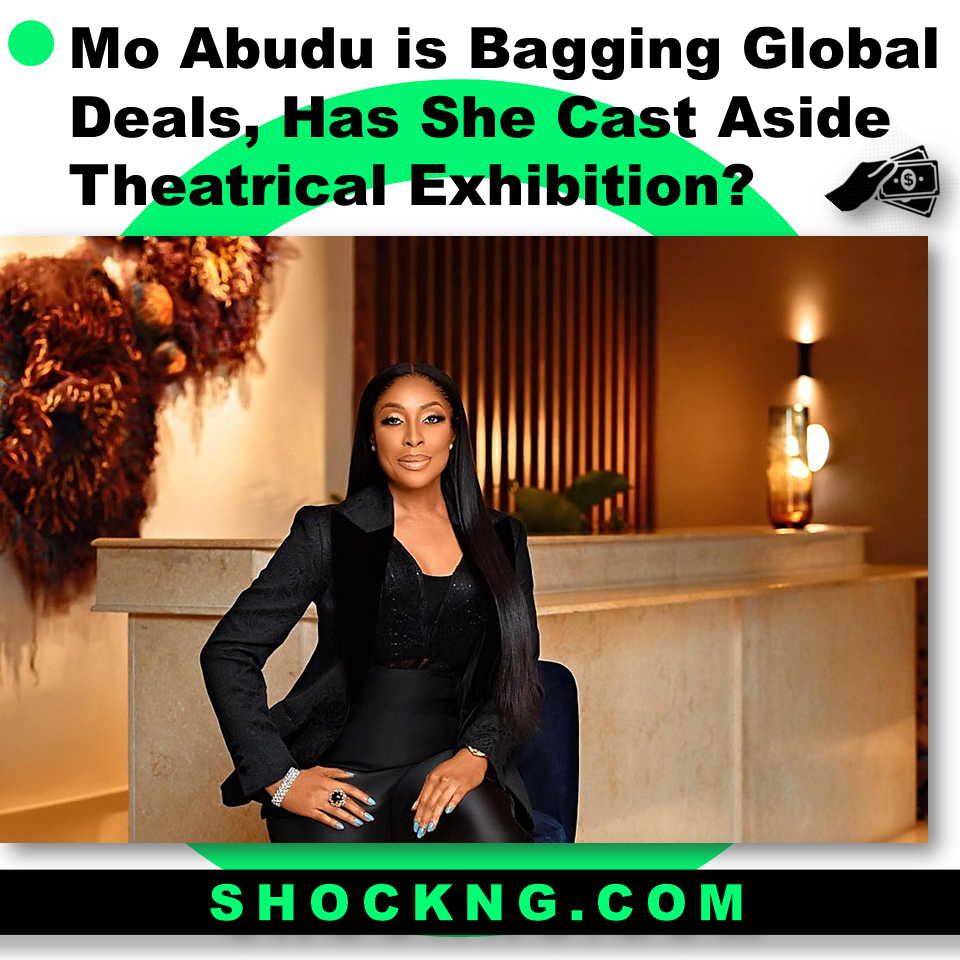 Tell Me More
Since 2014, Mo Abudu together with her co-production partners has always made available a box office presentation to dazzle the market.
Her first credit as an executive producer began with Fifty which followed the story of four Nigerian women at the pinnacle of their careers. The feature starred Dakore Egbuson Akande, Nse Ikpe -Etim, Kate Henshaw and Omoni Oboli as co-lead stars under the directorship of Biyi Bandele.
This big-screen picture made a splash of movie marketing that gracefully brought the studio to the limelight of New Nollywood whilst ushering in the wave of the famous "Mo Abudu Formula"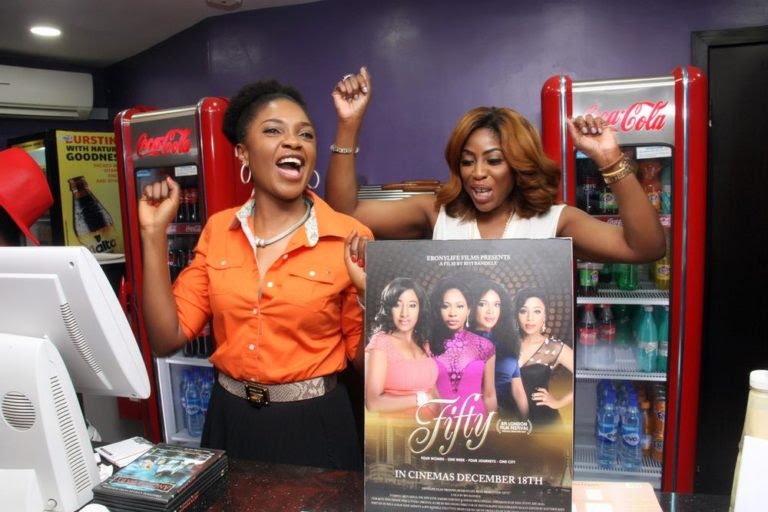 In 2016, Mo Abudu swung for a collaboration that birthed the ELFIKE Collective (Ebony Life + Film One + Inkblot Productions + Koga Entertainment)
This collective combined finances, resources and creative energy to create one of the biggest African IPs of all time – The Wedding Party.
Official box office records reveal that the title series grossed ticket sales combined to a tune of over N800 Million.
In 2019, Mo Abudu brought out "Your Excellency" together with comedy queen, Funke Akindele Bello who credits as both director and co-lead. The title debuted in cinemas on the 12th of December 2019 before the pandemic brought the exhibition industry to its knees.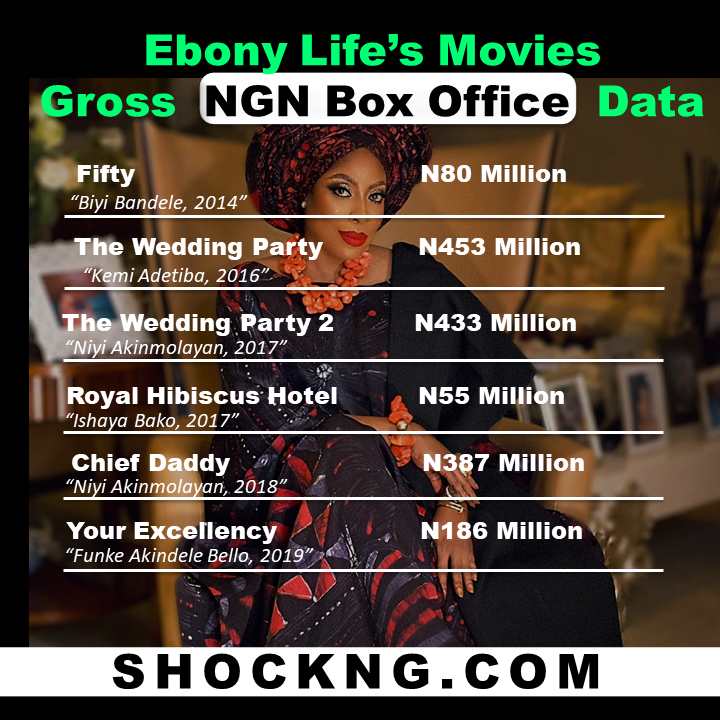 Box Office Economics
From a distance, the movie business might look pretty glamorous but the economics of movie-making can be brutal.
In 2019, more than 75% of movies that hit the big screen didn't break even.
This means the financiers of the project never made back their investment after ticket sales had been fully accounted for.
The total percentage revenue that goes to their bank account roams around 30 – 40% based on theatrical film distribution deals signed by producers. So if a film makes 100 Million: the amount for the executive producers is roughly calculated to be N35-40 Million.
Based on these numbers, if a film's overall budget is accounted as N50 Million (including marketing) with a signed deal of 30% producers net, here are some projections to study.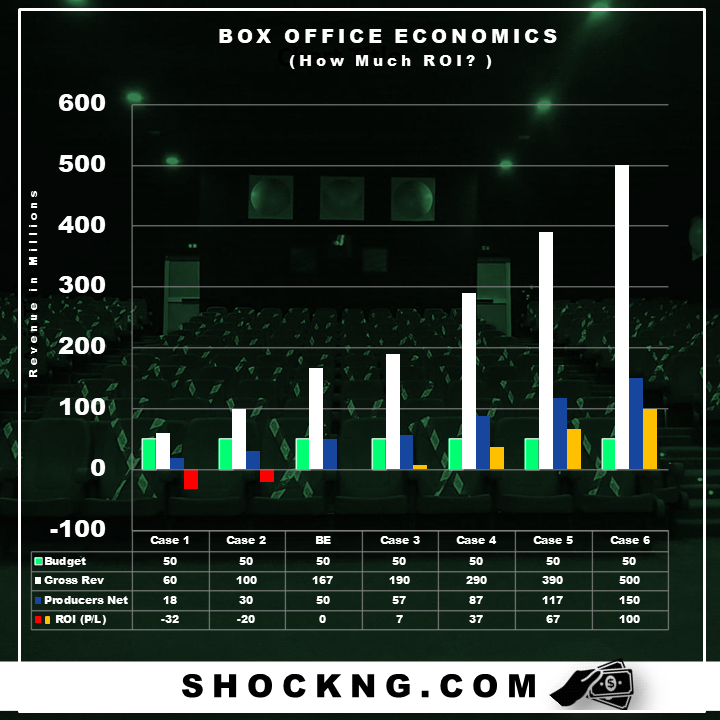 Hold up, are these numbers for real? Yes.
As the opening paragraph stated – the movie business might look pretty glamorous but the economics can be brutal.
Case 1 and Case 2 are the most common scenario that plays out.
The odds of Case 6 happening is less than 4%.
At that, if you evaluate the fund efficiency of this film investment to compare the efficiencies of other investments, it is not encouraging.
Streaming v Theatrical
If you have been making films and not getting good returns, it absolutely makes sense to change your distribution strategy.
The coronavirus pandemic threw the movie industry into disarray, further shifting producers like Mo Abudu away from the big screen and onto streaming.
While theatres and the big screen will always be a way to improve the movie-going culture, thanks to a shrinking box office, they won't always be the place to see big movies anymore.
This also foretells the future of Nollywood and the direction it is headed.
List of Disclosed Deals.
Here is an updated list of development deals Mo Abudu has disclosed so far.
With Sony
Series based on the all-female army of the ancient West African kingdom of Dahomey
"The action-packed series, inspired by true events that took place in the West African Kingdom of Dahomey, will show the ultimate strength of women coming together, fighting to protect and honour their people
With AMC Networks
Nigeria 2099, an afrofuturistic crime-drama
With Netflix Multi Title
The on-screen adaptations of literary works by two critically-acclaimed Nigerian authors: a series based on contemporary author, Lola Shoneyin's best-selling debut novel, The Secret Lives of Baba Segi's Wives. A film adaptation of Death And The King's Horseman, a play by 1986 Nobel Prize laureate in Literature, author, poet & playwright, Wole Soyinka
With Westbrook
Dada Safaris is an 'Afropolitan' dramedy series.
It follows four best friends who, after finding themselves at personal and career dead ends, take a leap to the wild side when one of them inherits her late husband's long-forgotten family-owned safari lodge and invites her friends to join her newfound purpose- renovating and relaunching the business.
In The Gods, a pair of married Cambridge professors set out to find answers to a surge of natural disasters, but find seven long-forgotten African gods instead.
Enlisting the help of two divine African children who can communicate with the immortals, the unlikely team must find the secret behind the awakening of the gods before the world as they know it is forever changed.
Are We Getting Married? is a comedy feature set in the U.S. and tells the story of the daughter of an embarrassingly wealthy Nigerian family who falls in love with a nerdy but charming African American from Atlanta and their decision to get married.
While the couple hopes for an intimate ceremony, their parents have other ideas, and they are faced with the option of either standing their ground or agreeing to have the big Yoruba by way of Atlanta wedding they never wanted.
With BBC
Action-adventure series "Reclaim," written by BAFTA Breakthrough Brit Rowan Athale ("The Rise"), based on an original idea by Mo Abudu, Heidi Uys and Bode Asiyanbi.
The six-part heist thriller series will follow a team of art thieves looking to return artworks removed by the British Empire 125 years ago from the Kingdom of Benin, back to their home in Nigeria. The project will debut under EbonyLife Productions UK.
Mo Abudu shares: We set up EbonyLife in London because our global strategy includes expansion to the U.K. and the U.S. As Nigerians and Africans, we should see ourselves as world citizens and our storytelling, locations and networks should extend to every corner of the globe.
In Summary
It is clear, Mo Abudu has abandoned theatrical releases.
Over the years, she has built a solid track record that tags her as the #1 studio to work with if you are shopping African stories.
The big question is what will make her come back? Frankly, She might not.
Returns made at the box office might not improve until more cinemas are built nationwide and with the global streaming platforms now coming to the country, it is getting hard for movie tickets to sell out. But you never can tell, anything can still happen.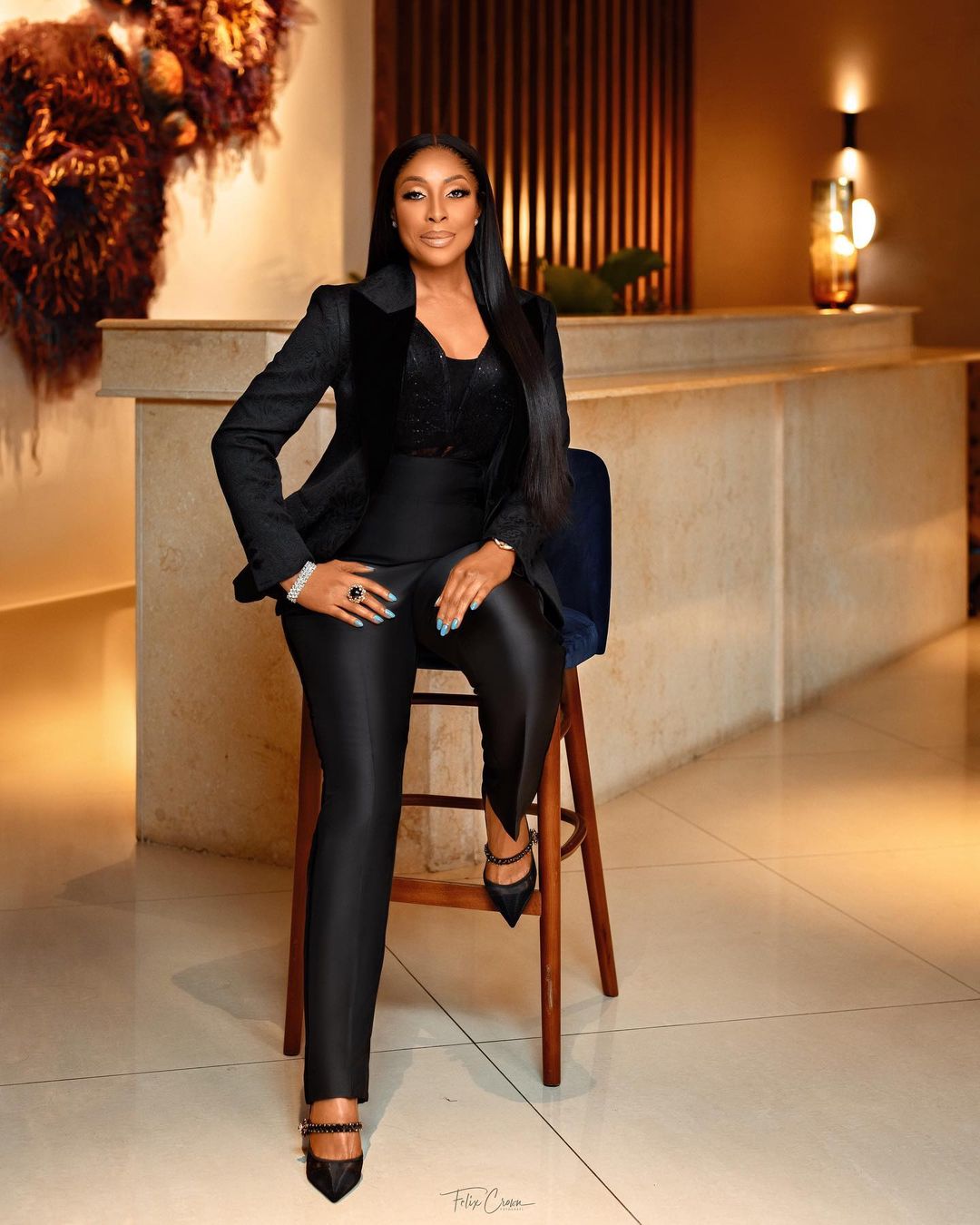 Thank you for reading
For Film/TV Executives, Shockng.com Covers the Business of Storytelling and the Biggest Creators in Sub Saharan Africa.
Let's be Friends on Instagram @ShockNG