The Story ⚡
The Eternals is doing well in Nigerian cinemas with 100 Million tickets sales and counting.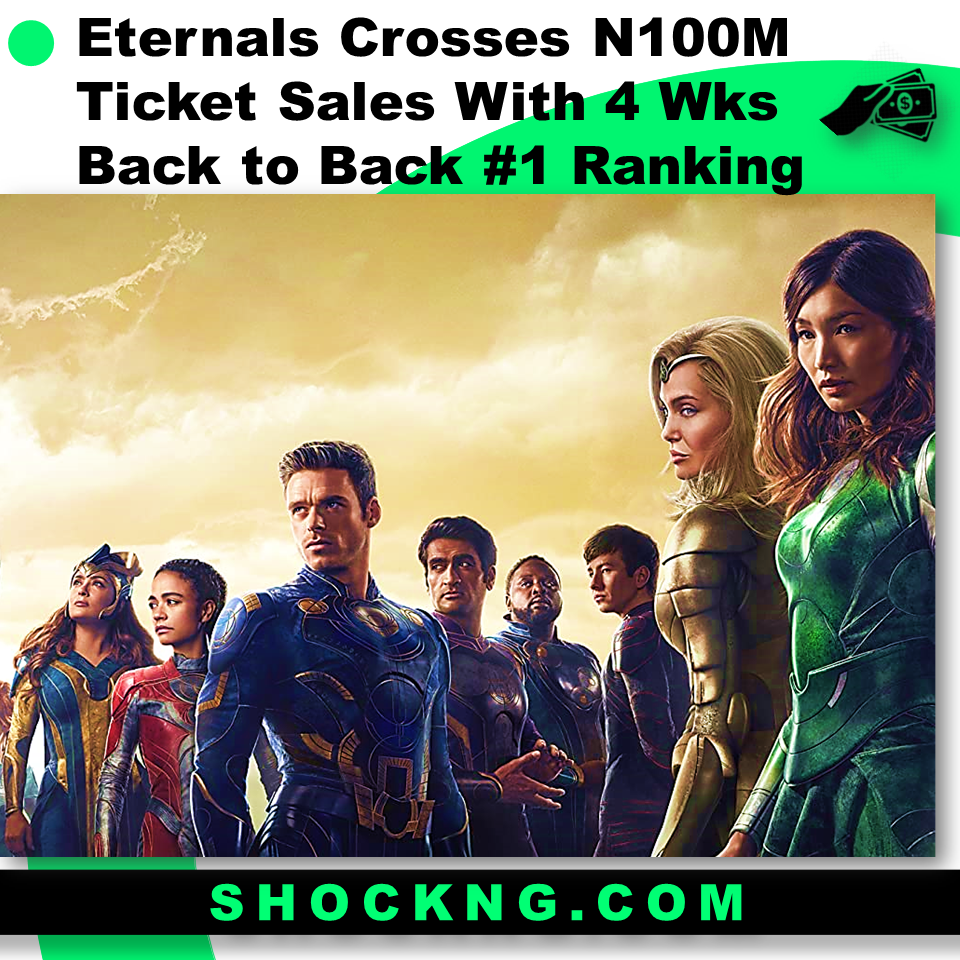 Tell Me More
Of all the movies in Marvel's "Phase Four" slate, it's 2021's The Eternals that raises the most questions — "Who the heck are the Eternals?"
How will they change the fabric of the Marvel Cinematic Universe and what happens now that they have interfered?
Aside from these questions, when Kevin Feige stepped on stage at the 2019 San Diego Comic-Con to reveal the bucket load of superstars that are cast in this project, this moved the hype gear of the picture to a whole new level.
Set for an original release date of November 6, 2020, The Eternals was later pushed a whole year back to the utter disappointment of Marvel fans.
Finally, the film hit the big screens on November 5th but was immediately suspended by the Nigeria film and video censors board due to same-sex kissing scenes.
The suspension lasted for 7 days with its distributors Film One confirming the movie is now up screenings from Nov 12th
Road to N100 Million
A quick look at the revenue numbers answers the following question below.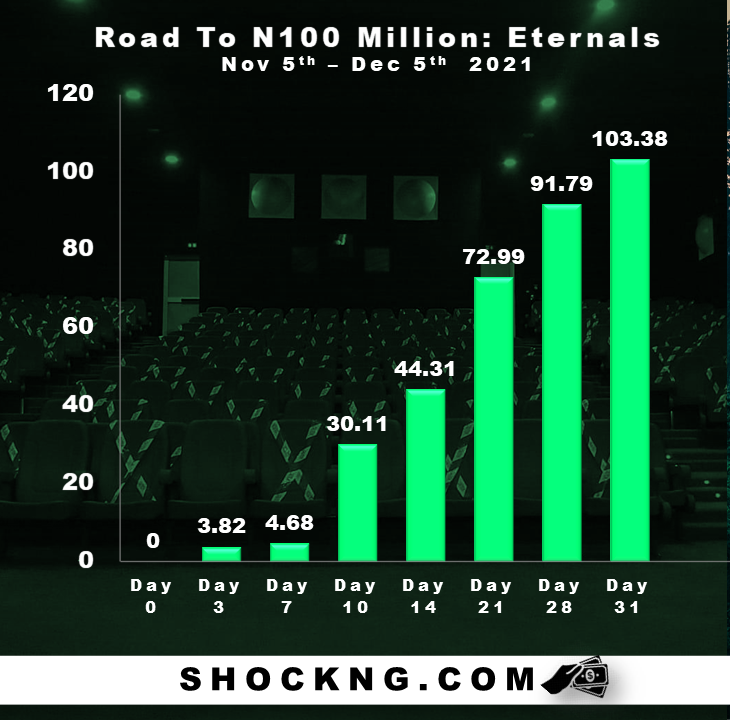 How many days to cross the N100 Million milestone?
31 Days
Did the suspension affect revenue negatively?
Yes, the 3 days numbers meant to lead as highest ticket sales recorded the lowest sales instead. The film opened to a disastrous N3.82 million.
Did the suspension affect revenue positively?
Yes. the film has now stayed strong and held the most-watched movie for the past 4 weeks with double-digits weekly earnings. One might argue this is untrue but our POV is that the suspension surged interest in the title despite underwhelming reviews.
What's the total cume as of today?
N103.38 Million
Global Box Office
In terms of worldwide earnings, Eternals has made a global cume of $395.31 Million. it takes the number 2 in on a ranking of Marvel films released this year.
Shang chi records as the highest flick this year with $418.14 Million. Then Black widow tracks $375.62 Million and ranks as third.
Here in NGN, the data reveals the same trend.
Black widow is 3rd = N92.70 Million
Eternals is 2nd = N103.38 Million
Shang Chi is 1st = N178.57 Million
In Summary
Eternals has now crossed into the last exhibition month of the year.
The ticket sales hold strong but newly anticipated titles labelled as December contenders will unseat it and it might not match up to Shang chi domestic cume.
Thank you for reading
For Film/TV Executives, Shockng.com Covers the Business of Storytelling and the Biggest Creators in Sub Saharan Africa.
Let's be Friends on Instagram @ShockNG