The Story ⚡
"Dinner At My Place" ranked number one on Netflix's streaming chart, and here are a few things you might not know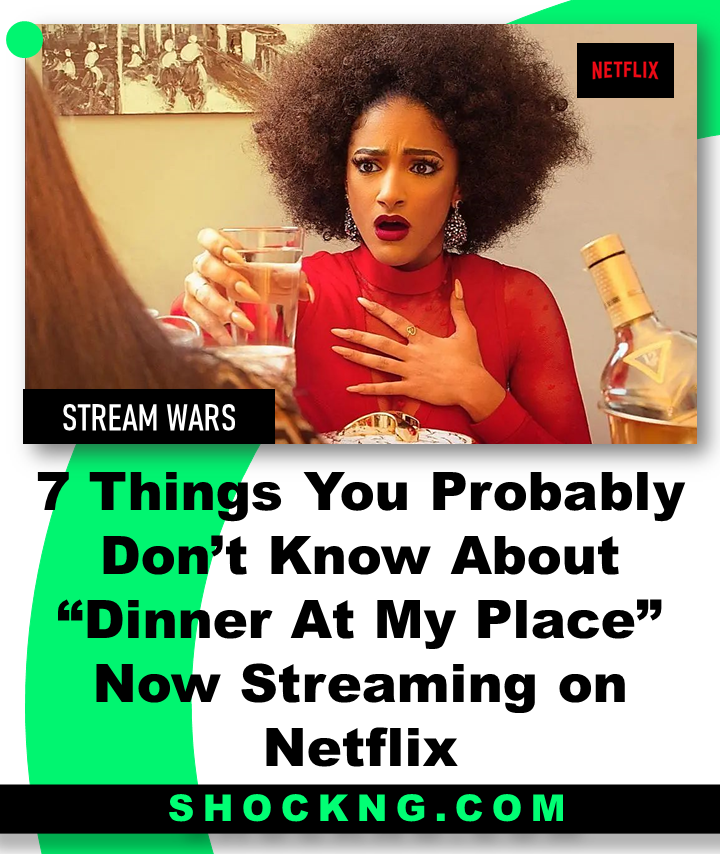 Tell Me More
Kevin Luther Apaa's "Dinner At My Place" is a romantic comedy that follows the story of a young man who is planning to propose to his girlfriend while she is having dinner at his place. However, things take a turn for the worst when his ex-girlfriend unexpectedly shows up.
After grossing at the box office and topping Netflix's chart, we take a look at five things you might not know about this romantic special.
Box Office Performance
Before heading to the streaming platform, "Dinner At My Place" featured on big screens around the country. In its first week of release, on the 28th of February, "Dinner At My Place" recorded N17.52 million at the box office. The romantic film went on to double its digits in its second week, and by the end of its cinematic run, this romantic comedy had grossed a total of N54.8 Million in just ten weeks.
Short Film
According to the Executive Producer/Director Kevin Luther Apaa, "Dinner At My Place" was originally a short film. He explains that
"Dinner at My Place was initially made as a short film. After making the short film, we took it to festivals. It did so well and people loved it. The turnout made me realize Dinner At My Place has so much potential…. I went back to the drawing board—the script worked on the casting and at the end of the day, I made the movie"
Awards
The short film "Dinner At My Place" won eight awards and was also screened at film festivals in the United States and the United Kingdom. It was this reception that led Kevin Luther Apaa to create a longer version of this valentine's picture.
The short film won awards including Best Rom-Com and Best directing. It also got licensed by ShortTV international, a channel that shows mostly award-winning short films. The feature film also won three awards including Best rom-com, Best Directing, and Best producer at the Vegas Movie Awards in the US.
The film also won the 2022 valentine's big screen market when it emerged as the highest-grossing romance/love film during the valentine's season.
Location
"Dinner At My Place" would have been non-existent due to location issues.
Director Kevin Luther Apaa was about to annul or move production to a later date till they found a suitable space (Nonso's Apartment) where more than 50% of the scenes will be shot.
Fortunately, they got the perfect location for the shooting just a few hours before principal photography commenced.
"Dinner At My Place" was shot in Lagos, Nigeria.
Bisi's Voice
To interpret her role, Bisi, played by actress Bisola Aiyeola, had to change her voice and according to the director, she nailed this new vocal expression in under 5 minutes before her first take.
Poop
No, It wasn't actually real poop, make-up and props were used to make it look real. The sound design also had a hand in the lead cast's restroom sounds.
In Summary
From grossing at the box office to charting at number 1 on Netflix, "Dinner At My Place" showed us how to have the best of both worlds. Kevin Luther's romantic comedy proved the possibilities of success at film festivals, on big screens, and on streaming platforms. It's definitely a big year for director Kevin Luther and his film "Dinner At My Place".
New Project
The director has a new film underway – Meeting Funmi's Parent with Omowunmi Dada in a leading role.
This 2023 picture is also a love story but with a multi-racial theme that might interest you.
Omowunmi Dada, David Thomson To Star in Kevin Luther's"Meeting Funmi's Parent"
Thank you for reading
Shockng.com Covers the Business of Film/TV and the Biggest Creators in Sub-Saharan Africa.
Let's be Friends on Instagram @shockng