The Story ⚡
Christmas in Miami has wrapped up the box office year of 2021 nicely with a N100.64M hit.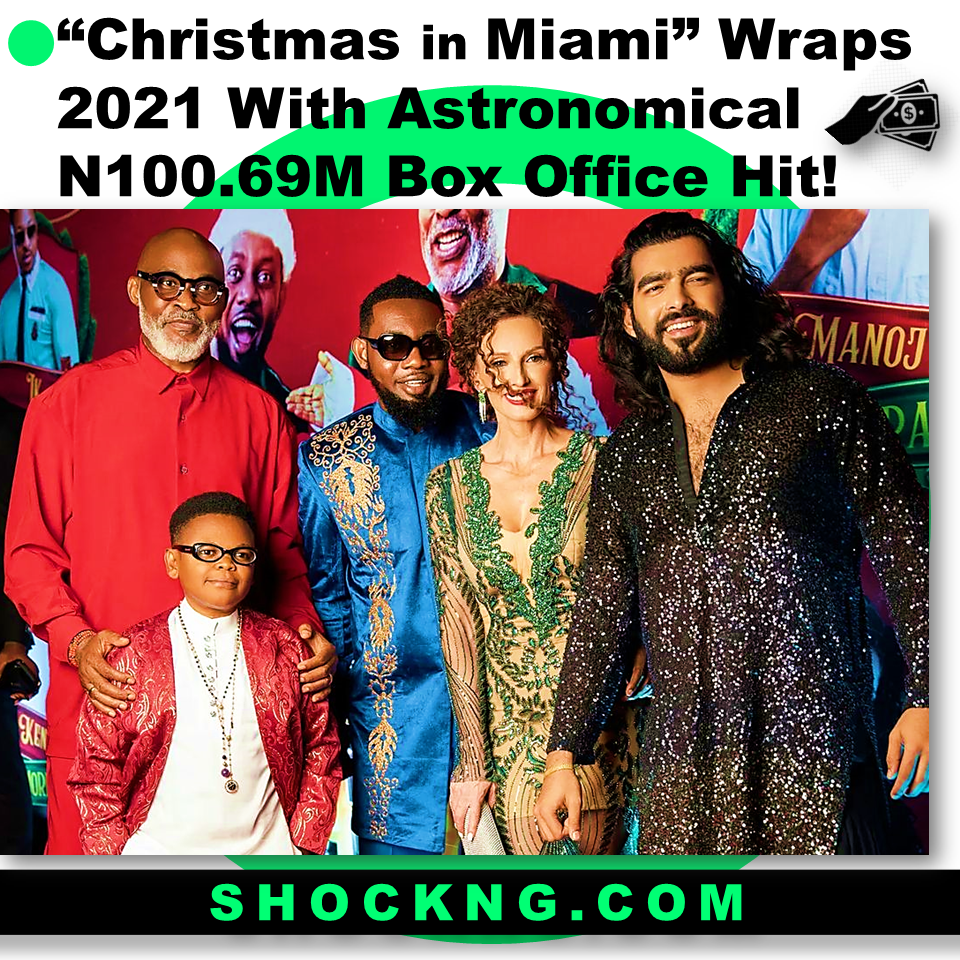 Tell Me More
After a hiatus year due to the covid uncertainty, AY comedian has made his big-screen comeback with another Akpos adventure which takes place in Miami.
Directed by Robert Peters, the 4th title in the "travel destination" series was released in cinemas on December 24th and screened in 61 cinema locations to pull massive ticket sales demand for its opening week and 5-day run.
Opening Weekend
Christmas in Miami made N60.23 in tickets sales for its first 3 days of sales.
5 Days
Gross cume for a 5 day screening period totalled an astronomical N100.69 Million.
This number makes the title the highest opening Nollywood film in 2021 edging out "The Ghost and the tout 2″ that opened N32.75Million in September.
Overall, Christmas in Miami is a big win for Nollywood as the title set new domestic metrics for the year.
Sweet December
If a film debuts in the December exhibition window, it is widely believed that box office success is guaranteed. Christmas in Miami opening with such astronomical figures supports and confirms this belief in 2021.
Below are the biggest Nollywood titles that made use of this sweet December assumption and the results are spectacular.
Click here to see overall GBO for each title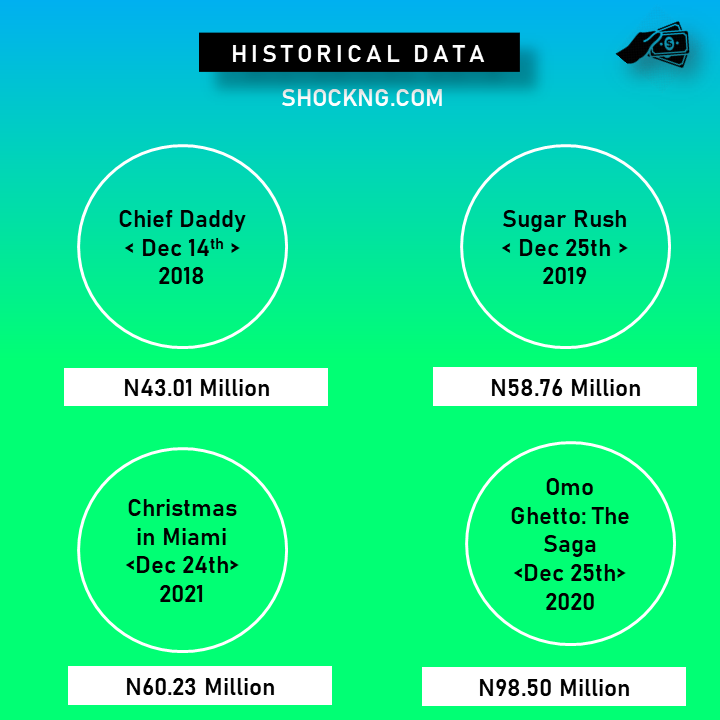 What Secret is AY using to hit these numbers?
For more than 10 years, Comedian AY has been in the entertainment industry. He has accrued a core fanbase that likes his brand of comedy and would actually pay to see his work.
And that's just it. it doesn't matter if the product is average, good or mediocre, what truly matters is that there is a demand to be monetized and he does a good job of doing using structures provided by his distributors to tap into his audience pockets.
Top 5 Movies
This will be the last weekend of the year (26th – 29th December 2021) and the data reflects that the top 5 movies all grossed "Double Digits" earnings, something we rarely witnessed this 2021 and definitely marks a big win as the exhibition year comes to an end.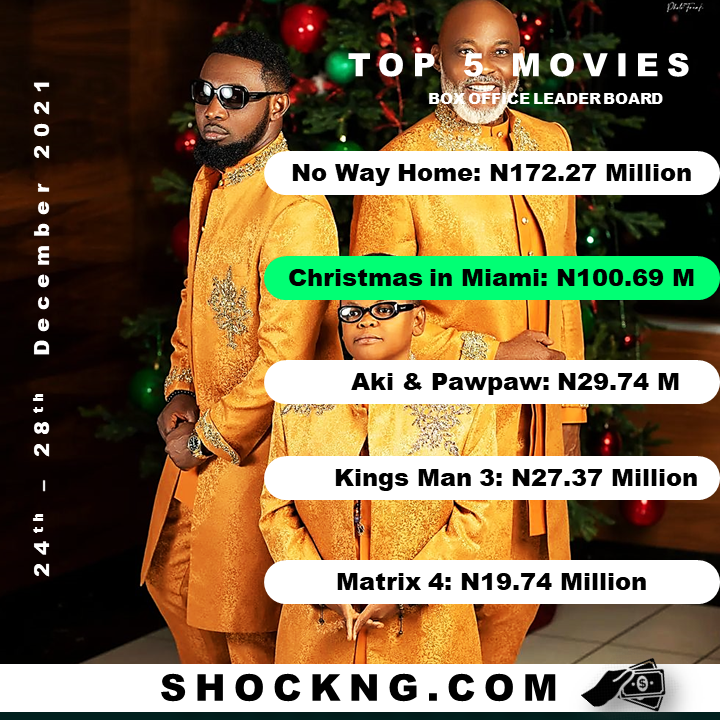 Matrix 4 opened in 58 locations with N13. 27M for its opening weekend and then cumed N19.74M for first 5 days figures. One would have expected low numbers than this due to HBO streaming available the same day but it seems the Keanu Reaves epic has a decent fan base that got excited and bought tickets.
Kings Man 3, another franchise title debut this week with an opening close to N30 million. Still, impressive based on how choked this week with serious competition and not much hype surrounded the action British feature directed by Matthew Vaughn.
Aki and Pawpaw claim the 3rd best seller on the charts. Now in its 2nd week of screenings in 60 cinema locations, demand is still yet to be fully met for the picture. Close to hitting the N30 million tickets sales last week, the Nollywood title has now cumed to N80. 44 million mark to wrap the year as a blockbuster Nollywood title.
Christmas in Miami, Comedian AY come back to the big screens is the shocker of these numbers as the title powerfully smashes 2021 box office records with a 5 day N100.69M opening. This reflects how Franchises will always do great and is indeed a big IP to cash out from if there is a well built flywheel to reach intended customers. Christmas in Miami not only beat 2021 records but is on track to set new ceilings for AY's box office performance
Spiderman No Way Home remains unshaken at the top as movie goers are still rushing to get tickets. With another enormous 5 day ticket sales of N171 M, the Sony /Marvel flick has cumed to N451 million in sales!!!
If this trend stays, we just might have a new overall record set for the West Africa Box Office.
Thank you for reading
For Film/TV Executives, Shockng.com Covers the Business of Storytelling and the Biggest Creators in Sub Saharan Africa.
Let's be Friends on Instagram @ShockNG