The Story ⚡
Anthill's The House of Secrets will skip cinemas to debut globally on a streaming service.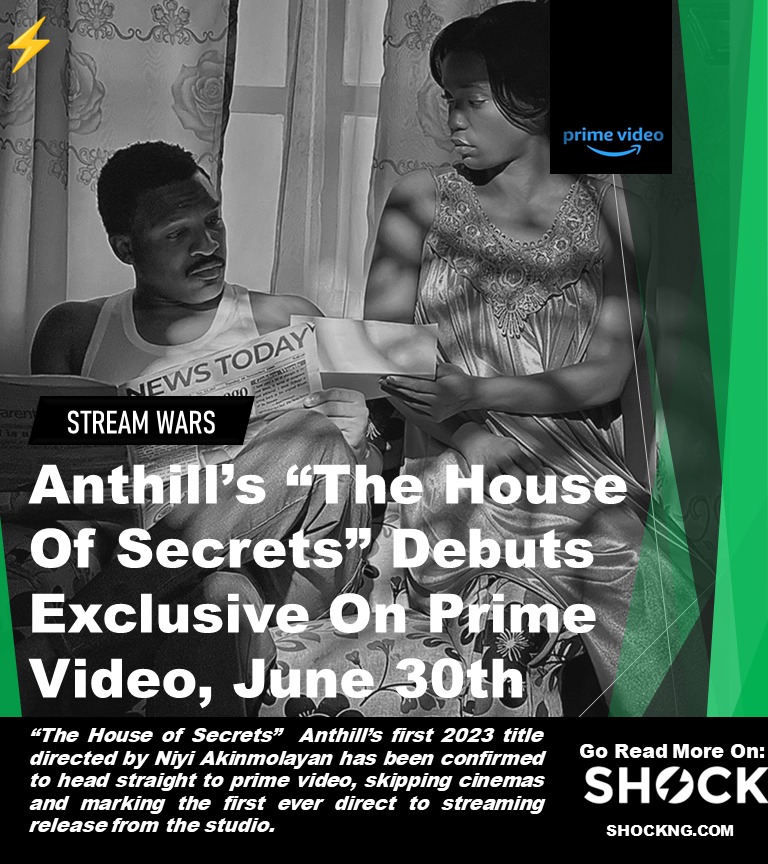 Tell Me More
Anthill studio's first film of the year The House of Secrets is billed to screen directly on the international streaming platform, Prime Video.
Trailer
The film follows the story of a sheltered woman whose past comes back to haunt her when she's thrown in jail for being an accomplice to her spy lover. 20 years later, a group rescues her from jail and sets up a semblance of her old house to make her remember a secret number her spy lover hid with her.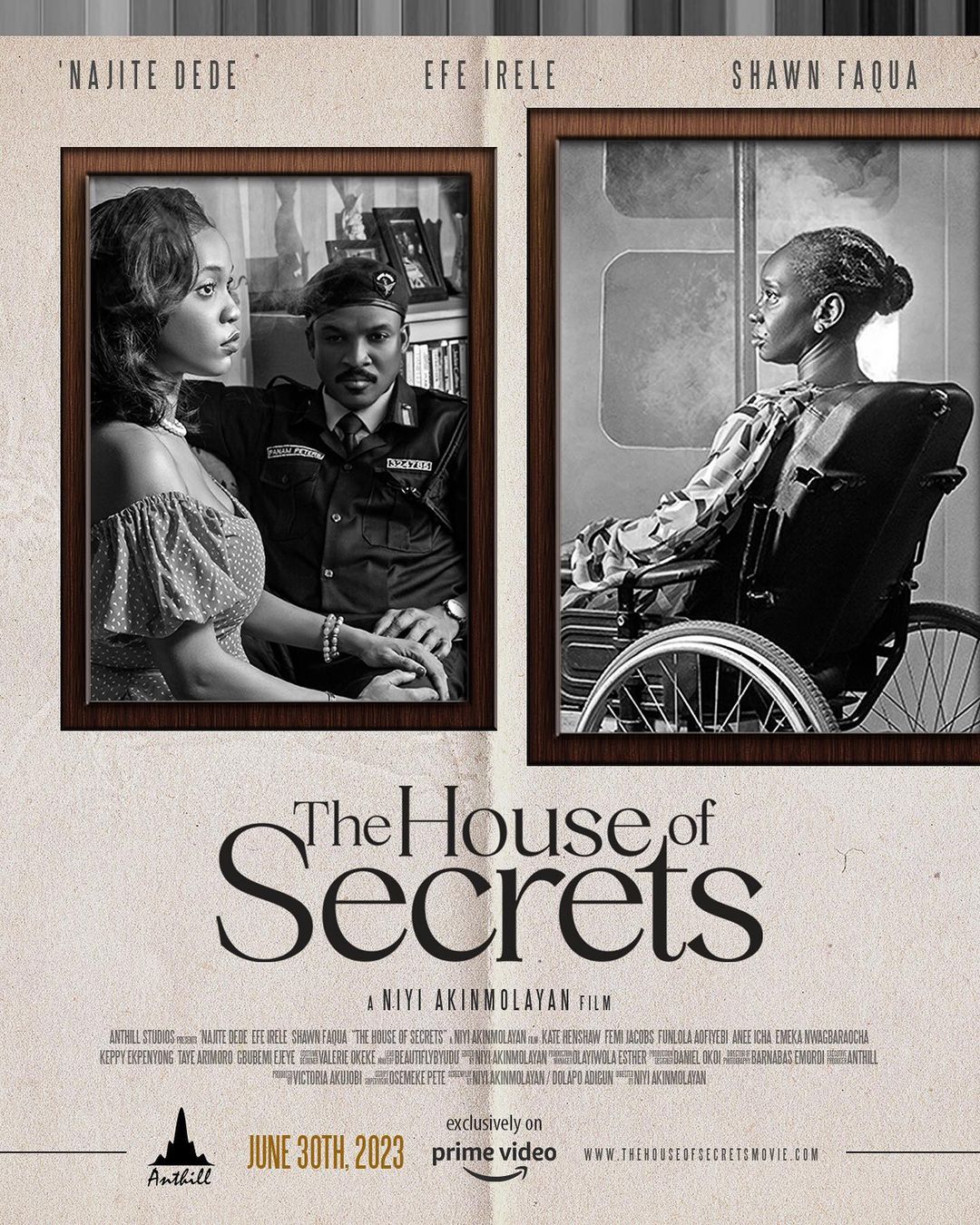 Speaking on the inspiration for the story, director Niyi Akinmolayan says
" You really never forget, you just lock things away – The film is about memories and how memories are an integral part of our being. Memories are not things you delete from a hard drive, there's just always something blocking access to it. And once you can find that access, you can trigger that memory.
The film questions what it means to forget; is it a deliberate act or is your brain trying to protect you from damage?"
Interestingly, The House of Secrets will be Anthill's first film of the year and the film's director shares more on the reason behind the straight-to-streaming decision, he says:
"We tend to make our films for cinemas but we have a broad window in the year and I want to make this kind of film straight for streaming. I want the audience to enjoy it and be able to pause it, think about it, rewind, and understand it."
Evidently, Anthill Studios is committed to making engaging films that make people pause and think.
Key Background
Africa's leading media production and animation studio, Anthill, has carved a name for itself in the film and TV space. The creative studio credits some of the biggest theatrical and streaming titles in Nollywood to its name, such as Hey You! (2022), The Man For The Job(2022), King of Thieves (2022), Elevator Baby (2019), Progressive Tailors' Club (2021), and many others.
Tangent
Direct-to-streaming films are becoming increasingly popular in the Nigerian film and TV ecosystem, such that film creatives are opting for this route to develop more engaging and mind-boggling films for audiences. This has been as a result of international streaming platforms entering into the Nigerian market to license, acquire, and buy original films.
Streaming platforms have provided the film and TV space with a second route to get their films to audiences, both new and old. Creatives are in turn plying the streaming route due to its less cumbersome nature and its ability to recoup revenue at a faster pace, as opposed to the cinema.
In Summary
This output deal between Anthill Studios and Prime Video has made it easier for the studio to choose its screening path. This might also point to the fact that the terms of agreement between the production house and streaming platform have changed, in terms of having films debut exclusively on the streaming platform, instead of its usual big screen route.
The House of Secrets will be available for viewing on the 30th of June, only on Prime.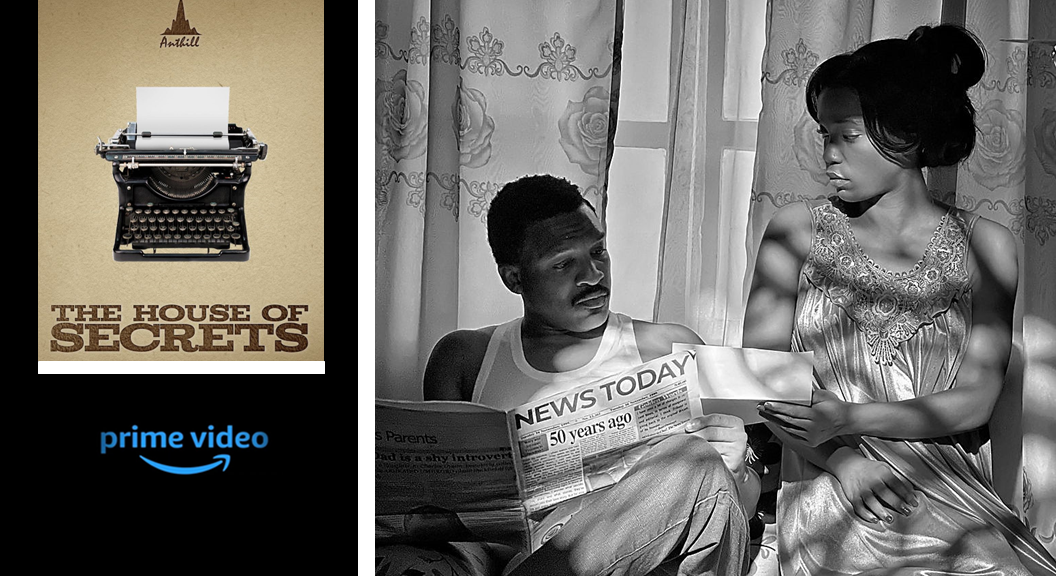 Thanks For Reading
Shockng.com Covers the Business of Film/TV and the Biggest Creators in Sub-Saharan Africa.
Let's be Friends on Instagram @shockng