The Story ⚡
In 2021, Netflix Naija brought the good, the bad and the disasters – and movie consumers watched them all.
This piece looks at the data from Flix patrol that answer the question – what did Nigerians watch the most in 2021?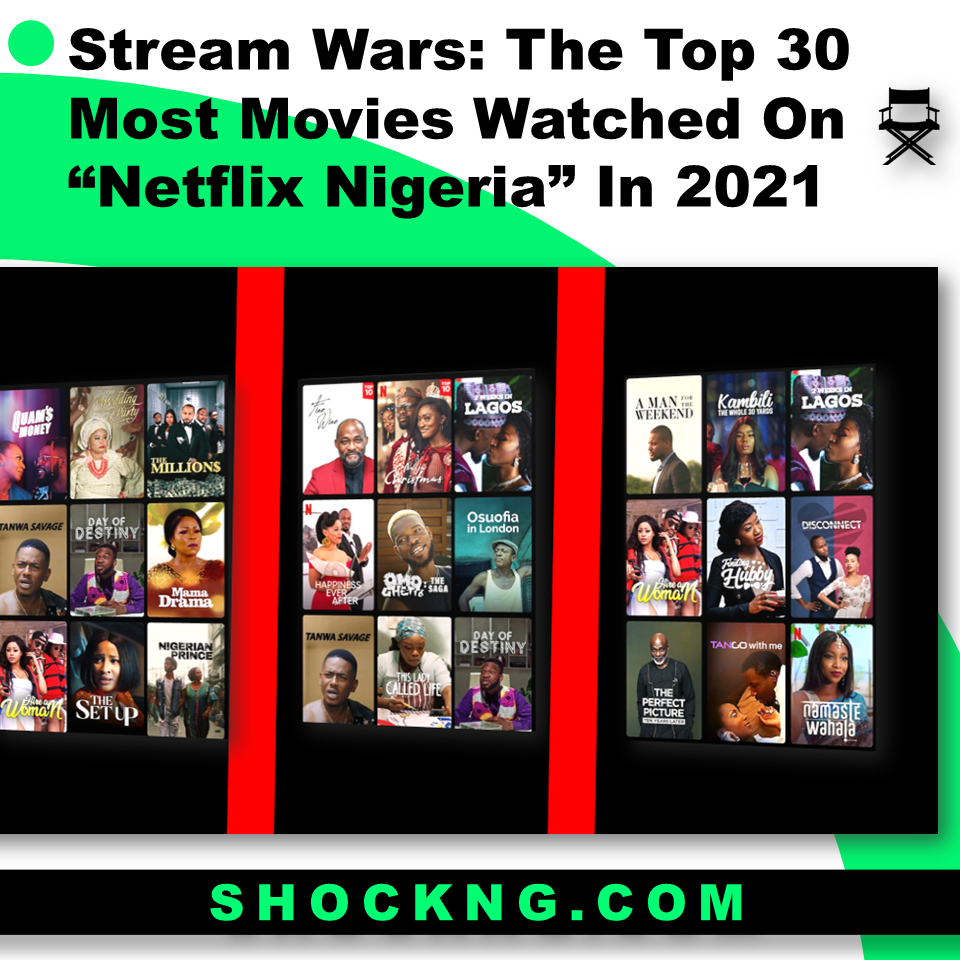 Here are the top 30 movies watched by Nigerian movie consumers on Netflix in the year 2021.
30. Day of Destiny
The thrilling adventure of Chidi and Rotimi, teenagers who get a magical chance to travel back in time and change their broke parents' past.
29. The Unforgivable
Ruth Slater, a woman released from prison after serving a sentence for a violent crime and attempts to re-enter society. She must try to put her life back together again in a world that refuses to forgive her past.
28. Two weeks in Lagos
An investment banker returns to Nigeria and falls in love with a friend's sister, despite his family's plan for him to marry a politician's daughter.
27. Malcome and Marie
As a filmmaker and his girlfriend return home from his movie premiere, smoldering tensions and painful revelations push them toward a romantic reckoning.
26. Thunder Force
Two childhood best friends reunite as an unlikely crime-fighting superhero duo when one invents a formula that gives ordinary people superpowers.
25. Papillion
Henri Charriere, a young man, is falsely convicted of murder. In an attempt to escape from the penal colony on Devil's Island, Henri cracks a deal with a fellow inmate, Louis Dega.
24. Nneka and The Pretty Serpent
Years after the mysterious murder of her parents, a traumatized woman gains supernatural powers that aid in her quest for revenge against the killers.
23. Everything but a Man
A career-focused lawyer and a carefree day labourer attempt to balance an unexpected, whirlwind romance despite their drastically mismatched lifestyles.
22. God Calling
Sade suffers a tragedy and encounters God in an unconventional way, which changes her family life and faith forever.
21. King of Boys
The story of Alhaja Eniola Salami, a businesswoman and philanthropist with a checkered past and a promising political future. As her political ambitions see her outgrowing the underworld connections responsible for her considerable wealth, she's drawn into a power struggle that threatens everything she holds dear.
20. Army of Thieves
In this prequel to "Army of the Dead," a mysterious woman recruits bank teller Dieter to assist in a heist of impossible-to-crack safes across Europe.
19. I Care a lot
A shady legal guardian lands in hot water when she tries to bilk a woman who has ties to a powerful gangster.
18. Gone
In search of a better life as a boxer, Ani leaves his family in Nigeria for New York. After years of turmoil, he returns to find his old life changed.
17. The Harder they Fall
When an outlaw discovers his enemy is being released from prison, he reunites his gang to seek revenge.
16. Kambili: The Whole 30 yards
Determined to marry before she turns 30, a woman tries to change her impulsive ways and do whatever it takes to win back the boyfriend who left her.
15. This Lady Called Life
Abandoned by her family, young single mother Aiye struggles to survive but remains focused on her dream of becoming an elite chef.
14. Rattlesnake: The Ahanna Story
A young man assembles a specialised crew and performs complicated heists, until his crimes make too many enemies.
13. Outside The Wire
In the near future, a drone pilot is sent into a deadly militarized zone and must work with an android officer to locate a doomsday device.
12. Tanwa Savage
Tanwa Savage follows the true life marriage scandal of a popular Nigerian celebrity. One man and three pregnant women from three different tribes under one roof. Will there ever be peace?
11. We can be Heroes
After aliens attack Earth and capture all the superheroes, Missy Moreno and the other children at the Heroics Headquarters decide to bring their superhero parents back.
10. Fatherhood
A father brings up his baby girl as a single dad after the unexpected death of his wife who died a day after their daughter's birth.
9. Swallow
Waylaid by life's pressures in 1980s Lagos, Nigeria, Tolani becomes involved in drug smuggling with her streetwise friend and must face the fallout.
8. Quam's Money
Quam, a security guard turned multimillionaire, lives the good life with his fortune until he falls victim to fraud.
7. Army of the Dead
After a zombie outbreak in Las Vegas, a group of mercenaries take the ultimate gamble and venture into the quarantine zone in hopes of pulling off an impossible heist.
6. Namaste Wahala
An interracial couple face a new dilemma when their respective parents find out about their relationship and disapprove.
5. Fate of Alakada: Party Planner
Faking her way through many situations, a social media influencer poses as an event planner and is tasked with throwing an extravagant, star-studded party.
4. Kate
Slipped a fatal poison on her final job, a ruthless Tokyo assassin has less than 24 hours to find out who ordered the hit and exact revenge.
3. Red Notice
In the world of international crime, an Interpol agent attempts to hunt down and capture the world's most wanted art thief.
2. Fine Wine
After falling for a much younger woman, a wealthy, lonely man must confront the social stigma around age-gap romances.
1. Omo Ghetto: The Saga
Twins are reunited as a good-hearted female gangster and her uptight rich sister take on family, crime, cops, and all of the trouble that follows them.
Consumer Taste
A consumer taste analysis helps filmmakers and especially writers identify what is currently appealing to movie consumers which can be very helpful in creating their next project.
To study their behaviour based on this data, we have categorized these 30 films based on runtime, genre, and "made in Nigeria"
Here is a generic glance at the 30 titles so you don't get confused.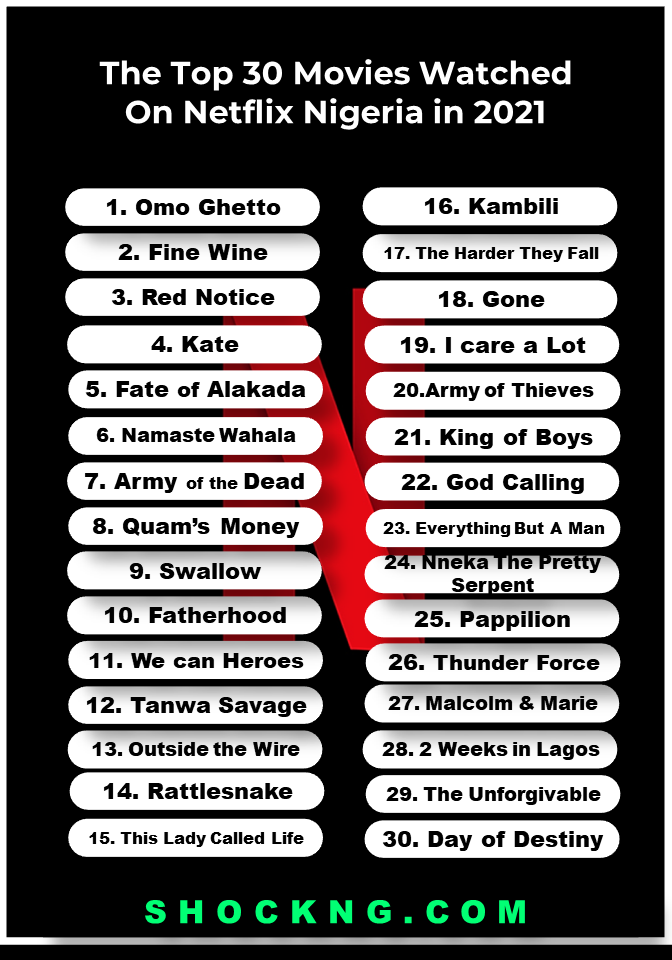 Analysis Based on Runtime Taste Chart
The general rule of screenwriting is 1 page equals 1 minute of screen time, and the aim for feature-length titles is 90 minutes.
This principle doesn't apply to Nigerian movie consumers as generated data reveals that Netflix users love movies that run above 90 mins.
Omo Ghetto, Fine wine and Army of the Dead are top of the list with both having a runtime above 2 hours reflecting that as long as the story is engaging, consumers will keep on watching – However, this is still a long shot.
Your best bet is to hit the 105 minutes mark as the data solidly vouches for this runtime.
26% of this list have screentime above 2 hours – 8/30
70% of this list have screentime in between 1 hour 31 – 59 mins – 21/30
3.33% of this list have screentime less than 1 hour 30 mins – 1/30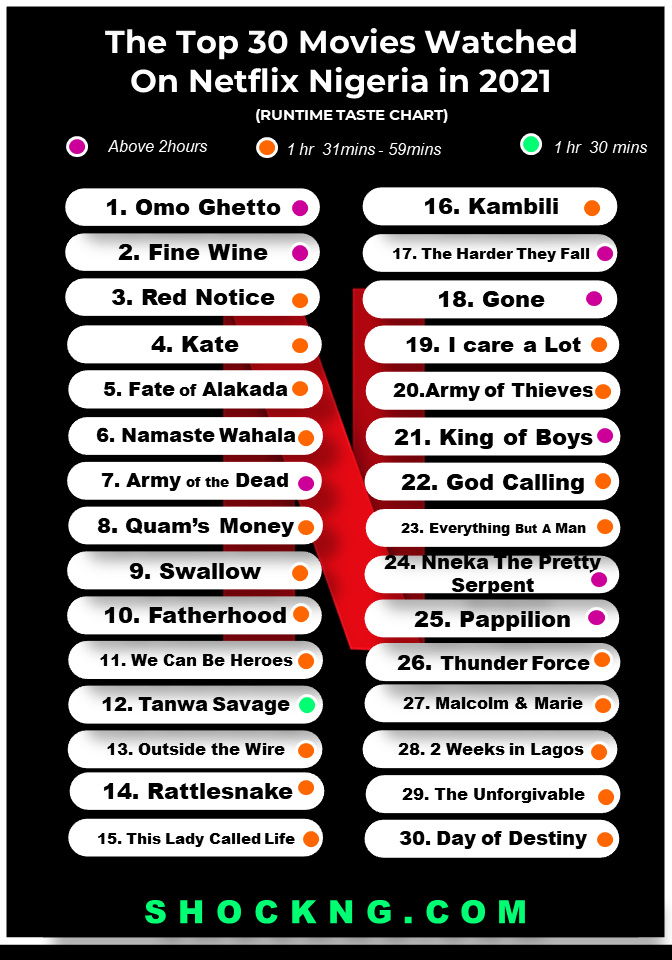 Made in Nigeria
By and large, it is delightful to see Nollywood films make up to 50% of this list which is better than the 2020's list that did just 40%.
This data reflects that subscribers in this region absolutely love watching movies made in Nigeria and by Nigerians.
Citation (Kunle Afolayan) released in October was top of the list last year and revved up a strong staying top 10 power for more than 7 weeks.
Omo Ghetto the saga, box office gangster smasher of 2020 making the top of this list shows it is indeed a solid franchise title that proves the supernova star power of Funke Akindele and an ensemble cast.
This year, it is important to note that 3 domestic films with theatrical releases made the top five.
Quite curious as it perhaps points out a data point executive producers could use to bargain for a better deal at the next licensing negotiations.
Kemi Adetiba's King of Boys made a comeback with help from its sequel turned Netflix series.
Kayode Kasum continues to build his Netflix cred with 4 titles appearing on the top 30 list. Ranging from Drama, Action and even full-on celebrity comedy, the director continues to experiment with his colourful style and depth of storytelling.
Tanwa Savage directed by Geshin Salvador on this chart sparks a bulb on how marital drama (Fuji House Style) hasn't been fully explored for big-budget films. The title upon its debut in early December did not only make the top 10 for 4 weeks in a row but also pulls past God Calling which rave early in the year and Nneka the pretty serpent that has more star power.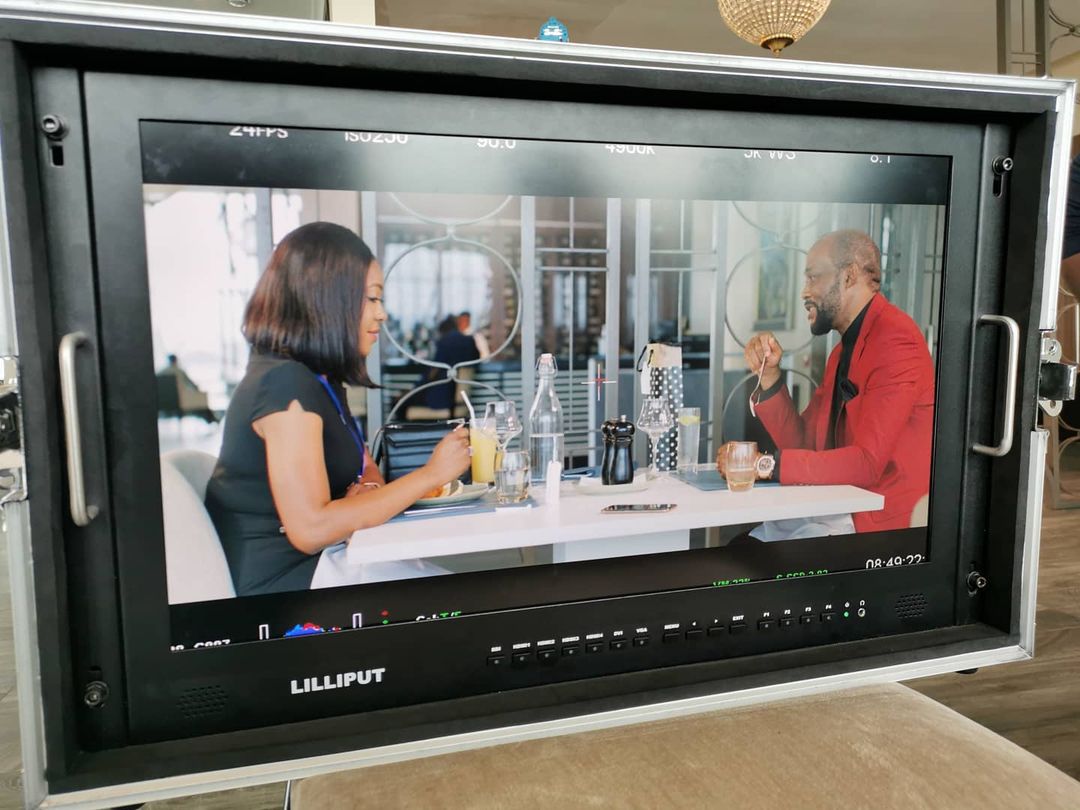 Fine Wine directed by Seyi Babatope is totally the underdog title on this list.
Steadily climbing the chart in 31 days (Nov 26 – Dec 31st) beating 15 Nollywood titles to make the top 2 is no easy feat!
How did this happen? we really don't know, but for sure someone is about to make a sequel and turn this into a franchise to mint this newfound demand. Again, this shows a new trend of local titles getting a second chance of finding their intended target audience that the box office fails to capture.
Play network studios continues to grow into a stand out production company entertaining the classic audience lovers of old Nollywood. Two remakes making this list signal that their strategic positioning is indeed a working bet in progress.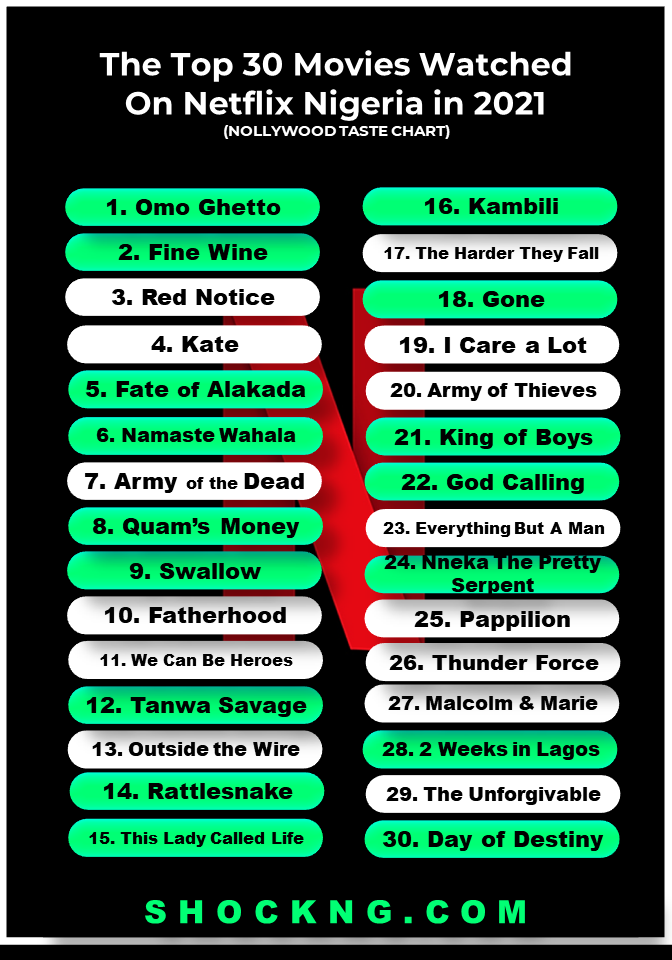 Strong Black Lead
23/30 titles on this list are of movies that feature a strong character that is of African descent.
With more than 76%, Nigerian moviegoers love watching films that are led by black people.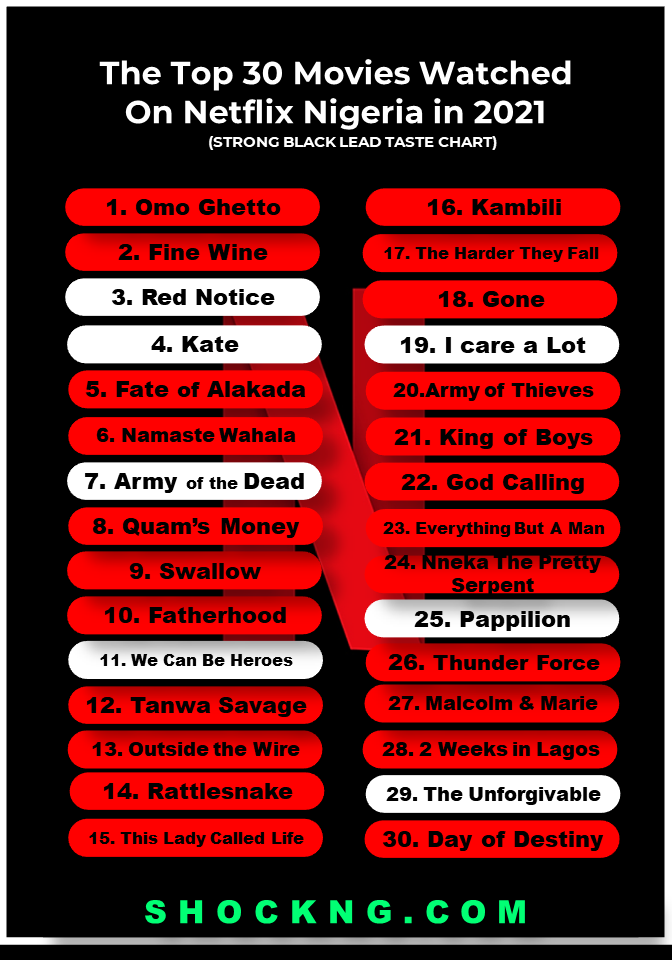 Action Movies
13/30 titles on this list have action sequences – To an extent, Nigerian moviegoers like films that are built around a core set of characteristics: spectacular physical action; a narrative emphasis on fights, chases, and explosions; and a combination of state-of-the-art special effects and stunt-work.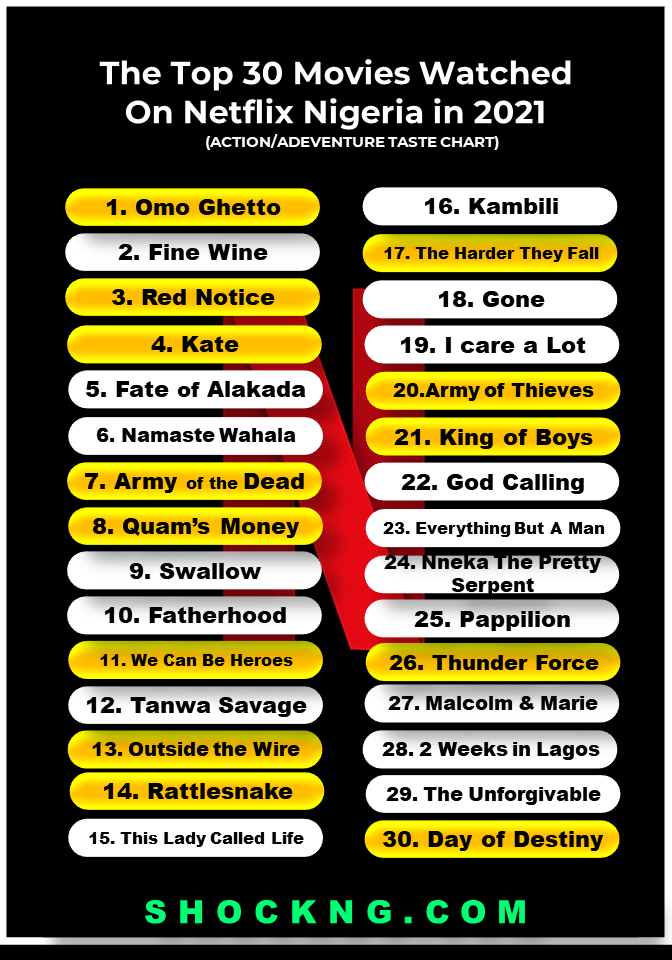 Comedy Taste Chart
12/30 on this list are comedy films that have been infused with drama, action, adventure and romance.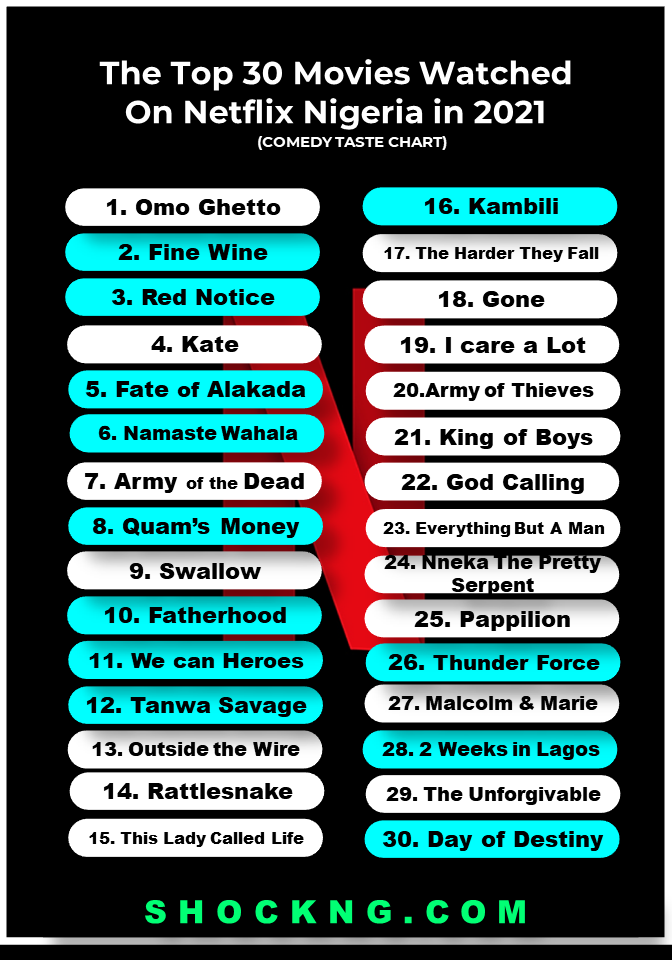 In Summary
2022 is touted as the year Nigerian originals arrive, it will be quite interesting to see how well they perform and if their popularity will rival films that have a theatrical release or were just acquired.
This movie product data based on the most-watched 30 films on Netflix Nigeria reveals that Nigerians like diverse content and will watch stories that move them.
Thank you for reading.
Shockng.com Covers the Business of Storytelling and the Biggest Creators in Sub Saharan Africa.
Let's be Friends on Twitter @ShockNG