The Story ⚡
Brotherhood's Opening week ticket sales officially came in at N53.23 million.
This figure is lower than expected as box office projections ranged from N 75M – N100M. Why did this happen and most importantly what happens next?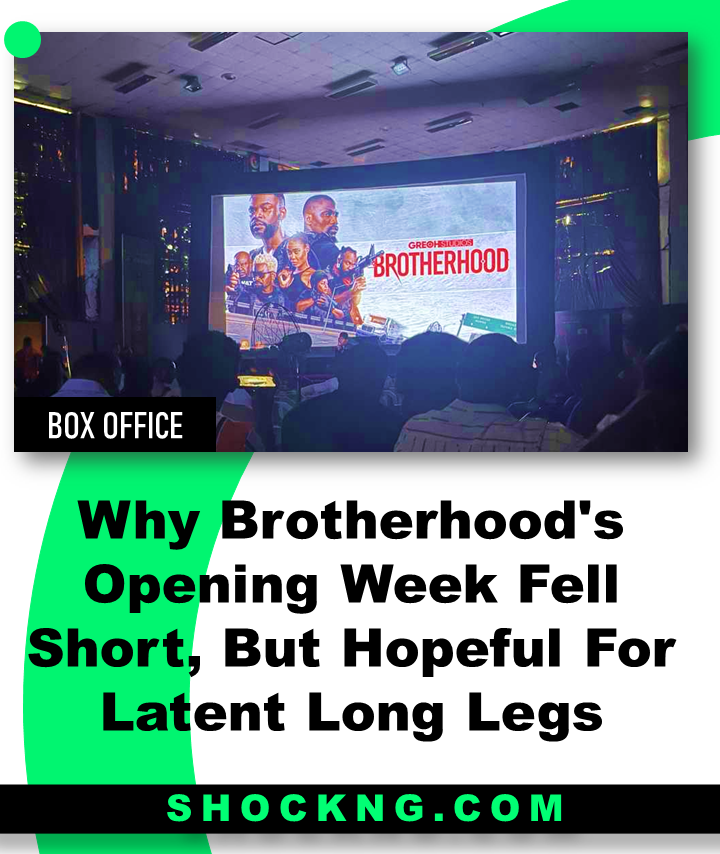 Tell Me More
Greoh Studios' Brotherhood was the talk of town upon its cast, genre, director and distributor reveal.
On April 9th 2022, the Production studio confirmed that the title would be its first slate of films for 2022.
Its genre would be a crime-action thriller about twin brothers on opposite sides of the law and the title would see Genesis land the distribution deal.
Jade Osiberu heads the production team while Loukman Ali, the Ugandan director of the critically acclaimed The Girl in the Yellow Jumper has been tapped to direct.
With Tobi Bakre and Falz leading the overall cast that excited audiences, a Ugandan filmmaker whose short film on Youtube would leave you ecstatic and Jade Osiberu of Box office hits – Brotherhood seemed like a sure bet that would hit big with moviegoers commercially and critically.
But did it?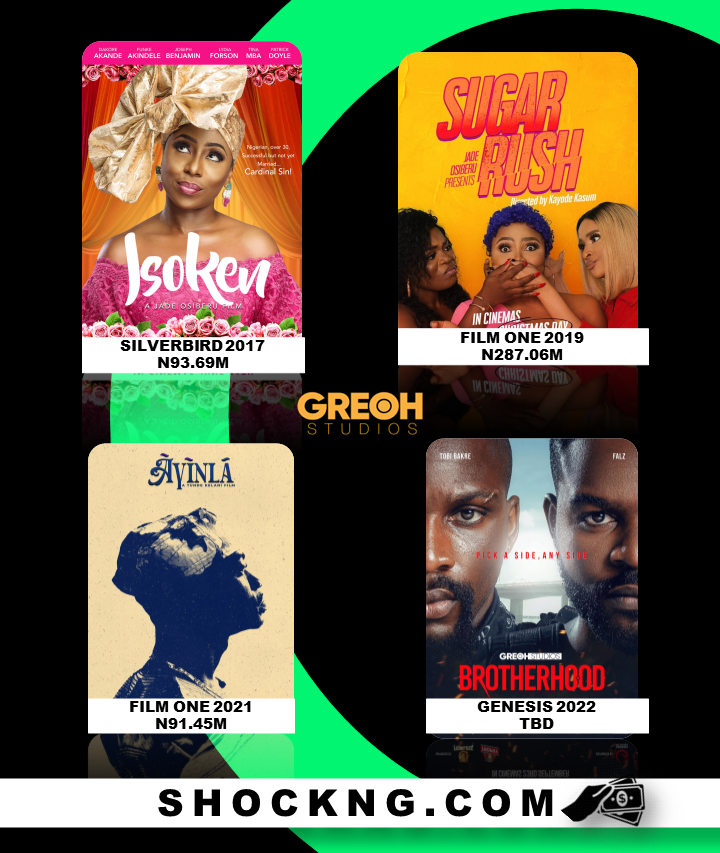 Box Office Data So Far
Day 3 – N31.37 million
Day 7 – N53.23 million
Day 10 – N90.39 million
Day 14 – N118.50 million
The opening week of the title pulled N31.37M in its first 3 days and the full week ticket sales pushed to north of N54M.
With the independence day holiday, the action flick delivered a positive inflection of ticket sales for the title.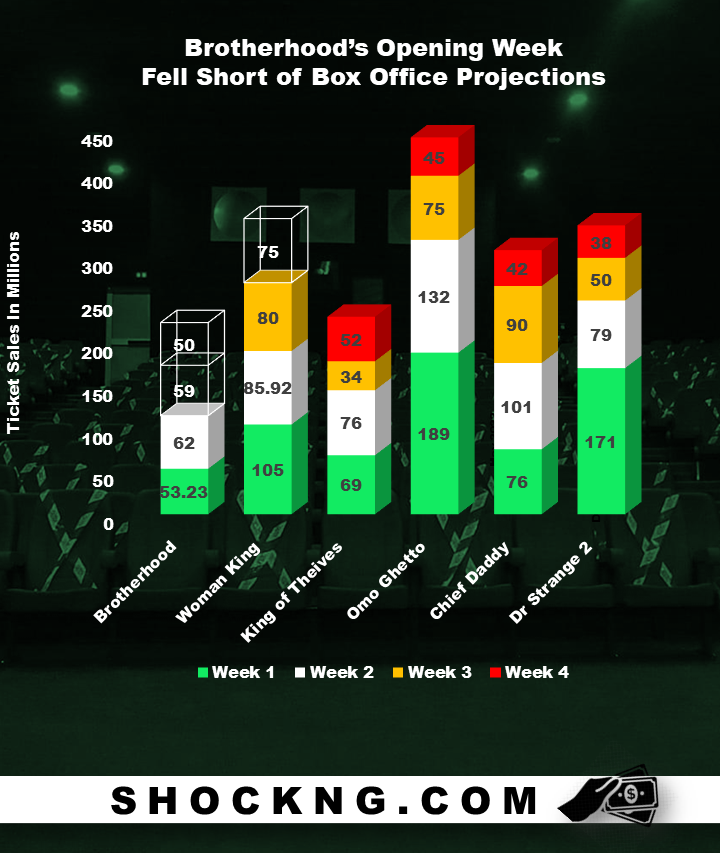 Woman King: Opening with triple digits in ticket sales, the Viola Davis-led title performance at the box office continues to be stellar. The title has dashed through the N200 million milestone in record time and continues to pull double digits cume in the September window. This title is indeed a warrior that slayed the market and is on track to be the 2nd N400M grosser in 2022.
King Of Thieves: With a first 7 days ticket sales of N69million, the indigenous title is possibly the biggest wonder hit to be witnessed at the box office window since Omo Ghetto The Saga.
You know that feeling of hitting a double-double six whilst playing ludo – this is the exact same thing that consumers dashed to King of Thieves. The title enjoyed the 2-holiday window to register a positive trend of week-on-week sales of N 76M and another N52M in its 2nd week and 4th week respectively.
Omo Ghetto: Gangster smasher hit led by a female ensemble is the biggest debut ever for a domestic title. Released in the coveted December window, the ghetto-themed flick sold out everywhere and made a triple deck hit twice!
With unparalleled demand that matched its hype on the big screen, the title singlehandedly saved exhibitors and distributors after a brutal lockdown of 8 months where zero revenue was made.
NGN Box Office: On Monday 10:19 AM, December 28th 2020.

>> A cinema operator sincerely apologized for cancelling a foreign title slot "wonderwoman 1984" due to the overflowing demand of a Nollywood Title !!!!!

🤯🤯🤯 pic.twitter.com/tbj2hE34nP

— S H ⚡ C K ! (@Shockng) December 29, 2020
Chief Daddy: In an era where Ebony life ruled the box office, Chief Daddy was that title that proved Nollywood could stand shoulder to foreign titles.
The 2018 title grabbed an opening ticket sales of N76million and then went ahead to set the box office on fire with a triple-decker hit in its 2nd-week opening.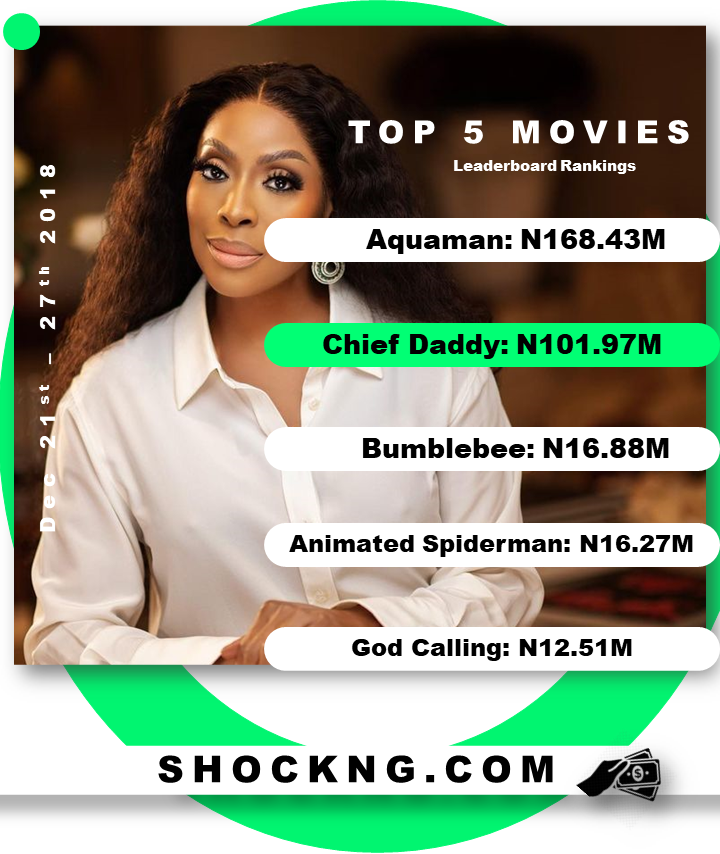 Dr Strange 2 – The Disney/Marvel instalment, directed by Sam Raimi, was able to set an enthralling record as it soars above expectation to make an impressive N127.28 million in its opening weekend.
Starting off on a highly promising point, Strange Doctor hit N171.46 million, just in its opening week.
These are groundbreaking 2022 figures in the box office market, especially in a period where the economy is static and inflation is on the rise. This is to show how the Nigerian audience is so intrigued by Marvel productions all engineered by Kevin Feige with ticket sales hovering around N4,000 – 6000 in most locations not even slowing them down.
Brotherhood: Overall cume projections of the title were north of N300M, hence the title fell short and might hit this mark longer than expected. The opening week of the title did not match the marketing drive. Demand fell short as compared to Woman King (September 2022), King of Thieves (April 2022), Omo Ghetto (December 2020), Cheif Daddy (2018), Dr Strange 2 (May 2022)
The Big Why
Acknowledging the reduced disposable income of moviegoers, shrunken middle class, inflation and unemployment factors that affect box office products, here are the possible reasons why this opening numbers fell short.
Understanding Product and Audience Type at Nigerian The Box Office
In any market, the type of product attracts the type of consumer that will patronize it. The same is true for the box office. Here's an explainer of how product types attract the five categories of audiences at the Nigerian box office.
100% Hollywood – Type A (N300M)
100% Nolly but come out in Holidays – Type C (N150M)
100% Streamers – Type D (N100M)
50% Nolly /50% Holly – Type B1 Regulars (N70M)
50% Nolly/50% Holly but Partially left for streamers – Type B2 Non-regulars (N50M)
100% Hollywood – Type A (N300 Million)
Type A audiences type comprises folks that are superfans of Hollywood movies. This category of moviegoers only goes to the cinema to watch big Hollywood films. Not minding what the cost of the movie ticket is, they pay to watch this type of movie. On average, they generate N300 million for any movie in this category.
100% Nolly but come out in Holidays – Type C (N150 Million)
Type C audiences are lovers of Nollywood releases, only that they come out to see movies at the box office during holidays (Eid al Fitr, Easter, Eld Kabir, Christmas, and January). The pull that this set of the audience brings for a movie after its period at the box office is an average of N150 million.
100% Streamers – Type D (N100 Million)
Type D is 100% streamers of Nollywood or Hollywood films. They do not go to the cinemas at all to watch movies no matter how much they anticipate their release.
This, largely, is one of the aftermaths of the Covid-19 pandemic. Before the period, the majority of streamers that we have now were moviegoers. Notwithstanding, if this audience decides to go to the box office, they can contribute about N100 million.
50% Nolly/50% Holly – Type B1 Regulars (N70 Million)
The set of audience is constantly going to the big screen to watch films that are either Hollywood titles or Nollywood titles, depending on their mood. These are regular patronizers of the cinema. They go to see movies based on what is available. They can contribute about N70 Million to any movie.
50% Nolly/50% Holly but Partially left for streamers – Type B2 Non-Regulars (N50 Million)
This type of audience has partially left for streaming platforms. They are usually in doubt about whether to watch a title at the box office or wait till it gets to any streaming platform to watch it. Initially, these people were part of the B1 but later on became non-regulars due to streaming services licensing Nollywood titles. This category contributes about N50 million.
Brotherhood is the perfect product to target type A persona but it has to remain persistent to breakthrough. This means the first brotherhood type of product from a domestic producer isn't going to cut through but rather until the 4/5th type of brotherhood product. it's that hard.
In our opinion, despite the huge effort done by Greoh Studios, the crime action title brought in type B1 and a bit of Type C.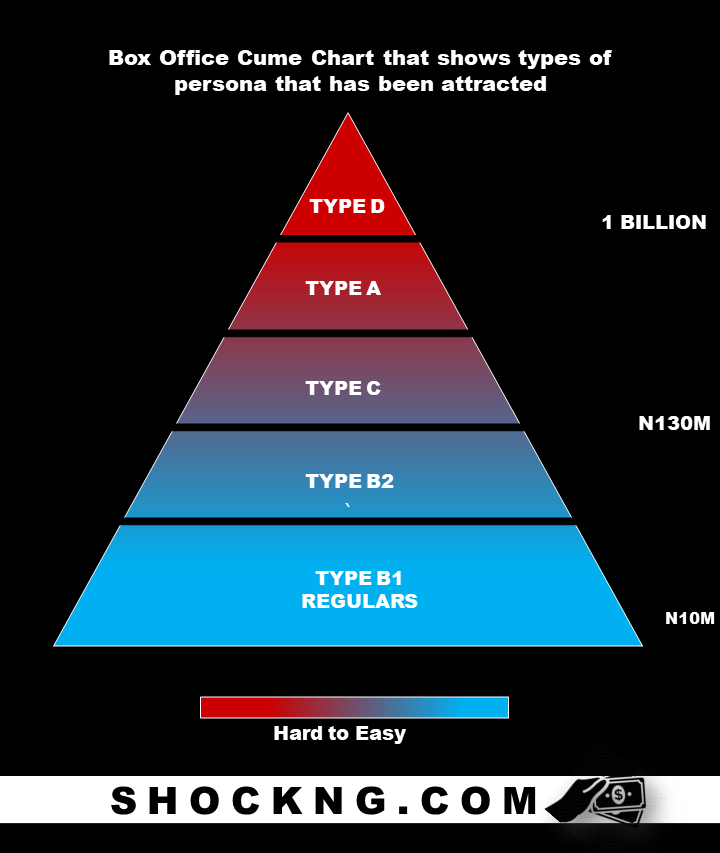 In Summary
Understanding the box office performance of brotherhood is key to discerning the state of the market.
As it stands, the title has unlocked a new level of product type that the market can try to replicate and reference.
Though Viola Davis' The Woman King had a 7-day headstart against Brotherhood that contributed to this drawback, the big question is whether the opening demand for a Nollywood product outside a Non-December period is a once-in-a-blue-moon certainty of performing wonders or it is outrightly impossible to target and get a blockbuster hit.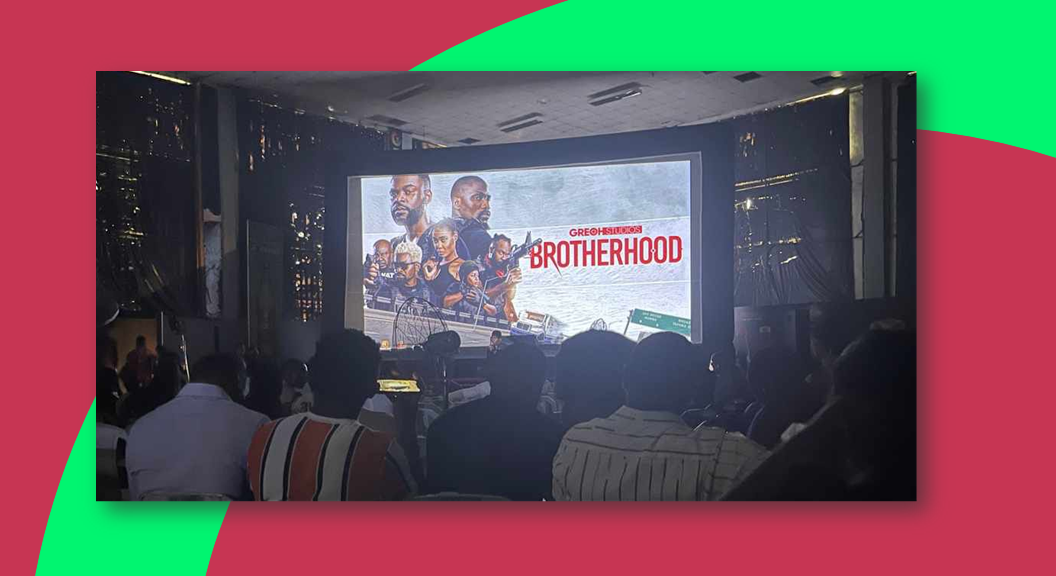 Thank you for reading
Shockng.com Covers the Business of Film/TV and the Biggest Creators in Sub-Saharan Africa.
Let's be Friends on Instagram @shockng