The Story ⚡
There are now 3 consecutive years of NGN box office revenue publicly available from January 2019 through January 2021.
The shock data team dived in to answer three important questions that can help film executives.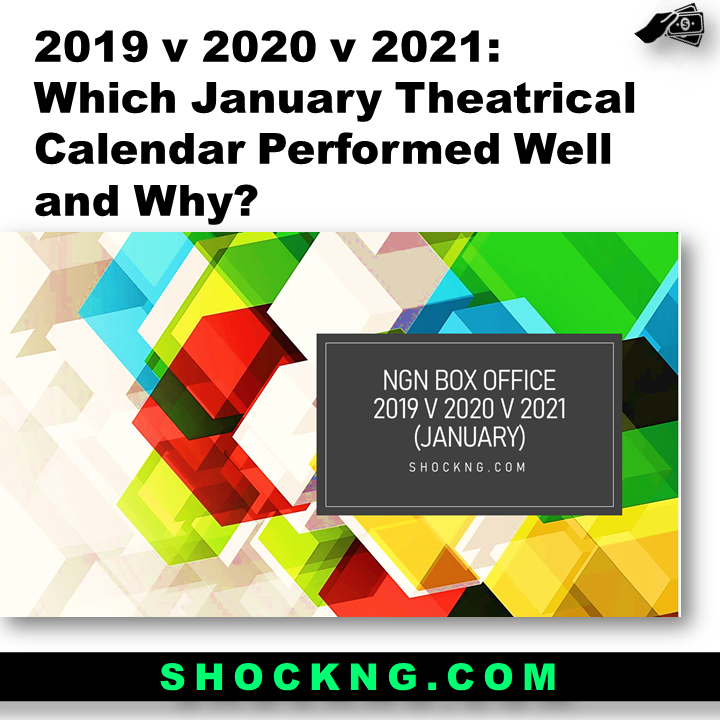 The Questions
1. In the month of January, which week(s) is the most appealing to schedule a theatrical release?
2.What is the peak and off-peak trend for January?
3.Which theatrical year performed well and why?
The 4 weeks of January data set that was culled from comScore Cean website are:
2019: 4th – 31st January
2020: 3rd – 30th January
2021: 1st – 28th January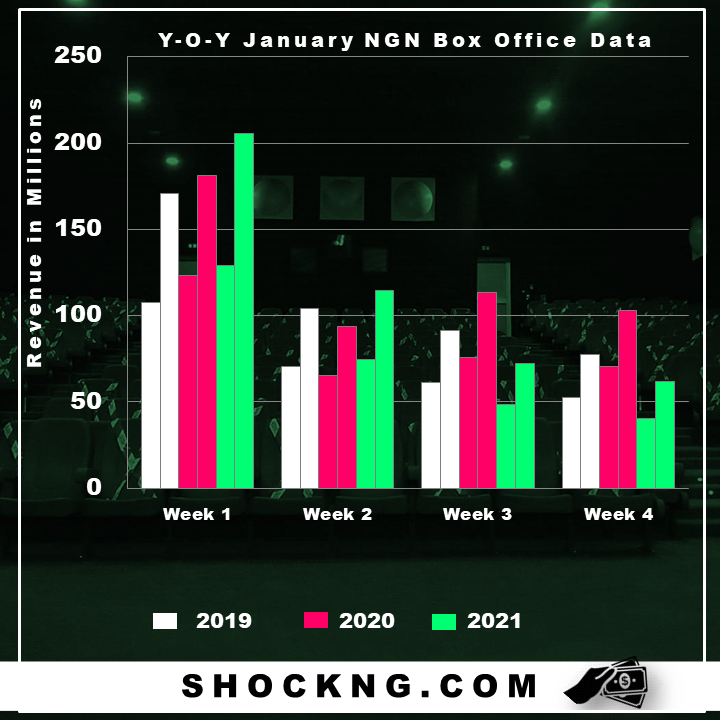 Here is a summary of what we found.
2019 overview (7 day)
During January 2019, foreign title from DC studios – Aquaman released 21st December 2018 dominated the charts for four weeks consecutively.
Overall, the highest weekend revenue for January 2019 was benchmarked at N107.78 Million (1st wk) with the lowest figures recorded N77.25Million (4th wk).
A downward trend from 4th through 31st January was obvious during this theatrical month both for 7 day and weekend grossing numbers.
| | |
| --- | --- |
| Highest | Lowest |
| N170.87 Million | N77.25 Million |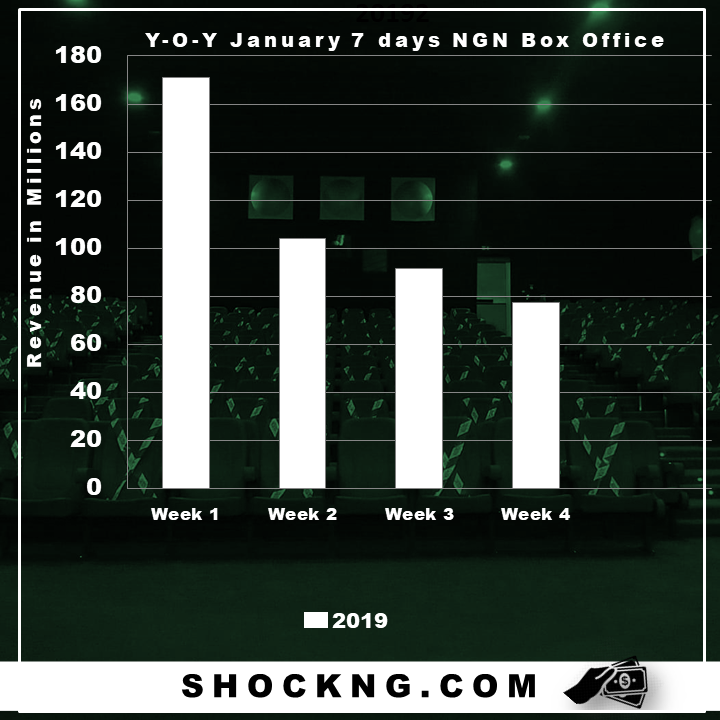 2020 overview (7 day)
Four heavyweight Nollywood titles led the revenue charge from 3rd – 30th January.
All were released from the previous year with double digits openers that peaked the theatrical month of January 2020 early at N181.09 Million (1st wk) followed by an off peak 7-day revenue at N98.83 Million (2nd wk).
Sugar rush was banned during the 2nd week of January. A look at the week where this development occurred showed how this negatively impacted the box office.
| | |
| --- | --- |
| Highest | Lowest |
| N181.09 Million | 98.83 Million |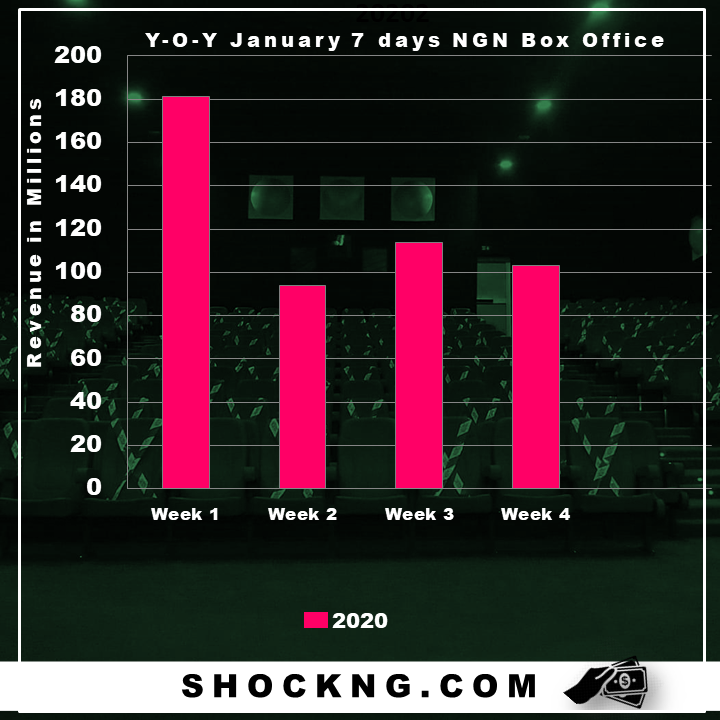 2021 overview (7 day)
The backend of 2021 was marred with an exhibition disaster. But that did not stop Omo ghetto the saga from claiming box office glory for 4 weeks.
The January 2021 theatrical peaked in the 1st week and the lowest recorded in the 4 week.
| | |
| --- | --- |
| Highest | Lowest |
| N205.71 Million | N61.95 Million |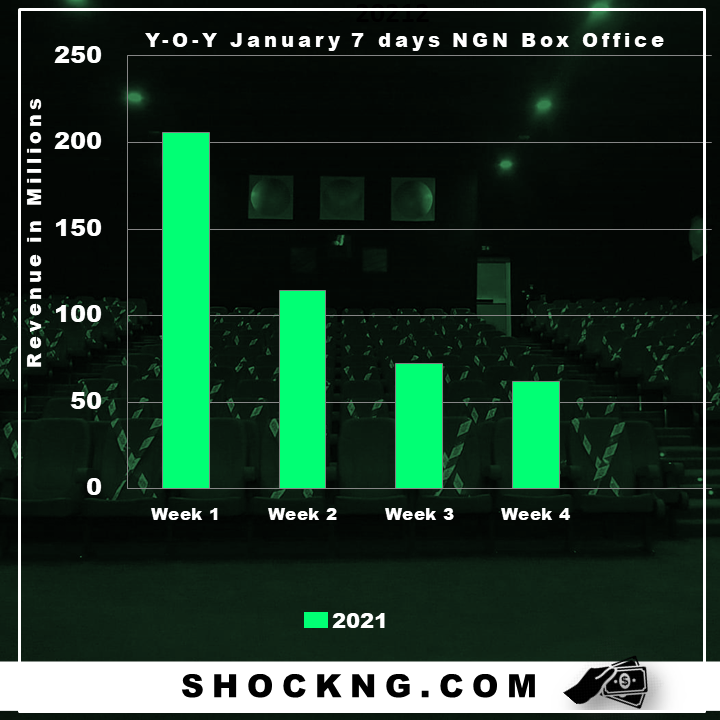 Overall Highest and Lowest
January is considered to be a peak period for commercial movies with the current mood for consumers celebrating the beginning a new life cycle.
This serves as an opportunity for entertainment products like film to sell with marketing messages of "celebration, hope and new beginnings"
From the overall box office data gathered, 2021 had the highest revenue point hitting N205.71 Million in a 7-day period.
Omo Ghetto the saga and wonder woman sequel brought 70% of the consumer demand that converted to this huge revenue generation.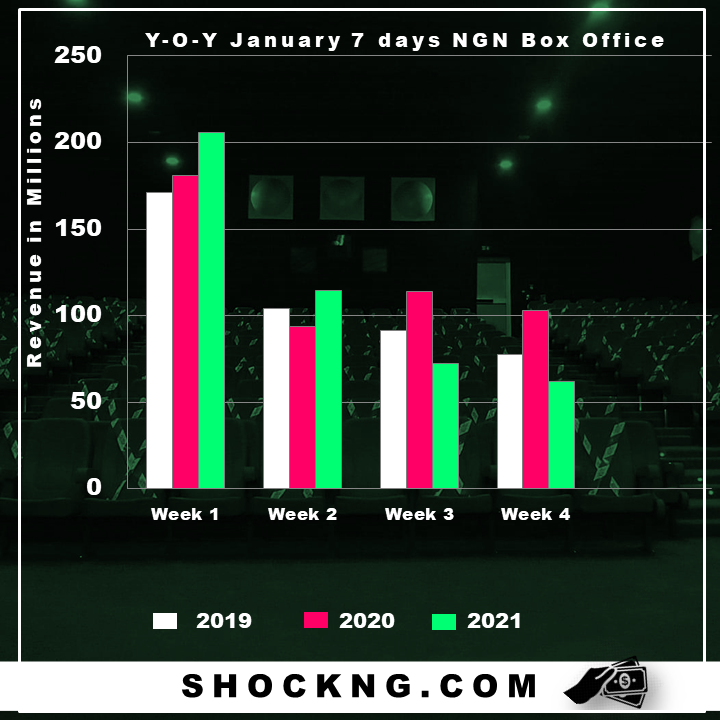 In terms of the overall Lowest 7-day period, the last week of 2021 January takes the spot with a N61.95 Million earnings.
This data point showed that a single cash turning title alone cannot hold the box office revenue.
New domestic releases to the big screen during this period – were unable to match or come close to the revenue momentum of Omo ghetto during January .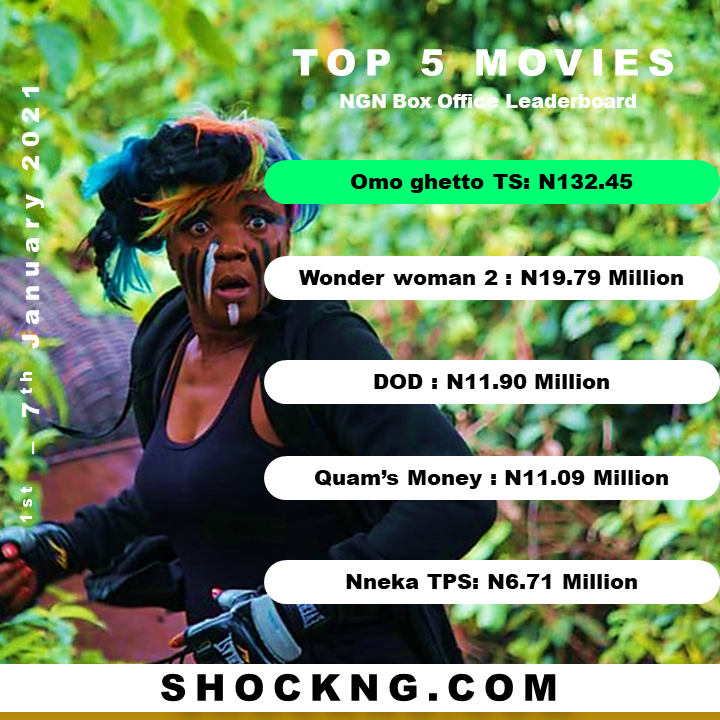 Answers backed with data
In the month of January, which week(s) is the most appealing to schedule a theatrical release?
The 1st week of January is inferred to be the most appealing week to release.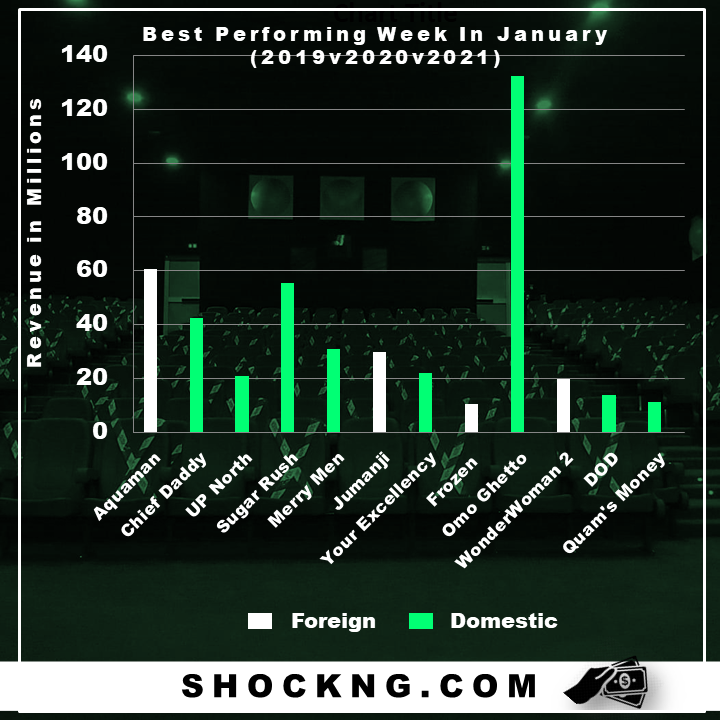 What is the peak and off-peak trend for January?
Peak periods occur early in the month.
Off peak sets in by the last week of the month.
The last week in January(2019 and 2021) experienced the lowest revenue.
An anomaly occurred in 2020 with the ban of sugar rush – This and other factors made the 2nd week the lowest revenue point for that year.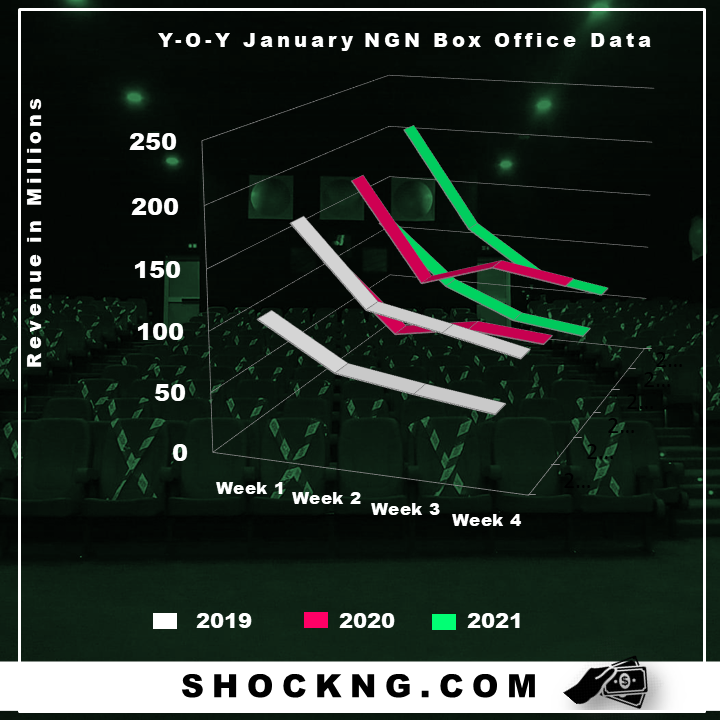 Which theatrical year performed well and why?
January 2020 was the best performing year.
The four weeks pulled a total revenue of N491.87 million that was spread out amongst top performing titles .
The top four titles scored charted above N15 Million each.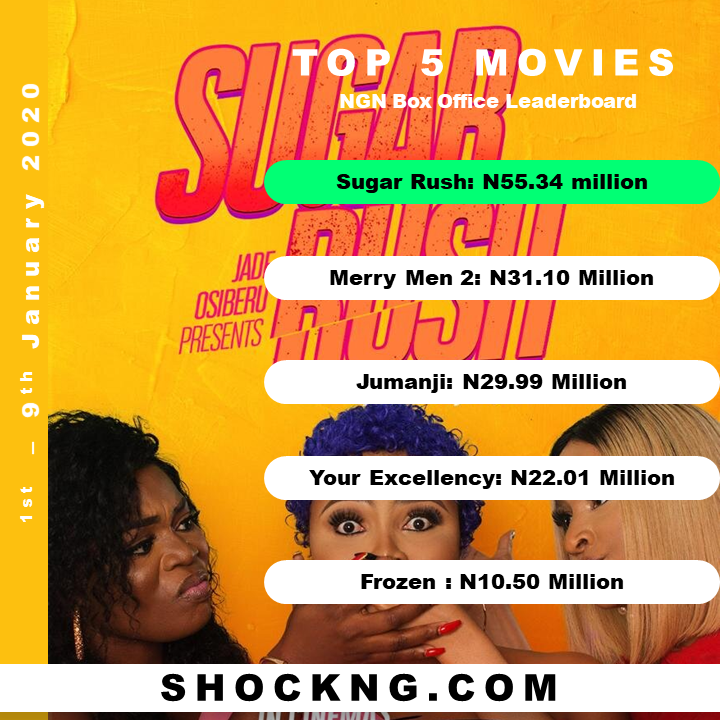 Total revenue of top 5 titles pushed above N130 Million as at 2nd week in January.
Out of the 4 weeks, the top 5 had pulled past the triple digits revenue cume.
Biggest beneficiary was Sugar rush, merry men 2, Jumanji and Your Excellency that rounded off their theatrical run to debut on top 20 over all box office rankings!
Yep. 2020 was Real deal….until Covid 19 came to disrupt this revenue energy 3 months later.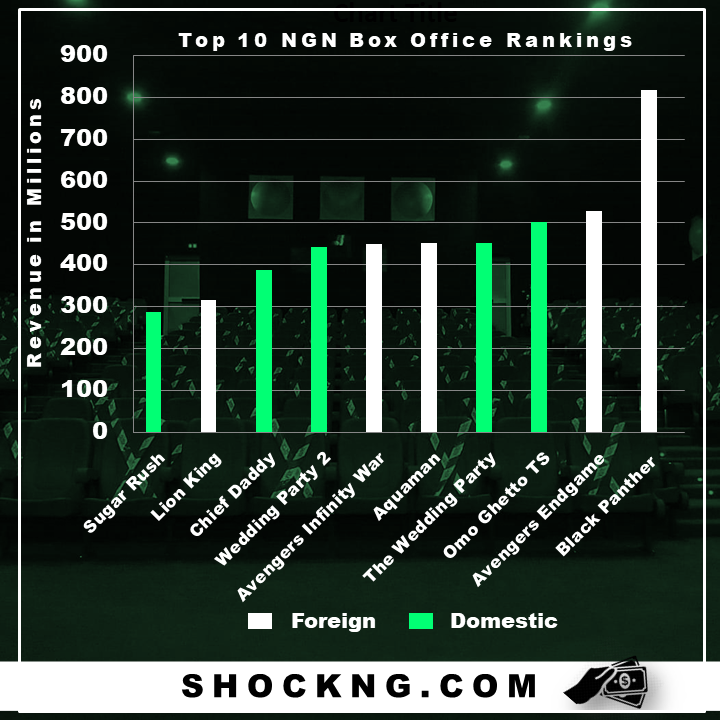 Thank you for reading
Shockng.com Covers the Business of Film and the Biggest movies that screen in Sub Saharan Africa.
Let's be Friends on Twitter @Shock NG