The Story ⚡
Following its debut on the 2nd of September, Passport has dashed through the market to cume N47 million in a 10-day opening.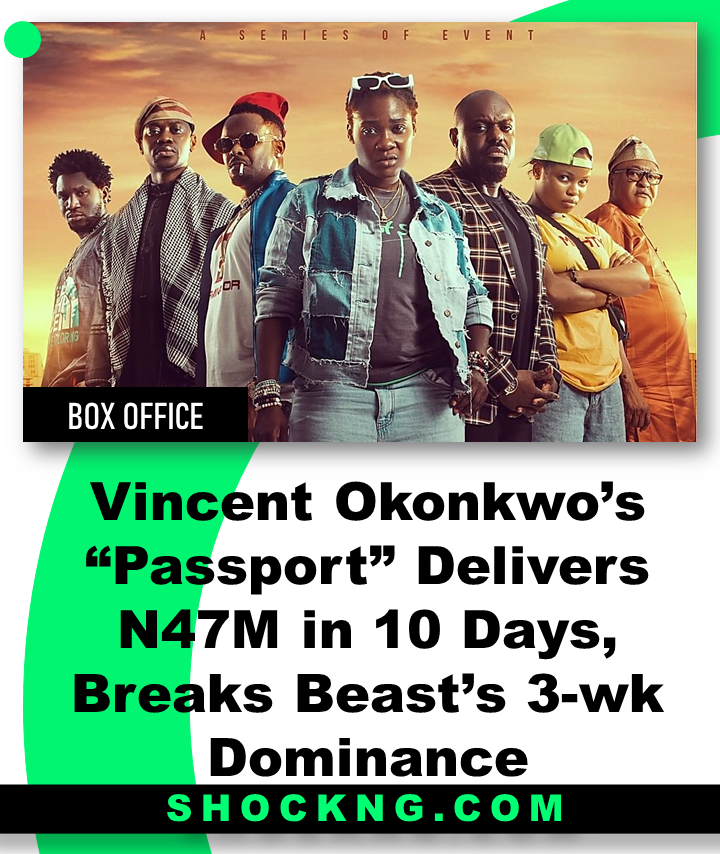 Box Office Trajectory
Produced by VSL Media, Passport debuted at the Nigerian box office on the 2nd of September. That weekend alone, the highly-anticipated film opened in 56 cinema locations to gross N19.34 million.
After a week at the cinema, the title carted away N30.55 million proving that demand is strong in double digits and might possibly be the first September blockbuster
With ticket sales of N47 Million post-10-day run at the cinemas, Passport has seen the film deliver a much-needed hit for Nollywood that has been on a low since King of Thieves roar back in April.
Director and Plot Details
The film was directed by Dimeji Ajibola, who has been in the film and advertising industry for over 18 years. He is known for Hoodrush (2012), Ratnik (2020), and Ikemefuna (2021).
Passport is a ghetto comedy that tells the story of two individuals, Oscar and Kopiko. Oscar has lost his passport and now has to work with Kopiko, a ghetto tomboy, to find the passport so he could travel to see his mother or be thought to be up to his antics again.
The film stars Jim Iyke (Bad Comments), Mercy Johnson-Okojie (The Legend of Inikpi), Zubby Michael (My Village People), Adedimeji Lateef (King of Thieves), and Jide Kosoko (Breaded Life), among others.
Market Competition
In its first week, Passport clenches the number one spot amongst the highest-grossing movies at the Nigerian box office with a margin of about N8 million from its closest rivalry, Beast. While Passport made N30.55 that week, Beast made a ticket sale of N12.87 million.
The film's other competitors are movies on the third, fourth, and fifth spots on the board—Thor-Love and Thunder, Bullet Train, and The Invitation to Hell. The third movie grossed N10.35 million, the fourth made a sale of N9 million, and the fifth realized N7.57 million.
So far, the titles don't pose a serious threat to Passport. This might be because most of them have stayed for at least four weeks at the box office while Passport is still enjoying its newcomer love and attention.
Final Cume Projections
Judging by its opening week performance, the film can be predicted to wrap up ticket sales close to N150 million and we are tracking these numbers to confirm our working theory that consumers indeed want old Nollywood combos as leads on the big screens.