The Story ⚡
From titles with female-led characters to blockbuster action and even Ghost movies – The taste of Nigerian consumers is wide-ranging and ever-changing.
With the advent of streaming wars, there is now a measurable data pool to actively track what Nigerian consumers love, want and engage with.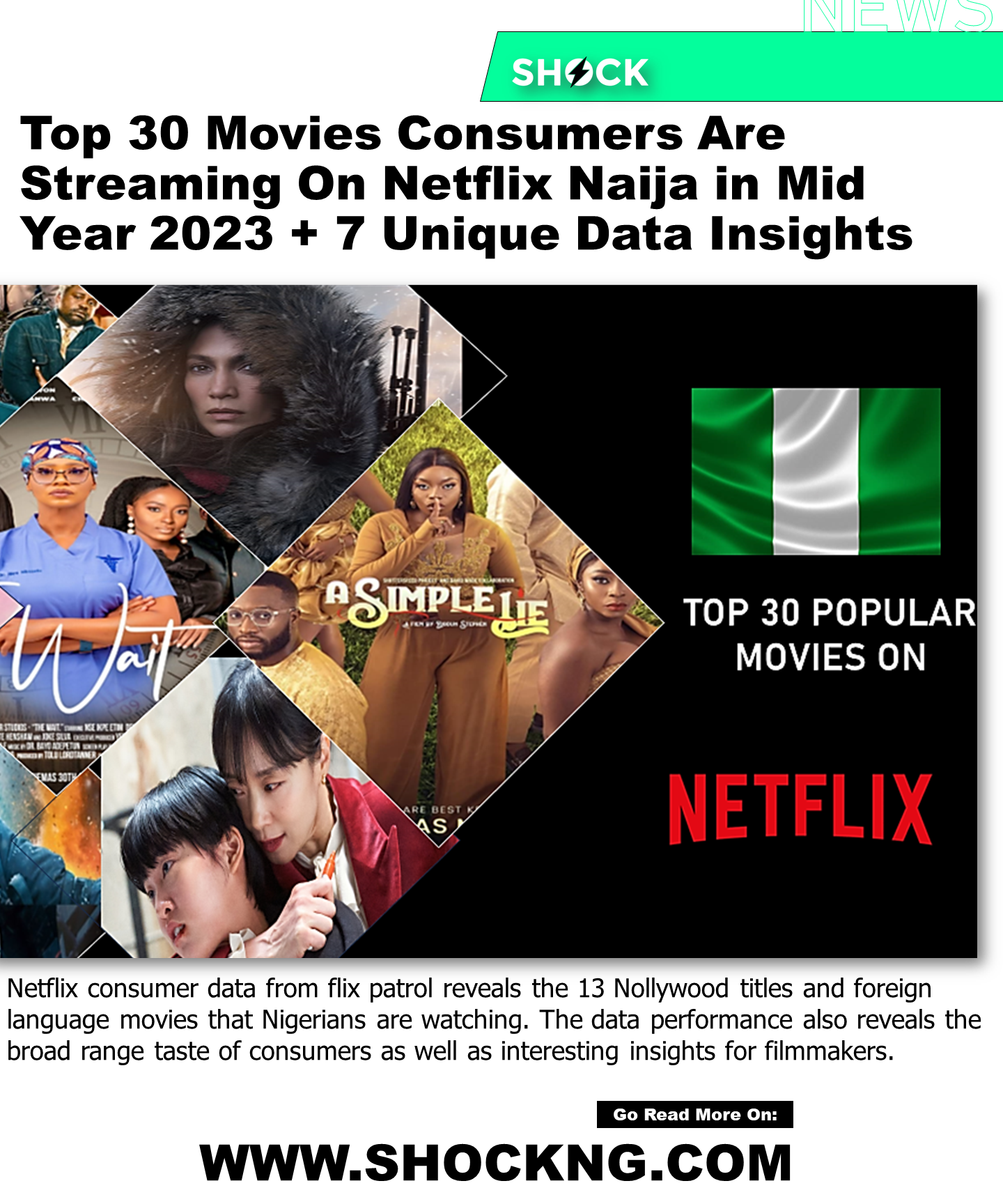 Why Does This Matter?
The tracked data performance of titles helps to demonstrate where the taste of the consumer is currently at and where it will be positioned in the future, based on the information gathered.
But more importantly, this data also helps studio executives and writers make intelligent decisions about how to make their products more appealing.
Tracking and reviewing titles' data, especially titles made locally, enables the industry to measure performance, understand which parts of the projects have worked or failed and what steps need to be taken to meet consumer taste.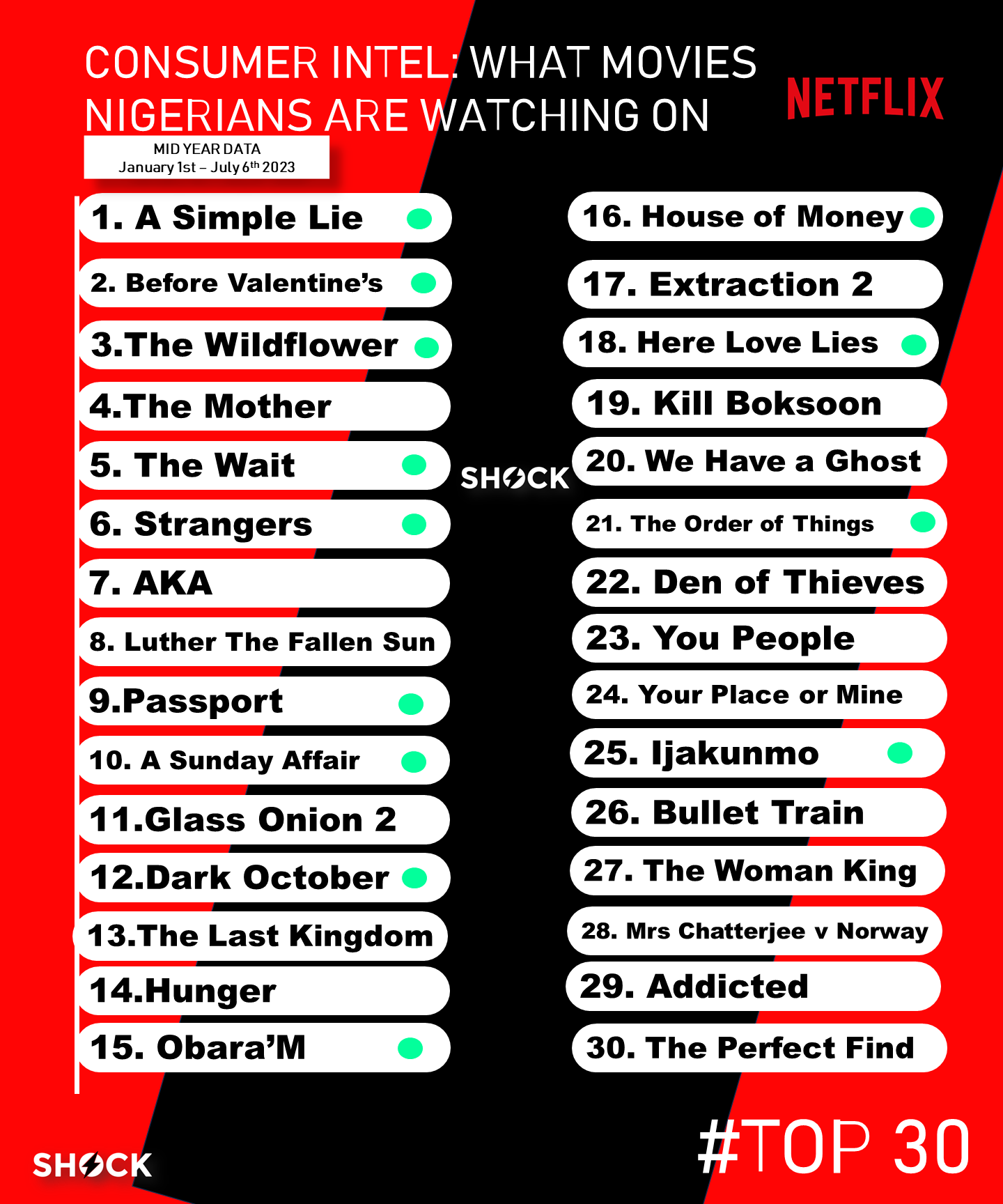 7 Insights To Gain
What titles did Nigerians stream on Netflix for the first half of 2023? Based on the data from Flix Patrol, a global metrics tracking platform, here are the top 30 popular movies on Netflix Naija, dated for the first half of 2023.
There are also seven unique insights to learn from as a filmmaker, film investor or industry enthusiast.
Titles helmed by Biodun Stephen performed well
Movies directed by Biodun Stephen are top performers.
With her three movies appearing among the first six movies on the rankings, this is a clear indication of consumer favouritism in terms of story, direction, talent, and genre
The movies are A Simple Lie (2022), The Wildflower (2022), and Strangers (2022).
A Simple Lie
The film launched at the Nigerian box office on the 25th of March, 2022. After its theatrical run, the title made a sum of N33.70 million. It is currently the 78th highest-grossing movie in Nigeria's box office history. However, it is the most-watched title on Netflix Nigeria as of the time of this report.
The comedy-drama tells the story of Boma, who tells a lie to her ex to win him back. The lie later spirals out of control. It stars Bisola Aiyeola, Daniel Abua, Bukunmi Adeaga-Ilori, Tope Ajao, and others. It is written by Mannie Oiseomaye.
The Wildflower
Released in Nigeria on the 27th of May, the story follows three women living in the same compound who have been experiencing abuse in different forms from the men around them. Things will take a different turn when one of them, Dabiri, decides to speak up. The title is currently the 67th highest-grossing film in Nigeria and the third on the top 30 most-watched films on Netflix Naija in the first half of 2023.
The movie is produced by Vincent Okonkwo for VSL Media. Co-written by Niyi Akinmolayan and Mannie Oiseomaye, it stars Toyin Abraham, Mojisola Adebajo, Joy Adeyemi, Doreen Alex, and others.
Strangers
Written by Anthony Eloka and performed by Banji Adesanmi, Strangers tells the story of a young village boy, unbothered about city life, who has to go to the city and gets helped by people he has never met before when he's infected by a life-threatening disease.
It premiered in Nigeria on the 29th of April and stars Lateef Adedimeji, Bimbo Oshin, Bolaji Ogunmola, Debbie Felix, and others.
The top 3 titles are box office products.
The data shows that titles that had theatrical exhibitions before going to the streamer did better than other titles. This shows one of the benefits that a movie that goes to the box office has over movies that go straight to streaming platforms. Titles in the top 3 categories are A Simple Lie, Before Valentine's (2022), and The Wildflower.
While the first and third were directed by Biodun Stephen and made N33.70 million and N41.43 million respectively, Before Valentine's was directed by Michelle Bello and bowed out of the cinema with N23.24 million after five weeks. This data also shows that the performance of a title at the box office does not necessarily determine how it will be accepted by audiences on streaming platforms.
Before Valentine's follows the story of four hairdressers in a Lagos salon. They are faced with relationship dramas with their families and friends as they prepare for Valentine's Day. It stars Baaj Adebule, Temidayo Adenibuyan, Venita Akpofure, and Shaffy Bello, among others.
43.33% demand for local content
Out of the top 30 movies, 13 were local content. This shows that domestic titles are still competing with foreign titles. The 13 domestic films on the list are:
A Simple Lie

(2022) – Biodun Stephen

Before Valentine's

(2022) – Michelle Bello

The Wildflower

(2022) – Biodun Stephen

The Wait

(2021) – Fiyin Gambo and Yemi Morafa

Strangers

(2022) – Biodun Stephen

Passport

(2022) – Dimeji Ajibola

A Sunday Affair

(2023) – Walter Taylaur

Dark October

(2023) – Toka McBaror

Obara'M

(2022) – Kayode Kasum

House of Money

(2022) – Dare Olaitan

Here Love Lies

(2023) – Tope Oshin

The Order of Things

(2022) – Sidney Esiri

Ijakumo

(2022) – Adebayo Tijani
Most Popular Hollywood title – The Mother
Domestic titles compete with foreign titles on the streaming service. However, as mentioned already, the top three movies on the chart are Nollywood titles, while the fourth film on the list, The Mother (2023) is a Hollywood title.
The Mother is an action thriller, featuring Jennifer Lopez, Joseph Fiennes, Lucy Paez, Omari Hardwick, and others.
The flick follows the story of a former US Army operative who has to rescue her daughter from the hands of kidnappers. Directed by Niki Caro, it was released on Netflix on the 12th of May 2023.
Recent title, Obara'M, charts top 15
Obara'M (2022) is a family drama written by Stephen Okonkwo and directed by Kayode Kasum. The musical, which stars Nancy Isime, Sydney Talker, Bolaji Ogunmola, Onyeka Onwenu, Bolanle Ninalowo, Deyemi Okanlawon, and others, was theatrically released on the 26th of August 2022.
Following its run at the box office, the title bombed with an N26.70 million overall GBO. However, upon getting to Netflix in less than a month, the title emerges as the 15th most-watched title.
Obara'M the musical, at present, has been streamed more than Extraction 2, Ijakunmo, Bullet Train, and even The Woman King.
This could be an indication that experimental titles play better with the Streaming Audience.
Action blockbuster demand
The most demanded genre of movies often varies from one country to another. Nonetheless, reports have shown that action titles are a consumer favourite. The Netflix Naija data for the first half of the year has shown that the Nigerian audience demand action blockbusters. Four action titles rank on the list: The Mother (2023), AKA (2023), Extraction 2 (2023), and Kill Boksoon (2023), which rank 4th, 7th, 17th, and 19th respectively.
AKA is a French action crime film co-written by Morgan S. Dalibert and Alban Lenoir and directed by Morgan S. Dalibert. It stars Alban Lenoir, an undercover agent who has to infiltrate a gang linked to a Sudanese terrorist bombing suspect.
Extraction 2, directed by Sam Hargrave, is an instalment to Extraction (2020), and it stars Chris Hemsworth, Golshifteh Farahani, Olga Kurylenko, and others. It was released on the 16th of June 2023.
Kill Boksoon is a Korean crime action flick written and directed by Byun Sung-Hyun. The title premiered on Netflix on the 31st of March.
Silent Hollywood hit – We Have A Ghost
The supernatural horror comedy, We Have A Ghost, is written and directed by Christopher Landon. It is based on a short story by Geoff Manaugh. It was launched on Netflix on the 24th of February.
The title is a silent hit, mainly because not much is known of the film until now, yet it ranks higher than titles that enjoyed publicity. Is it the case that luck favours this movie or it's just that the audience fancies horror titles even though much was not done in terms of publicity?
This is an organic Audience discovery with data suggesting a sizeable Nigerian interest in Horror Movies.
In Summary
The above insights will prove helpful to understand the taste of Nigerian consumers.
In the second half of the year, will the metrics see a new overhaul as new titles are added to the Netflix library or slight changes are just to be expected?
Be sure to find out by following our Stream Wars coverage.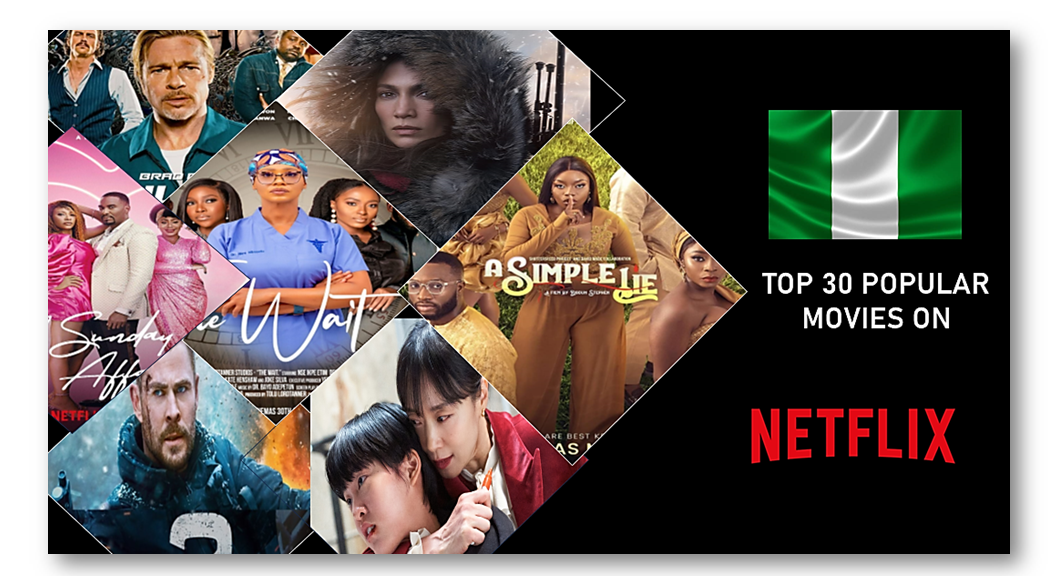 Thank you for reading.
Shockng.com Covers the Business of Storytelling and the Biggest Creators in Sub-Saharan Africa.
Let's be Friends on Twitter @ShockNG