The year 2019 has come to a good end and in this post, we detail the top 10 box office titles that had the highest weekend openings
From Least to Highest we gathered this top 10 list from cinemas exhibitors association of Nigeria database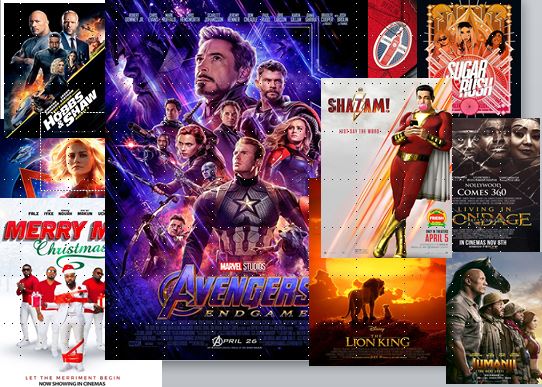 *This list has been updated
Let's begin
11) Living in Bondage: N28.45 Million
The story of Nnamdi, Andy Okeke's mysterious son, and his vaunting quest for the big life, one that he would do whatever it takes to make it come true
Director:Ramsey Nouah
10) Jumanji Next Level: N28.80 Million
In Jumanji: The Next Level, the gang is back but the game has changed. As they return to rescue one of their own, the players will have to brave parts unknown from arid deserts to snowy mountains, to escape the world's most dangerous game.
9) Shazam: N29.88 Million
We all have a superhero inside of us — it just takes a bit of magic to bring it out. In 14-year-old Billy Batson's case, all he needs to do is shout out one word to transform into the adult superhero Shazam. Still a kid at heart, Shazam revels in the new version of himself by doing what any other teen would do — have fun while testing out his newfound powers. But he'll need to master them quickly before the evil Dr. Thaddeus Sivana can get his hands on Shazam's magical abilities
Director: David F. Sandberg
8) Merry Men 2: N36.89 Million
Merry Men II continues the adventures of Ayo, Naz, Amaju and Remi on another fast-paced and high tension mission. This time though, they may be way in over their head, egged on only by their love for and desperate determination to save Kemi
Director: Moses Inwang
7) Angel Has Fallen: N39.25 Million
Authorities take Secret Service agent Mike Banning into custody for the failed assassination attempt of U.S. President Allan Trumbull. After escaping from his captors, Banning must evade the FBI and his own agency to find the real threat to the president. Desperate to uncover the truth, he soon turns to unlikely allies to help clear his name and save the country from imminent danger
Director: Ric Roman Waugh
6) Spider Man Far From Home: N42.63 Million
Peter Parker's relaxing European vacation takes an unexpected turn when Nick Fury shows up in his hotel room to recruit him for a mission. The world is in danger as four massive elemental creatures — each representing Earth, air, water and fire — emerge from a hole torn in the universe. Parker soon finds himself donning the Spider-Man suit to help Fury and fellow superhero Mysterio stop the evil entities from wreaking havoc across the continent
5) Sugar Rush: N58.76 Million
After the Sugar Sisters, discover a whopping $800,000, the financial crimes commission and the supposed owners of the money come for them but the money is lost. Now to save themselves, and get back their abducted mother they team up with 2 crime agents to re-steal the money from an affluent but dangerous man with supernatural powers
Director: Kayode Kasum
4) Fast and Furious (Hobbs & Shaw): N63.72 Million
Lawman Luke Hobbs (Dwayne "The Rock" Johnson) and outcast Deckard Shaw (Jason Statham) form an unlikely alliance when a cyber-genetically enhanced villain threatens the future of humanity.
3) Captain Marvel: N64.31 Million
Carol Danvers becomes one of the universe's most powerful heroes when Earth is caught in the middle of a galactic war between two alien races.
Directors: Anna Boden, Ryan Fleck
2) Lion King: N68.79 Million
After the murder of his father, a young lion prince flees his kingdom only to learn the true meaning of responsibility and bravery.
1. Avengers Endgame: N189.57 Million
Adrift in space with no food or water, Tony Stark sends a message to Pepper Potts as his oxygen supply starts to dwindle. Meanwhile, the remaining Avengers — Thor, Black Widow, Captain America and Bruce Banner — must figure out a way to bring back their vanquished allies for an epic showdown with Thanos — the evil demigod who decimated the planet and the universe
Director: Russo Brothers
Thank you for reading this post, Now click HERE to follow us on twitter to watch the latest action movie trailers