An augmented reality company, Tilt Five has rounded up it's Kickstarter fund with a total of $1.7 million raised.
Tilt Five took to Kickstarter seeking $450,000 in funding to bring its AR headset to life. The headset, which uses a unique projection display method, is heavily focused on tabletop gaming applications
Tilt Five is an AR headset which hopes to revolutionize tabletop gaming by fusing board games and traditional gaming into a shareable and even networked experience. Multiple players are able to gather around a single board, each getting a unique view of the game world. While wand controllers can be used for both motion and button input, the Tilt Five board can also detect special playing cards and miniatures, allowing the board to react to the physical objects in interesting ways.
Tilt Five starts at $300 for a complete kit, which includes the headset, wand controller, display board, and more. Two SKUs are available, the LE and the XE, with the only difference being the size of the display board (and the XE comes with a 'kickstand' which allows you to prop up the side of the board allowing you to see further into the virtual world. More expensive tiers offer up the larger board, a deluxe box with carrying handle," and access to stretch goal options. Yet more expensive tiers offer more than one headset in the box so that you can play with your friends.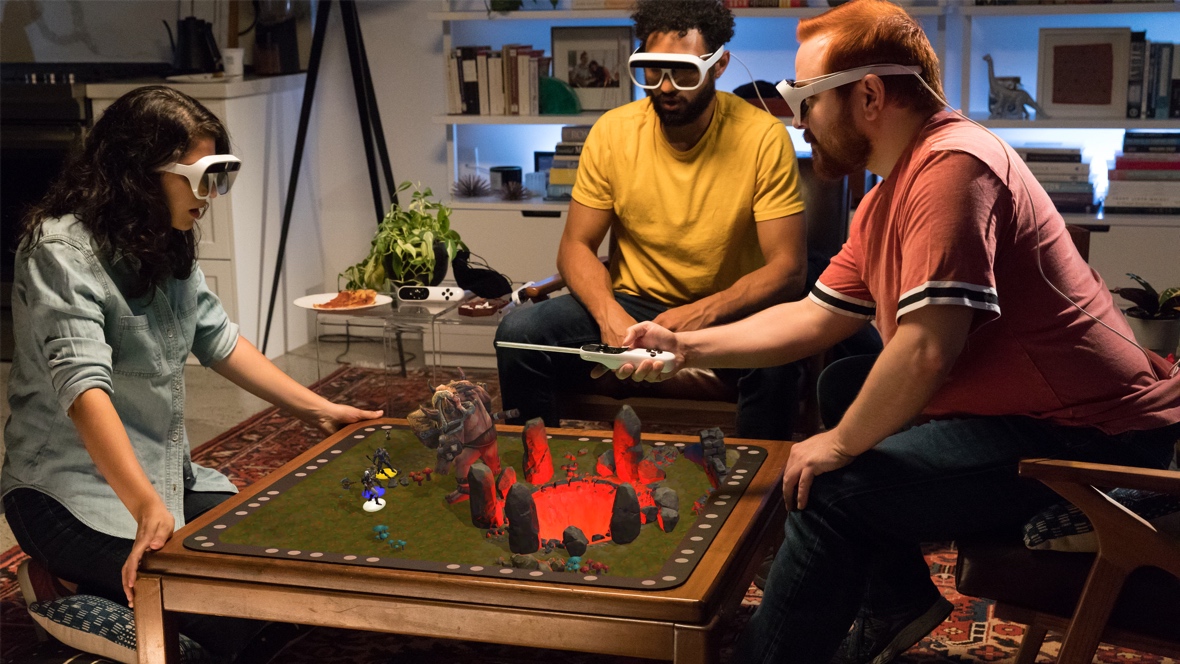 "There has been money on the table that we've walked away from, the CEO of Tilt five, Ellsworth says in an interview. "Because they wanted to change up our leadership. There are codewords that I've learned along the way."
One thing that i also hear from investors, which makes me run away from them, is 'adult supervision'. Which, first of all, is a little insulting. It's also code for them having buddies that they want to bring in.
We're just not going to participate in that kind of buddy network again."
Having established that principle, that Tilt Five would control its own destiny, Ellsworth and the team had to decide a few more variables. Firstly, how were they going to aim to disrupt the market?
"For our target audience, we had a choice, right? We could go really hard on the videogames side," she explains. "We actually had these discussions. Like, do we take on Xbox? Do we say that we're going to replace your Xbox one day. Is that our marketing position?"
"So, we considered that, and no, we can't go up against Microsoft. They've got pretty much a big macho PC built into this set-top box, you can't compete with that. So, then, we took a step back. Like, okay, can we take cardboard and plastic board games and make them so amazing that it blows people's minds? It's, like, yeah – we can."
"We can track physical objects and then blend them with digital graphics, You put your dragon on the table, a physical toy or miniature, and it can breathe virtual fire. You can place a card on the table, and that can spawn a wizard that shows up in your scene and starts interacting directly."
Tilt Five says that third-party developers are already building content for the platform, including a commitment from Fantasy Grounds, a virtual tabletop platform that supports popular tabletop RPGs like Dungeon & Dragons.
The company had been demo-ing the tech for months before the campaign launched. "People were loving it, so we knew that all of these things that we'd hypothesized, about the approachability and comfort, and experience, were working and resonating."
With that Kickstarter campaign concluded, units will ship out in 2020 continuing all the way through to August, since so many orders have come in.
According to Tilt Five, the headset has 720p resolution, 110 degree diagonal field of view, and supports games up to 60Hz. There's also on-board audio, a microphone, and an 8MP camera on-board for computer vision. Meanwhile, the headset weighs just 85 grams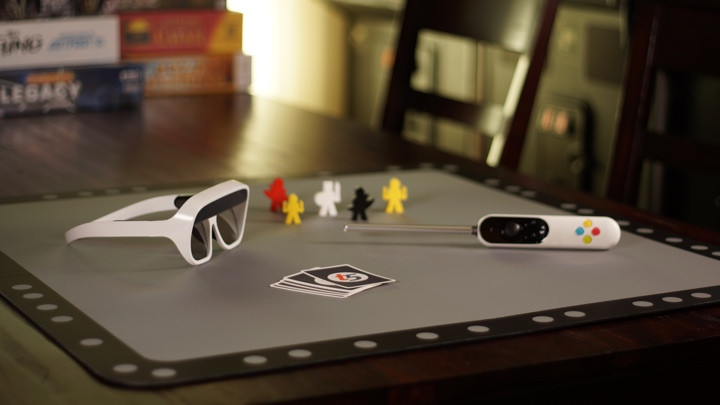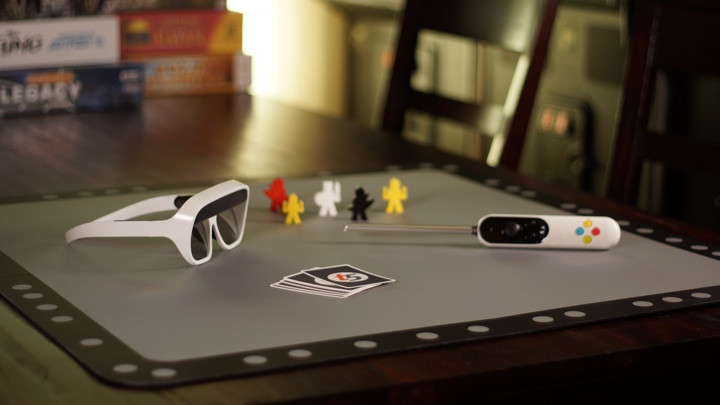 Though the company says it's for "early adopters", Tilt Five is not explicitly designating the headset as a dev kit, but says that any version of the headset can be used as such for developers who want to build games for the platform using an SDK provided by the company, including support for Unity and UE4.
Thank you for reading this post, click HERE to follow us on twitter for latest VR/AR updates you don't want to miss