News broke in the early hours of Tuesday morning that Genevieve's Lionheart Movie has been rendered ineligible to be part of the submission list by foreign countries for this year's best international feature film category for the oscars.
There have been numerous reactions to the news on social platform twitter and here are just a few of them
To @TheAcademy, You disqualified Nigeria's first-ever submission for Best International Feature because its in English. But English is the official language of Nigeria. Are you barring this country from ever competing for an Oscar in its official language? https://t.co/X3EGb01tPF

— Ava DuVernay (@ava) November 4, 2019
Lionheart has been disqualified from the Oscar.

Reason: A Nigerian movie should not have so much English.

Mind you, we were colonized by this same English people, English is our official language.

This right here is BS! And it's discriminatory.

— Efam Harris (@iefamharris) November 5, 2019
So Oscar disqualified Genevieve's LionHeart because it was filmed in English Language ?

Oya now let us submit 'Alani Pamolekun' that one has too much Yoruba language spoken in it.
🤡🤡 🤡

— Biyi The Plug 🔌 (@BiyiThePlug) November 5, 2019
1. The Nigerian Oscars Selection Committe was very aware of the rules and the buck stops with them.

2. The category changed from Foreign Language to International film, so that rule should be revisited.

3. Nollywood however doesn't need to pander to anyone but our audience.

— Isioma Osaje (@MsJazzyfied) November 5, 2019
Dear @TheAcademy, your criteria is valid, but so is our reality. Creating 2 categories – Best Foreign Film and Best International Film – is probably best. Filmmakers don't make films for awards. We make films for our audience. #Lionheart https://t.co/VjqspoiWi3

— Zulumoke (@zvlv_o) November 5, 2019
Bob Marley never won a Grammy, neither did ABBA. One thing you need to understand about the Grammys and the Oscars – is that they are local awards, primarily for American artistes.

(The first Grammy for Reggae music was awarded in 1985).

— Onye Nkuzi (@cchukudebelu) November 5, 2019
@TheAcademy has its rules and Lionheart wasn't playing by them. Genevieve Nnaji wanted to make and sell a good movie to an audience and she succeed in doing so. That she didn't quite hit the mark with the Academy means she and others need to go back to the drawing board.

— Osaretin Victor Asemota (@asemota) November 5, 2019
Build local. Celebrate local. America is a country. Nigeria is a country. Let's all get back to work. There's an industry here to be built to become the world's envy.

— Niyi Akinmolayan (@niyiakinmolayan) November 5, 2019
The oscar selection committee has released a press statement reacting to this and they state that this disqualification is an eye-opener for them. Read the full statement below.
The Nigeria Oscar Selection Committee (NOSC) has today responded to the recent disqualification of the country's submission to the 92nd Academy Awards® – Genevie Nnaji's Lion Heart. The announcement was made on Monday 4th November 2019.
According to the Academy, nominees in its Best International Feature Film Category must "have a predominantly non-English dialogue track," and 'Lionheart' despite being an unmistakably Nigerian film, did not tick this particular box.
The announcement has attracted concerns from movie producers across the globe, with major voices like Ava DuVernay, American filmmaker and distributor, speaking up about the disqualification on social media, shortly after the announcement.
Responding to this recent development, the NOSC Chairman, Chineze Anyaene said: "The budding Nigerian film industry is often faced with producing films with wide reach which often makes the recording dialogue predominantly English with non-English infusions in some cases.
Going forward, the committee intends to submit films which are predominantly foreign language – non-English recording dialogue. We are therefore urging filmmakers to shoot with intention of non-English recording dialogue as a key qualifying parameter to represent the country in the most prestigious award.
The committee is working tirelessly in organizing workshops, seminars and using other available media to create robust awareness on the guidelines and requirements for an International Feature Film entry.
Lionheart passed on other technical requirements from story, to sound and picture except for language as adjudged by the Academy screening matrix, which was a challenge for the committee at a time.
This is an eye-opener and step forward into growing a better industry.
End of quote
From the highlighted statement, it was quite clear that the committee knew the predominantly "Non-English" rule, but why still go forward and push a movie to the academy??
Meaning all the Nigerian movies considered did not make the criteria, why now make it look Lionheart movie fulfilled all of this criteria and announce it as the emerging winner.
After all, it was a 12 man member panel, how could ALL of them have approved this decision that was clearly flouting an important rule???
Even a caption on one of it's official channel acknowledged that particular rule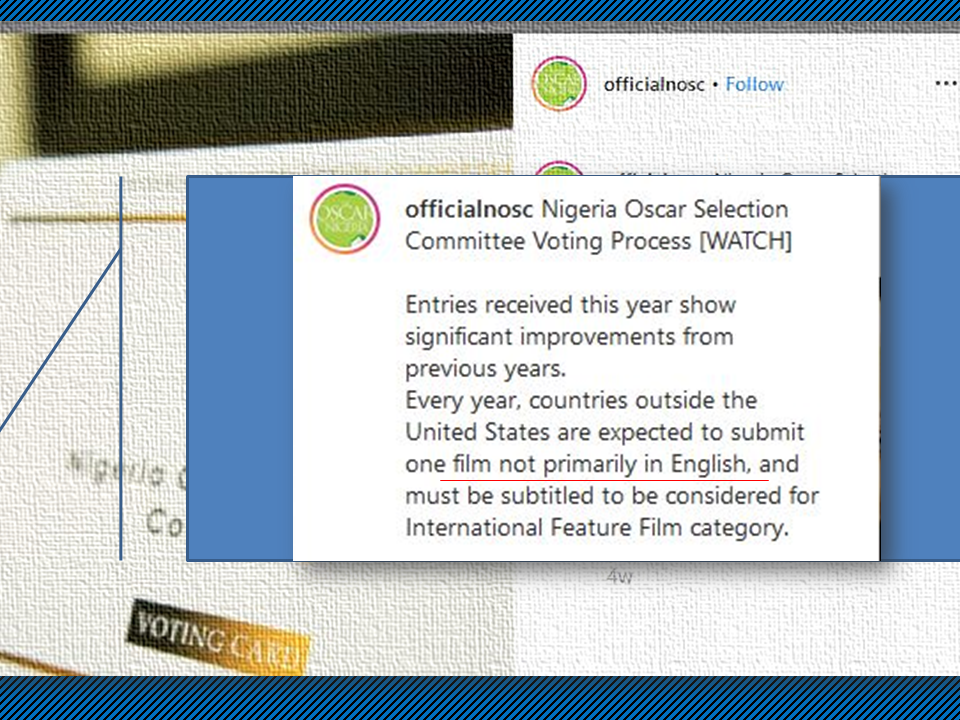 It's quite clear the only question the committee has to answer is "why did they still go ahead to name a movie when all conditions where not fully met???
..the lionheart oscar controversy continues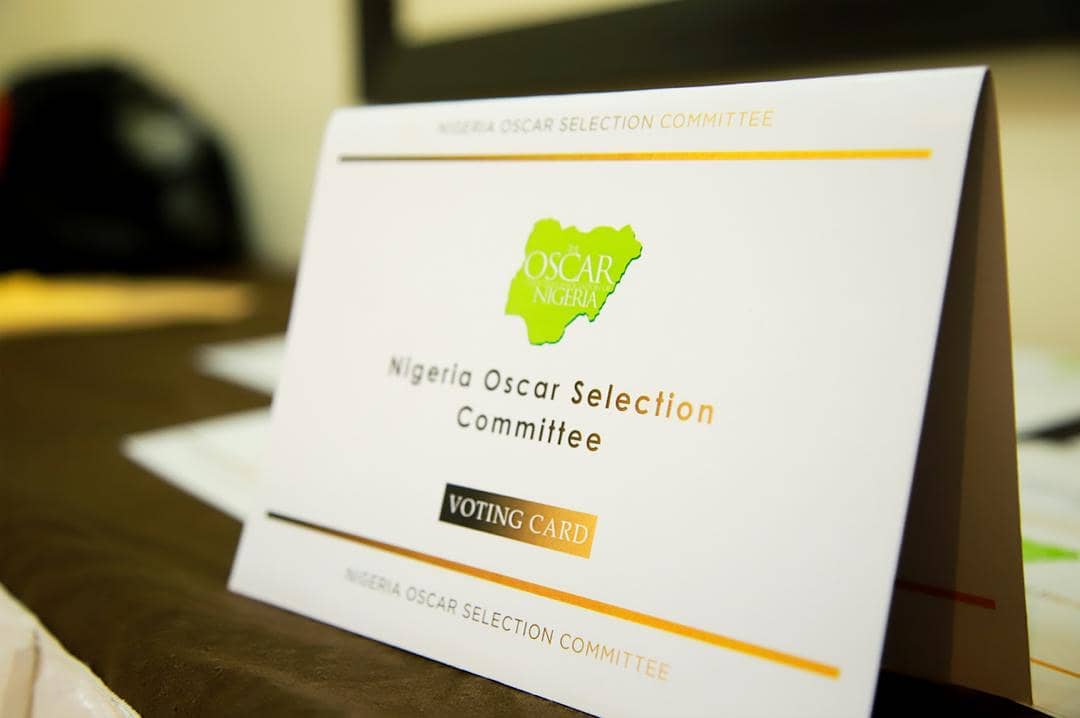 Thank you for reading this post. follow us now on twitter @shockng for the latest surrounding this oscar controversy