The Story⚡
A four-year film journey is taking its deserved centre stage this January 13th.
The Trade weaves a tale on the true life events and consequences of the notorious 'kidnap for ransom', that has ravaged not only Nigeria but the world as a whole.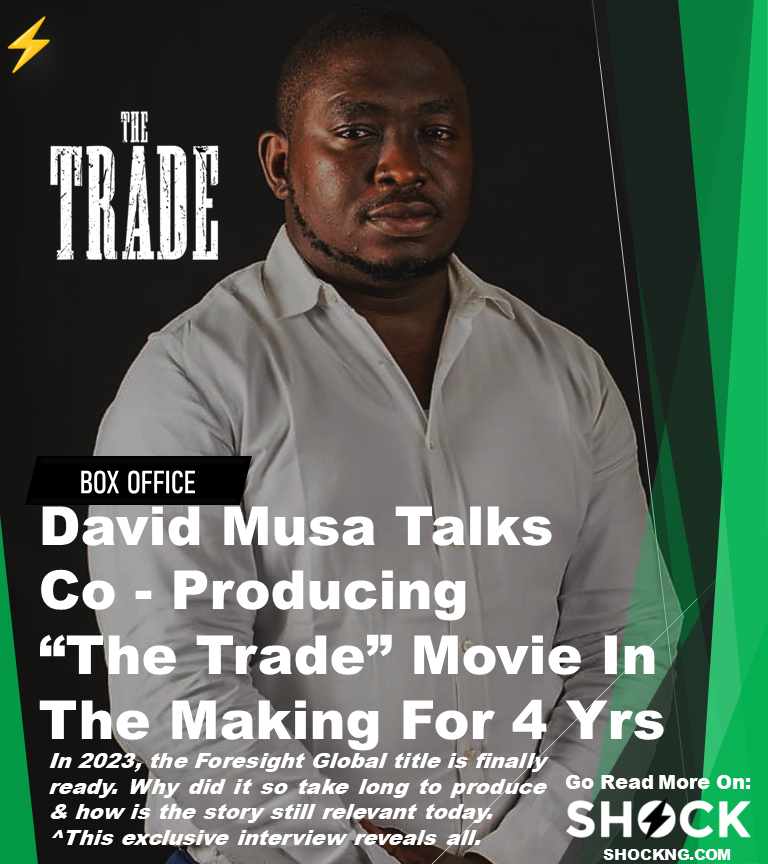 Tell Me More
In this exclusive interview with David Musa, who worked as a co-producer for the feature.
He shares how the project took off, why the title is heading for a theatrical run and also paints the difficult but rewarding four-year story leading to the box office debut of the feature film directed by Jade Osiberu for Foresight global film.
Quick Background.
David Musa has been in the production business for close to 14 years.
After working with a production company straight out of university called IBST, he ventured out to start Now On, a media company that creates documentaries, reality shows, TV commercials and magazine programs
His portfolio includes making the first-ever reunion franchise "Big Brother Reunion (Double Wahala)" and commercials for corporate clients.
Q: Why did you accept to be on this project?
A: When it comes to production, whether unscripted or documentary, I think the satisfaction for me is the same; for people to understand you, learn from your story and give them experience for them to talk about it.
I just knew I was always going to be a part of Nollywood. I have friends that we started together like Abba Makama. But I intentionally stayed out for while.
This project came at the right time. It pushed me and taught me a lot – This project was my first official baptism into Nollywood.
Q: As a professional working on unscripted shows, I'm curious to know your thoughts on the scripted side of Nollywood and its growth.
A: I think Nollywood has come a long way, I cannot knock the hustle of people that have been there before me. But, personally, there's a lot that has to be done in terms of structure, professionalism and production.
Nonetheless, we are doing great.
The international audience recognises us because of our untapped talent and key stories. It's best we put structure in place so that the industry can grow.
Q: How did the project kick-off in terms of execution?
A: The company Foresight Global Films was created for this film, the idea for the film came from the executive producers who then created the company for this purpose.
I and Titi Orire were the first set of people on board as associate producers. When Jade joined us, she fell in love with the project. This was in 2018, after Isoken's acclaimed success at the box office.
Q: How did you go about Casting?
A: When the story was written, we identified the key roles, Deyemi came on board as casting director, and everyone was hands-on.
We had auditions and private auditions, so by the time Blossom auditioned there was no doubt we had found the lead character. The script was so good that Rita Dominic read and loved it. The casting was a shared effort, everyone made an input.
Blossom's acting in this film was very memorable, he perfected his performance for this film.
From shaving his head, gaining weight, keeping the weight and even losing it – he put in the work.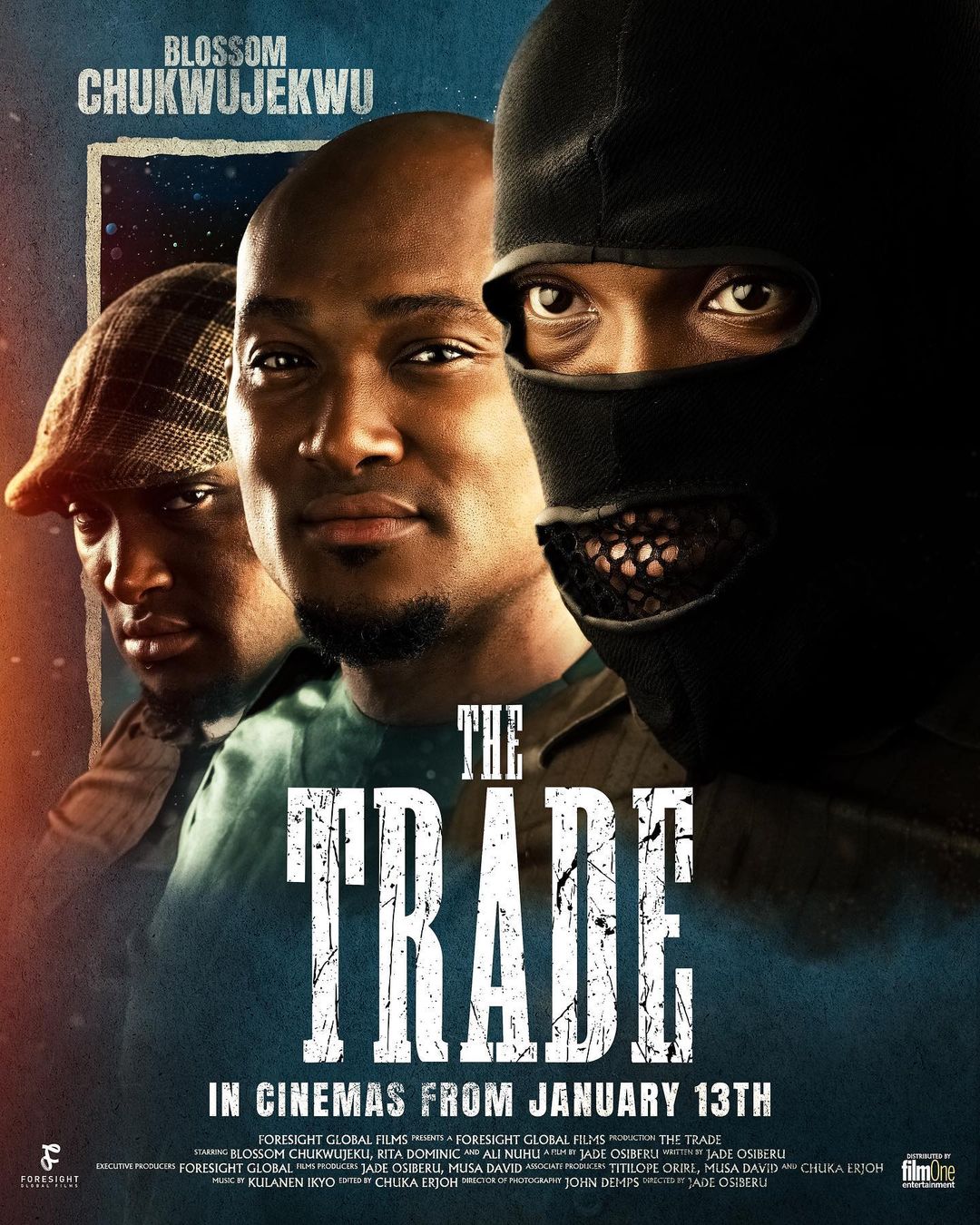 Q: The film was shot in 2018, and cinema screens were half of what we have now. How did the team manage ROI expectations?
A: The plan was simple. What we knew was we wanted to make a great movie and use the number of screens available in cinemas at that point. Then push it to a film festival to get interests from people in various regions for licensing and rights selling.
We looked at all the options and came up with a plan and concluded that by the time we got to the SVOD, we would have realized what we spent and that would have encouraged the company to do another one.
This was 2018 and we made a film with a sizable budget.
We also spent a lot of time in post-production. From a technical point of view, we didn't take any chances. Our sound was done outside the country because we wanted to make sure any product we were bringing was up to global standards.
We are here for Nollywood, everyone in this project was hardworking. The cast, crew. It's only fair to put out the best version so people get to appreciate it.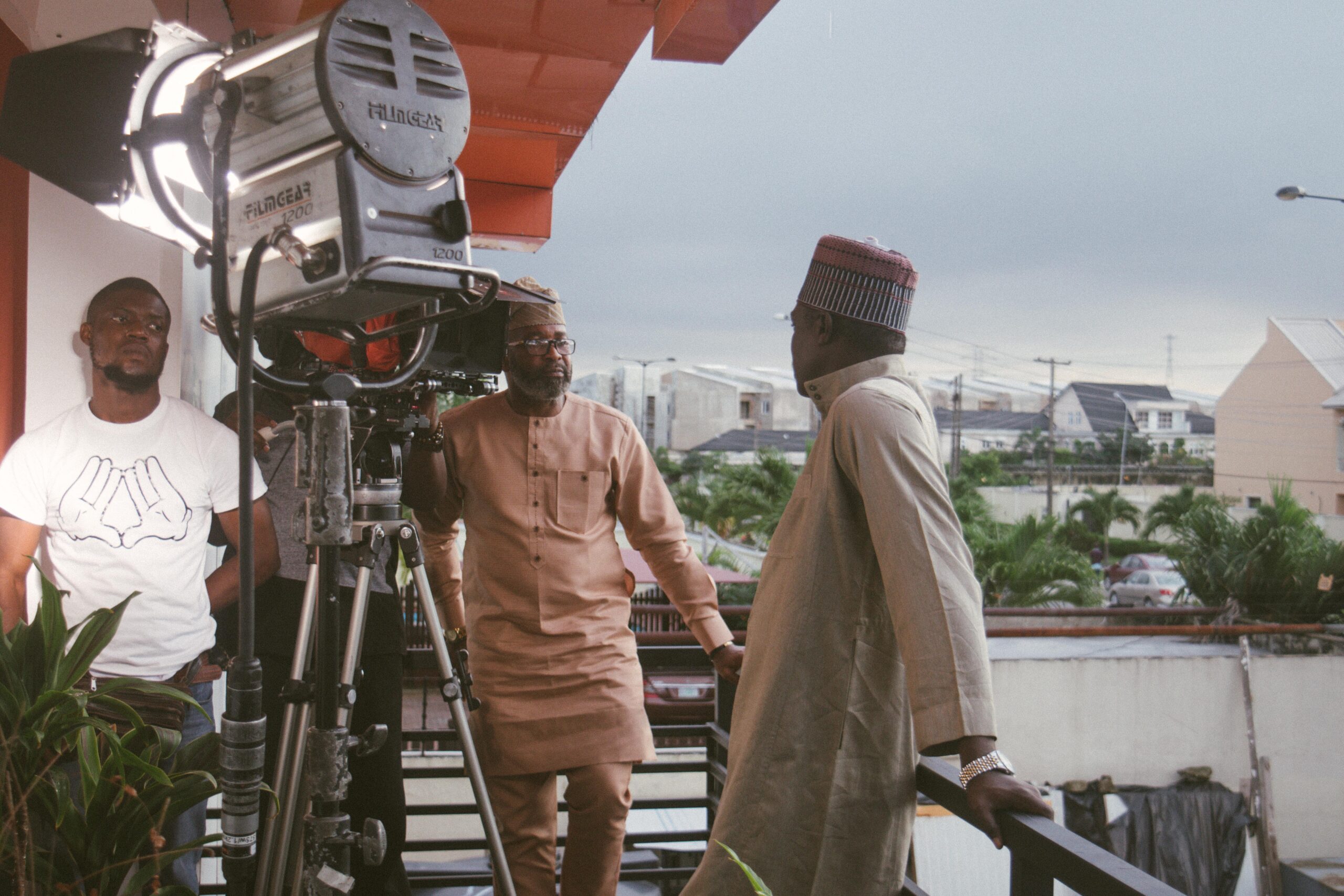 Q: 4 years. Why did it take so long for a release to happen?
A: Like the saying, "every good thing takes time". Principal photography was done in 2019, post production took a while because we had to do some things over again just to ensure we have the best quality. We also had to settle in-house too.
The film is now ready to be screened from Jan 13th and we are excited for audiences to watch.
Q: "The Trade" – how did this title come about?
A: The working title for this film was called "Nigerian Trade" but was changed because the story is not only peculiar to Nigeria, there are kidnappings all over the world.
The film is called, "The Trade", as the story revolves around a notorious kidnapper. If you look at the statistics, you'll discover that kidnapping has become a very lucrative business. The trade of human beings.
The film is layered. By the time you watch it, you'll understand better. The Trade is really about the business of kidnapping.
Q: In terms of vision and final product realized..how was it?
A: When the executive producers came in, we wanted an action film but we ended up with a true depiction of a moment or time. When they say, reality can sometimes be stranger than fiction. This was what happened. if you see the film, you'd understand.
Q: What should the audience expect, considering the fact that it was made in 2019?
A: We are quite fortunate because we were ahead of time. We picked a subject matter that had just started gaining prominence in our society. The sad thing is, three to four years down the lane, that subject matter is still relevant.
I think the story is ever-green, regardless of the time that has passed. I don't think anyone has done as much justice to this subject matter as this film. It's coming up at a time when insecurity is the number one trending topic in Nigeria. This film is the film we are going to keep talking about.
Q: What's one thing you'd love to fix in the industry?
A: I think we need to fix the way we give out titles. Anybody can carry a camera and say "I'm a DOP(Director of Photography)". If you look at other industries, there are unions you need to be part of, and processes to go through. That way, we can ensure consistent quality.

The Trade
Inspired by real-life events, and directed by Jade Osiberu, 'The Trade' is a crime drama on kidnap for ransom in Nigeria.
The Trade tells the story of Dike Maduka, aka Eric, a notorious genius billionaire kidnapper, who has evaded arrest for two decades, and the high-stakes investigation into his activities led by fast-rising police officer and head of the Intelligence Response Team (IRT), Superintendent Khalid Abubakar.
Written by award-winning screenwriter Jade Osiberu and produced by Foresight Global Films, the film features Chiwetalu Agu, Blossom Chukwujekwu, Rita Dominic, Kelechi Udegbe, Gideon Okeke, Gregory Ojefua, Charles Inojie, Ali Nuhu, Denola Grey, Stan Nze, Waje, Shawn Faqua, among others.
The film is now showing on the big screen from the 13th of January. Get tickets now.
Thank you for reading This is a SHOCK exclusive.
Shockng.com Covers the Business of Film/TV and the Biggest Creators in Sub-Saharan Africa.
Let's be Friends on Instagram @Shock NG