The Story⚡
On January 16th 2023 "Battle on Buka Street" Crossed The N500 Million milestone Mark.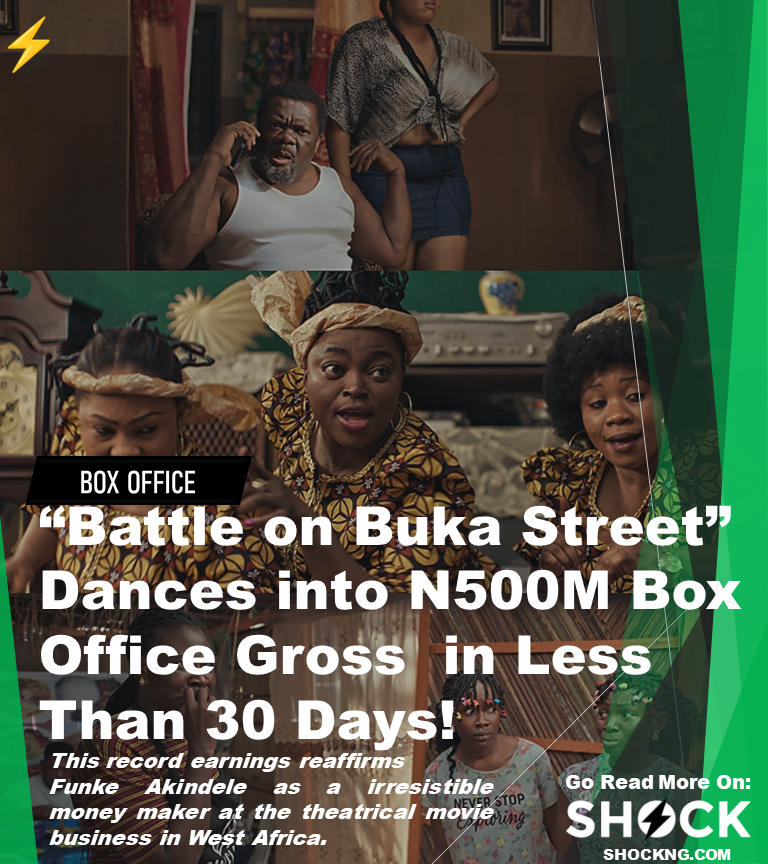 Tell Me More
Funke Akindele's most recent release has just joined her 2020 title, "Omo Ghetto: The Saga" to become the second Nollywood movie to hit that mark.
Released in cinemas nationwide on the 16th of December, the film opened with a weekend gross of N43.99 million and would later have a 7-day opening of N86.63 million.
That week, it ranked as the second movie in the Nigerian box office behind "Avatar: The Way of Water" which grossed N95.15 million. The two titles were released on the same day.
In the second week, there was a turnaround. "Battle on Buka Street" overtook "Avatar: The Way of Water" as the No. 1 movie in Nigeria. This was an achievement for the Nollywood industry because it indicated that Nigerians celebrated the local product above a global product.
While the comedy-drama grossed N164.57 million that week, the sci-fi made N126.72 million.
The third week was not any different. The title retained its No. 1 position, while its direct competitor remained at No. 2. It made ticket sales of 169.88 million while "Avatar: The Way of Water" made N93 million. The former rose by 2%, while the latter fell by 27%
"Battle on Buka Street" made a milestone in its fourth week after making N507.78 million. It is the second Nigerian title to achieve this feat after "Omo Ghetto: The Saga".
Day 3 — N43.99 million
Day 7 — N86.63 million
Day 10 — N135.08 million
Day 14 — N252.62 million
Day 17 — N361.35 million
Day 21 — N422.77 million
Day 24 — N480.57 million
Day 28 — N507.78 million
"Battle on Buka Street" is a comedy which follows the story of two half-sisters who have been rivals for a while but have their rivalry intensified when they both set up their food businesses on the same street.
It stars Funke Akindele, Mercy Johnson, Nkem Owoh, Sola Sobowale, Kelvin Ikeduba, Tina Mba, and others.
Funke Akindele is officially the only Nigerian producer to have made N500 million at the box office in Nigeria with her two titles: "Omo Ghetto: The Saga" and "Battle on Buka Street". Clearly, she is a money-maker at the box office.
Do you think this title can beat "Omo Ghetto: The Saga" to become the highest-grossing film in Nigeria? Share your opinion in the comment section.
Follow @shockng for more Nollywood business insights.