The Story ⚡
The month of June is fantabulous with fresh and exciting titles coming to the big screens for our premium enjoyment.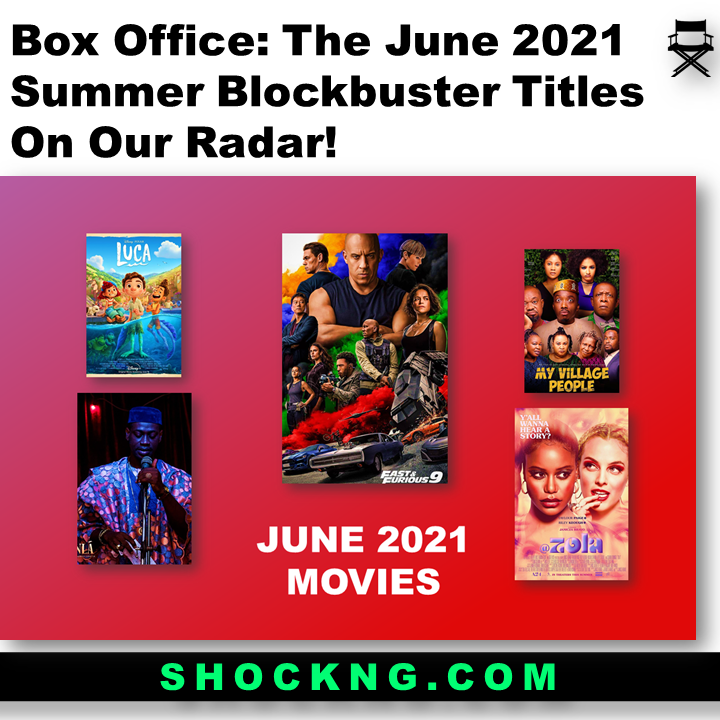 Tell Me More!
Over 10 blockbuster movies are being released and we are eagerly waiting upon their debut dates.
Here are the titles that should be on your radar:
The Conjuring – June 4th
Paranormal investigators Ed and Lorraine Warren try to uncover the truth behind a murderer's claim of demonic possession.
The horror film titled "The Devil Made Me Do It" is directed by Micheal Chaves and begins screening in Nigeria 4th of June 2021
Sprit Untamed – June 11th
Lucky Prescott's life is changed forever when she move from her home in the city to a small frontier town and befriends a wild mustang named Spirit.
The animation title from dreamworks directed by Elain Bogan hits the big screens June 4th globally and June 11th here in Nigeria.
Confusion Na Wa – June 9th
In a Nigerian city, the lives of strangers become intertwined over the course of a day.
Confusion Na Wa is officially set to debut back again on Netflix. According to the director Kenneth Gyang, the title in 2015, was one of the very few Nigerian films to get on Netflix.
Come June 9th 2021, the title joins the ever growing catalogue of Nollywood films streaming on the global service.
My Village People – June 11th
The Nollywood action comedy title directed by Niyi Akinmolayan and written by Bovi Ugboma hits the big screen nationwide from June 11th.
The newly released trailer promises a thrilling for audiences and we certainly hope it lives up to its expectation.
The New Patriots – June 11th
The New Patriots is directed by Adebayo Tijani and Terry Ayebo and initially slated for an October 1st 2021 release but now shifted to debut this June 11th 2021
In the Heights – June 11th
In the Heights is a musical movie with music and lyrics by Lin-Manuel Miranda and a book by Quiara Alegría Hudes.
The title centers on a variety of characters living in the neighborhood of Washington Heights, on the northern tip of Manhattan.
At the center of the show is Usnavi, a bodega owner who looks after the aging Cuban lady next door, pines for the gorgeous girl working in the neighboring beauty salon and dreams of winning the lottery and escaping to the shores of his native Dominican Republic.
Hitman's Wife Bodyguard – June 16th
Hitman's Wife's Bodyguard is an upcoming American action comedy film directed by Patrick Hughes.
The tile serves as a sequel to the 2017 film "The Hitman's Bodyguard" and picks up 4 years after the events of the original film, bodyguard Michael Bryce is on a company mandated sabbatical when Sonia Kincaid, the wife of hitman Darius Kincaid whom Bryce shares an uneasy friendship with, rescues him from an assassination attempt to rescue Darius.
Due to his sabbatical, Bryce is not allowed to use firearms or lethal weapons of any kind and must use his wits and intelligence to save Darius and save the day
Ayinla – June 18th
Ayinla is a musical biopic based on the life of Ayinla Yusuf popularly known as Ayinla Omowura, an Apala musician who was stabbed to death by his manager named Bayewu in a bar fight on May 6, 1980 at Abeokuta.
The film project directed by Tunde Kelani is set to be released this June 18, 2021.
Peter Rabbit 2 – June 18th
Despite his efforts, Peter can't seem to shake his reputation for mischief among the other rabbits.
Once he adventures out of the garden Peter finds himself in a world where mischief is appreciated, but soon his family come to bring him home.
The animation sequel directed by Will Gluck will be be released 18th of June 2021.
Luca – June 18th
Set in a beautiful seaside town on the Italian Riviera, the original animated feature is a coming-of-age story about one young boy experiencing an unforgettable summer filled with gelato, pasta and endless scooter rides.
Luca shares these adventures with his newfound best friend, but all the fun is threatened by a deeply-held secret: he is a sea monster from another world just below the water's surface.
The Disney animation title is directed by Enrico Casaroca.
Watch Trailer below.
Fatherhood – June 18th
A father brings up his baby girl as a single dad after the unexpected death of his wife who died a day after their daughter's birth.
The title directed by Paul Weitz begins streaming June 18th only on Netflix.
Kambili – June 18th
Kambili Maduka, is an irresponsible, spoiled, spendthrift 28-year-old woman who is turning 29 in a few days.
However, after getting suspended from work due to her incessant lateness, she goes on a date with her boyfriend and he breaks up with her, dashing her hopes of getting married before 30.
The title is directed by Kayode Kasum and begins streaming globally from June 18th only on Netflix.
Fast and Furious 9 – June 25th
After the events of The Fate of the Furious, Dominic Toretto and his family must face Dom's younger brother Jakob, a deadly assassin, who is working with their old enemy Cipher, and who holds a personal vendetta against Dominic.
This is easily one of the most anticipated action movies of 2021 and we can't wait for its June 25th 2021 release date.
Werewolves Within – June 25th
A snowstorm traps town residents together inside the local inn, where newly arrived forest ranger Finn and postal worker Cecily must try to keep the peace and uncover the truth behind a mysterious creature that has begun terrorizing the community.
The horror comedy picture is directed by Josh Rueben.
Ice Road – June 25th
After a remote diamond mine collapses in the far northern regions of Canada, an ice driver leads an implausible rescue mission over a frozen ocean to save the lives of trapped miners despite thawing waters and a threat they never see coming.
The disaster action thriller that stars Lead actor Liam Neeson is directed by Jonathan Hansleigh.
Watch trailer below.
Zola – June 30th
Zola, a Detroit waitress, is seduced into a weekend of stripping in Florida for some quick cash — but the trip becomes a sleepless 48-hour odyssey involving a nefarious friend, her pimp and her idiot boyfriend.
The tweet inspired title is directed by Janicza bravo.
Thank you for reading.
Let's talk about the coming of this movies on twitter @Shock NG