The Story ⚡
The exhibition industry here in Nigeria might just have made its worst cinema scheduling ever, causing a loss in potential revenue and audience building retraction.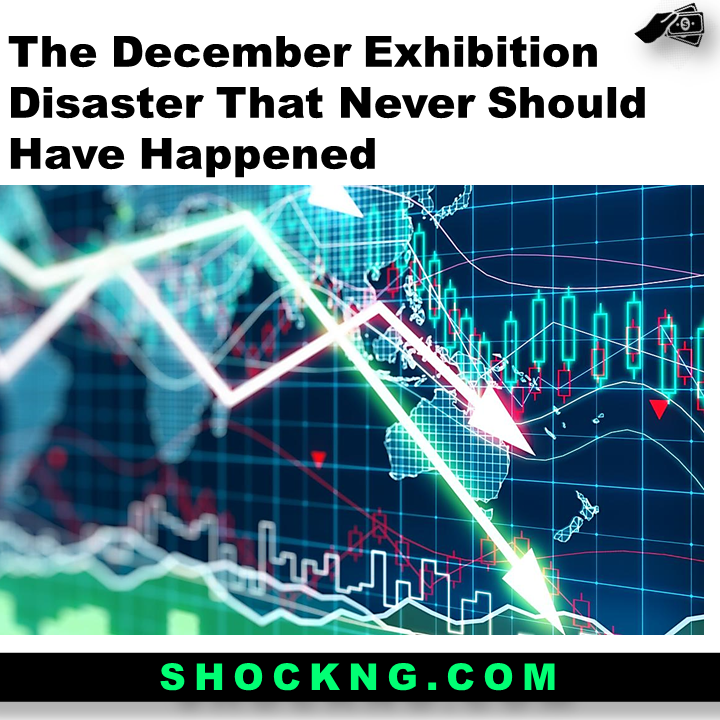 Tell Me More
On March 24th the exhibition industry was shut down completely to curb the ravaging Covid 19 pandemic.
Six months later, a green light was given for cinema operations to reopen back up again howbeit with a 50% hall seat capacity.
By October 1st the first big movie: Fate of Alakada hit the big screens turning a revenue of N26 million in its first 7 days.
This was a injection of hope that ticket buyers were open to watching films and entertaining themselves and by the end of the month , a fresh slate of films from established studio names and filmmakers began their marketing campaigning for movie goers to anticipate their arrival.
Their better spaced première dates showed that cinema executives were pushing an all-out affront to rev up the cinema profits back to pre –pandemic levels but based on revenue figures that came in for that month.
This attempt failed as movie goers did not turn up and therefore the box office did not rebound.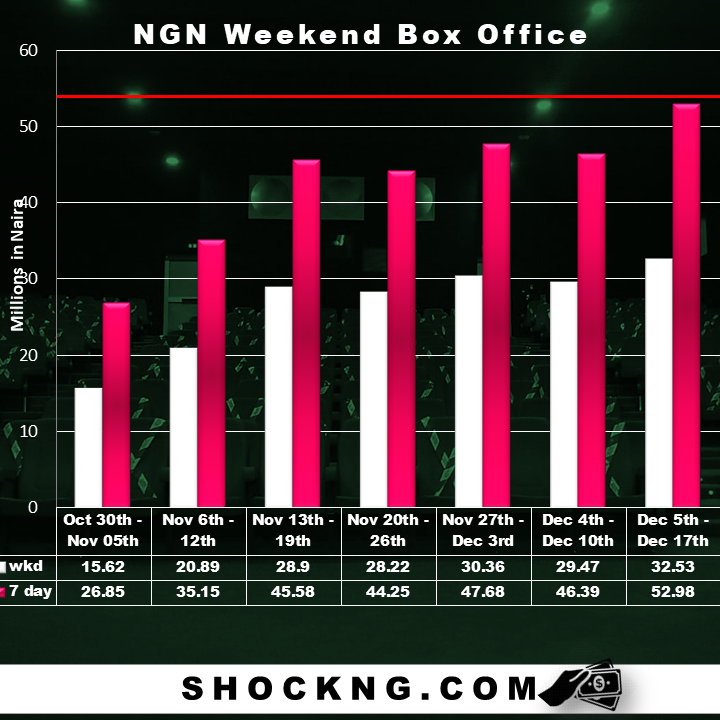 Following this, the said December scheduling disaster happened.
On Dec 4th and 15th 2020 – Three different movie distributors lined upped, not 1, not 2 but 3 Major Nollywood films on the same dates to join the existing movies that were still struggling on the big screens.
This decisions turned out to be wrong as things were clearly not looking bright for the consumer that was just surviving a post-lockdown economy.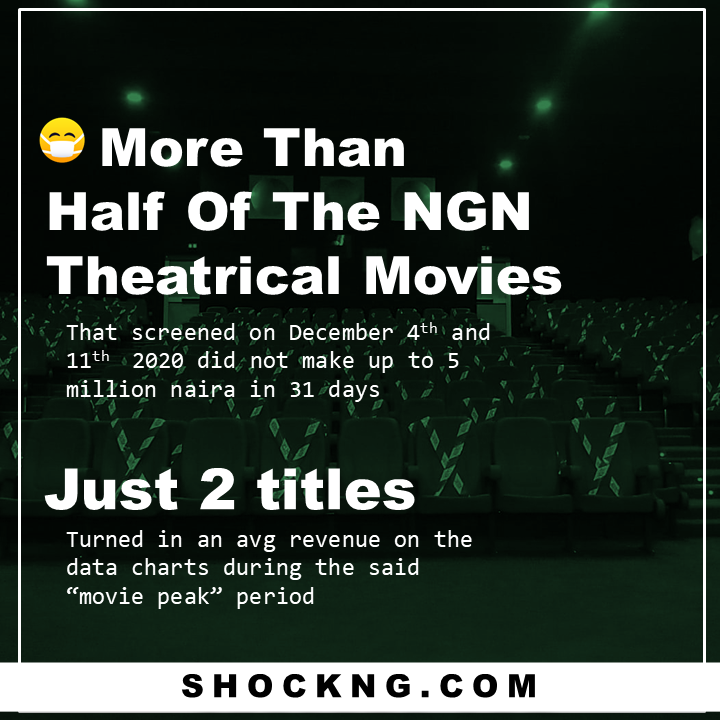 Before we see the revenue trajectory. let's paint a scenario on the movie goers side of things.
Mrs A is banker and loves movies.
She has a monthly entertainment budget of N20k. however due to the horrid economic outlook, she cut that budget to half – N10k.
With this amount, Mrs A is scrolling on instagram to see what new movies she can enjoy and sees that that there 3 new films + 6 other existing ones.
What would Mrs A choose??
She goes to her local cinema hall around 4pm and picks a film that fits her schedule.
Enter Mr B – a cinema buff who owns a Netflix account.
He knows all the movies coming out. But there is problem. He can only afford to see two films before the year runs out.
What two would he choose? He decides to wait for the film that emerges with good reviews, skips the rest with an assurance that will be available on Netflix soon.
31 Day Revenue
The number below are figures grossed at the box office for 8 movies and they are terrible. Most of this films were made with budgets more than N40 Million and all of they are yet to make their money back.
Lady Buckit which is the 1st Nigerian animation to make a cinema run takes the 2nd to the lowest figure. The project is said to cost $1 Million. so yea, that was a huge loss.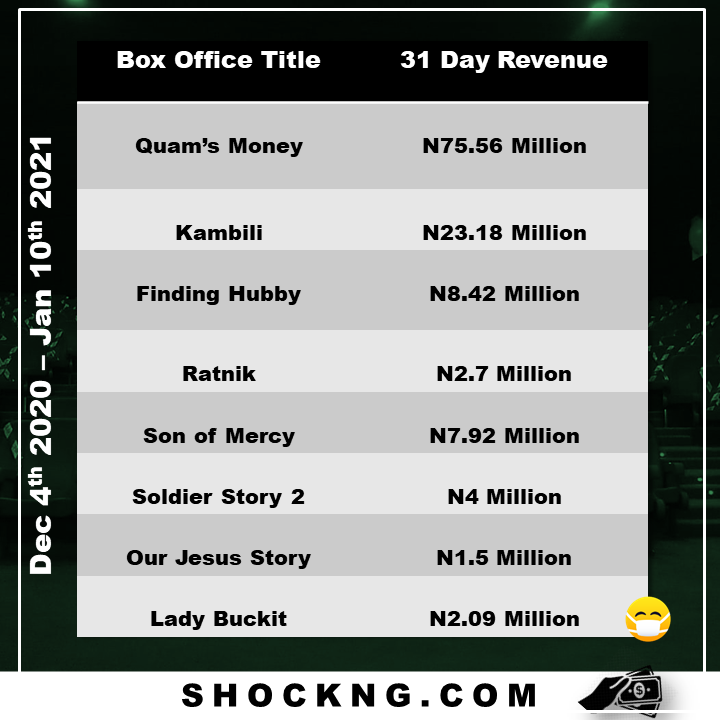 Heavy Revenue Loss
Sure we can blame the pandemic for this horrendous numbers but let's agree on something.
Their numbers could have been better if the scheduling wasn't chaotic with no room to breathe.
Showtimes that were not favorable were given to more than half of the movies on this list and it showed in their revenue report.
who is to take the blame here?
The filmmaker who took the risk to screen their movie in a pandemic or the distributor who knows the full implications of a choked calendar that stems distribution politics ?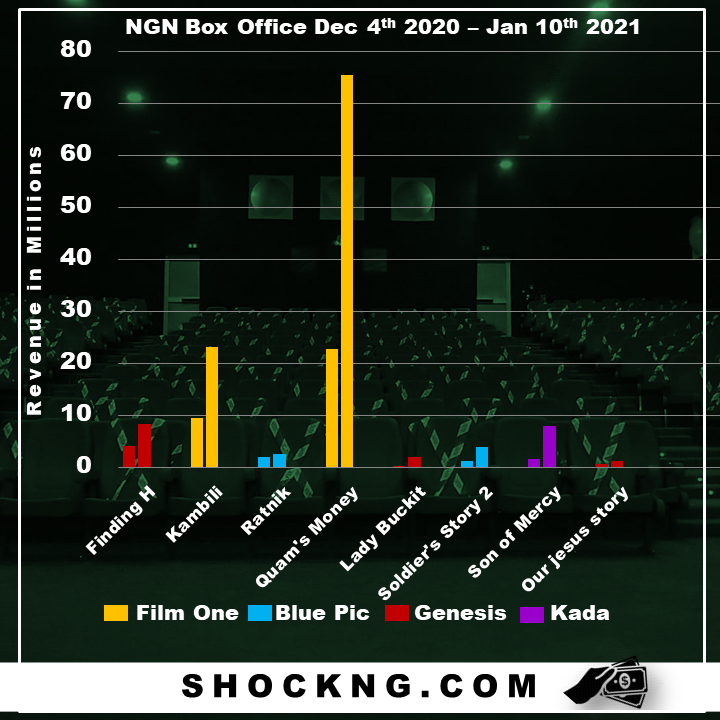 Audience Building
Asides from revenue loss, this could have an opportunity to prime audiences with new genres.
The film taste of the bulk market is established to be comedy. Two titles tried to do something different that signaled new formats could be viable. However, all thanks to the choked exhibition releases, this was easily thwarted.
but then there is backend question?
Did this choked calendar happen all too fast just to quickly cash in the "Netflix deal"??
If yes, that's just sad.
In summary.
The exhibition market here shows potential but things are not quite rosy at the moment.
An estimated 75% of Nollywood films that make a cinema run fails to make 30M after a 30 day run.
In 2019, out of 149 domestic titles that made a cinema run, only 5 crossed the N50 Million mark.
With this clear info, film exhibitors and studios should lay down a fair policy that adopt a maximum of two new Nollywood titles per release dates in order to increase the odds of beating the above limitations.
The sustainability of the theatrical market and the defensibility of high budget movies can only get better when "hits" are predictable.
If surely investments are being courted, the ROI data must look sexy not just for the top 5 films but the top 25 – as that's where the true average benchmark lies.
Therefore calendar conflicts like this should be avoided at all costs if the industry indeed wants to be on a growth path to rival foreign titles that still dominate the box office in terms of revenue.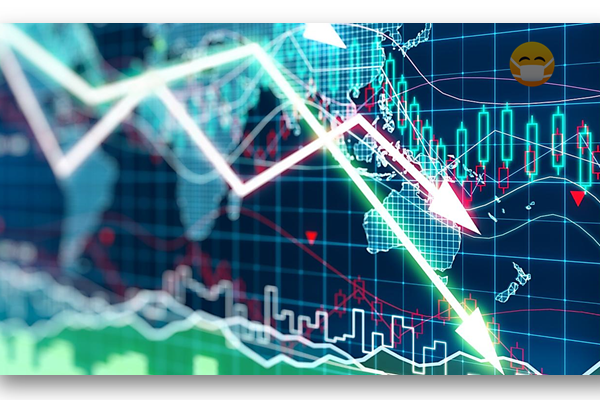 Thank you for reading
Shockng.com Covers the Business of Film and the Biggest movies that screen in Sub Saharan Africa.
Let's be Friends on Twitter @Shock NG