The Story ⚡
Big Movies made by Marvel have made a huge impact at the West African Box Office and here are the numbers.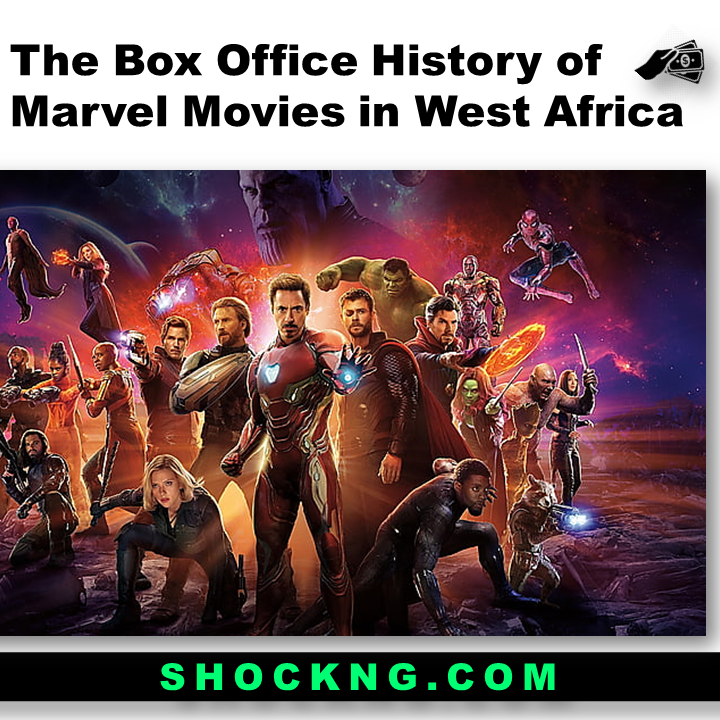 Tell Me More
Marvel has honed their ability to make a blockbuster like no other company.
The entertainment company holds the highest grossing film franchise of all time, raking in 13.5 billion dollars worldwide in just 9 years.
Industry Observers have attributed this to Marvel's successful distillation of "The Marvel Formula," a series of goalposts and Checklists that a Marvel character or group should meet in order to succeed.
But what exactly is this formula? You tell us!
we are serious – Tweet us your answer. we'd love to hear it.
Now, lets have a look at the top 5 highest grossing marvel movies in West Africa.
5. Spiderman: Far From Home – N182.30 Million
Directed by Jon Watts, Marvels friendly Neighbor wall crawler film hit cinemas July 2019 to deliver N182 Million. Far from Home opens in a post stark world that explores the void left by the man in the suit.
Tony's action have intended consequences and Peter played by Tom Holland is left to step up and deal with the mess.
Date of Release: July 2019
4. Captain Marvel – N238.29 Million
Directed by Anna Boden X Ryan Fleck is the first ever MCU female super hero led title headed to the big screens and oh boy, it delivered with a freaking $1.12 Billion dollar gross.
Here in West Africa, the titled smashed a N238 Million GBO when it was released back in March 2019
Higher, Further, Faster Baby!!
Date of Release: March 2019

3. Infinity War – N449.78 Million
The Blockbuster title that left movie buffs angry, speechless and confused takes the number 3 spot on our list
Directed by the Russo Bros, Infinity Wars follows the avengers who must stop Thanos, an intergalactic war lord from getting his hands on all the infinity stones.
However, Thanos is prepared to go any lengths to execute his insane plan
The spectacular title that debut April 2018 cashed out $2 billion world wide gross to define itself as one of the most epic and ambitious film ever made for the big screens – sealing the fact there is indeed a Marvel Formula.
Date of Release: April 2017

2. Avengers Endgame – N528.29 Million
Then came Endgame where the mighty yet flawed Villain, Thanos reveals:
" In all my years of conquest, violence, slaughter, it was never personal. But I'll tell you now, what I'm about to do to your stubborn, annoying little planet…I'm gonna enjoy it. Very Very, Much"
Of course, Endgame went ahead to destroy the box office with a $2.79 Million GBO worldwide!
Date of Release: April 2018
1. Black Panther – N818.11 Million
Finally, the highest Marvel grossing film in West Africa – Till date is "Black Panther"
.
Directed by Ryan Coogler, the title was the 1st ever marvel studio film with a Black Director and predominantly a black cast.
Worldwide Gross Figures swelled to stunning $1.3 Billion dollar earnings.
Date of Release: February 2018
In Summary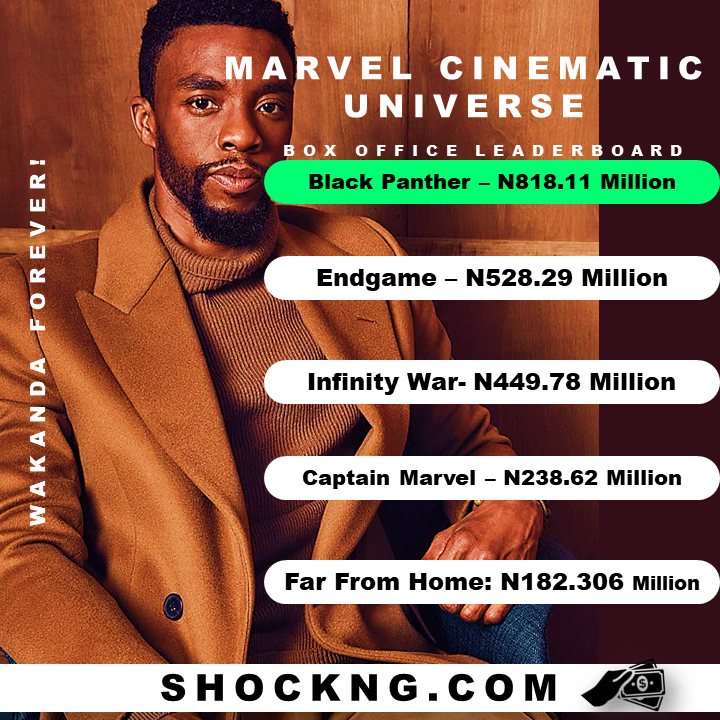 Thank you for reading
Shockng.com Covers the Business of Film and the Biggest movies that screen in Sub Saharan Africa.
Let's be Friends on Twitter @Shock NG