The Story ⚡
Radio Voice produced by RMD Productions, and directed by Isioma Osaje has commenced its principal photography and here's everything we know so far.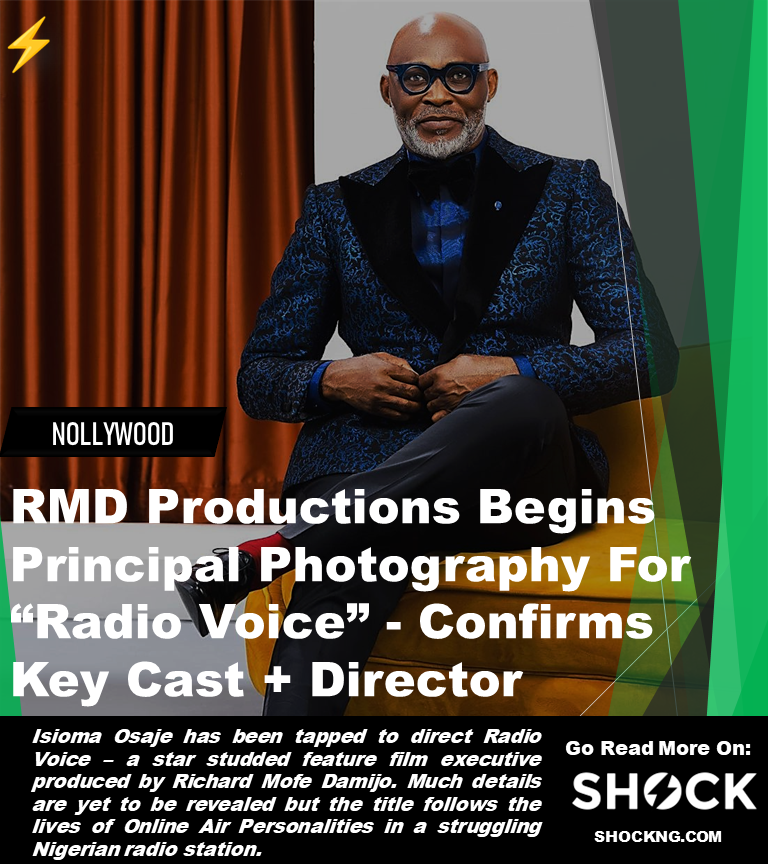 Tell Me More
Radio Voice is about redemption, second chances and people picking up themselves, starting over and having a new reason to keep going. The title will be the first star-studded title made for the big screens under the RMD productions.
The film which began principal photography in late April 2023 tapped Isioma Osaje to direct with Blessing Nze and Yolande Okereke as co-producers, RMD is independently ascribed as executive producer and Barny Emordi as Director of Photography.
Key Cast
Nancy Isime, Damilola Adegbite, Deyemi Okonlawon, RMD, Timini Egbuson, Blossom Chukwujekwu, and Nse Ikpe Etim have been confirmed to star in the title.
In an exclusive with Shock, the director shares more about the project and how she got the opportunity to make Radio Voice her directorial debut.
The first time I met RMD was on the set of Castle & Castle Season 1, on which I was credited as a producer.
At that time, the thing that struck me about RMD is his grace and presence, he walks into a room and the room falls silent, he commands your attention. RMD gives so much grace and patience to productions, even when you're struggling and you're not able to keep to time, he's very chilled. He always sets a great example on set.
We met again on the set of Far From Home, and it was when we were doing ADRs that he mentioned a script he wanted me to direct. I was really surprised. I read the script and once I picked up the radio insertion, I knew it was for me and that's how Radio Voice came to be.
Those who know me, know there was a point in my life I was obsessed with radio. I had many transistor radios sets as a child. I grew up as an only child and so radio, and the voices in that world were like a second family to me. I was really invested in the presenters' lives and I actually thought I was going to be a radio presenter. At some point, I interned at a radio station.
So when RMD spoke to me about this film, the minute he mentioned "Radio" I knew it was mine. I'd also become fascinated with what people do after grief, after losing someone they loved. That's another thing the film explores.
The themes of this film felt like second nature and I wanted to make a film where despite the grief, it is not a sad film.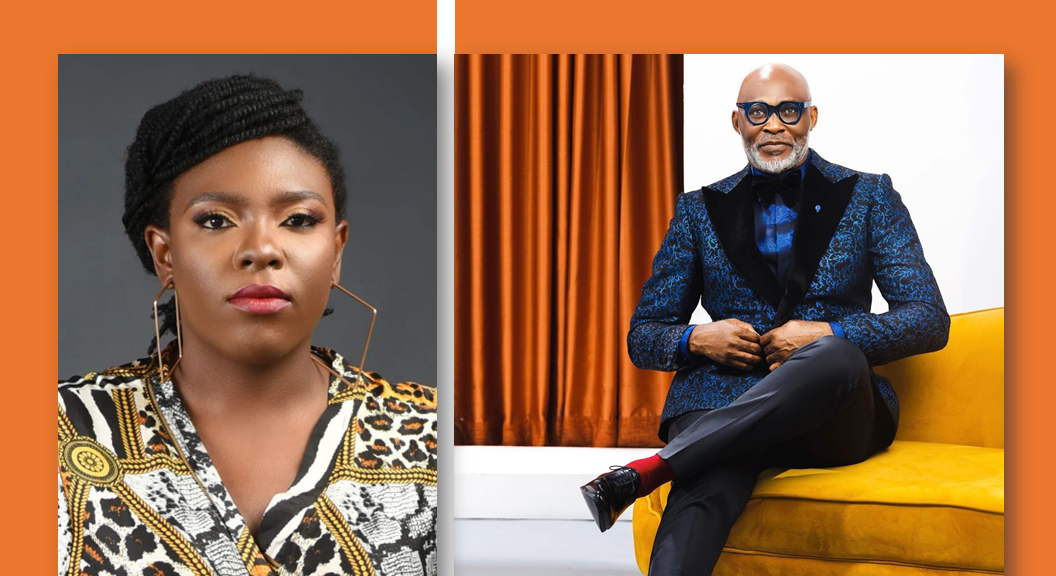 Key Background
Isioma Osaje is a Nollywood film/ TV producer, and her producer credits include Something Wicked (2017), My Wife & I (2017), New Money (2018), Castle & Castle (2018), Up North (2018), The Set Up (2019), Day of Destiny (2021), 840 Days (2022) and more.
In previous years, the filmmaker also worked as a Talent manager, managing A-list film/TV creatives, from Adesua Etomi- Wellington, Ireti Doyle, Blossom Chukwujekwu, Timini Egbuson, Linda Ejiofor and more.
On changing hats from producer to director, Isioma shares how she is utilizing that experience so far.
I think filmmaking is stressful because I've produced a bunch of projects, and I understand how stressful it can be for directors.
As a director, I want to be able to give my creative best without trying to explain the shorthand of my personality. So working with a team I'm familiar with means with few words from me, my team understands what to do because we're in sync. Once that is established, I can move on to the important bits. And of course, my team members are all well-talented.
One thing I've worked on as a filmmaker is not surprising my team in the course of the filmmaking process. Of course, there might be some last minutes changes but I try to discipline myself by doing the preparations beforehand and communicating any feedback ahead of time. I also don't try to change my mind too often.
I don't think it limits your creativity, it just makes you well-prepared. I like that my first feature film has a lot of people that I've worked with over the years in different capacities.
More Details
Radio Voice is the story of a sex worker who becomes the saving grace of a struggling radio station but when her past comes catching up, things are not as easy as they seem. The film also explores grief.
No official synopsis has been shared as details are still under wrap but we can confirm a first teaser drops before the end of the year.
The title plans to explore a theatrical run but no plans are concrete yet.
In Summary
Richard Eyimofe Evans Mofe-Damijo, popularly known as RMD has been in the Nigerian film/TV industry for more than 2 decades.
If Radio Voice heads to the big screen, it will be interesting to see the bankable power the veteran actor can pull to make the film a hit.
But until when a release date and distribution plans are confirmed, we are enlivened to see a long-time actress return, what the vision of an established producer turned director will look like and a peek inside the life of a Nigerian OAP portrayed on screen.
Making Magic #RadioVoice pic.twitter.com/8ju1FqTpuH

— Isioma Osaje (@MsJazzyfied) April 24, 2023
Thanks for Reading.
Shockng.com covers the big creators and players in the African film/tv industry and how they do business.
Let's be friends on @Instagram