The Story ⚡
A feature film documentary on the life of Israel Adesanya is ready for the premiere. Read on to know more about this project.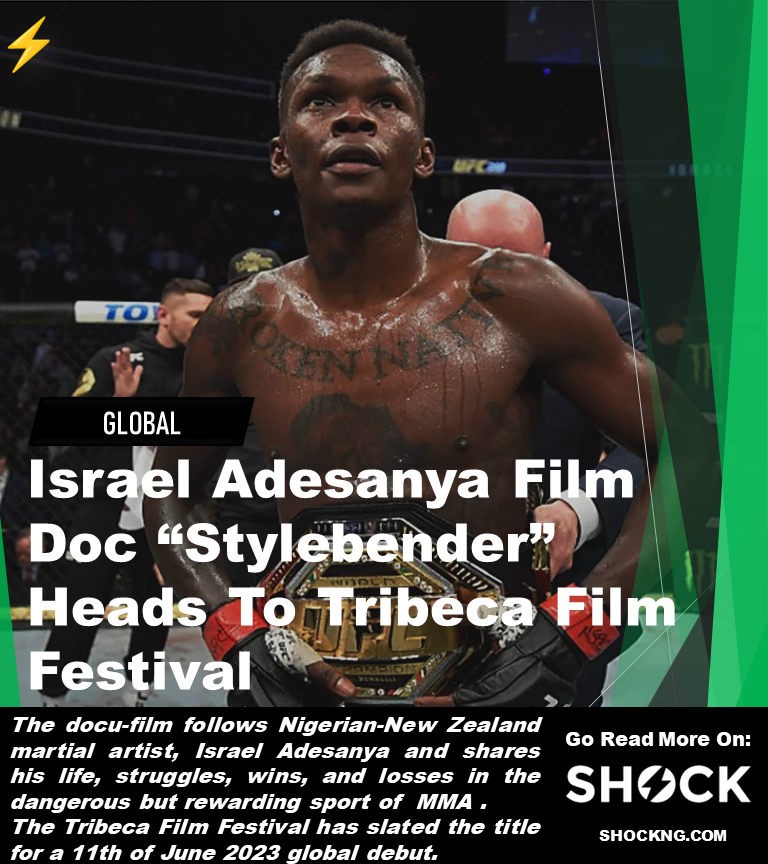 Tell Me More
The fans of Nigerian-New Zealand martial artist, Israel Adesanya, are about to witness the life, struggles, wins, and losses of the champion represented on the big screen. Stylebender has been scheduled for a premiere at the Tribeca Film Festival on the 11th of June 2023.
Born in Lagos, Israel Adesanya has been through many ups and downs in life and career. He has had to deal with mental and physical challenges due to several encounters. The documentary will showcase all of this at the Tribeca Film Festival.
According to MMA journalist, Ariel Helwani, while sharing news of the film on his Twitter account, the producers of the film have been working on the feature documentary since 2018 when Israel Adesanya signed with the UFC.
In the words of Ash Belcastro, Israel's long-time friend, business partner, and manager, "The film follows Israel through the ups and downs of his childhood and career tapping into masculinity, bullying, mental health, and the art of fighting and dance."
Although the film is to represent the wins and losses of Israel Adesanya, it is yet unknown whether it will feature the recent win of "The Last Stylebender" on April 8 at UFC 287.
For Adesanya, the release of the film is "all in divine timing," considering his win against Alex Pereira. The title which stars Israel Adesanya and Eugene Bareman has Zoe McIntosh, Tom Blackwell, and Brendan Donovan as screenwriters, Fraser Brown, Leela Menon, and Tom Blackwell as producers, and Zoe McIntosh as director.
It is yet unknown if Stylebender will go to any streaming platform after its premiere on the 11th of June.
Key background
Israel Adesanya is a Lagos-born Nigerian who's estimated to be worth $4 million. He earned a substantial amount of his money from his fights in the UFC. Though what he earned from his last fight, UFC 287, with Alex Pereira, is still a mystery, it is reported that he earned about $2 million.
Israel Adeyansa, because of his love for animes and cartoons, nicknamed himself The Last Stylebender, having gotten the inspiration for the name from Avatar: The Last Airbender. Is it not interesting that the moniker is now the title of an about-to-be-released title?
Summary
Rise, a documentary film about Nigerian-Greece basketballer, Giannis Antetokounmpo, was released last year and it recounts to experiences of the basketball player before arriving in the spotlight. With Stylebender coming also the celebrate the trials and success of another Nigerian through film, one cannot but appreciate the progress the citizens of the country have been making in different fields they find themselves.