The Story ⚡
Glamour Girls (2022), a Netflix Nigerian title from Playnetwork Studios is now a global hit upon its June 24th debut, however, a section of the home audience is heavily disappointed about the product's shortcomings.
Tell Me More
Directed by Bunmi Ajakaiye, Glamour Girls takes us inside the world of high-end escorts who live in glamour and wealth. They get a chance of reinvention as rich women — till a killing and theft threaten it all. Produced by Abimbola Craig the title packs an ensemble key cast of Nse Ikpe-Etim, Sharon Ooja, Joselyn Dumas, Toke Makinwa and Segilola Ogidan.
Netflix Original
In December 2019, Charles Okpaleke, Chief Executive Officer (CEO) of Play Networks confirmed the rights acquisition of "Glamour Girls" and a remake in development. He shared this on his Instagram page via the caption "A story that would involve 3 generations of actresses. I'm going all out on this one!"
The original version of the movie directed by Chika Onukwufor and released in 1994 starred Nollywood heavyweights including Liz Benson, Ngozi Ezeonu, Eucharia Anuobi, Pat Attah, Ernest Obi, Zack Orji among others.
At that time, the title was quite the boldest of titles as it follows the story of four independent single women who embarked on questionable jobs within Nigeria's traditionally patriarchal society. With a VHS release, the title became a viral hit and went on to do a sequel a few years later becoming a forever-loved classic.
So when news that a studio (Play Network) was bringing the title back to life for the big screen audience, there was excitement and anticipation to see what a 2022 Glamour girl life would look like. The studio confirmed the film would reveal its cast and set a December 2021 theatrical run but this information never manifested as Netflix had secretly swooped in to buy the title for a rumoured $350k
In late April 2022, Netflix Naija rolled out the campaign #NollywoodisOurs. The ad unveiled the lead talent for its latest Nigerian originals and confirmed it had indeed bought the title.
'Glamour Girls' – Nse Ikpe-Etim, Taymesan Emmanuel and Sharon Ooja.
'Blood Sisters' – Nancy Isime, Ini Dima-Okojie
and Akah Nnani – 'Man of God'
Audience Feedback and Studio Response
Following its release, the title was met with feedback on how its execution wasn't good enough. Audiences felt the film was all glam and glitz with poor direction, sharing what they didn't like and what could be better.
In 48 hours, the CEO responded with a texted note. Read below:
NEW: Play Network has dropped an official statement on the feedback it is getting for "Glamour Girls" remake

>> The post shares the film has broken new records, further stating that the positive feedback & constructive criticism received would motivate them to do more

See Below pic.twitter.com/f8K05u7tpQ

— S H ⚡ C K ! (@Shockng) June 28, 2022
Here is a Twitter poll asking our audience what they think about the statement put out by the studio.
Was that statement necessary from the studio at this point? #GlamourGirlsNetflix

Share your thoughts

— S H ⚡ C K ! (@Shockng) June 28, 2022
Global Metrics
The latest Netflix data says the title hit more than 12.39 million global watch hours from all over the world. These metrics put the film as the 5th overall watched movie on Netflix for the week of June 27th – July 3rd 2022.
A remarkable feat no global title from the continent has surpassed according to available data.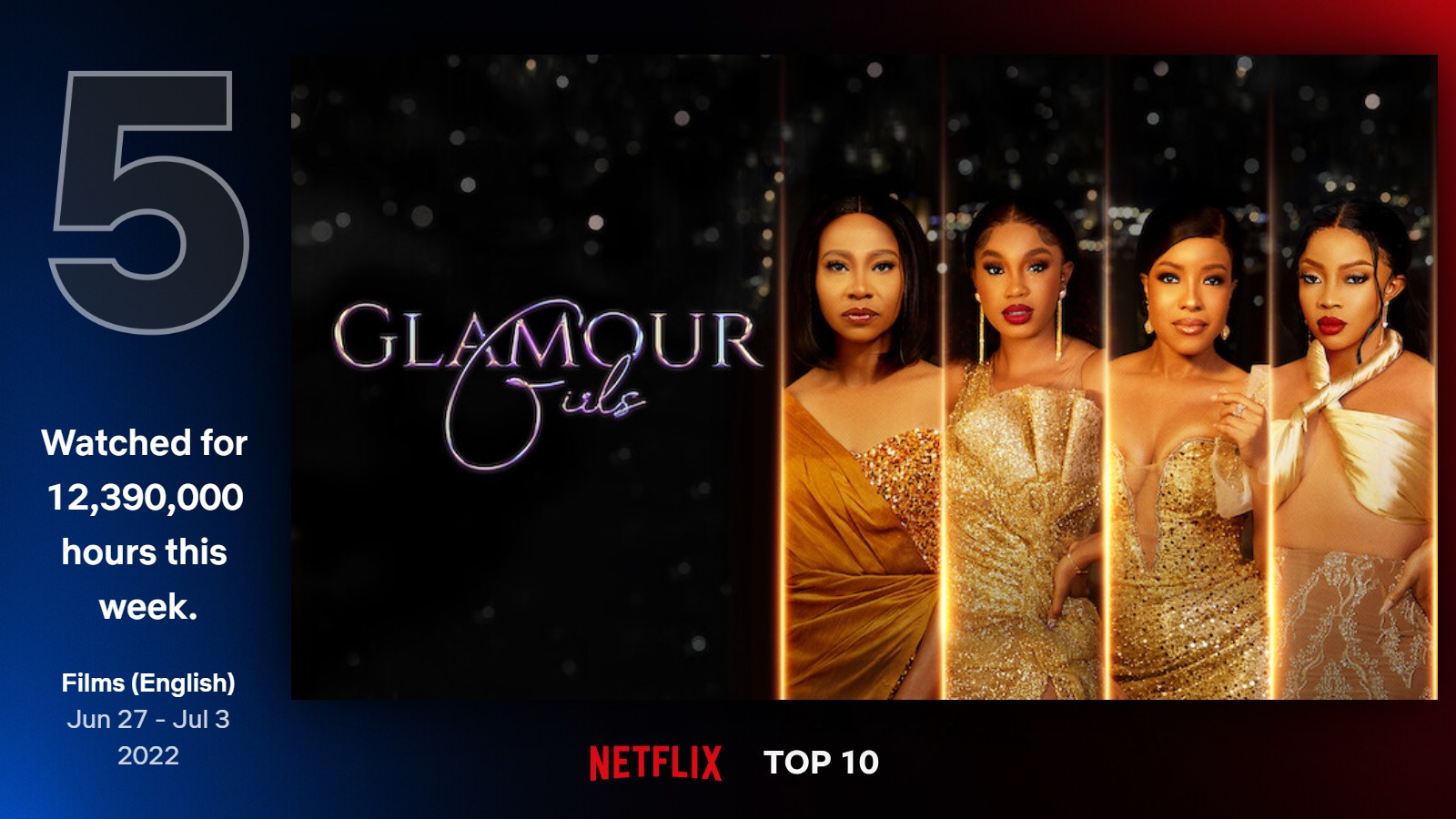 On the top 10 list, the rankings show that a Nigerian film product surged in global demand beating more than 100 new titles that dropped during this period and it is now in hot pursuit of Hustle, also a Netflix original feature that debuted 4 weeks ago on the streaming service with over 14 million watch hours.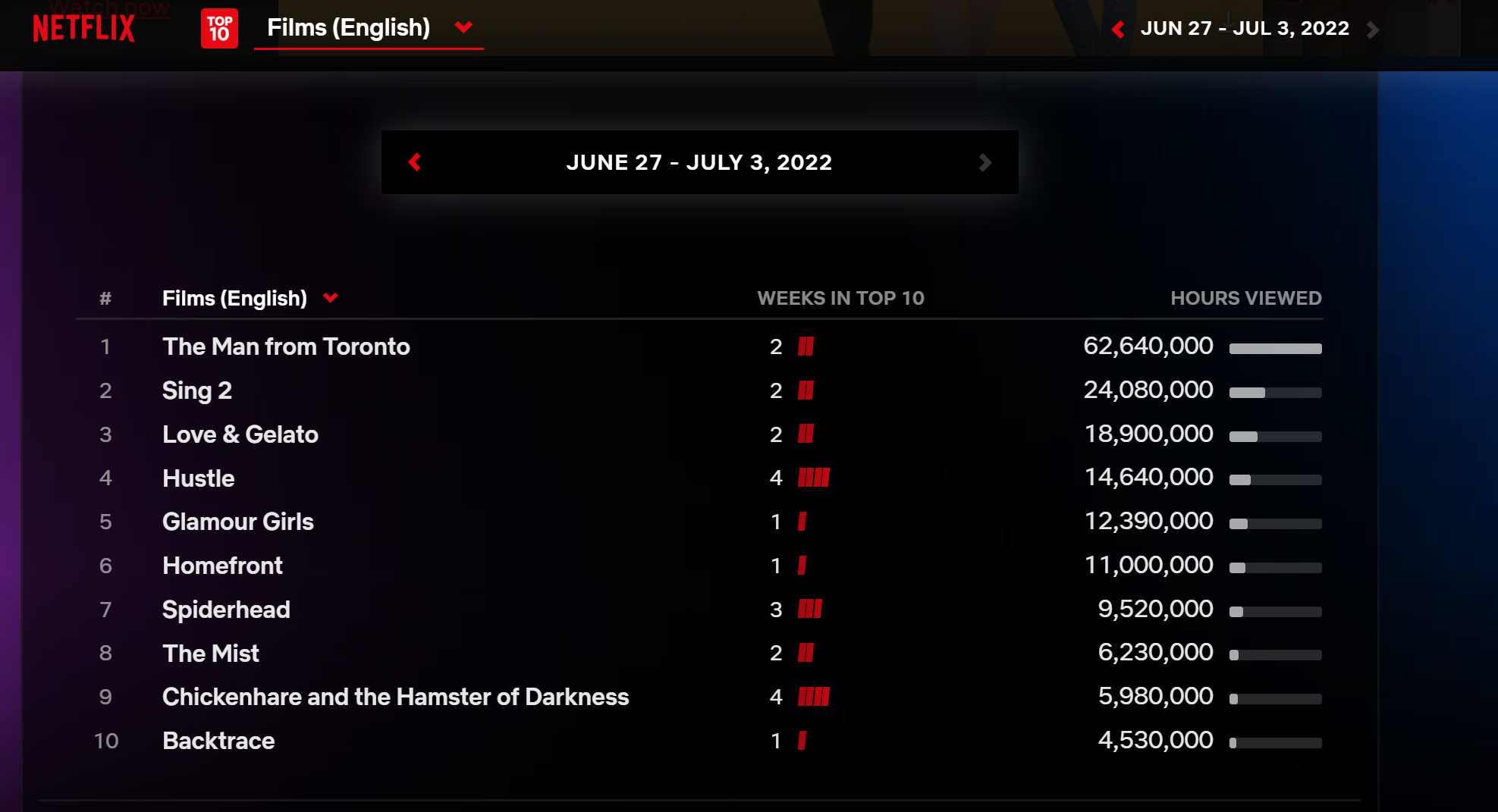 To understand where the global demand for Glamour Girls is coming from and the intensity of subscribers watching, below is a heat map pulled from Flix Patrol.
The title has successfully been able to pull significant demand from countries across 5 continents – Africa, South America, Europe, Asia and North America.
On a five-day heat map progression, as seen below on the chart, the intensity of consumer demand doesn't remain static but rather graduates from average to hot.
Demand from Africa is first to be noticed on day 1 (June 25th). By Day 3, June 27th, countries such as Brazil, Paraguay and Venezuela ignite – then without warning on Day 5, the whole of South America is engulfed not with average watching metrics but rather with the same demand as its home-based market.
To our knowledge, this demand is all organic and indeed serves as a strong reference point for the demand a Nollywood title can wield in this global market if harnessed.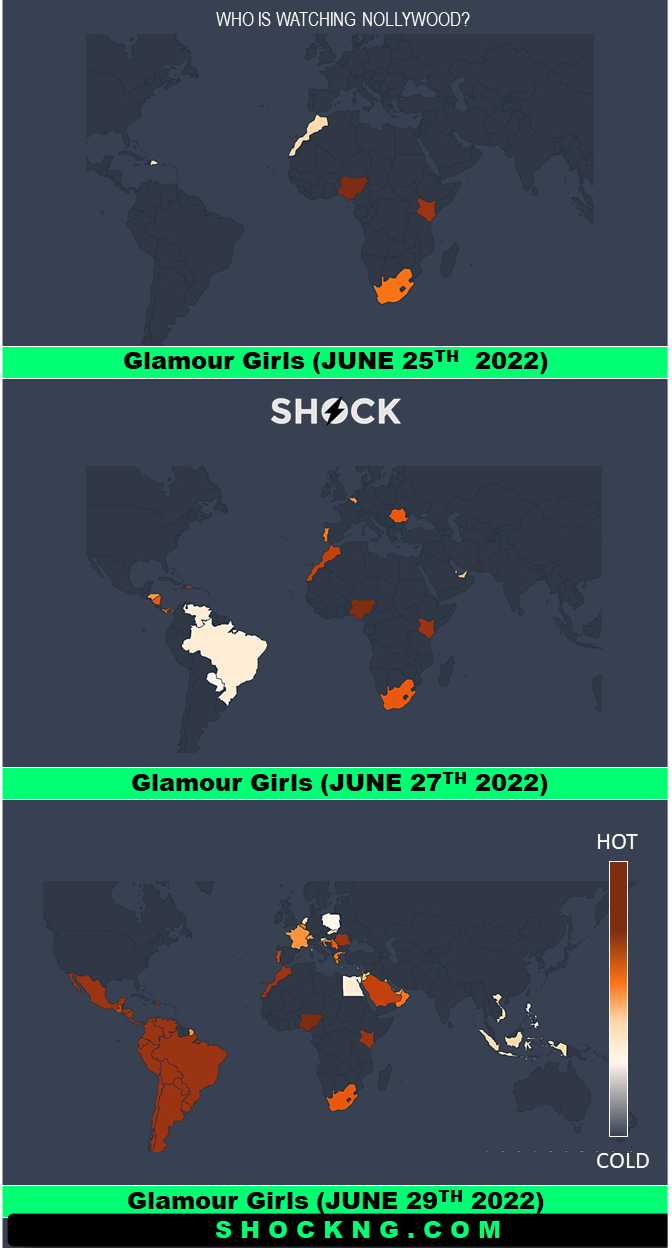 Comparison Metrics
To observe this new demand, we juxtaposed the heat map with several original Nigeria titles released so far and no one comes close in terms of intensity.
Amina, released in November 2021 is considered a Netflix global hit. The data shows the historical title directed by Izu Ojukwu was able to break into several countries across 4 continents but the highest demand was from Nigeria, Romania, Oman, Greece and Brazil.
Namaste Wahala released in December 2020, is considered a Netflix global hit. The data shows the crossover romance directed by Harmisha Daryani Ahuja pulled top 10 in North American markets and India.
KOB 2 series though honed in its home base with the highest intensity, didn't travel as much.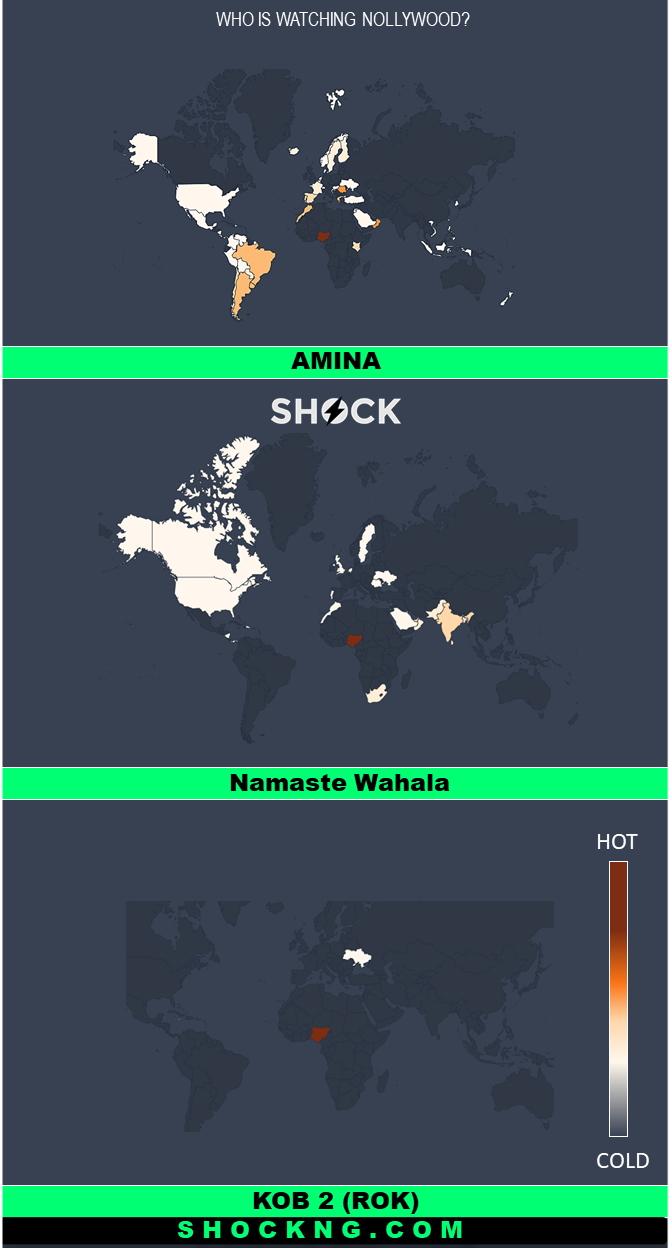 Bolanle Austen Peters's Man of God pulls great demand from Nigeria – then decent metrics from Brazil and Kenya. On the other hand, Citation is far more spread out in the South America region but not as intense as the demand from Nigeria.
Chief Daddy 2 released early in the year 2022 didn't travel as much.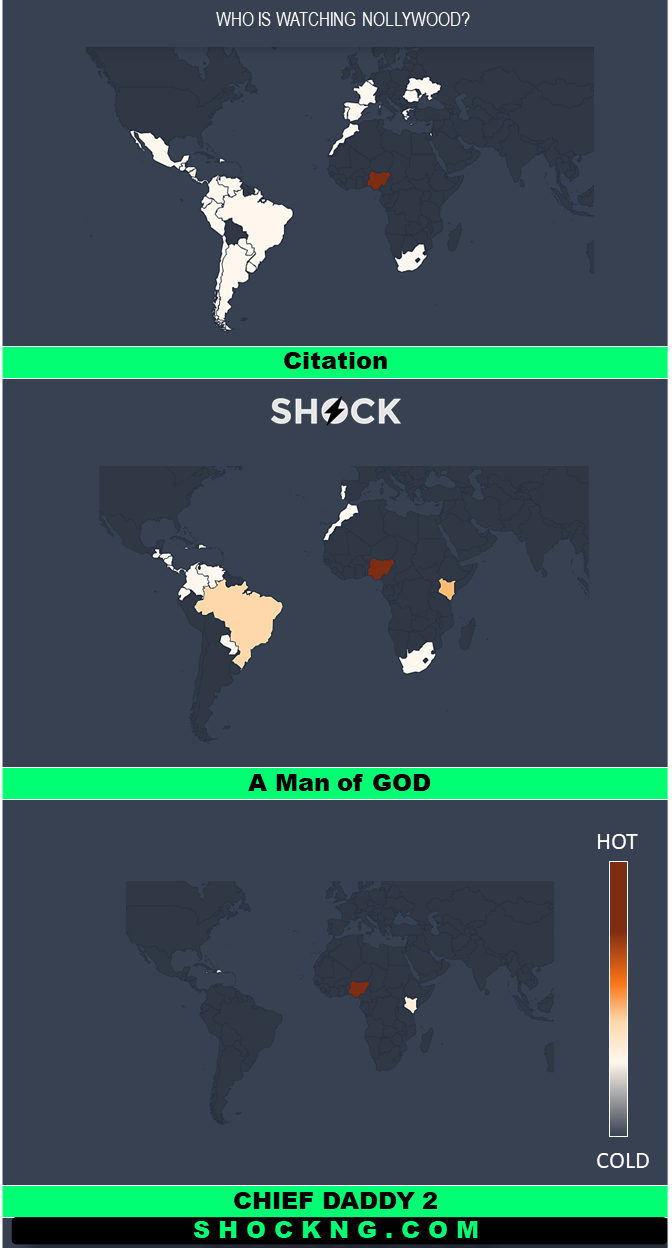 "Oloture", "A Naija Christmas", and the recent "Blood sisters" are global hits. The heat map shows the demand by Russian Netflix subscribers for the title directed by Kenneth Gyang. A Naija Christmas was popular in South America. The recently released "Blood Sisters" broke into the biggest Netflix market: the US and Canada and measures up as the most-watched Nigerian series Globally.
In Summary
Low Product joy, High Number of views. While Glamour girls certainly has unlocked a huge number of consumers watching across the world, the low product joy it gives off is alarming and not to be overlooked.
Yes, these metrics are worth celebrating as a win for the studio that is barely five years in existence – but a year later, what happens when you ask the consumer is what really matters. would they say:
"oh, Glamour Girls film was a global hit" or rather say what they feel after watching "This film wasted my time"
Feedback is feedback. Hopefully whoever the next director the studio taps to helm their next picture is taking notes and avoids repetition of these same disasters (zero plot direction, sound issues, wrong casting) that ridicule this project.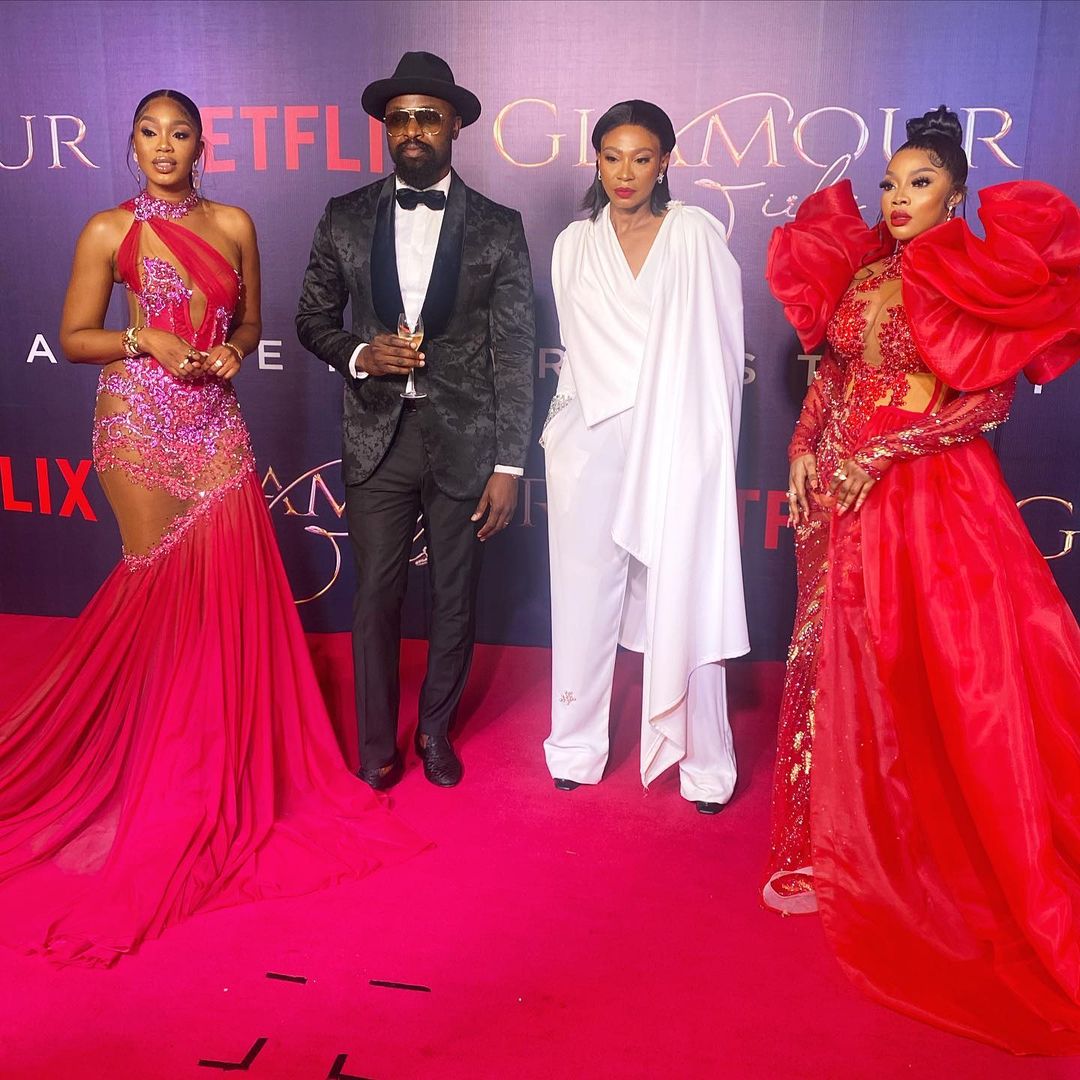 Industry-wise, the work to harness this demand has begun. The metrics that this title has given are now a solid reference for how a Nigerian film product can potentially travel and be loved just like Afrobeat.
Again, 2022 continues to be a pivotal year for the industry. More international distributors that see this demand might move beyond passive to active state and hopefully invest in Nollywood projects that would be loved both home and abroad.
Thank you for reading
Shockng.com Covers the Business of Film/TV and the Biggest Creators in Sub-Saharan Africa.
Let's be Friends on Instagram @shockng