The Story⚡
Omo Ghetto "The Saga" has become the domestic box office title with the highest opening weeknd of all time.
The title hauled in N98.50 Million naira in its first opening weekend + advanced screening to total more than N124 Million.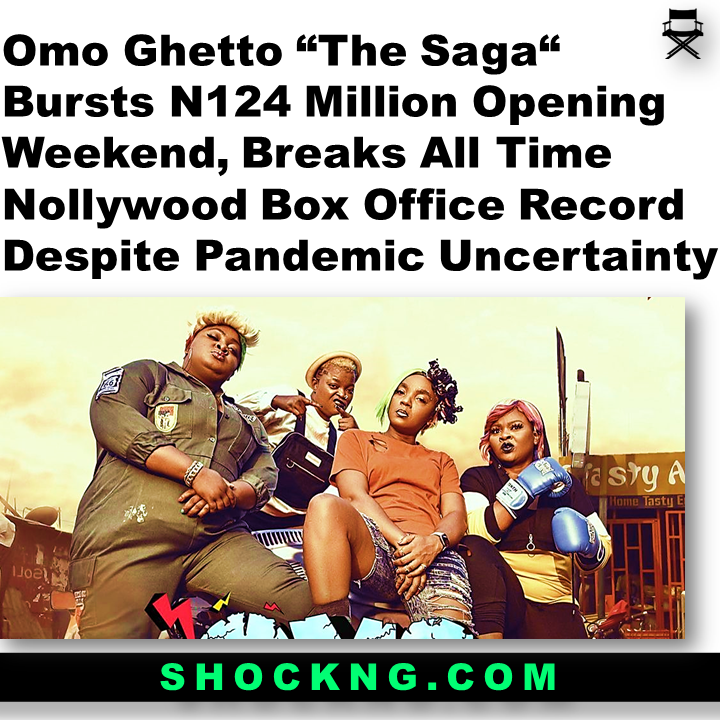 Tell me more
The female lead ensemble comedy co – directed by Funke Akindele and JJC Skills hit the big screens nationwide on Christmas day to a movie market whose appetite has been wet on social media with the colorful gangster theme.
On its strategic debut day, cinema lobbies were filled with anticipating movie fans, tickets were selling fast behind the counter and more importantly positive word of mouth floored in on social media.
All of these events and more drove market demand already on a gear 2 to a gear 5 propelling the movie to a sold out status.
According to Com score, Omo ghetto opened in 59 locations in its first 3 days pulling in over 57,000 tickets admissions nationwide.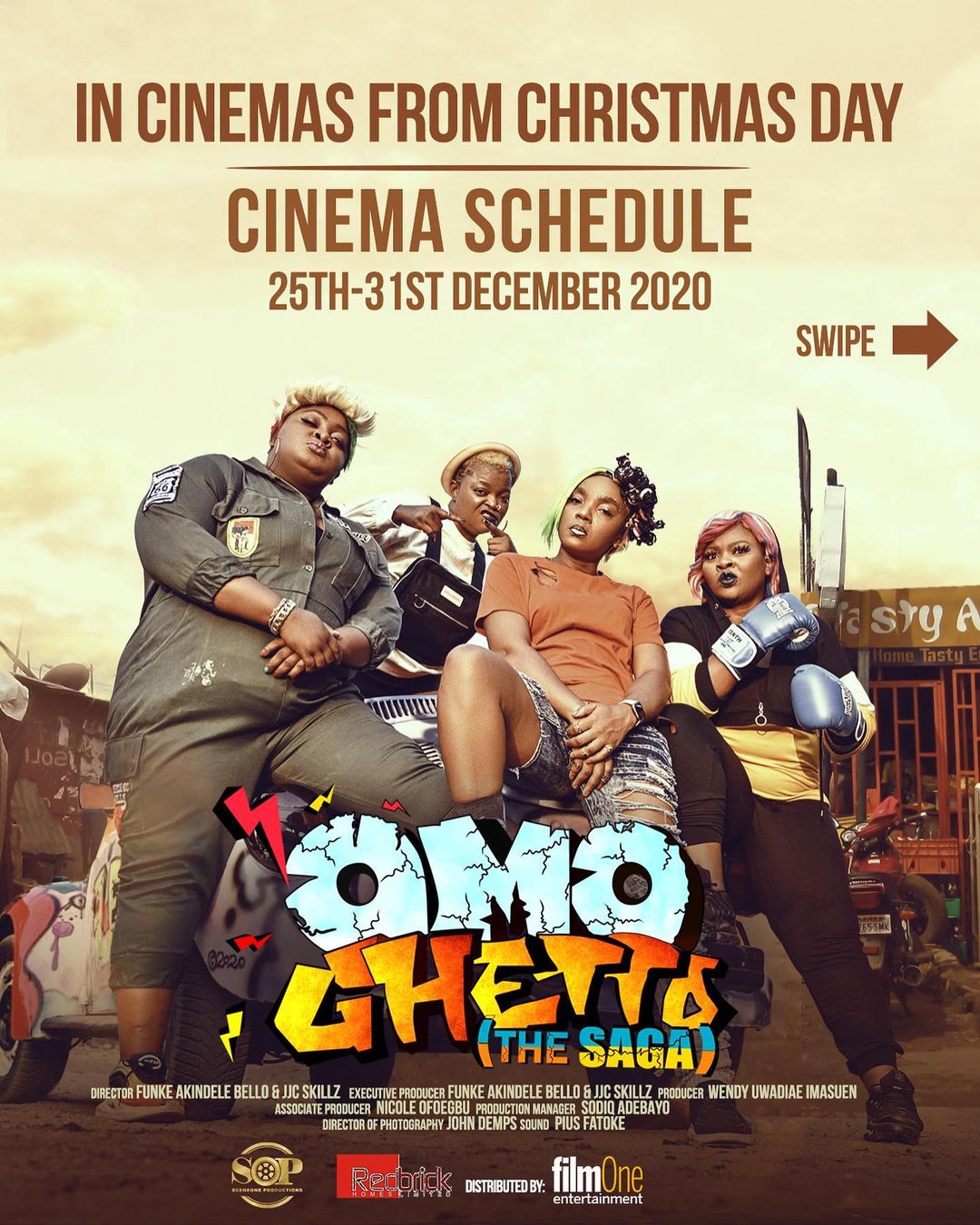 By this time last year, sugar rush movie executive produced by Jadesola Osiberu was racking in figures of N58 Million opening and fencing off other titles howbeit not in a pandemic economy.
This time the stakes were different for Funke Akindele's omo ghetto.
There was no heavily marketed title in competition but ticket buyers were facing an economy crisis caused by a rudderless Nigerian govt + Covid 19. This all seemed to be like a mountain challenger for the film.
But Lo, Funke Akindele's Omo Ghetto bursted through this mountain coming out victorious with gangster record smasher of N124 Million.
All Time NGN Box Office Records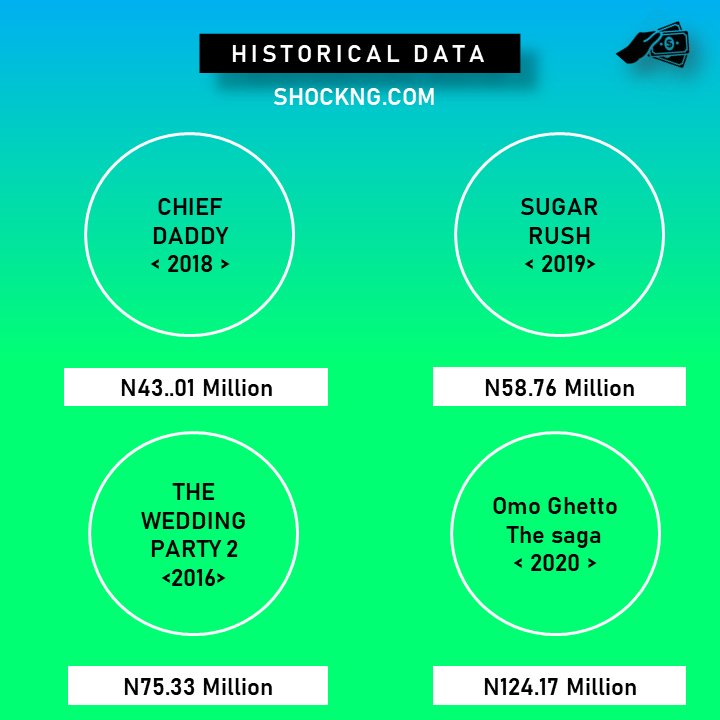 4 years ago, the all time highest domestic record was set by the wedding party 2.
This has now been broken by omo ghetto in one of the hardest times for theatrical exhibitors.
Notable characteristics in all of this feature films are that: all were an ensemble cast, made use of comedy and was distributed by film one. The titles include:
Sugar Rush – Greoh studios
The Wedding Party 2 – The Elfike collective
Cheif Daddy: Ebony Life Studios
Omo Ghetto now joins the fray under the banner of Scene one productions
Pandemic 2020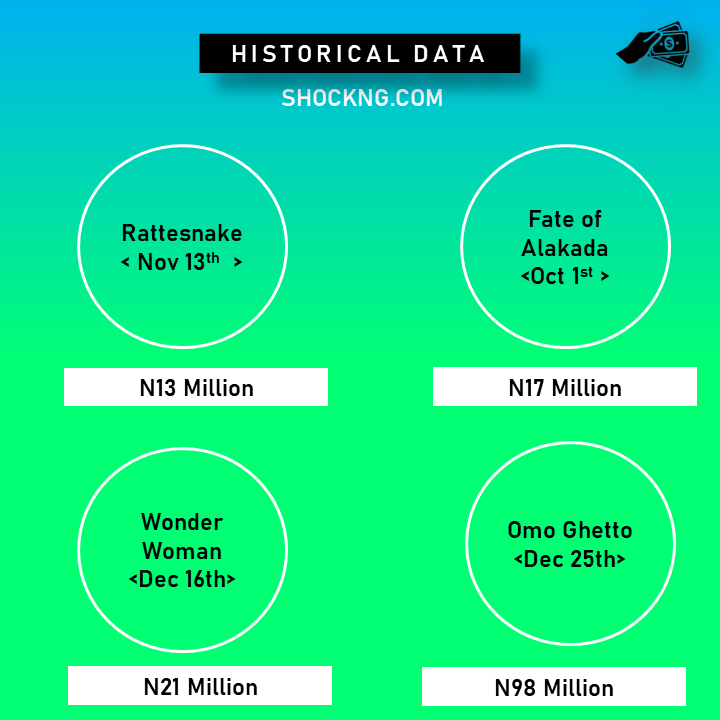 The year 2020 has been woeful for the box office, all beginning with the Covid 19 lockdown.
With the lockdown being lifted for cinema operators since September over 14 Post lockdown titles have been released theatrically.
Four domestic movies and only one foreign title (wonder woman 1984) have efficiently opened with double digit opening weekend figures post lockdown.
The rest have scuttled to low figures that indicate the weak demands for the big screens, pointing to the ugly fact that the cinema culture took a deep hit and is yet to rebound as at last week.
Over all the top 4 highest opening weekend grossers post lockdown are:
Rattlesnake TAS
Fate of Alakada
Rattlesnake
Wonder Woman 1984
Omo Ghetto the saga
Marketing
Right from the get-go Omo Ghetto had flooded its social with BTS promo pictures ahead of its arrival; however it wasn't counting on that alone for driving box office demand.
It set its sights on a ghetto afro pop music video that was engineered with a lazer focus of appealing to its core demographics.
With a fire Rap verse in three languages and a popping beat that has been the formula for viral Nigerian songs – the music video instantly became a marketing home run for the box office title.
The video was then given an heavy TV rotation on a cable channel that drew in a musically inclined audience and here we are smashing through all time records – N124 Million opening weekend <advanced screenings >
Last Top 5 movies 25th – 27th December of 2020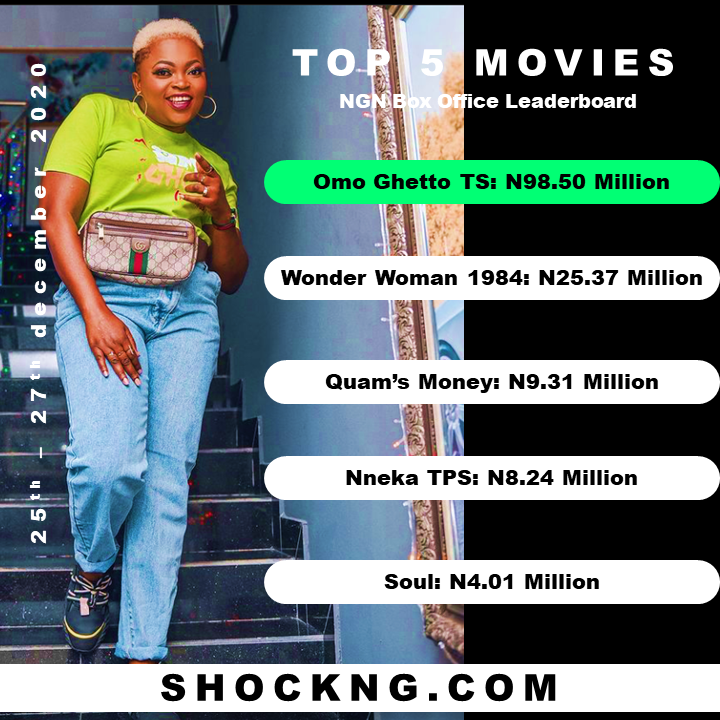 Last weekend at the big screens finally saw the much awaited rebound industry observers have been waiting for since September.
The total cume increased from low count of N48 Million to a bearish N158 Million that sees an uptick in cash flow all thanks to the top 5 movies that included 3 Nollywood titles and 2 foreign titles as well as other movies currently screening.
is Funke Akindele Nigeria's Biggest Movie Star?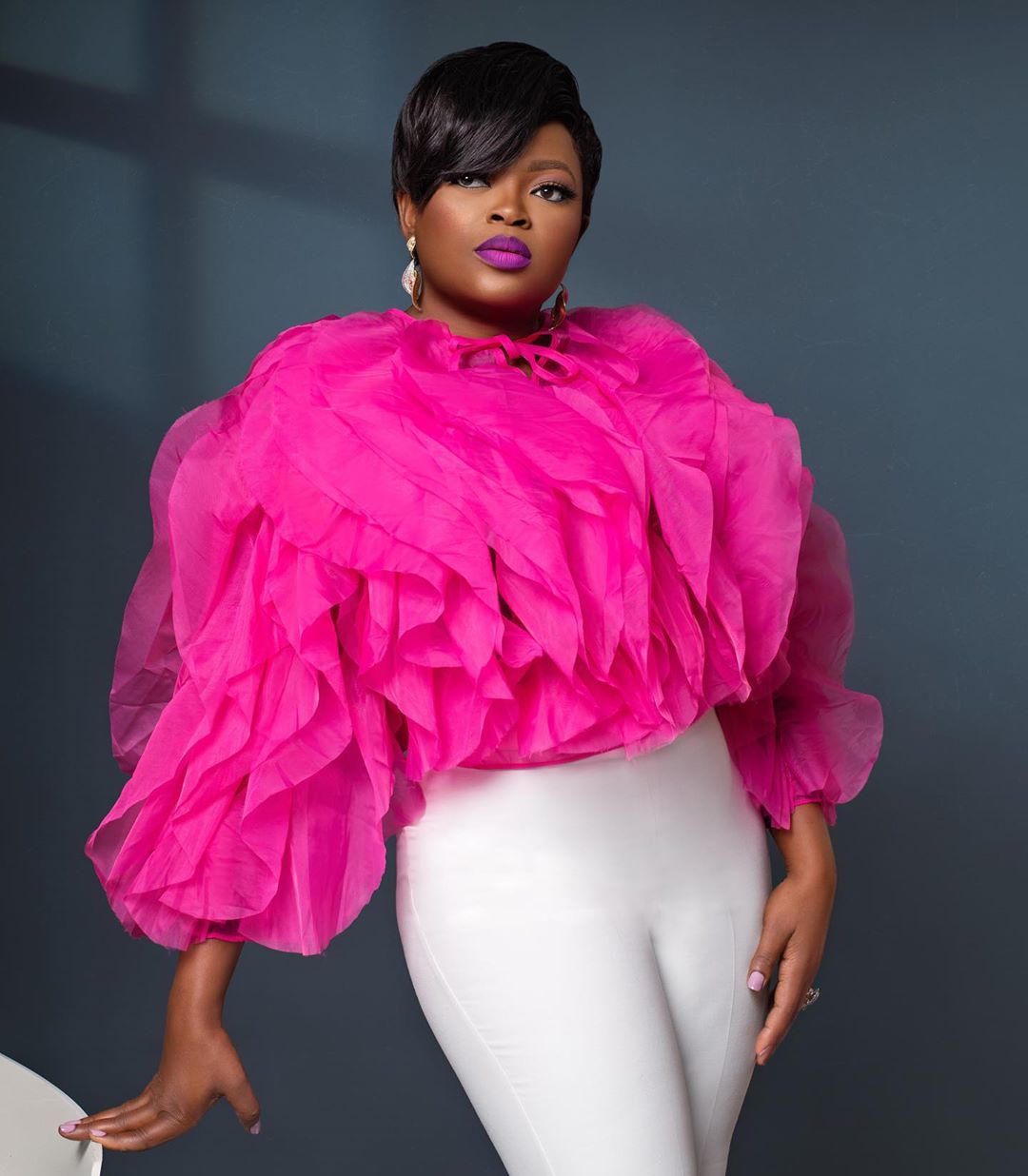 This is the part where conversations like this begin to kick off with agenda arguments thrown in, here and there. To keep it a buck – no one can categorically state the above.
But here is what we can tell you.
Funke Akindele is an entertainment talent that has engineered a fly wheel to keep herself afresh with her audience. From her streaming app to her running shows on TV and her massive social media presence including YouTube. She is constantly in the face of existing audiences and engaging new ones as well.
She is also a talent whose profit ability is significantly higher due to the distribution infrastructure she has penetrated. From DVD, TV, streaming and the big screens, she has a body of work that has been received well on all this mediums.
With the above facts, one can argue that she is indeed Nigeria's biggest movie star.
An Era of Legacy IP's
In 2019, play network studios led by Charles Opaleke ushered in the era of bringing back the nollywood classics for the big screens with Living in bondage. The sequel of the film debuting in November was well received and might have signaled to the industry that the profitable venturing into classics on the big screens is now.
Omo ghetto created by Funke Akindele in 2009 falls in the same category and reinforce this theory.
It is now very clear that more classics will soon be financed to tap into the desirable revenue numbers.
What happens Next?
NGN Box Office: On Monday 10:19 AM, December 28th 2020.

>> A cinema operator sincerely apologized for cancelling a foreign title slot "wonderwoman 1984" due to the overflowing demand of a Nollywood Title !!!!!

🤯🤯🤯 pic.twitter.com/tbj2hE34nP

— S H ⚡ C K ! (@Shockng) December 29, 2020
Right now the race is on to smash more box office records by making sure the demand doesn't drop significantly in its 2nd week.
A likely historical precedent is set by Black panther (2018) that opened N136 Million in its opening weekend and grossed N119 Million in its 2nd consecutive week.
if this happens, this means Omo Ghetto would hit another record of 14 day high never seen before in Nollywood.
In summary
As it stands, here is the new record that Omo ghetto has broken where cinemas went through the worst of times.
The ensemble comedy will continue to fill its deep end demand to dominate the 2020/2021 box office calendar which is all good news for cinema operators to close the 2020 books and look upon 2021 for hopefully a more better revenue quarter.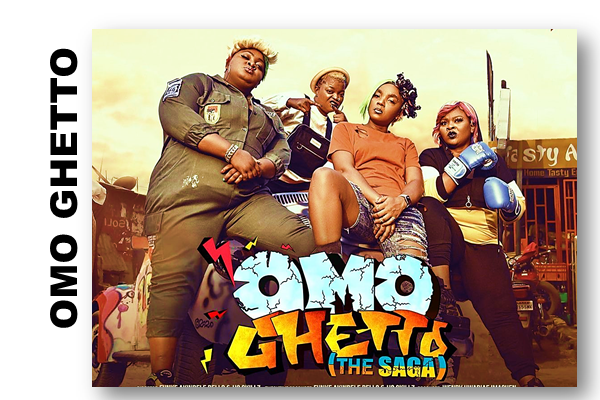 Thank you for reading
Shockng.com Covers the Business of Film and the Biggest movies that screen in Sub Saharan Africa.
Let's be Friends on Twitter @Shock NG