The Story ⚡
Nigerian international film and Tv submit Lagos ( NIFS) announced the launch of the Industry Talent Development Program (ITDP)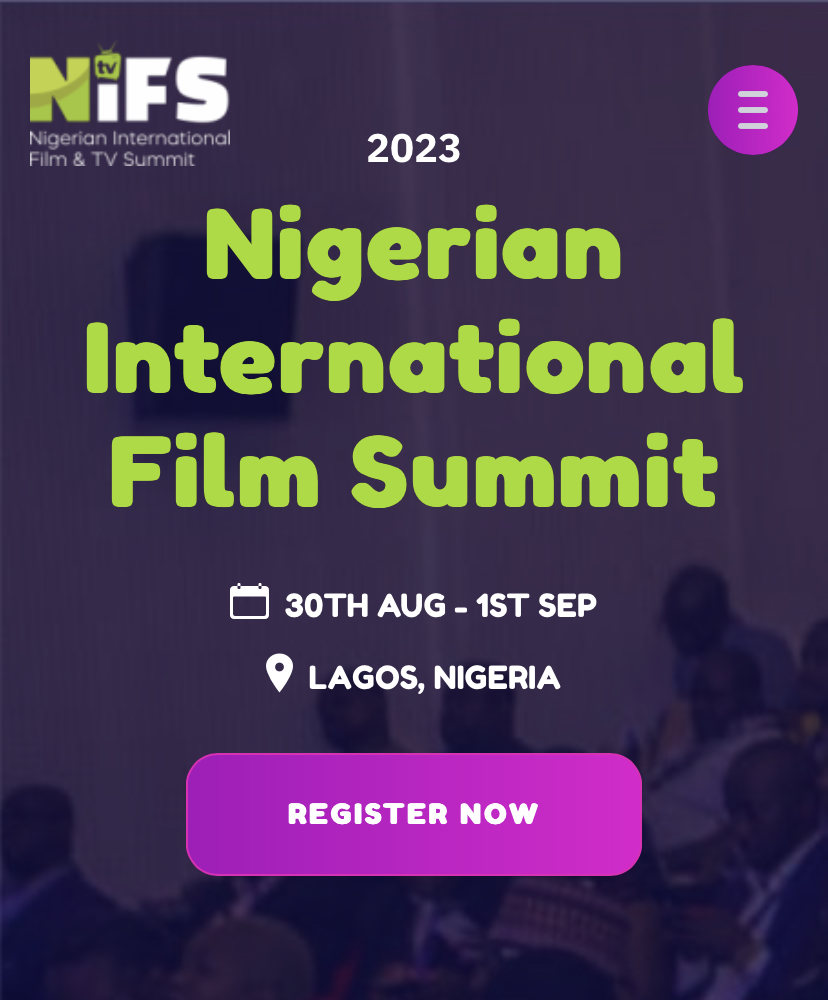 Tell Me More
The Nigerian International Film and TV Summit (NIFS), is a yearly program that assembles domestic Film and TV Investors with the goal of examining issues related to the business of film in Nigeria.
The event theme of this year NIFS Lagos is "Break the ceiling! Identifying barriers towards global crossovers, positioning and opportunities which will be held from August 30th – September 1st 2023. Each participant will have the chance to engage with industry professionals and experts , attend workshops, and gain valuable insights into the growing film and TV industry.
The program will also ensure there is a diverse range of workshops , labs , training programs and incubation opportunities in areas like sound design and audio, scriptwriting, technical skills development, VFX and language localization. NIFS will be announcing its esteemed partners that have supported the industry talent development program (ITDP) at a press conference.
NIFS is not limited to Lagos alone, NIFS will continue this innovative program in Toronto, London, and Los Angeles. Film and TV enthusiasts are advised to enroll for these events as it will help them to connect, learn , collaborate with industry leaders and professionals .
Tangent
The Nigerian creative space has over the years boasted of top-notch professionals, from film, to graphics, and animation. As each creative generation passes, there has been a growing need to for the industry to teach its up and coming talent, the Industry Talent Development Program (ITDP) is one of such training programs that will play a major role in carrying on, and shaping up the future of the African Film and TV space.
Another convention holding for the evolution of Nollywood is LAGOS INTERNATIONAL FILM AND CINEMA CONVENTION (LIFACC) . This event is the largest gathering of film producers, film distributors , cinema owners, manufacturers of cinema facilities/ equipment and OTT – streaming platforms from around the world in Lagos – Nigeria annually. LIFACC is established for the purpose of bringing the cinema and supplier sector ( film producers & distributors) under one roof to address the issues and solutions of the film industry; the events will be held on July 20th – 22 , 2023.
Key Background
The Nigerian International film and TV summit was founded by Ijeomah Onah, in 2012, with the goal to examine the issues related to the business of film in the country and how to solve them.
The 2022 summit which was held in Lagos discussed "Streaming Wars: The Implications of Content Monetization for Film and TV Content", and it had more than 50 filmmakers, distributors and content executives in attendance .
This year's summit will also be held in Lagos but focuses on the future of traditional versus digital monetization and distribution across borders; and leveraging technology and innovative solutions for the creation and distribution of FAST channels to drive maximum revenues
In Summary
As the NIFS closes in on its start date, it will interesting be to see the talent this program will pull, and its effects on young Nigerian creators, and Nollywood, at large.
To register for this event, click here https://nifsummit.com/pre-registration