The Story ⚡
King of Thieves is on course to hit N200M after capturing a big hit ticket sales of N42.65 million in 3 days.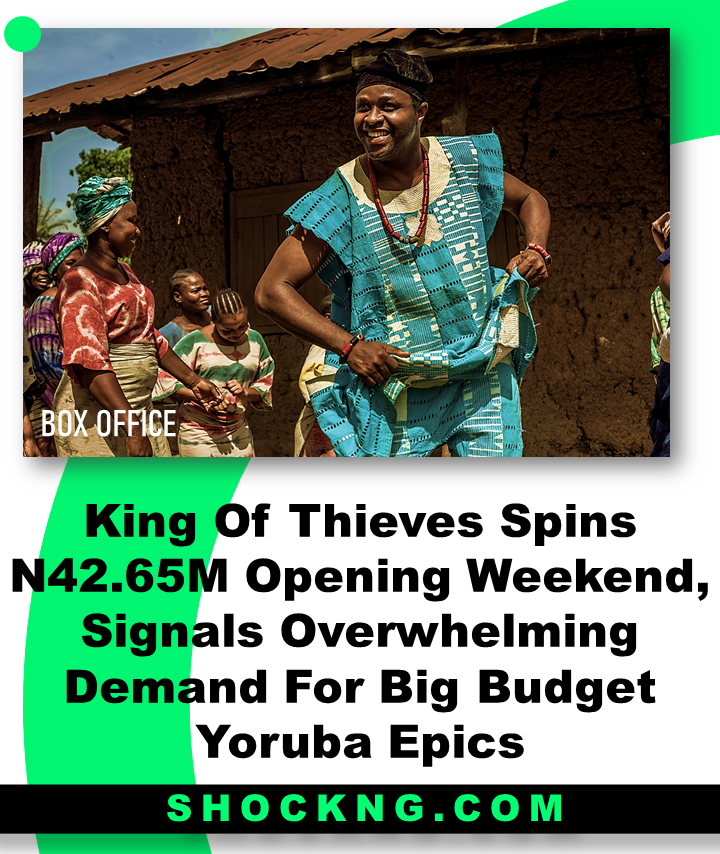 Tell Me More
In late February 2022, Femi Adebayo and Niyi Akinmolayan exclusively shared with SHOCK that a co-production partnership has been inked which will see both established producers combine their strengths such as access to talent, technical crew, marketing expertise and insider exhibtion knowledge to produce and release a slate of movies.
King to Thieves would be the first fruit of this partnership and begin its theatrical run on April 8th 2022 with Film One on board as distributor.
With a slick 1 minute teaser, the marketing engine for King of Thieves roared to life. Posters, BTS material and picture stills hit socials every blessed day and choked the feeds of moviegoers.
Then came the big moment. A well-planned festival looking Lagos premiere that struck as a galant marketing moment for the title.
Influential Yoruba movie veterans all showed up dressed in local finesse for the gram, including the cast, friends and celebrities invited for the first screening of the title.
if there was any movie premiere whose ROI is very much visible on its box office sales, King of Thieves would rank top 2.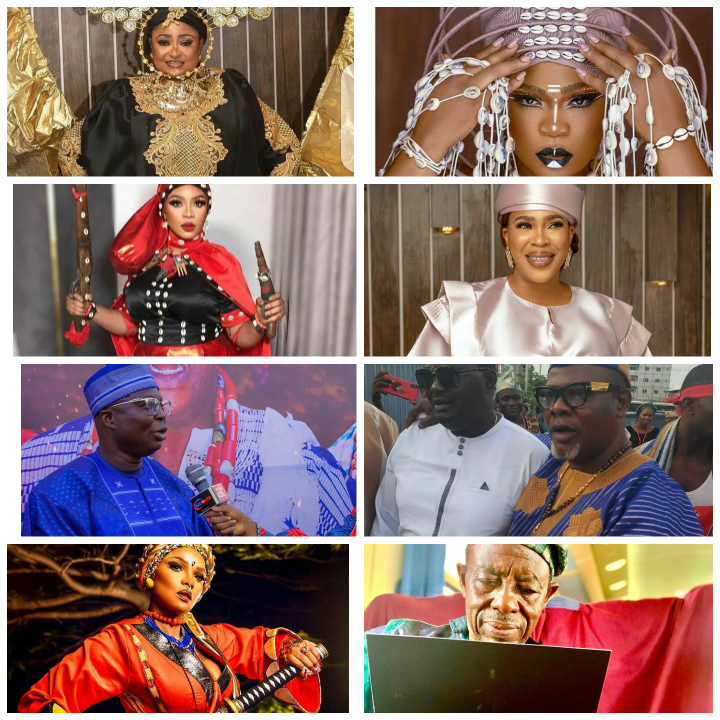 Opening Demand Analysis
Box office data reflects that demand for domestic titles can hit more than N27 million since 2018 as experienced with Bolanle Austen Peter's Bling Lagosians.
Opening weekend is very important for the longevity of a title at the box office, hence the higher the demand, the more legs a title may have in for its exhibition.
King of Thieves opening at a galloping N42.56 million indeed shows that there is an overwhelming demand for big-budget, well-executed Yoruba epics.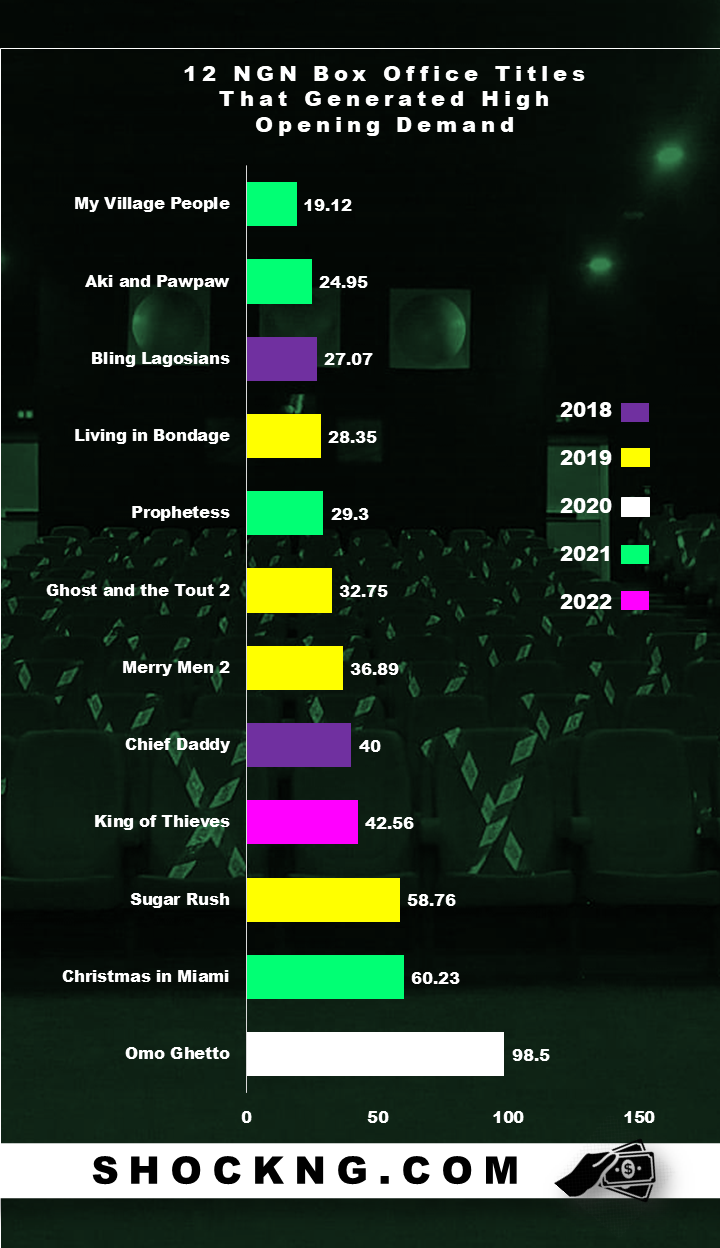 Another signal for this demand is how ticket sales were dashing in as if we are in the dettyy December season.
The top 5 biggest title pullers were all released in December, But a 42M hit in April ???
Yup, this is definitely a huge green light that can't be ignored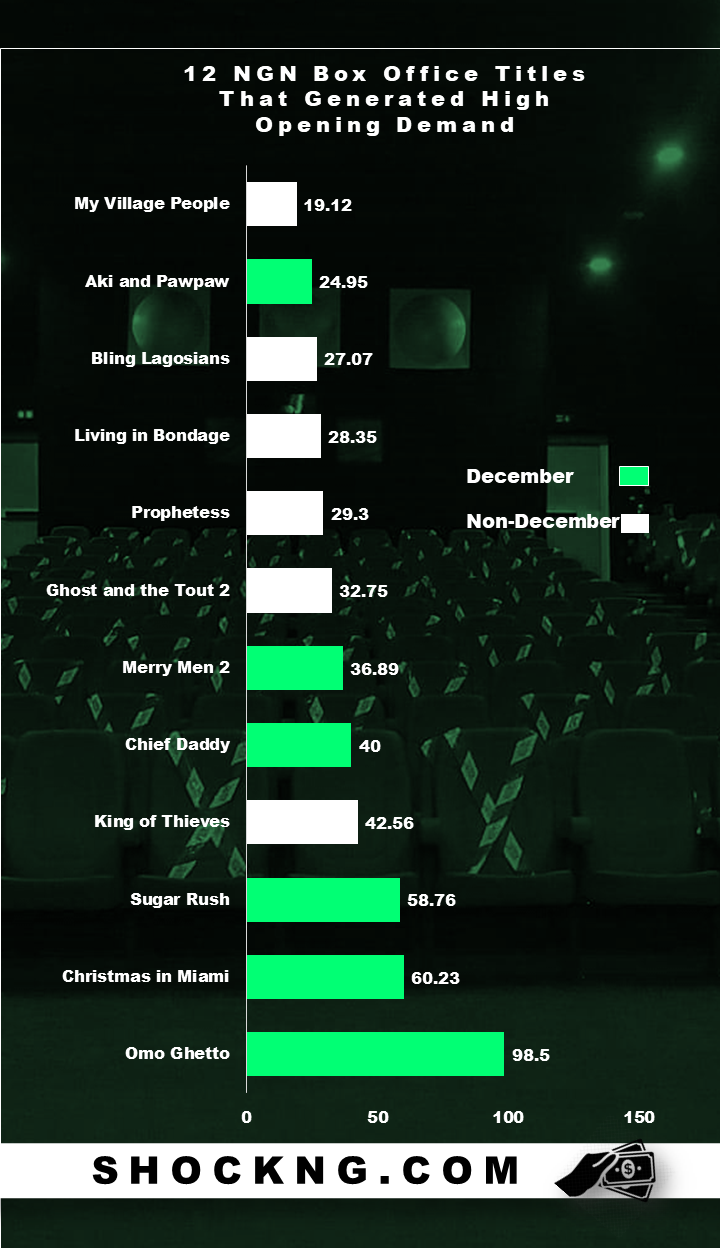 Did Yoruba Movies Ignore Cinema?
For some reason, the number of Yoruba movie projects produced for distribution platforms such as TV, Youtube and DVD is very much greater than cinema projects.
Funding. Exhibition acceptance, Technical know-how, and Marketing are major barriers to overcome when a theatrical run is considered.
King of Thieves overcoming these barriers is an indicator of how such projects can perhaps breakthrough to be successful on the big screens.
From the data below, it is very much clear that the demand exists and in 2022 it is an undersaturated cinema space.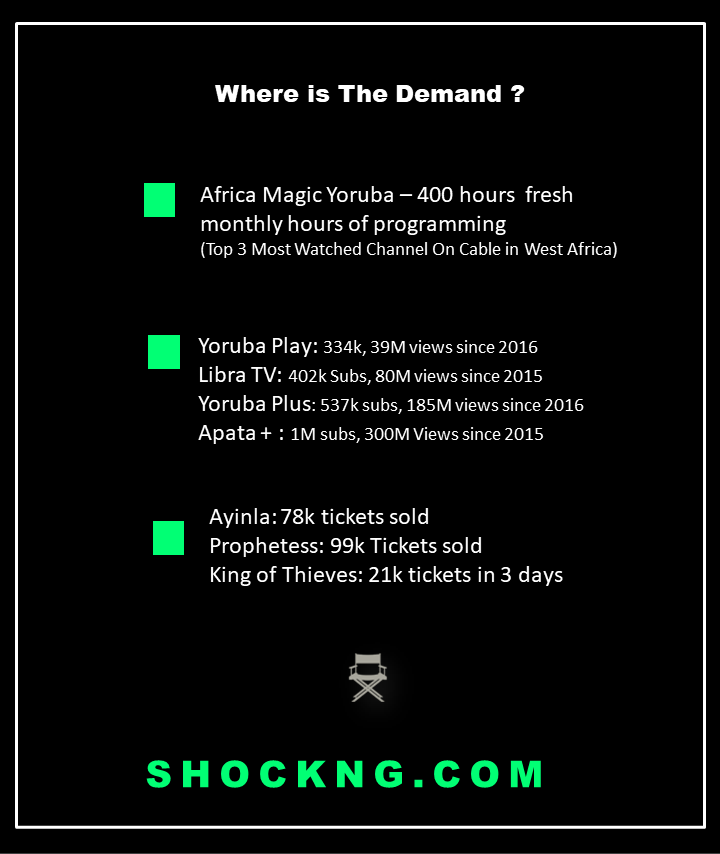 Now, What does all of it Mean?
April is now a proven bankable window.
Big budget Yoruba epics can sell at the big screens.
Opportunity for more infrastructure to build so as to tap into growing southwest demand.
More investment into Yoruba talent. They need proper talent management agencies that can truly wield, monetize and grow the influence they have built over the years. The idea of Self management should be discouraged for them truly to become world-class talents.
In Summary
Generating hype for box office title might look easy but it isn't. Gauging if it is even working or hitting the right target audience before your release is even harder.
But what happens after the hype? The rigorous test of the product. How well the product passes the test is how strong the word of mouth a title gets.
Right now, King of Thieves has struck a rare gold mine that supercharges its word of mouth. The title is on track to joining the N200 Nollywood Million club that has 9 members, which 7 titles optimized for December.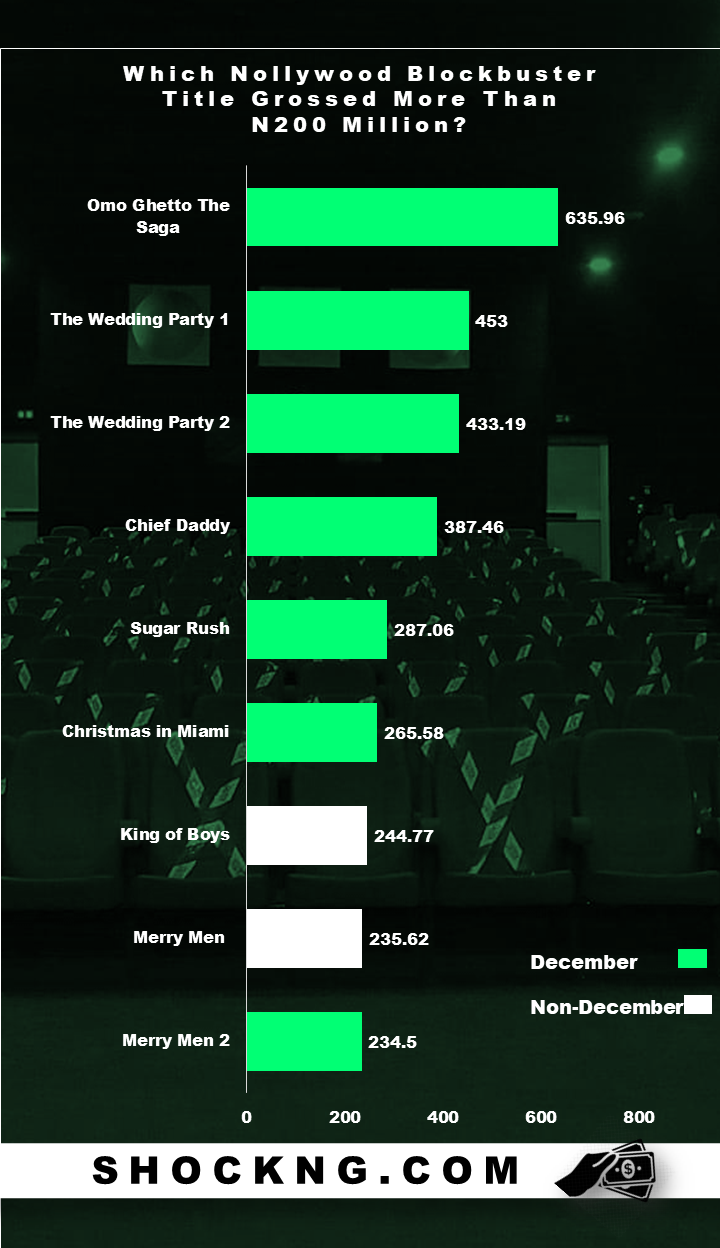 it will be super staggering if indeed King of Thieves can smash this N200 Million metric and we are tracking its sales avidly as our Instagram likes.
This is a SHOCK Exclusive – Thank you for reading
Shockng.com Covers the Business of Film/TV and the Biggest Creators in Sub Saharan Africa.
Let's be Friends on Instagram @Shock NG