The Story ⚡
How moviegoers in Nigeria having been spending their hard-earned money for the past 4 years in cinemas is now accessible
This report gives a data visualization to see, spot and understand key patterns that would aid in better commercial movie-making decisions.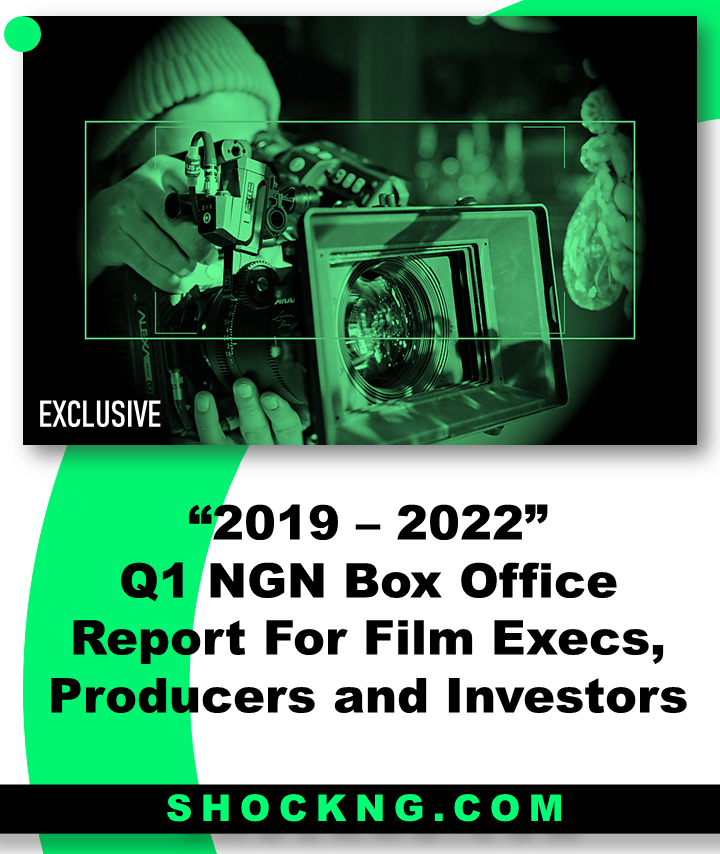 Tell Me More
The Nigerian box office is still in its nascent stage. ComScore data for this market has been made public since 2019 via a partnership with the cinema exhibitors of Nigeria (CEAN).
This data has tremendously helped investors and players in the big-screen market to understand how movie consumers are spending their money.
Through these years, there has been some level of growth, blockbuster titles setting records and certain window and genre trends emerging.
Before we delve into the report on how moviegoers spent their hard-earned money in January – March of 2019 through 2022.
Here are 5 data points to quickly grasp.
2019 was an election year in Nigeria: There is quite a chill in the air when the Nigerian election season begins. Consumers are generally in a stay-at-home mood observing keenly as the nation's fate is decided by power-hungry politicians. In this mood, consumers are not spending as much as they should.
2020, a pandemic year: For more than 7 months, cinema owners closed down their businesses as a precaution to stop the spread of Covid 19. Tentpole titles were rescheduled. Profits went down to zero and consumer habits rewired. This was a tough period for the big screen owners and how they survived is still a miracle.
2021, post lockdown year: Optimism in the air, Omo Ghetto smashing new records in the first week of January touted 2021 to be a recovery year for the exhibition but that wasn't really the case.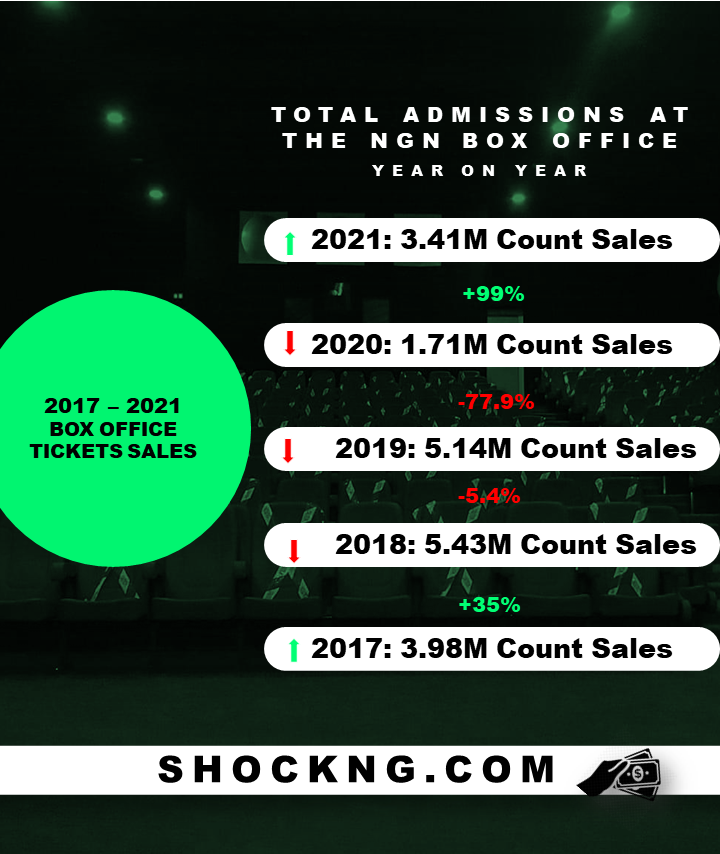 December Splash: The last month of the exhibition window is spending season for consumers. Hence the massive cash flow observed in December.
Every year, a chosen Nollywood title goes against a Hollywood title to fight for this super blockbuster status and there is a 50% chance that they hit the coveted N200 Million mark.
Slow going investment: Profitability for producers is heavily proportional to the investment exhibitors make in screen infrastructure. Over the last 5 years, financing for more screens to tap into movie consumers has been slow going. Covid 19 in the year 2022 derailed efforts and hopefully by 2023 the number of screens in the Nigerian exhibition market should cross the 300 mark.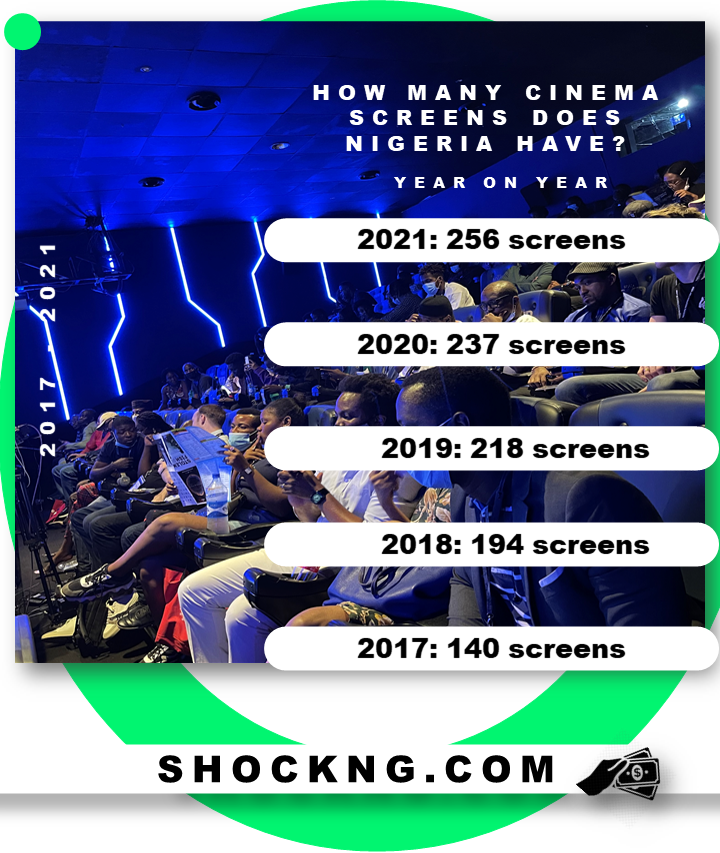 January Window:
Peak earning: week 1, 2022 grossed N308.23 million
Lowest earning: week 4, 2021 pulled N40.22 million in 7 days.
Zoom In: the % difference between week 1 and week 2 tells a lot about how consumer switches off their celebratory mood.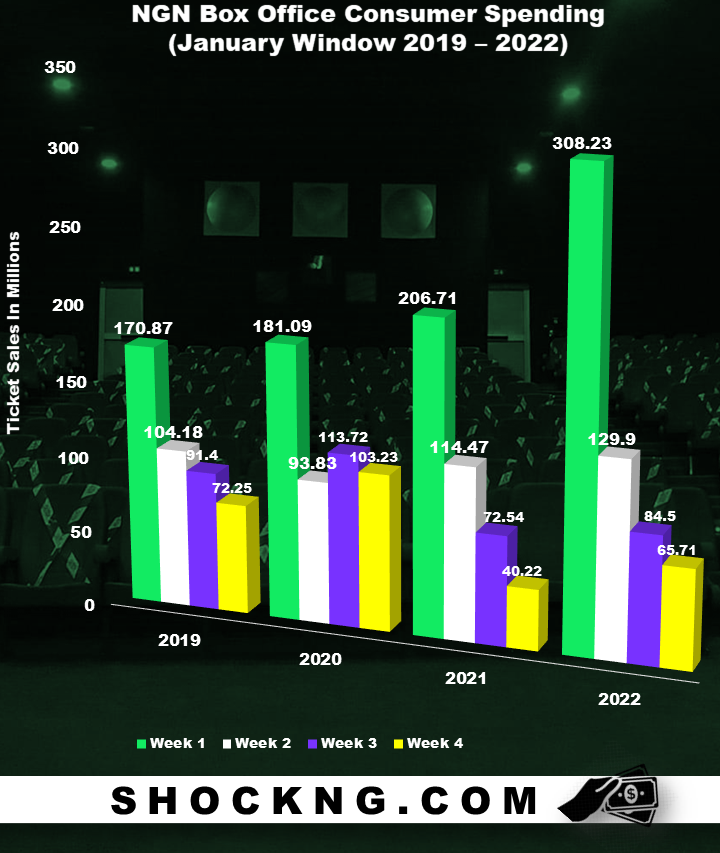 February Window
Peak: week 2, 2022 pulled N109.87 Million
Lowest: week 2, 2019 pulled N49.47 Million
Zoom In: a drastic shift in consumer trend was noticed in week 2 year on year.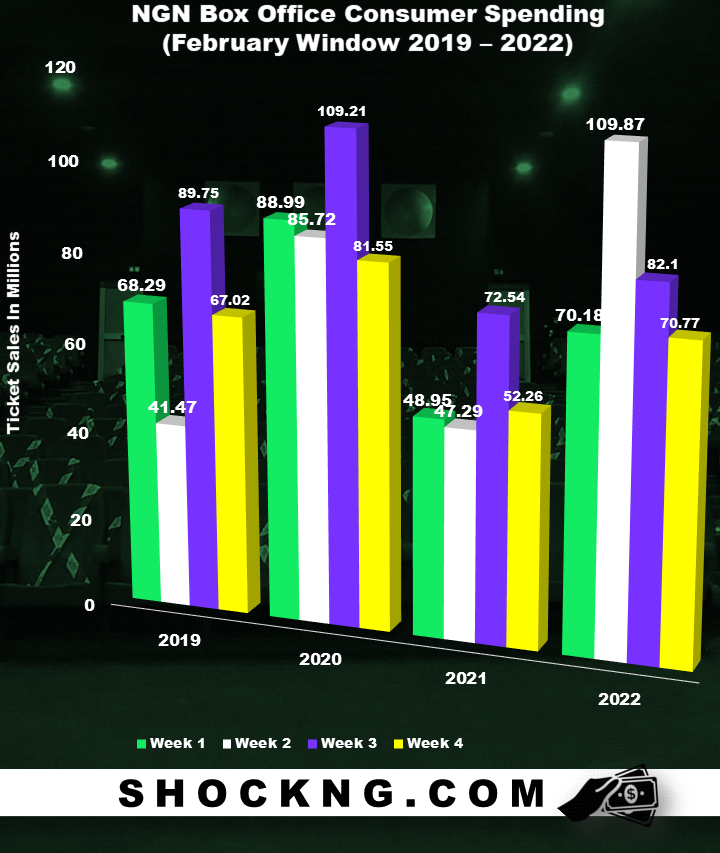 March Window
Peak: week 3, 2019 pulled N133.38 Million
Lowest: week 4, 2020 pulled N28.16 million
Zoom In: 2019 v 2022 data comparison gives a hint of where the box office should be.
The lockdown in 2020 did major damage to the exhibition business and is still suffering from these consequences.
Barely any significant growth has been noticed. Numbers are hovering around the average N80M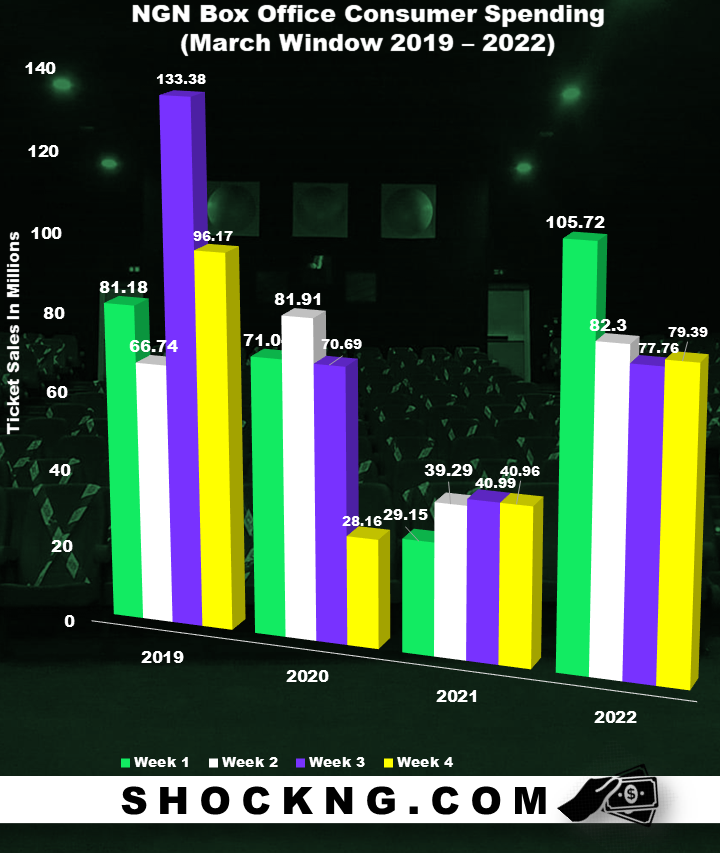 In Summary
if you would love to pay for a more in-depth analysis of this data, send us a mail at [email protected]
This is a SHOCK Exclusive – Thank you for reading
Shockng.com Covers the Business of Film/TV and the Biggest Creators in Sub Saharan Africa.
Let's be Friends on Instagram @Shock NG