One of Nollywood's highly anticipated movie, Sugar Rush debuts on the big screens this December and we got the Exclusive chance to speak with Kayode Kasum who is in charge of directing the movie.
He shared with us how he funded his first film, shenanigans happening in the industry and why he almost quit filmmaking a few years ago.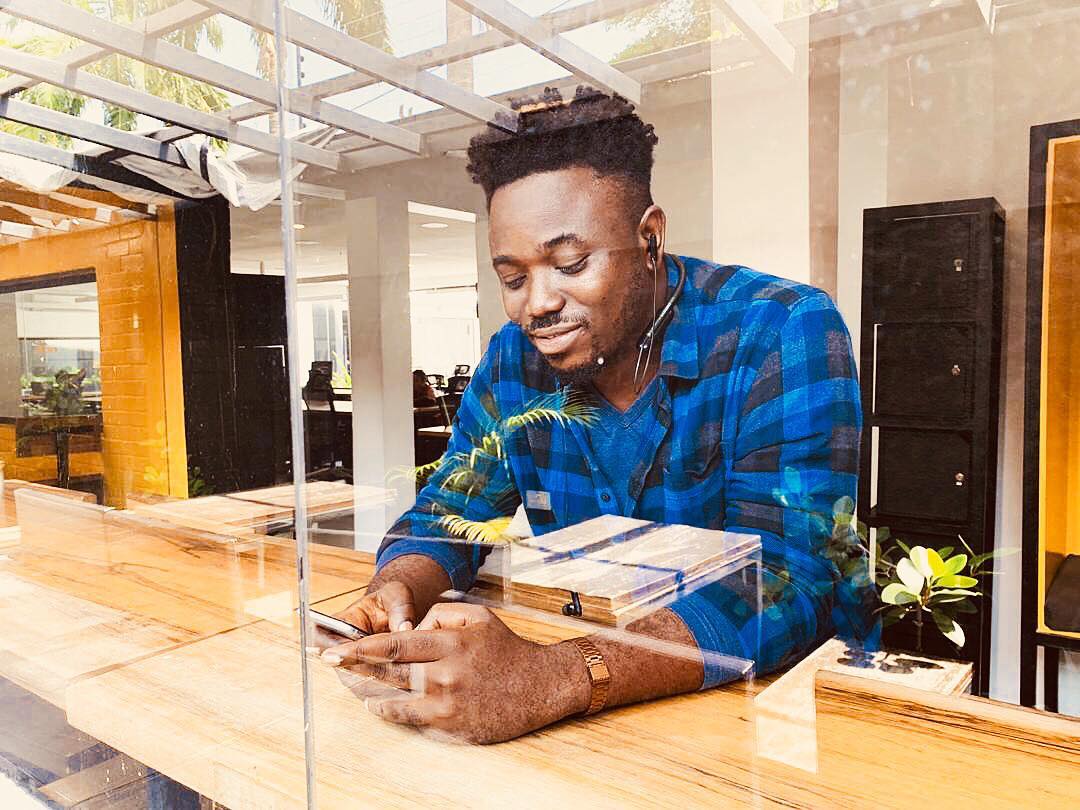 It's a good read. Let's begin.
Tell us your name and a little bit about yourself?
My name is Kayode Kasum, I am a 28 year old film director from Lagos Nigeria.
Why did you go into filmmaking?
Well, I just really like telling stories. Since I was a kid I was a very restless child. I was the firstborn, so before i had siblings I will sit down and imagine living different life's. I would imagine i was a Bollywood star (back in those days we watched a lot of Indian films) or a cartoon character or imagine I had bugs bunny by my side.
Back in school, my grades were terrible because I spent a lot of my time daydreaming instead of doing school work. My best homework in school was composition; I loved writing about a lot of stuff and how it made me feel.
Naturally, I am a quiet person but every day in my head I have various conversations with made-up characters and persons. I wasn't quite certain this was a gift until i decided to ask God in prayers.
After fasting for seven days, praying to God for him to show me my talent I arrived where I am today "That is – a filmmaker"
Now, this happened back in the early 2000's when I was in Yaba tech and over the years, I have been unraveling myself and seeing that I really do have a gift in filmmaking. so If I read a script immediately just like in Sherlock Holmes who sees a whole storyline of how the robber stole something and how the robber kicked this in the crime scene and stuff like that. That is exactly how I also see my scripts come to life in my head.
Believe it or not, it may sound fake or cliché – but I am telling you the truth, every time I read a script I am already in their world and I know how to shoot it.
This daydreaming gift still happens every day; it's who I am now. But I try to keep a healthy dose of this magic.
* He is driving late to work, but as Lewis Hamilton going through traffic in his car with a 45-minute deadline to get to the office. Dodging different cars Wizkid baddest boy feat Skales is playing in the background….at this point where he felt everything is going crazy, then he knew – Filmmaking is his calling.
When did you shoot your first film and how was it funded?
My first film was titled Dognapped. Now in 2019 I am watching it and asking …oh my God why did I do this??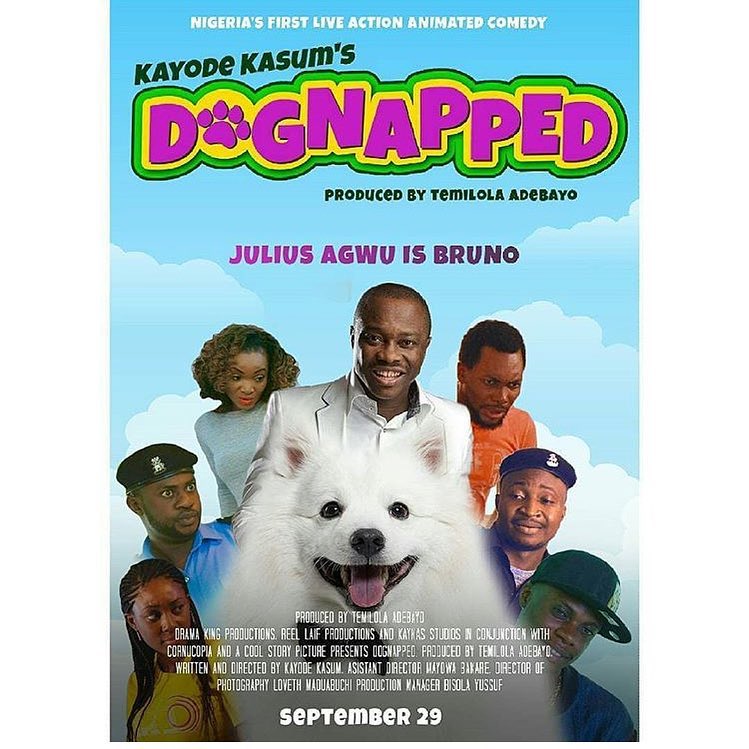 Dognapped starred a lot of Nollywood stars and went to cinemas on September 29th, 2017.
The movie was Nigeria's first live-action animated comedy film; it is like Dr Do-little, a talking dog film. it was my first feature film attempt after a long string of 12 short films.
Dognapped starred Odunlade Adekola, Julius Agwu, Wofai fada, Tope Tedela. Lota chukwu, Funny bone, comedian ebiye. Brutus Richard. It was kind like a big film that year and I saved for it for two years.
I was working for an ad agency and also for a television decoder company. I saved money for 2 years and shot dognapped which took like a year in post-production because we had to animate the dog to talk. It was a very challenging year in my life but I do not regret making that film because it paved the way for other films. God is great.
What is your style of filmmaking?
I am influenced by God. He is a wonderful filmmaker, he created you, he created me and I know somehow that he influenced you to meet me so that we can have this conversation. That's God. He tries to solve problems from different angles which is what I try to do. I shoot films in angles audiences won't expect and find ways to insert sublime messages to every single shot.
I don't think I have answered your question. I know your style is a reflection of what you consume; hence I am careful of the people that mentor me, the books I read. I judge what I put into my body.
But in General, Two things I try to think of while shooting a film. First is the Visual angle and second is from the emotions side of things. That's basically it.
What would you consider your break out film?
Hhmmm I think it's going to be Oga Bolaji – a feature film that follows a 40 years old retired musician in Lagos Nigeria as he meets a 10 yr. old girl who just got into the country from Ghana with her mother. It is a unique story.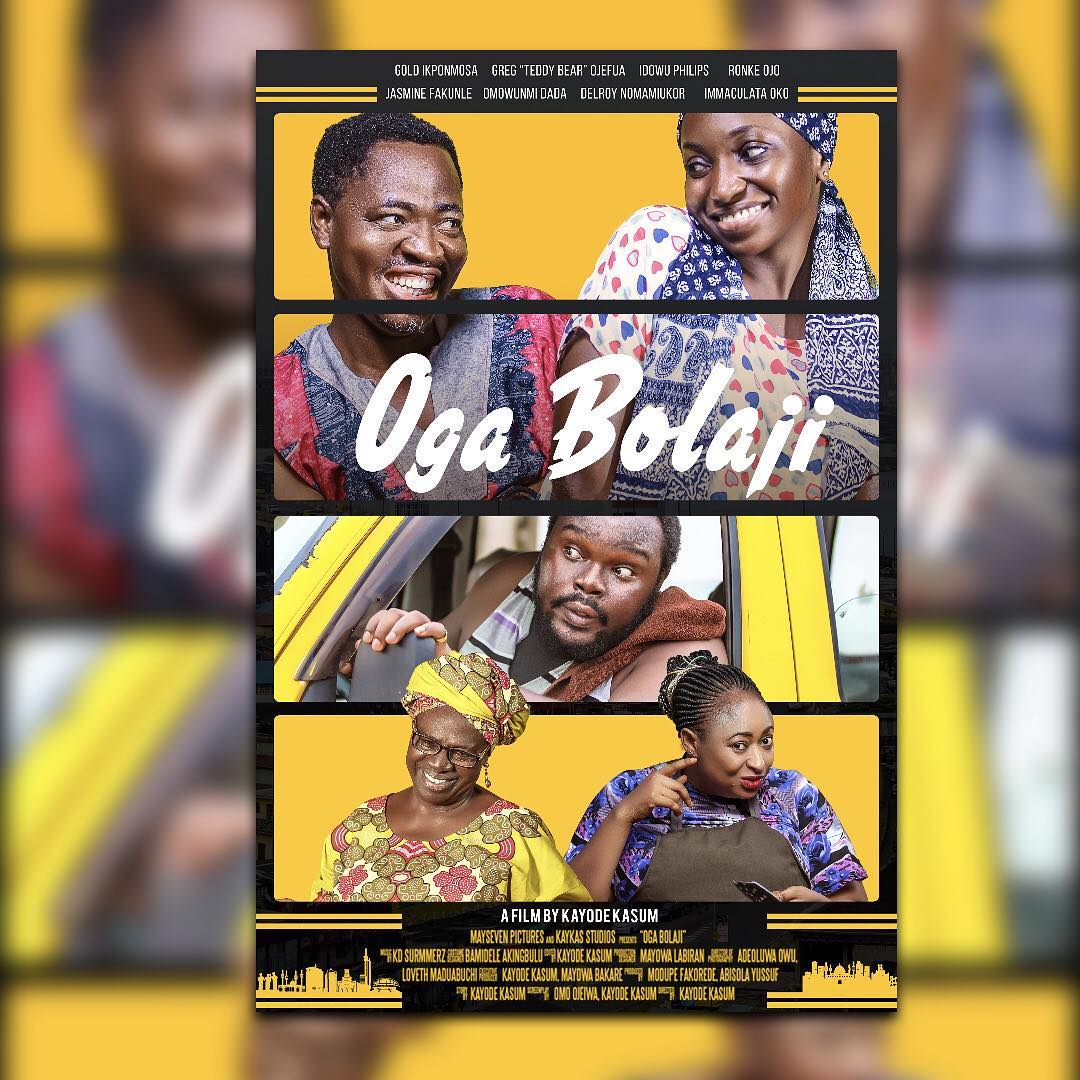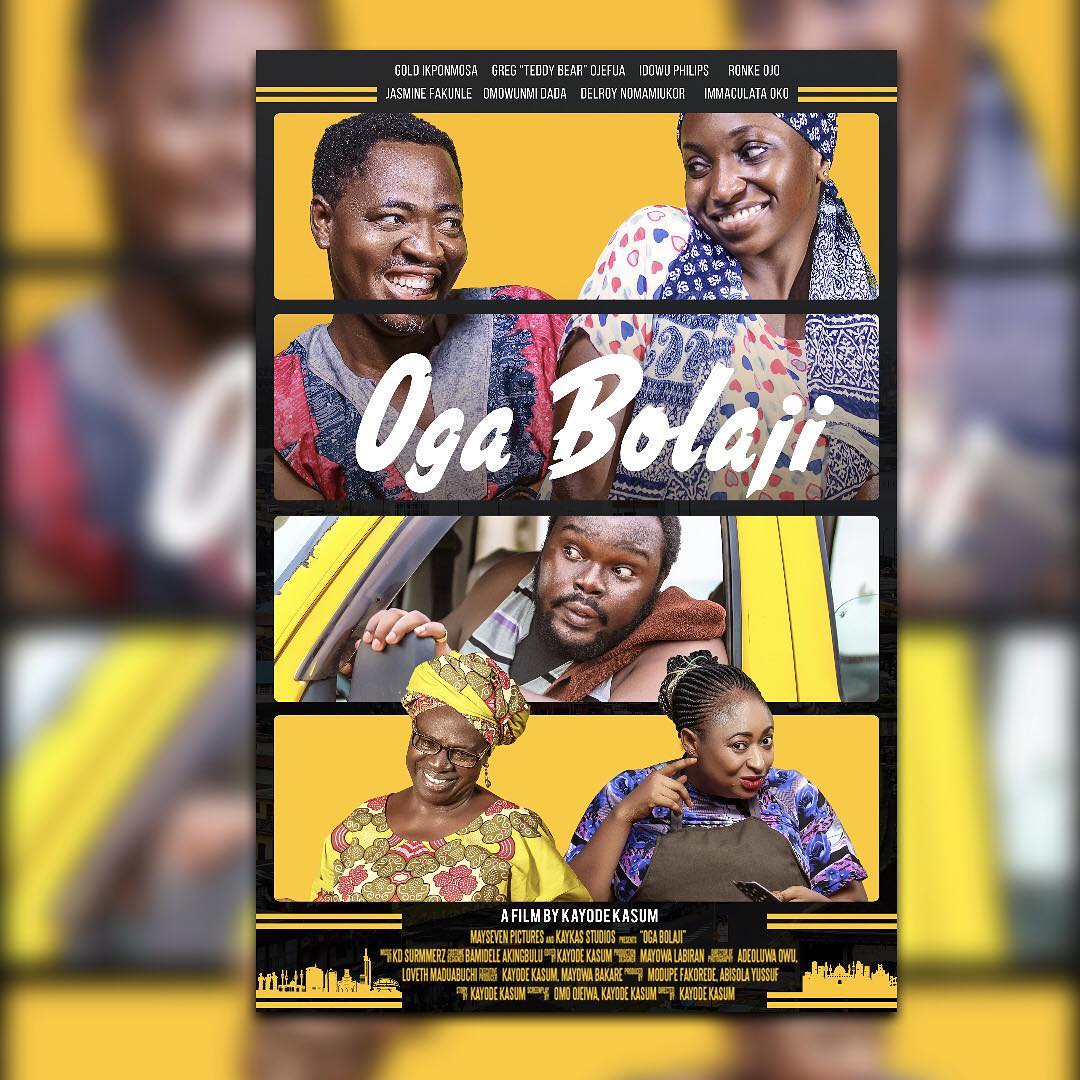 Oga Bolaji was supposed to be my last film in Nollywood.
Wait what???
Yea…I saved two years for dognapped which did not work out as I hoped and It made me go totally broke. Guess what? I saved again for another one year for Oga Bolaji but told myself huh. This is my last film for Nollywood after which I will go to Canada to study economics, live a life and get married. Do all that safe stuff as they say.
But Oga Bolaji changed all that and opened doors to opportunities. It was because of oga bolaji I met Jade Osiberu, from there I got to work on several commissioned projects.
This film also made my name is known across the world as it played in popular theaters and festivals, now if you Google my name it brings up my filmography in many countries in different languages.
What is the biggest obstacle you have faced as a filmmaker till date??
Funds , really and Nigeria. Honestly not having money to be able to execute some of your ideas sucks. But what I have learned in life is that money will come at the right time, that's if you are meant to truly do it.
Second is Nigeria; certain actors try to treat you badly because you are a newbie in the industry. That was one of my challenges starting up. Actors will come to set and after they have gotten paid they will say they are leaving for another set something they wouldn't do dare try with a big producer or big director.
They leave my set by 8 pm and say they are no more shooting again but as I grew up in the industry I saw them shooting till 4 am for other film projects. They were basically walking all over me being unprofessional which is fine because I have sorta faced a lot of life challenges and survive.
I never let that make me feel bad or bring me down. I just smile and look at problem that has been created by someone leaving the set (we can't reshoot). Now I look back at these challenges and it did make most of my films successful today.
In Nigeria and Nollywood, you are judged by who you are, how much you carry and what have you achieved?? This is the challenges I have faced when I started with zero Naira.
I don't let these challenges be a reflection of me and treat people badly rather I solve and overcome them but folks that are still trying to be undisciplined, good luck to them.
You are the Director of Sugar rush, how did it all happen??
Sugar rush, I don't know how it happened it's the grace of God *laughs Yes!. I got a call from Jade Osiberu and she was like.. I am working on a feature film and looking out for a director to collaborate with. I was like oohh okay. She was like this and this and this. Read the script and let's have a meeting. That's how it all started. Like I said, the grace of God.
Now, before this moment she had slid into my DMs to get a link to watch my film Oga Bolaji which I sent to her. I don't know why but till today, I try to ask her "why did you give me sugar rush to direct"
She doesn't tell me.
We have watched the film so far and I am very proud of what we did. I think it will be one of the greatest Nigerian film to be made. I am not saying it to be very proud but because I watched what we did and it was good. Jade is one of the most hardworking individuals I have met in my entire life not in nollywood but in the world and you can see it in her work.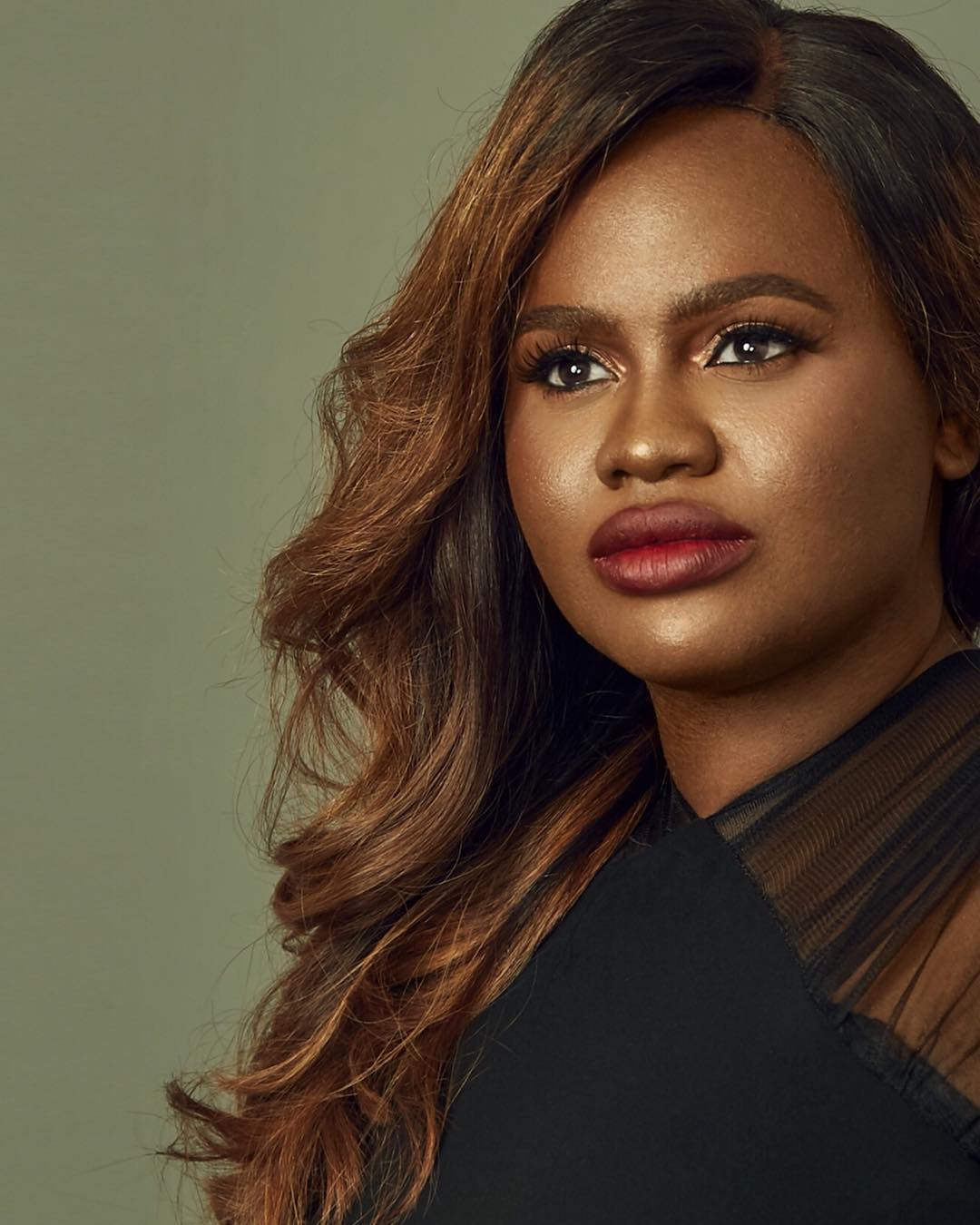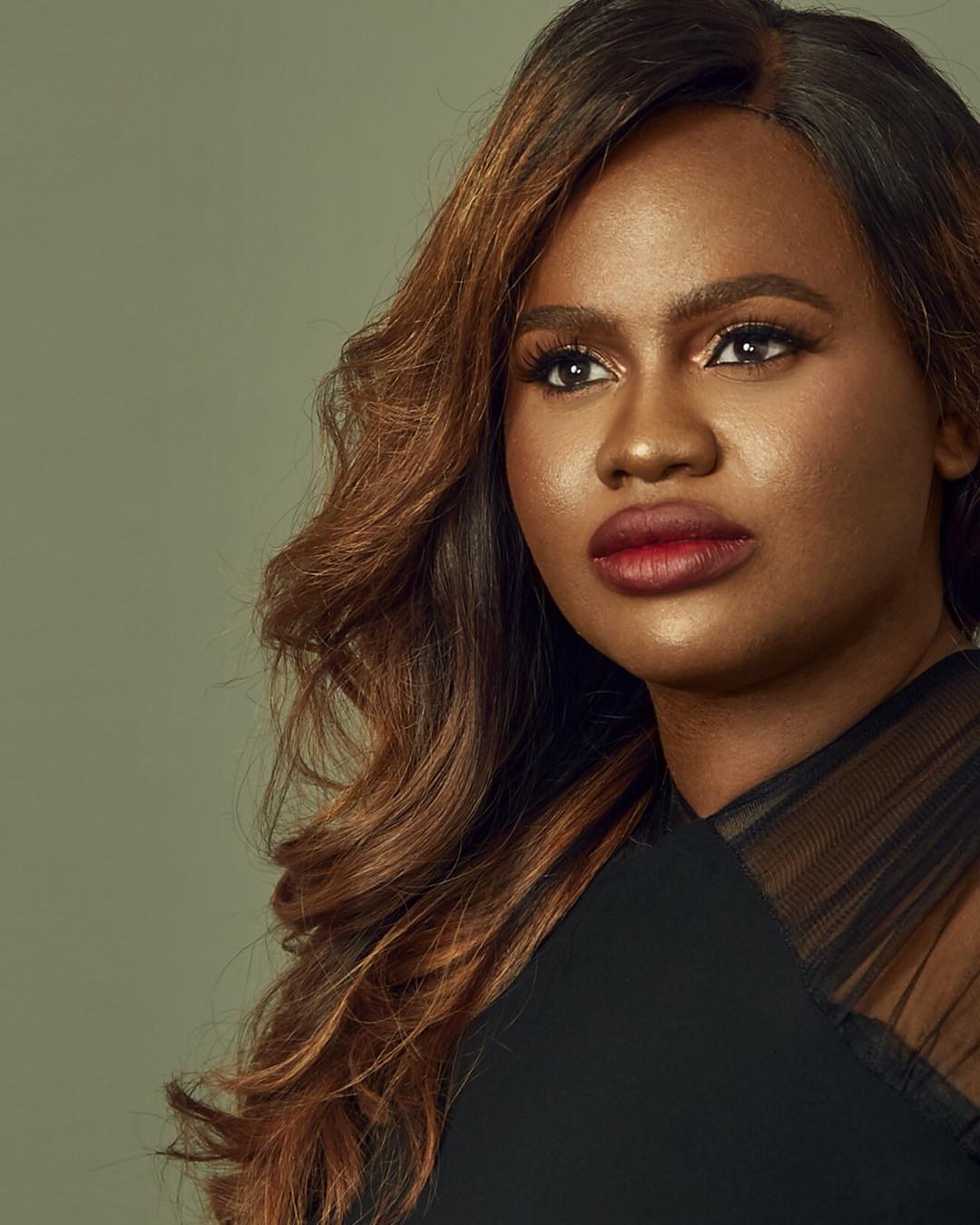 So yea that's it from the Dm's, to the call and to working on the project.
it's the Grace of God, God is Great! Thank you so much, Jade if you are reading this.
What is the one thing you have learnt from her?
Go for it! Go for it! That's Jade Osiberu. if you have an idea in your head Don't stop until you have brought to life. Don't stop until you have gotten what you want. Go for it. Find it. It is going to be tough but find it.
If it comes easy, it's not good enough. Work for it. Be very deliberate. That's what I learned from her.
Do you think nollywood is growing?
Definitely! Nollywood is changing. It's getting better. Our films are now on Netflix; different people are now watching us and are now interested in our stories. We are bringing in a fresh angle to storytelling and I am happy for the future.
I can't wait to see what we have in store for the next 10 yrs. There is a whole lot of young, wonderful talent coming into the industry and there is work, 10 years ago Nollywood was not paying people's bills but it can now.
So yes. I am so happy, man. Nollywood is the future of entertainment in Nigeria and the future of commerce & tourism. New platforms all over the world are acquiring Nollywood content and it's such a great time to be in the industry.
What other projects are you working on?
I have three exciting projects that I working on. First is my new feature film coming out sometimes next year? It's a great film, wonderful story and I have got a good cast.
Also working on a couple of commissioned series (phases and unbroken). For now, that's it.
Mention any filmmaker you would like to work with and why?
Filmmakers I really like to work with. Hmmm. Let's be honest, I don't really know if they would ever permit me but i would really like to do something with Kunle Afolayan and Quentin Tarantino.
Yes I think those two people for now. But asides that I would love to shoot a film in Italy and work with Korean and Japanese filmmakers and just learn from them.
I really like to work with different people not just names, everybody that tells a story in a unique way I want to be part of their storytelling process.
What movie do you see multiple times for inspiration?
I watch movies that influence me differently and I don't watch movies twice. Yes. I don't do that. But for movies that I would recommend (am bad at this) private house on Netflix, Shaw shank redemption.
Those are the two movies that have hit me in recent times.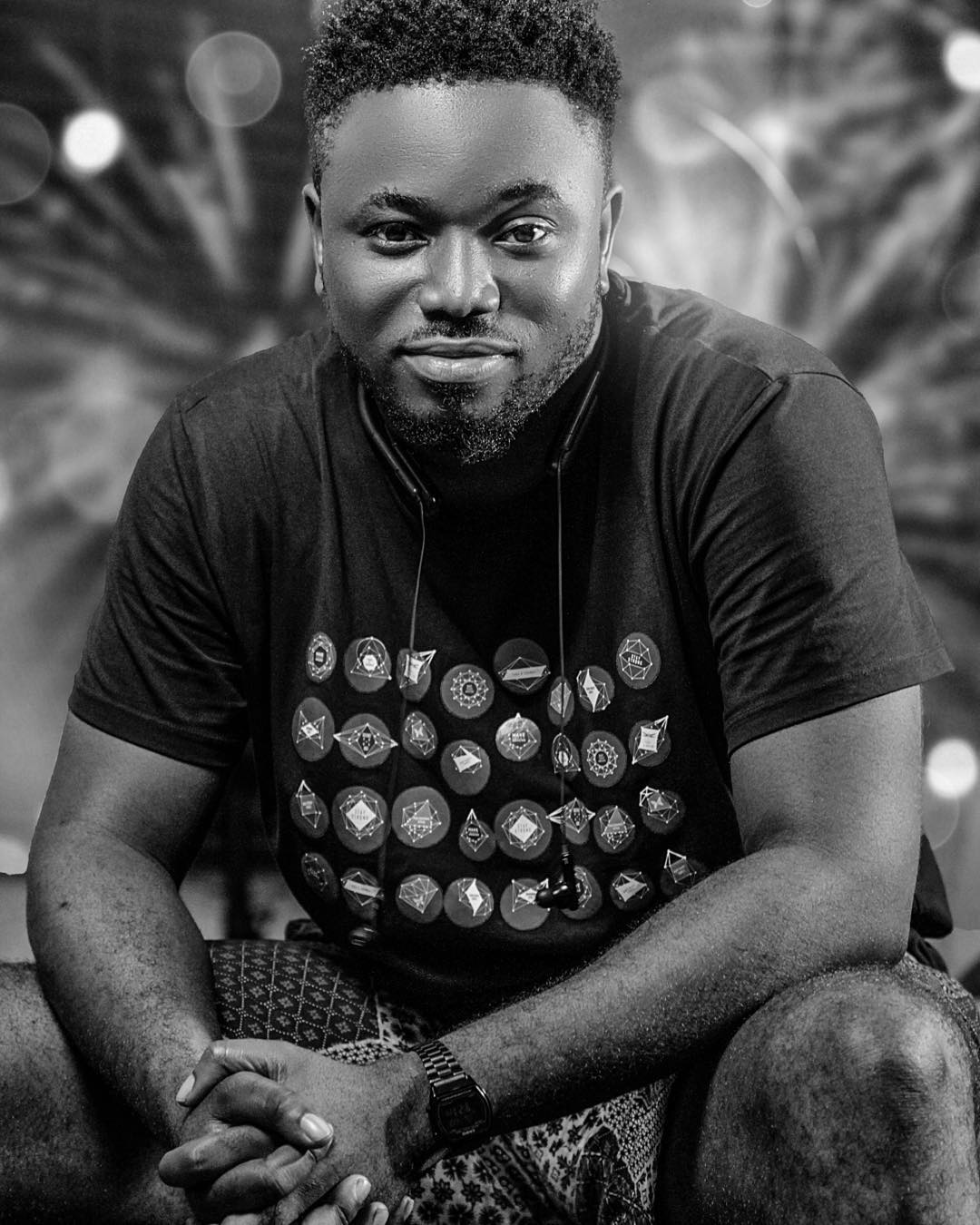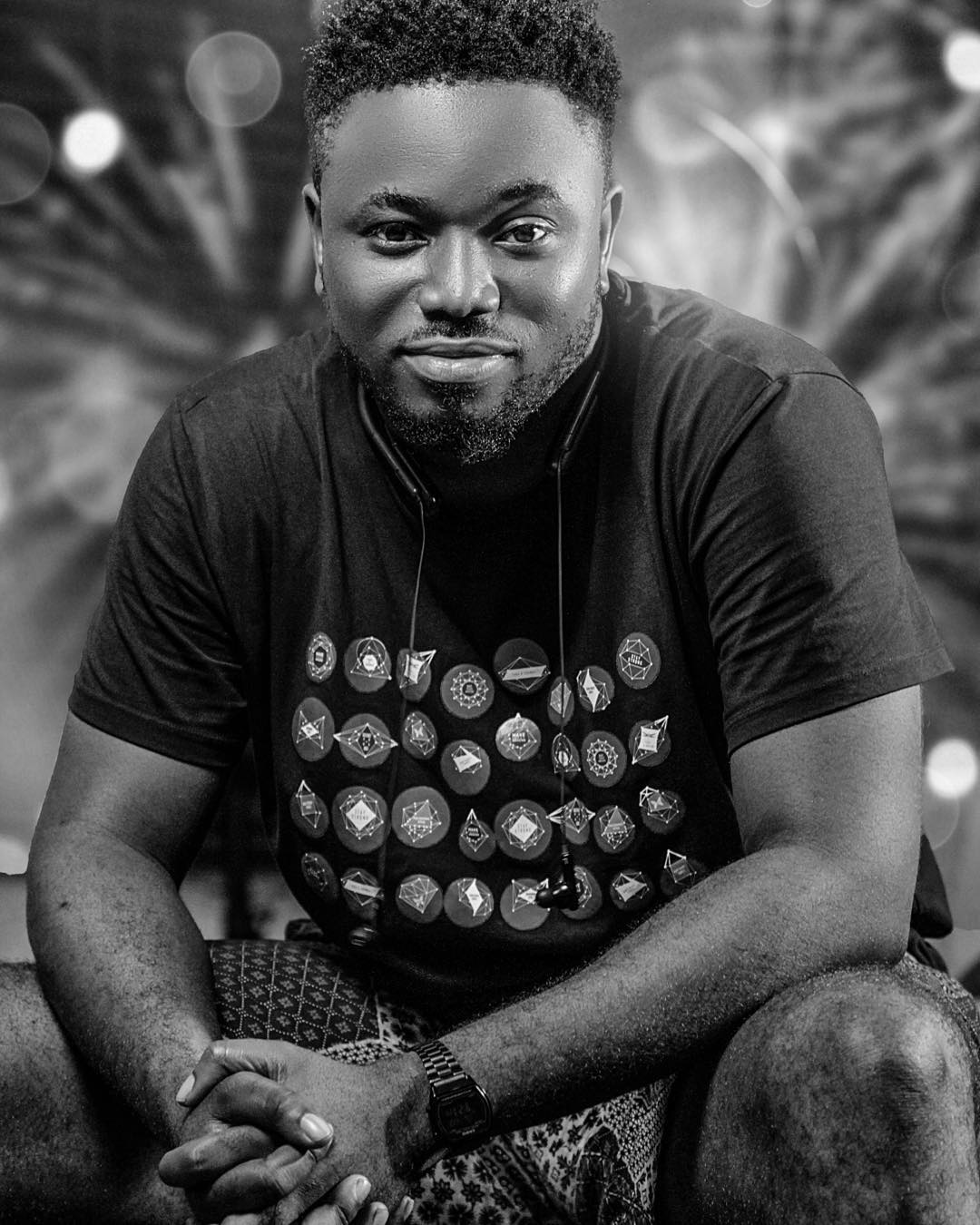 What should audiences expect from Sugar Rush?
Sugar Rush is goona be the bomb! It's wonderful and amazing. Expect a never before seen Nollywood film. It's a roller coaster of different genre of storytelling and film. When you do something so good that you can't believe you did that. yea that's how I feel.
You guys should Just wait for the trailer to see what I am talking about.
That's all I am going to say. Sugar Rush is super great.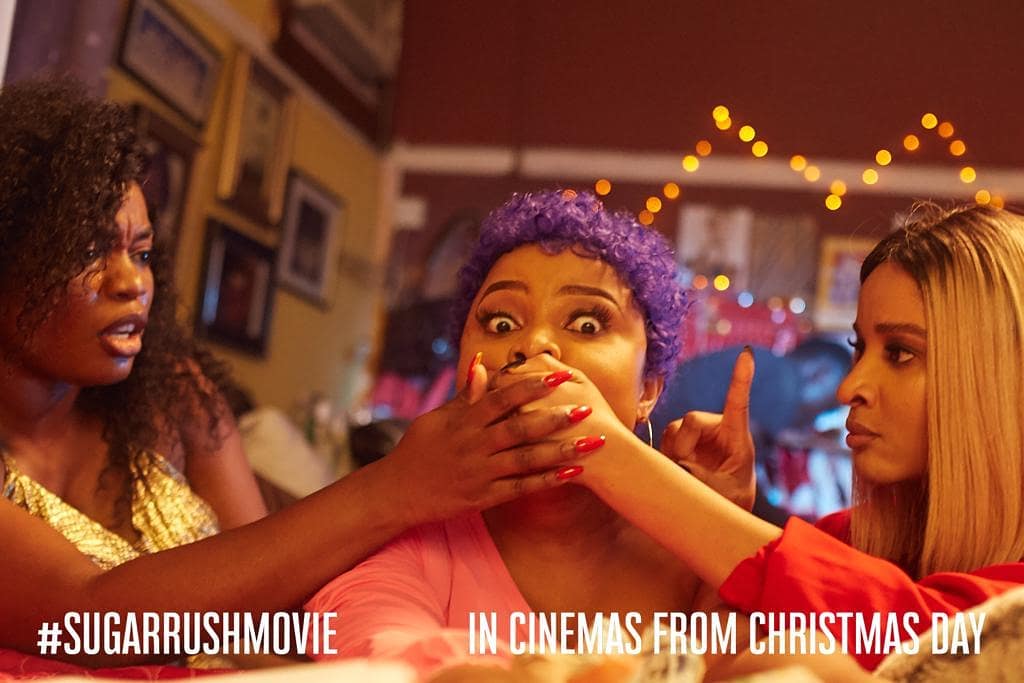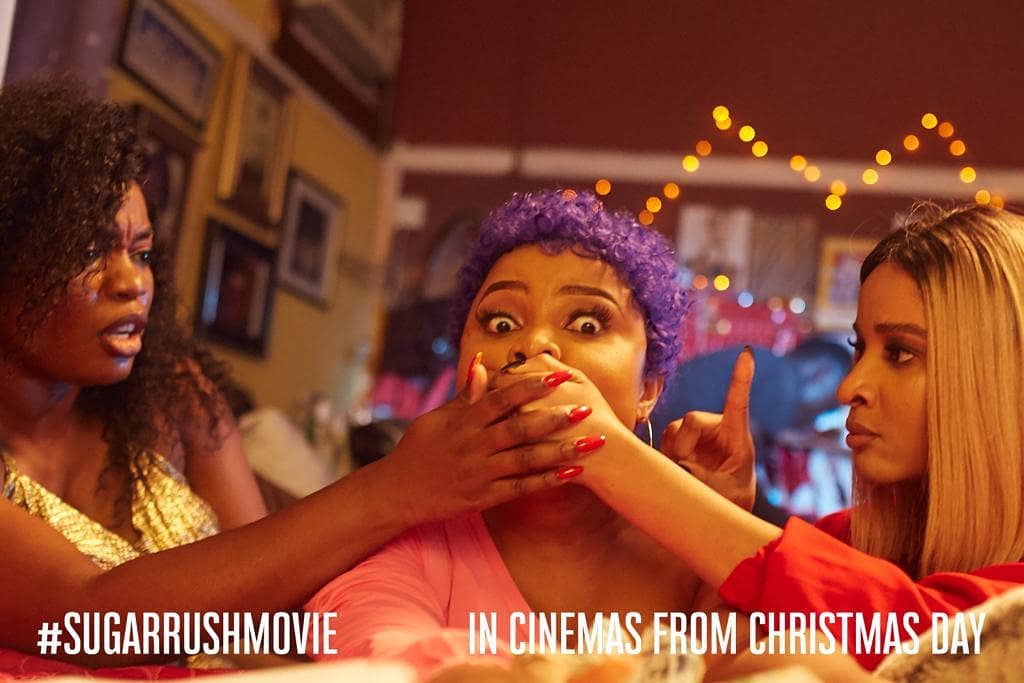 Final question what's your best food and are you single?
Yes, I am single and my best food is – anything with plantain.
Thank you for your time, Kayode.
My Pleasure. Thank you for having me.
Kayode Kasum's Directed sugar rush movie arrives cinemas on Christmas Day. Go see it!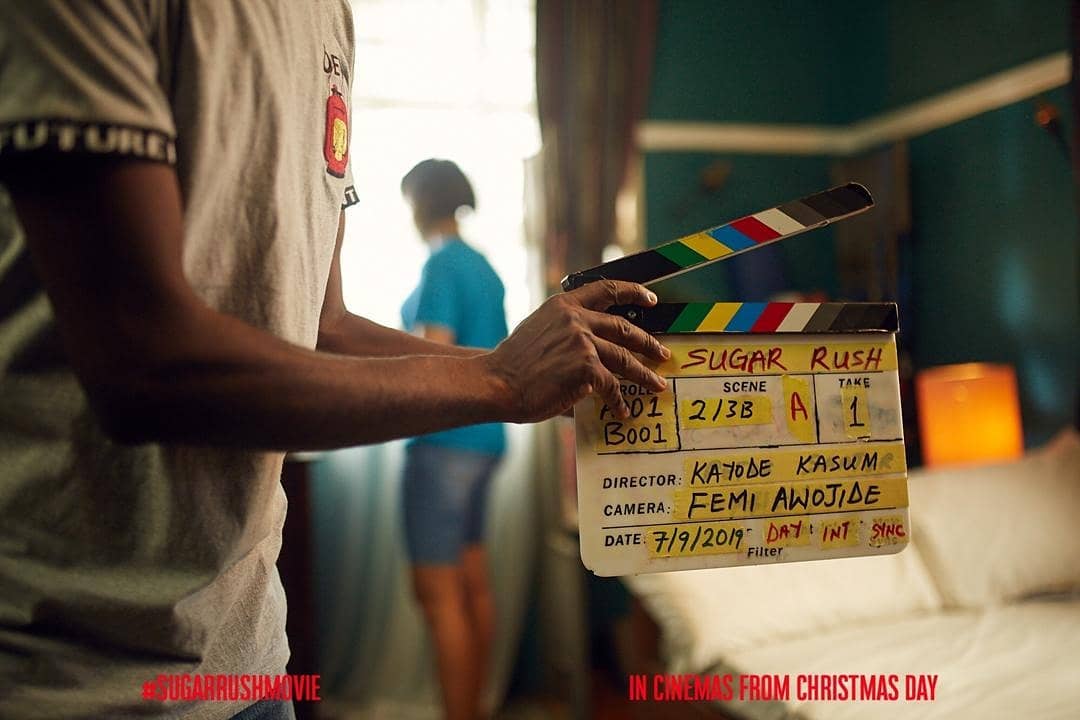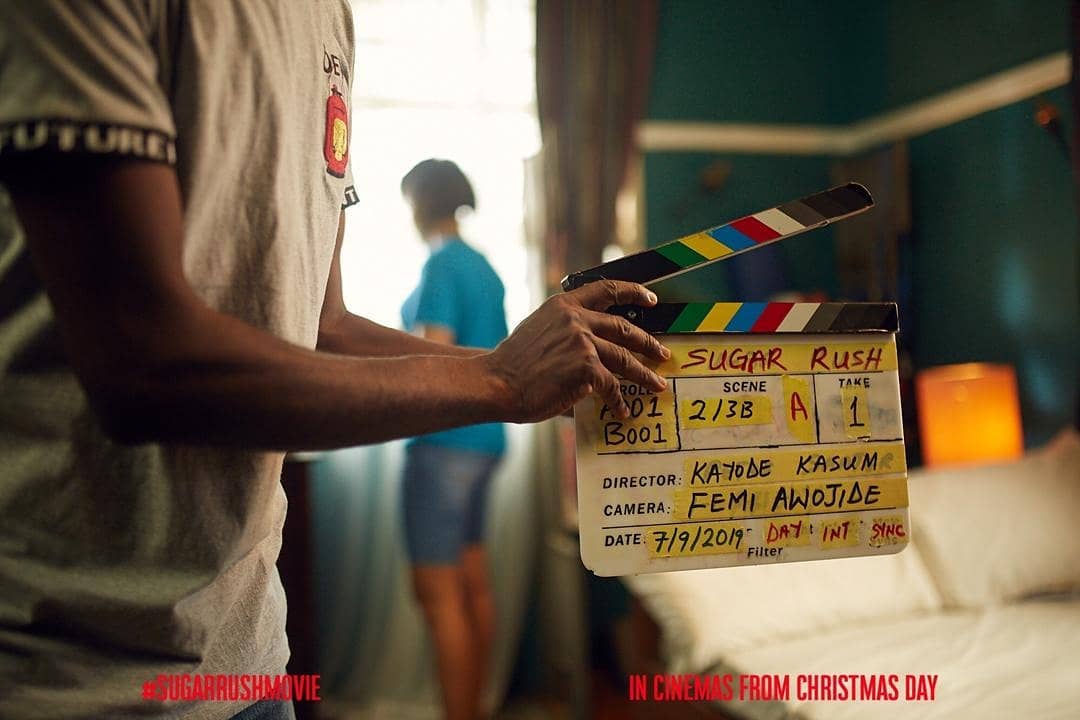 Thank you for reading this post. Do well to follow us on twitter @Shockng for the coolest film stuff you don't want to miss.