The Story⚡
A Weekend To Forget experienced a remarkable start, amassing an impressive N18 million in box office revenue.


Tell Me More
During its debut week, A Weekend To Forget by InkBlot Productions, made an impressive N18.01 million at the box office across 56 locations nationwide, securing the number two spot after Expendable 4. The title had a weekend opening of N9.74 million.
The drama thriller revolves around seven friends who reunite for a weekend getaway after years of separation. However, their reunion takes a turbulent turn as old tensions and unresolved issues resurface, culminating in a shocking discovery when one of the friends is found dead.
The film features a talented cast including Neo Akpofure, Ini-Dima Okojie, Daniel Etim-Effiong, Elozonam Ogbolu, Uche Montana, Stan Nze, and Erica Nweledim. It was written by Joy Isi Bewaji and directed by Damola Ademola.


Tangent
In the world of InkBlot Productions, three exceptional films have set the box office on fire during their respective opening weeks. Leading the charge is Big Love, which dazzled audiences by amassing a staggering N25 million in its debut week. This romantic masterpiece graced 60 locations across Nigeria, starting its cinematic journey on the 28th of June, 2023.
Also, Love in the Pandemic, launched on the 10th of February 2023 made its mark when it graced cinemas. Despite fierce competition, it managed to achieve a commendable N7 million in its opening week across 59 cinemas nationwide.
These remarkable achievements underscore InkBlot Productions' commitment to delivering compelling storytelling that resonates with audiences and sets the stage for unforgettable cinematic experiences.
Top 5
5. Blue Beetle
In the realm of DC Productions, Blue Beetle weaves an enthralling tale around Jaime Reyes, a teenager handpicked by an enigmatic alien relic to serve as its symbiotic host. This transformative encounter bestows upon him a formidable suit of armor, endowed with extraordinary and unpredictable powers, reshaping his destiny as he assumes the heroic mantle of Blue Beetle.
Astonishingly, in its sixth week of release, Blue Beetle retained a prominent position in the box office rankings, amassing N6.43 million that week. It has grossed an impressive N132.66 million in six weeks. This remarkable success underscores the film's enduring appeal and its ability to captivate audiences with the thrilling evolution of a young superhero.
4. The Nun 2
The Nun 2 is a 2023 American gothic supernatural horror film that serves as the sequel to the 2018 hit, The Nun. As the eighth installment in The Conjuring Universe franchise, it has continued to captivate audiences with its spine-chilling storyline. Impressively, during its third week in Nigerian cinemas, The Nun 2 amassed N7.90 million, pushing its flash cume to N39 million.
3. The Equalizer 3
American vigilante action film, The Equalizer 3, directed by Antoine Fuqua, marks the culmination of The Equalizer trilogy. Loosely based on the television series of the same name, this movie has found a significant and loyal audience in the Nigerian market. Impressively, during the fourth week of its release, it achieved outstanding box office earnings of N115 million, having made N14.85 million that week.
2. A Weekend To Forget
Making its debut on the 22nd of September, A Weekend To Forget captivated audiences with its compelling narrative. It revolves around seven friends who come together for a weekend retreat after years apart. However, their reunion takes an unexpected and tumultuous turn as long-buried tensions and unresolved conflicts resurface, leading to a shocking discovery when one of the friends is found dead. This gripping storyline, coupled with powerful performances, propelled the movie to an N18.01 million 7-day opening.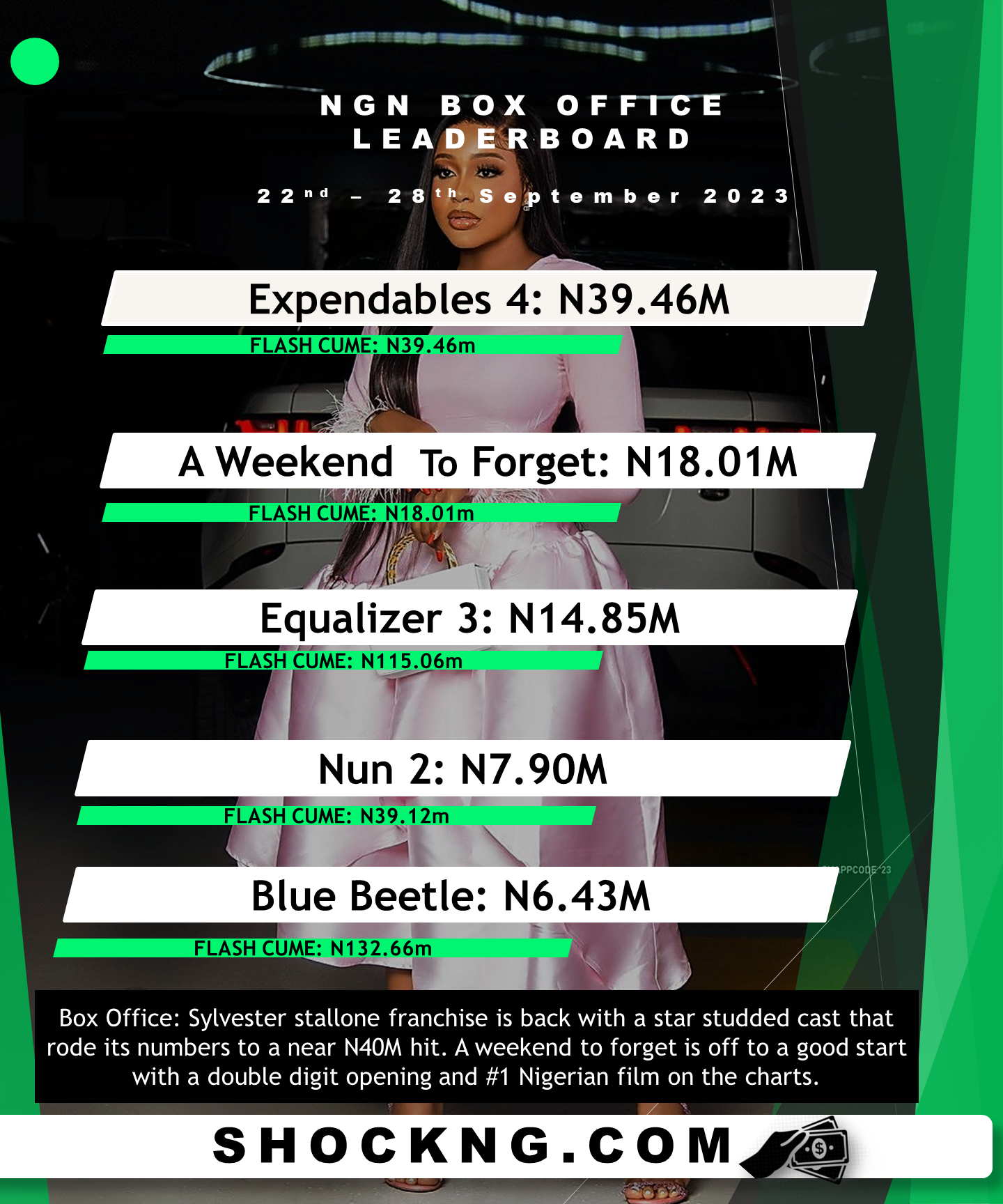 1. The Expendables
Released on September 22, 2023, this action-packed film brings together a formidable team known as the Expendables. Armed with an arsenal of weaponry, they stand as the world's ultimate line of defense, summoned when all other solutions fade into the shadows. In a spectacular display of its widespread appeal, the movie achieved an astounding N39.46 million in box office earnings during its exhilarating opening week, cementing its status as a blockbuster hit.
What Happens Next?

The stellar performance during its opening week indicates that A Weekend to Forget is off to a promising start and may maintain its momentum in the weeks ahead. However, the ever-unpredictable nature of the box office, compounded by formidable competition from other eagerly-awaited films, could potentially influence its future rankings. Nonetheless, the presence of a top-notch cast sets it in good stead, positioning the film favorably for a possible spot among the Top 5 at the box office.

In Summary
While it's still early days, there's eager anticipation to witness how A Weekend to Forget will fare in the cinemas in the weeks to come.