The Story ⚡
The prospect of a franchise is always attractive to film executives and Inkblot being the most expeditious Nollywood production company for the past 4 years is now fully headed in that route.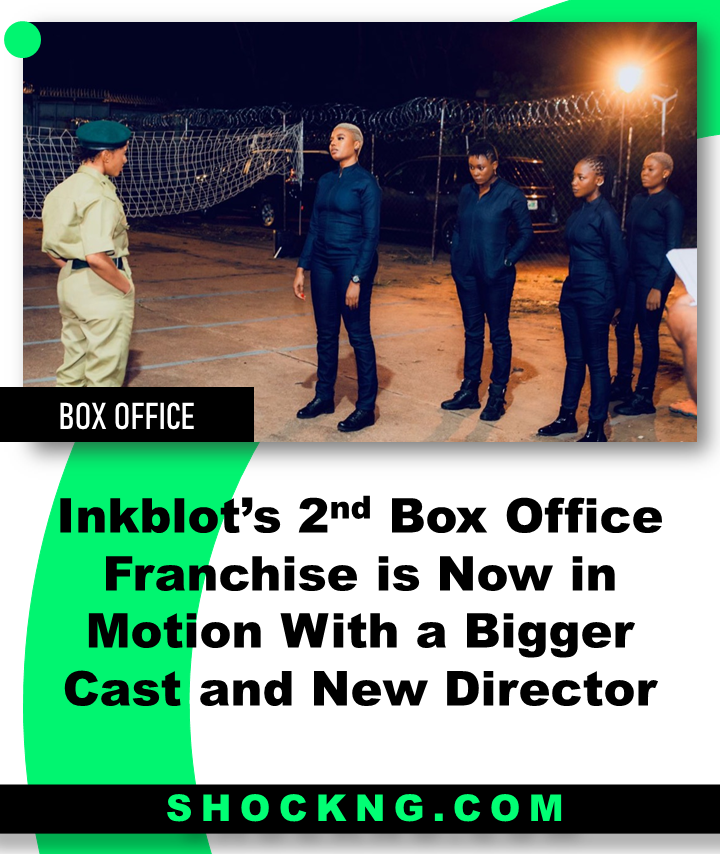 Tell Me More
For the past 5 years, the big screen market gets to experience two box office projects from Inkblot. However, in 2022, that changes. Why?
With a prime video output deal struck in Q4 2021, inkblot has scaled up its production pipeline from 2/3 to 6/7 products per annum.
How does Inkblot look at franchise building?
Naz: The way we think about it is that you have to get the first movie done. In "New Money" 1, people loved it and we figured we should make a sequel, especially to show more of Falz's character.
For "Set-Up", it wasn't built as a franchise but as an independent film but we felt the story was open-ended. It's only good that we are moving to a franchise than an original film. The advantage of a franchise is the built-in audience, an automatic interest in the next one.
I think IP and franchise are the building block of an industry and that's a new phase for us.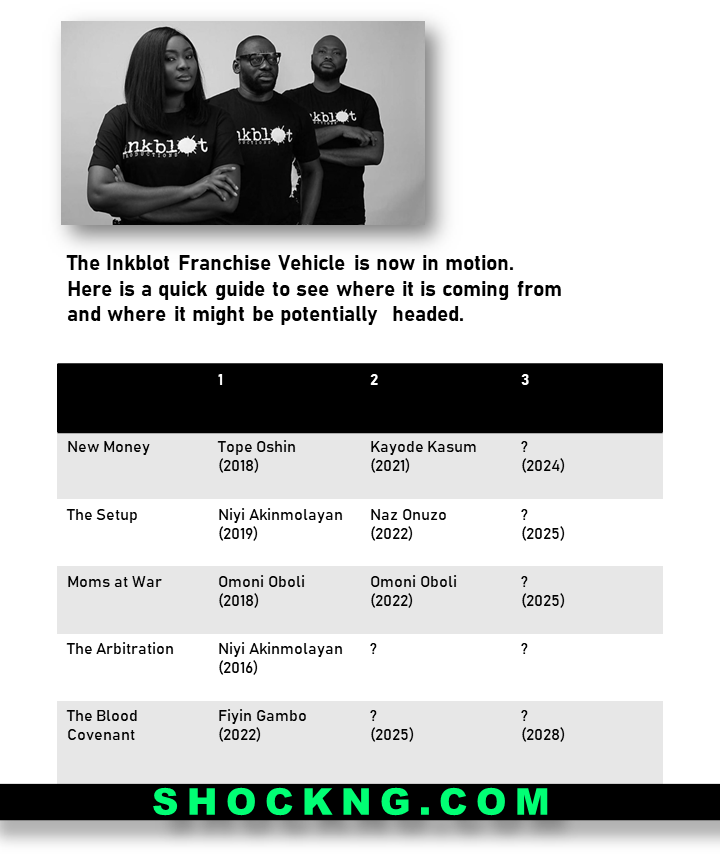 The Set Up 2 Synopsis
Adesua Etomi-Wellington and Kehinde Bankole return as Chike and Grace in the sequel to the 2019 hit.
Four years later Chike (Adesua Etomi Wellington) has barely come to terms with her life as an Agent for an international organization, when she is forced to risk everything she holds dear once again to go after a criminal, Usi (Nancy Isime) Who kidnaps Grace's (Kehinde Bankole) daughter in order to blackmail Chike into doing her bidding. Chike and Grace must reunite and build a new team to take down Usi and save Grace's daughter. But it's the Set Up and as you would expect things aren't always what they seem.
The "Set Up" 2 is written and directed by Chinaza Onuzo and stars Adesua Etomi-Wellington, Jim Iyke, Kehinde Bankole, Tina Mba, Uzor Arukwe, Kate Henshaw, Nancy Isime, Blossom Chukwujekwu, Stan Nze, Lota Chukwu, Chris Attoh, Tope Olowoniyan, and Lillian Afegbai
The "Set Up" 2 is produced by Inkblot Productions, Film One Entertainment and Anakle Studios and is set to hit cinemas on August 12 2022.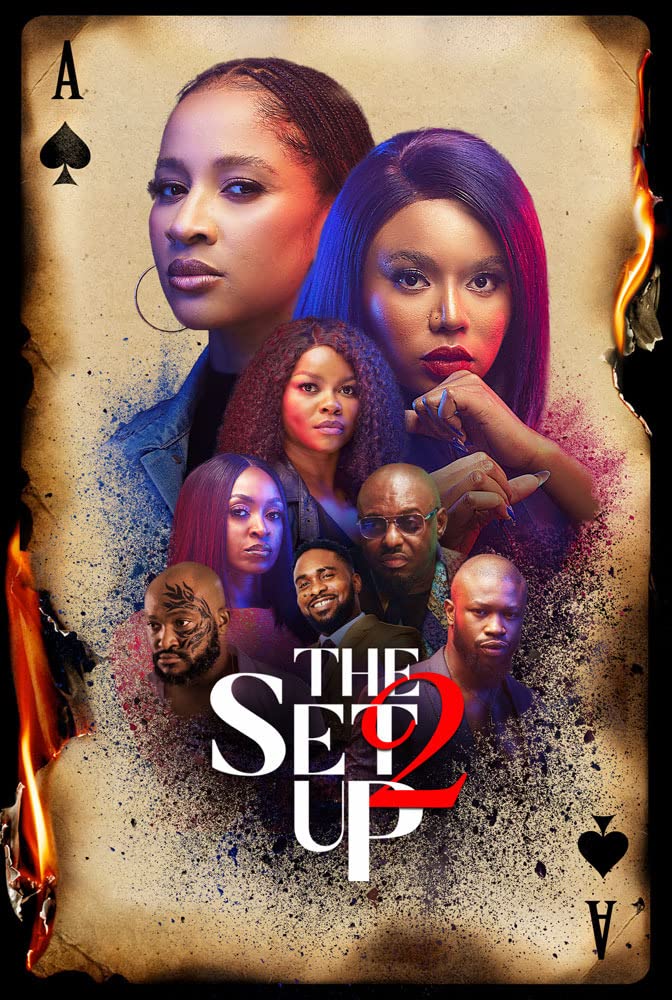 Box Office Outlook
Inkblot's signed output deal with Amazon Prime Video impacts its production pipeline and now guarantees a streaming home for all of its theatrical titles.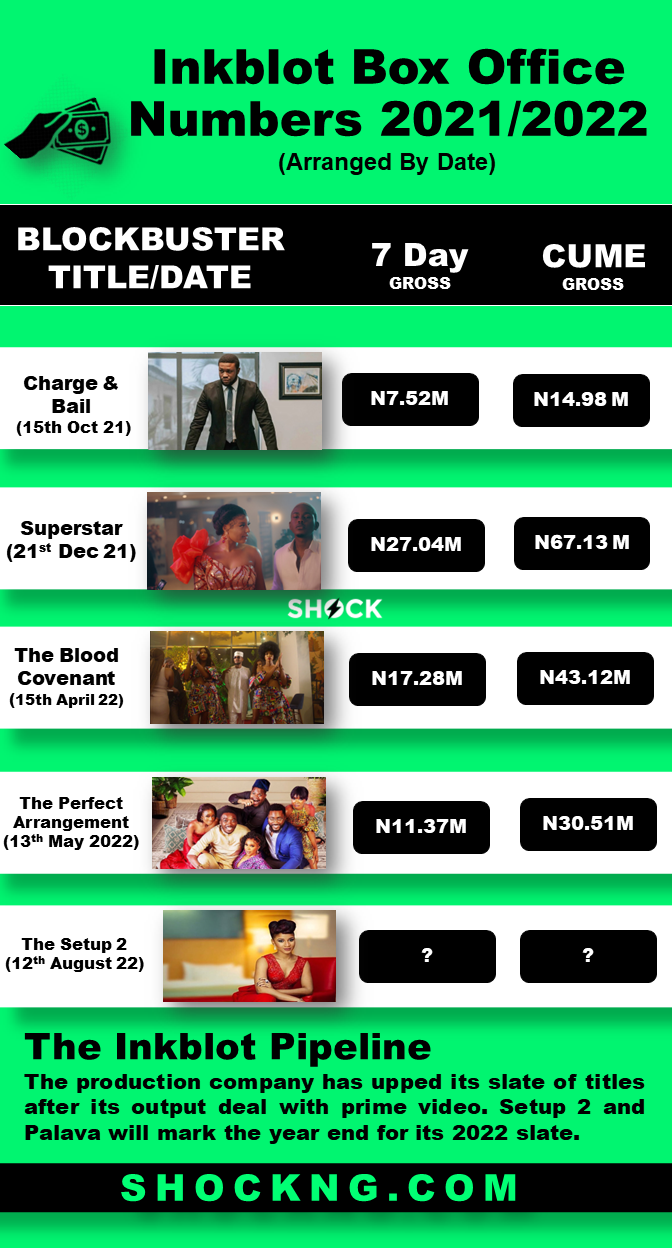 The titles released so far are Charge and Bail directed by Adia Uyoyou and released on the 15th of October 2021; Superstar directed by Akhigbe Ilozobhie and released on the 29th of December 2021; The Blood Covenant directed by Fiyin Gambo; The Perfect Arrangement directed by Chinaza Onuzo.
Following their theatrical runs, Charge and Bail grossed N14.98 million, Superstar grossed N67.13 million, The Blood Covenant made N43.12 million, and The Perfect Arrangement made a ticket sale of N30.51 million.
Superstar grossed the highest out of the titles, and this might be as a result of the December/January influx it enjoyed. The same is the case for The Blood Covenant which ranks second because it also enjoyed the Easter influx.
As part of its deal with Amazon Prime Video, there are other yet-to-release Inkblot titles that are expected to head to the streaming platform after their theatrical runs. These titles include The Set Up 2 and Palaver.
The Set Up 2 is a sequel to the 2019 crime thriller, The Set Up, which tells the story of two young women who take to scamming as a means of survival. The film starred Kehinde Bankole, Adesua Etomi, Jim Iyke, and Tina Mba and it was directed by Niyi Akinmolayan. The Set Up 2 will have Nancy Isime, Blossom Chukwujekwu, Tope Olowoniyan, Lota Chukwu, and Stan Nze joining the original cast.
The title has been confirmed for release on the 12th of August 2022. On the other hand, Palava is currently being shot with a script written by Anne icha and Naz Onuzo – an unconfirmed debut date is December 25th 2022.
https://www.instagram.com/p/ChC5F-rLQcq/
In Summary
In 2019, The "Set Up" rounded off its theatrical run with N53.35M.
3 years later with a brand new sequel, bigger cast and a new director how much can it push in box office numbers? The market decides from August 12th and SHOCK will be observing.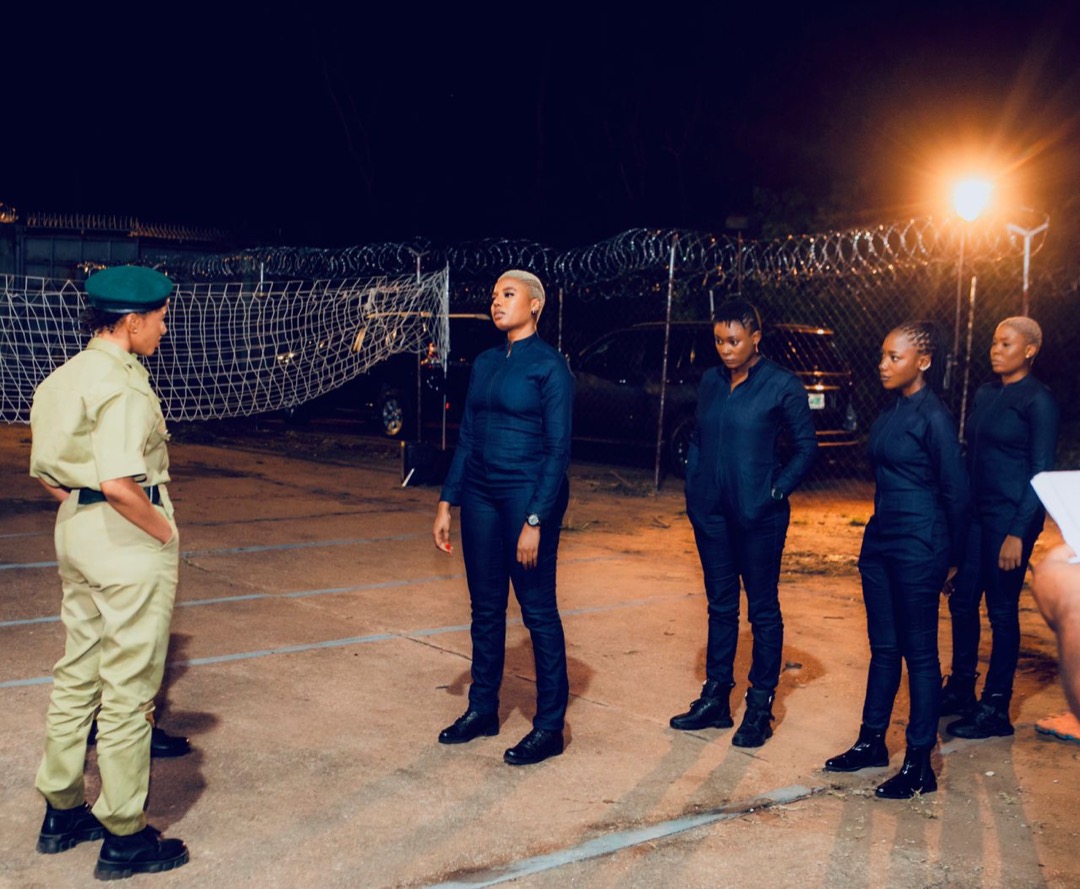 This is a SHOCK Exclusive. Thank you for reading
Shockng.com Covers the Business of Film/TV and the Biggest Creators in Sub-Saharan Africa.
Let's be Friends on Instagram @shockng