The Story ⚡
Comic Con Lagos, an event for geeks and creatives takes place on the mainland – this Saturday, Sept 18th 2021
Tell Me More
Every year, geeks from and around Lagos, the creative capital of Nigeria gather to attend this conference.
Since its inception from 2012, the conference has been a period for animators, comic artist, fiction writers and even filmmakers to gather, share their new work, network with peers and talk about the future of the creative economy.
2020 was an exception. Corona virus pandemic ravaged the world and limited physical interactions.
However, this cycle of the event has been confirmed take place with Covid 19 protocols duly in place
How Much to Attend?
This event is free of charge. but registration is mandatory for attendees – Register Here
What's the Location?
The 9th Edition of Lagos Comic Con will hold on the 18th September at NECA House, Alausa, Ikeja, Lagos, Nigeria.
What to do?
So there is plenty of stuff to do when you plan to attend.
Exclusive Animation projects will be screened for the first time to audiences for free.
There are 9 panel sessions on topics ranging from intellectual property, status of the comic industry in a pandemic economy and even a session on how African stories has risen in terms of international value.
Networking sessions are always going as the event kicks off from 10am through 6pm.
Exhibitors of comics and animation studios will be present. You can buy new works of Nigerian comic artist and see their new sketches.
And of course, very important – cosplay!
what's comic con without seeing your favorite super heroes walk by and you say hello.
Last year, Thor, Sango, Joker, Harley Quinn and even the famous robber of Money Heist.
This year's edition will be super fun and we hope to the following cosplay ideas
Eniola Salami
Loki
Marla Grayson
The Akatsuki Members
Mother
Neo
That's it!
Be sure to say hi if you seen us walking by (we will be on shock shirts)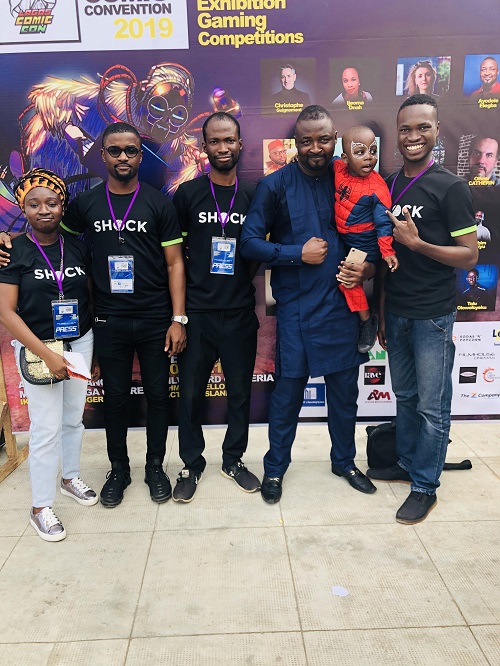 Thank you for reading
Shockng.com Covers the Business of Film and the Biggest movies that screen in Sub Saharan Africa.
Let's be Friends on Twitter @Shock NG