The Story ⚡
Brotherhood becomes Greoh Studios' second N200 million grosser after Sugar Rush.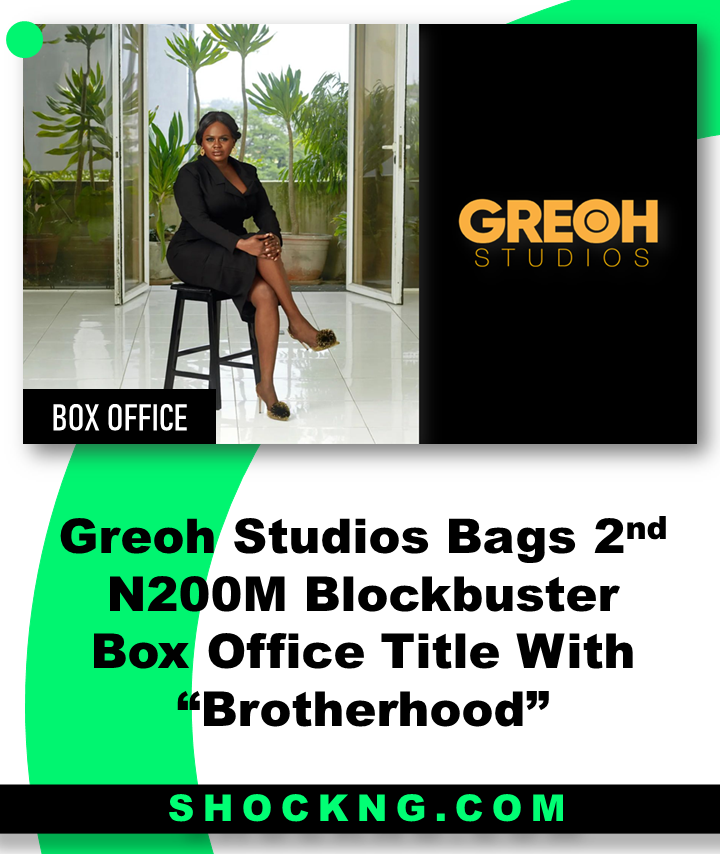 Tell Me More
Since its inception in 2017, Greoh Studios, founded by Jadesola Osiberu, has produced four titles for the box office. These titles are Isoken, Sugar Rush, Ayinla, and Brotherhood.
Isoken (2017): Isoken is a romantic comedy film written and directed by Jadesola Osiberu. The film was Jade's directorial debut. She had left her job as a banker to produce the movie which will later become the third highest-grossing film in 2017 and the 24th highest-grossing film of all time in Nigeria with N93.63 million.
The film follows the story of Isoken, a successful, beautiful lady in her 30s who's surrounded by a family that will not rest on her matter until she gets married. It had Dakore Akande, Joseph Benjamin, Marc Rhys, Funke Akindele, Tina Mba, Patrick Doyle, and others in its cast list.
Distributor: Silverbird Distribution.
Sugar Rush (2019): The film is a crime action comedy that follows the story of three sisters who discover $800,000 and are being hunted by the financial crimes commission and the supposed owners of the money. They have to team up with unlikely allies to save their heads and money.
The flick was written by Jadesola Osiberu and Bunmi Ajakaiye and directed by Kayode Kasum. It starred Bimbo Ademoye, Adesua Etomi, Bisola Aiyeola, Idowu Philips, Omoni Oboli, Bankole Wellington, and others.
The title grossed N287.05 million to become to 6th highest-grossing film in Nigeria. It was distributed by FilmOne Entertainment.
Ayinla (2021): Ayinla is an indigenous musical that explores the life and time of the late Apala music icon, Ayinla Yusuf, popularly known as Ayinla Omowura, who was stabbed to death during a bar fight with his manager, Bayewu, on the 6th of May, 1980 in Abeokuta.
Ayinla was directed by Tunde Kelani and produced by Jadesola Osiberu. It starred Lateef Adedimeji, Bimbo Ademoye, Omowumi Dada, Ade Laoye, Kunle Afolayan, and Bimbo Manuel amongst others.
It grossed N91.47 million.
Distributor: FilmOne Entertainment
Brotherhood (2022): This is Greoh Studios' most recent title at the box office. Released on the 23rd of September, the title has gone ahead to rake in more than N200 million.
Brotherhood tells the story of twin brothers who find themselves in opposite directions of the law after the tragedic death of their parents when they were young. One becomes a police officer while the second becomes an armed robber.
The former has to hunt down the latter and bring him to justice.
It featured Folarin Falana, Tobi Bakre, Sam Dede, Boma Akpore, Toni Tones, and others. So far, the movie has made N250 million and counting.
Distributor: Genesis.
Making Commercial Hits
Greoh Studios has a MOAT—a comparative advantage that helps any company to outshine its competitors in the market.
Under the leadership of Jade Osiberu, the studio has been able to conceptualize and execute on a level that is quite rare to observe in the industry.
The 5 below stand out.
Product Development: The studio has a

smart and organic structure to infuse popular taste into any character or world that is layered into the film. This makes the product widely appealing and hits well with the intended market audience. The use of pop culture at a very high level is one of the key highlights of any Greoh title.
2. The Recruiter Drug: Crafting a signature 3rd act that simulates like a drug to consumers who leave the cinema hall on a high has been observed in both Sugar Rush and Brotherhood.
Moviegoers are feed this drug from the screen and are left in ecstasy state. This effortlessly converts moviegoers to digital marketers of the said title, who help 10x word of mouth.
3. The Buzz: Creating a Pre-market launch buzz is hard but sustaining it is even harder. Pre-launch marketing is a marketing strategy that aims to raise product awareness before the official release and make the target audience anticipate the launch.
Most studios either start too early (the campaign then fizzles out) or start too late (little market awareness is achieved) or start weak (BTS pictures, Teasers are not engaging enough). Greoh has avoided all 3 of this.
4. Brands Sponsorship: Negotiating product placements in return for building a marketing war chest. This is a hack that helps immensely in pushing a film. Marketing is not cheap and this is where an exchange come in handy
Funds for product placement that goes between a range of N3.5 – N10 Million per brand for the marketing war chest
5. Casting for talent and Marketing purposes: Going to the box office, a product needs everything that will make it a success. Casting is on top of this list and things can go wrong when making this decision.
Talent over numbers? or Number over Talent? Finding the balance is tricky but it can be found.
In the course of her career as a producer, Jade and her team have been able to use the above anytime a product is being shipped to the market and effectively execute to ensure good gains at the big screens.
This second N200 Million hit makes it evident that the studio's insights into the consumer are well-defined and have been well-executed from time to time.
Comparing Sugar Rush with Brotherhood
Out of all the four titles that have been released by Greoh Studios, only Sugar Rush and Brotherhood have crossed the N200 million bar.
Let's take a look at how the two movies performed in their first five weeks.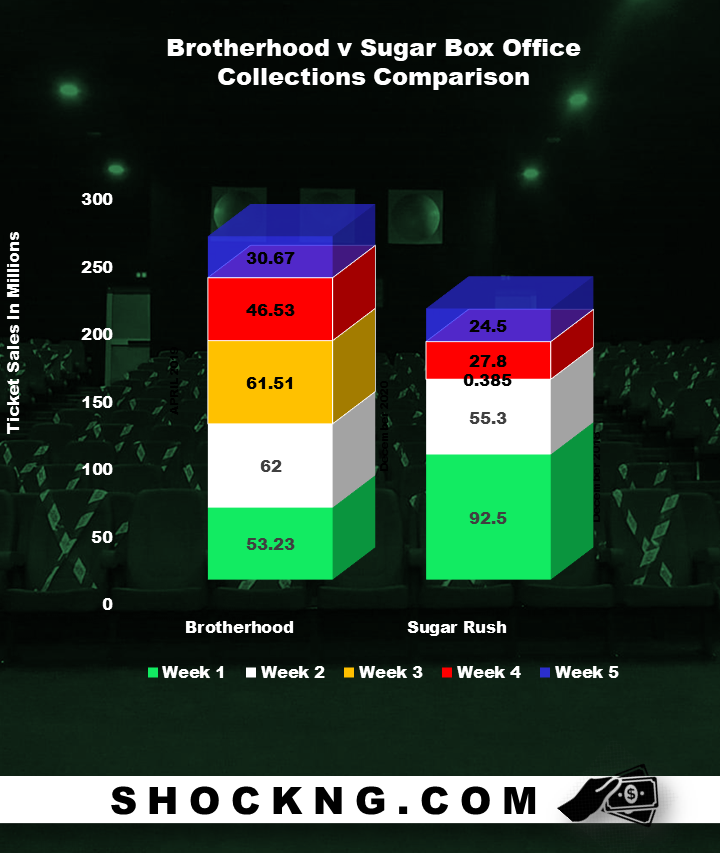 Sugar Rush
Following its release on the 25th of December, 2019, the action comedy opened with N58 million. The number increased to N110 million in the second week and N165.98 million in the third week.
The movie later had a pause following its temporary suspension by the National Film and Video Censors Board. The board cited that the license given to the film was not permanent and that the temporary one had expired. Fortunately for the producer, the suspension on the movie was lifted and it went back to show on the big screen.
In its fourth week at the box office, it made N194 million and would later make a ticket sale of N211.17 in the fifth week.
Brotherhood
Debuted on the 23rd of September, the flick had a weekly opening of N53.23 million, having shown in 61 locations nationwide. It went on to make a flash cume of N118.50 million in the second week.
In the third week, its numbers had increased to N177.67 million. It did not cross the N200 million bar until its fourth week when it made a cume total of N225.27 million.
Since its appearance at the box office, it has always ranked second after The Woman King, which will later drop to the third position in the fifth week for Black Adam to take the first spot.
From this comparison, it can be easily projected that Brotherhood will perform much better than Sugar Rush at the end of its theatrical run to become the highest-grossing film for Greoh Studios.
Tangent
Year after year, the box office remains a tough market where producers and distributors throw in their caps.
Over the years in the Nigerian box office, only eleven titles are members of the N200 million club with Brotherhood as the most recent member of the club.
Here are the N200 million club members and their box office numbers.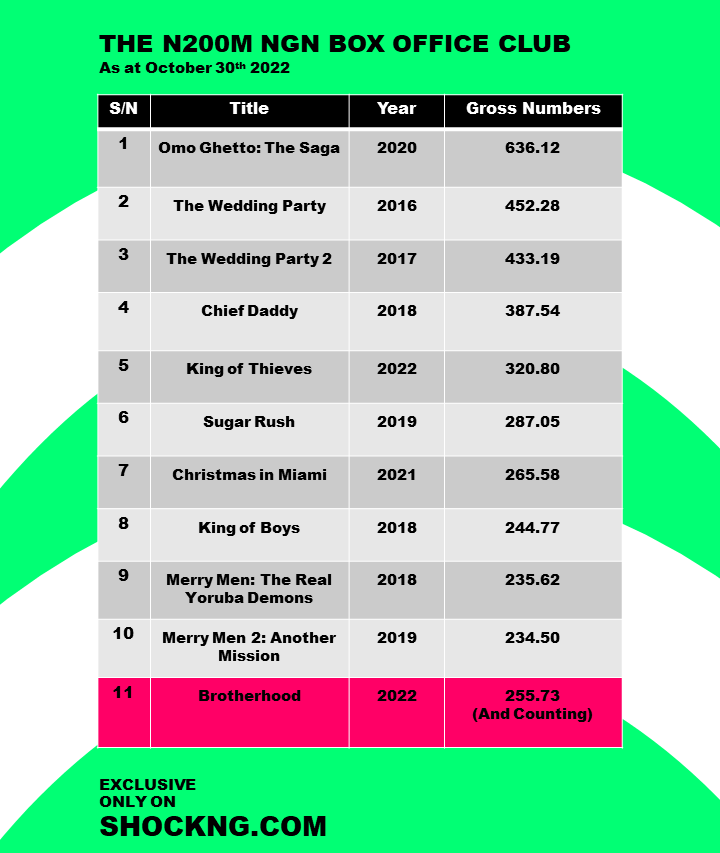 | | | | | |
| --- | --- | --- | --- | --- |
| Rank | Title | Year of Release | Domestic Gross (N) | Director(s) |
| 1. | Omo Ghetto: The Saga | 2020 | 636.12 | Funke Akindele |
| 2. | The Wedding Party | 2016 | 452.28 | Kemi Adetiba |
| 3. | The Wedding Party 2 | 2017 | 433.19 | Niyi Akinmolayan |
| 4. | Chief Daddy | 2018 | 387.54 | Niyi Akinmolayan |
| 5. | King of Thieves | 2022 | 320.80 | Tope Adebayo, Adebayo Tijani |
| 6. | Sugar Rush | 2019 | 287.05 | Kayode Kasum |
| 7. | Christmas in Miami | 2021 | 265.58 | Robert Peters |
| 8. | King of Boys | 2018 | 244.77 | Kemi Adetiba |
| 9. | Merry Men: The Real Yoruba Demons | 2018 | 235.62 | Toka Mcbaror |
| 10. | Merry Men 2: Another Mission | 2019 | 234.50 | Moses Inwang |
| 11. | Brotherhood | 2022 | 255.73 | Loukman Ali |
Since its inception, Greoh Studios has only worked with three distribution companies, viz: Silverbird Distribution (Isoken), FilmOne Entertainment (Sugar Rush and Ayinla), and Genesis Distributions (Brotherhood).
Before Brotherhood, Genesis Distributions had never distributed any movie grossing over N100 million. With this new status achieved with Brotherhood, it can be said that product determines success, not distribution.
So far this year, the indigenous epic title, King of Thieves, is the highest-grossing title with N320.80 million realized in total ticket sales. The film was co-produced by Anthill Studios and Euphoria 360. It was directed by Tope Adebayo and Adebayo Tijani.
After its first four weeks, King of Thieves made a cume gross of N233.06 million. Currently, Brotherhood is at N225.27 in its fourth week which means chances of potential takeover is quite possible.
At this number, Brotherhood stands the chance of displacing King of Thieves on the N200M ranking board.
Key Background
Jadesola Osiberu worked at GTBank for a couple of years before she resigned to fully pursue her dream as a filmmaker. She made her first appearance at the box office with Isoken. She's considered as one of the Ndani Mafia—a long list of successful creatives that cropped out from Ndani. Other members include Olawale Adetula, Folu Ogunleye, Deyemi Okanlawon, Mohammed Atta, Adesua Etomi, Sharon Ooja, Daniel Etim Effiong, OC Ukeje, Somkele Iyama, Titilope Sonuga, Bimbo Craig, and others.
Jadesola also produced other TV series like Rumor Has It, Skinny Girl in Transit, and Gidi Up. All of these played a part in her commercial box office success.
Recall on the 14th of September, Jade Osiberu signed an overall deal with Prime Video, making her the first African creative to bag such a deal.
An Insight into Jade Osiberu's Overall Deal With Prime Video
An implication of this deal is that Jadesola and Greoh Studios are tied to Prime Video for the next three years. This implies that 2022 might be Jadesola's last outing at the box office until further notice.
While creating movies and TV series for the service, the deal will help her to push her to new limits of exploration to create global content with local flavour.
The box office will miss her, not only because she understands the market but because she also knows how to execute and present products in the most appealing manner.
Grossing N200 million at the box office is not an easy thing to do. With two of its titles bagging this feat, Greoh Studios as a production studio can be said to have a grip on the market.
It's a cool thing to say that a movie has hit the N200 million mark, but is the return on investment as beautiful as the number in the pockets of producers?
Until the studios make to us privy budget details – a full breakdown still cannot be done.
The Summary
Since the beginning of her career, there have been three phases to Jadesola as a filmmaker.
There's Jade 1.0 at Ndani TV, Jade 2.0 at the box office, and now Jade 3.0 at Prime Video.
The audiences have seen Jade 1.0 and Jade 2.0 and all she has brilliantly offered. Now on another level, her audience is expectant to see what she can give as Jade 3.0.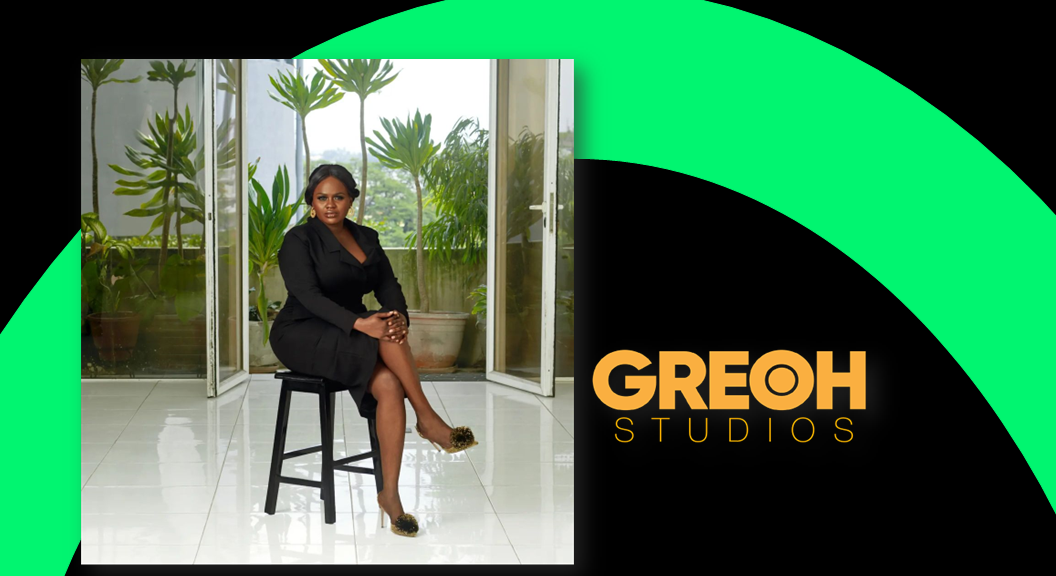 This is a SHOCK Exclusive. Thank you for reading
Shockng.com Covers the Business of Film/TV and the Biggest Creators in Sub-Saharan Africa.
Let's be Friends on Instagram @shockng