The Story ⚡
From the casting process to the approach of how the actors embody their roles.
Here are 7 things you need to know before the coming of "Gangs of Lagos" Prime Video's First African Original.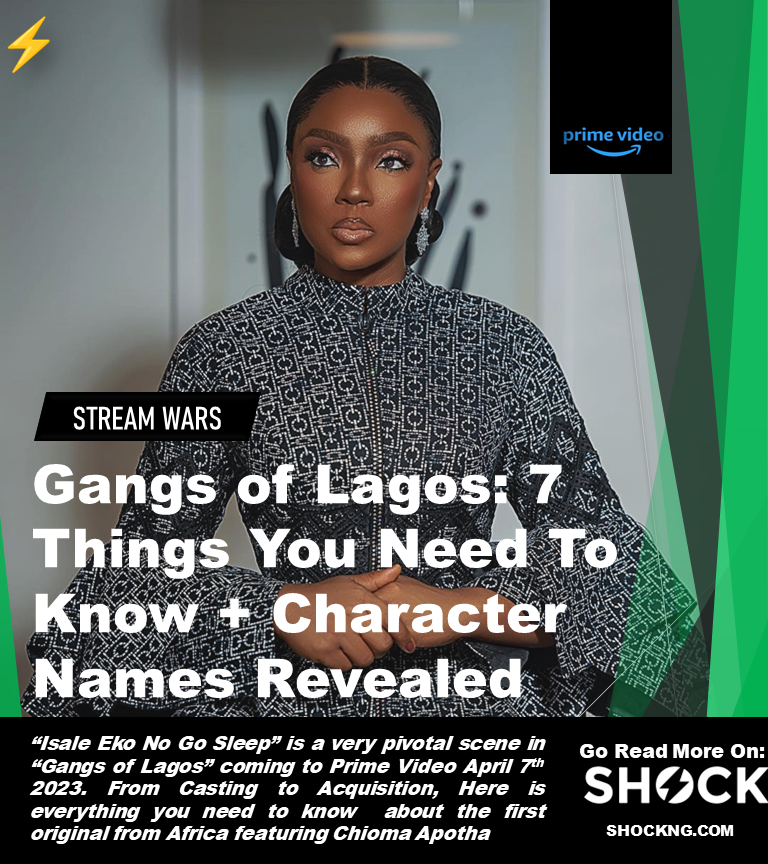 Tell Me More
Gangs of Lagos is a story that represents the "Evidence of Chasing Your Dreams". Gangs of Lagos represents the true stories of the people of Isale-Eko, a story of survival, community and the juxtaposition of crime & poverty existing right beside the metropolis of Lagos.
Best friends Obalola and Ify were born and raised in Isale Eko, where politically affiliated gangs rule the streets. Both have big dreams of leaving Isale Eko; Obalola wants to be a writer, the next Wole Soyinka, while Ify has his eyes set on Afrobeats. But Isale Eko is not a place for lofty dreams.
When their adopted street father Ninalowo is murdered, they join a gang led by Kazeem Olaotan – the chairman of the Road Workers' Union, and Lagos underboss.
Key Cast List
Chioma Chukwuka (Mama Ify), Chike (Ify), Adesua Etomi-Wellington (Gift) , Tobi Bakare (Obalala)
Supporting Cast List
Bimbo Ademoye (Teni)
Tayo Faniran (Ninalowo)
Iyabo Ojo (Mama Oba)
Toyin Abraham (Mrs. Bamidele)
Alabi Pasuma (London)
Idowu "Yhemo_lee" Adeyemi (Muri)
Tayo Faniran (Ninalowo)
Temitayo "Zlatan" Omoniyi (Kashope)
Funke Williams (Blessing)
Damilola Ogunsi ( Ekun)
Adebowale "Mr Macaroni" Adedayo (Wemimo)
Chioma Chuwuka On working on Gangs of Lagos?
Chioma: It was such an experience embodying the character Mama Ify. From the day I got the script till the day principal photography for the character was canned, it was just awesome.
The cast crew and director were all so amazing. We had challenges just like every other film production but because everyone who was in that project came to deliver made it seem like a piece of cake. Mama Ify was or is an Igbo trader who single-handedly raised her children amidst all the challenges she faces in the heart of Lagos – Isale Eko.
What was the most challenging part of playing your character?
Chioma: Having to deliver a heart-wrenching scene to an open space with no actor ( in that scene) to pull strength from. I had to dig deep. I revisited a very painful part of my life.
v
Your character's actions were the catalyst for the film's events, how did you approach portraying such a pivotal role?
Rotimi: In portraying Kazeem in Gangs of Lagos, Kazeem is first and foremost a phenomenal character and a phenomenal person. Now when I say this sometimes a lot of people attack me that Kazeem is a bad person. Being good or bad I always say is a matter of perspective.
You have to first put yourself in the shoes of Kazeem to find out what his mindset was, to understand what he has been through and what has made him become what he has become and I love doing that because I also sat amongst people who have been through a certain kind of life and settings. It was a lot of work but I was able to sit in the role. I was able to push that character and live the character and even I believed the character.
Kazeem is a powerful political figure in the film. What were some of the challenges of playing a character with such immense influence?
Rotimi: To be clear, I have never been involved in a gang war. I've never been involved in a street war and yes, maybe a couple of times growing up you know you've seen certain things flash through your eyesight as you pass but playing Kazeem as that particularly powerful man is an experience I had to borrow. I had to research.
I had to Google people (I don't want to mention certain names but I know that I had to understudy one of the most popular NURTW figures). I was privileged to sit down with some of the people close to them and share how they have been able to use power and their experience to dominate and bettering the lives of people around them and that was what I just used throughout the journey of playing the character.
What drew you to the script and made you want to be a part of the project?
Rotimi: What drew me to Gang of Lagos was the script itself. On the first day, I went to do the close reading with Jade, the language was just beautiful. "Omo alapata ni mi ati kekere ni mo ti ma sa yan." (meaning, I'm a butcher's son and right from childhood I've been made to learn how to butcher things).
You know those lines are lines that sank into my head and the language. As at that time, I didn't even know who was involved in the project. And of course the director, I was just hoping God please let me be able to work with Jade and here we are today.
🗞️⚡Stream Wars: In Gangs of Lagos – Olarotimi Fakunle is KAZEEM!

A ruthless Gang leader but a kind father.

Press Play pic.twitter.com/GMRzRDapu8

— S H ⚡ C K ! (@Shockng) April 1, 2023
How did you bring together the talents for Gangs of Lagos, and do you think they met your expectations?
Jade: I had worked with Tobi Bakare on Sugar Rush, and I had always been curious about him in other roles. Sent him an IG DM saying "look I have something for you, it's quite significant but I'll get Lala Akindoju to train you but I envision you doing it". He was excited and said, "let's do it!" Also with Adesua, I was eager to have her cast in a role far from the pretty girl or the romantic interest. I wanted to see her in something gritty.
I had seen Chike in several shows and I wanted him to play his character who's also a musician. I'm a huge fan of Chioma Chukwuka and I knew I needed her to play a mom. Her scenes were few but I was looking for someone experienced to pull them off because her scenes were heavy. I wanted older actors in various roles.
Ola Rotimi stood out at the auditions and this was amazing because the character he was auditioning for is Kazeem and he has the most unique role. Kazeem's character progression in the film is one that only a talented actor can pull off, and Ola Rotimi fits the bill immediately.
It was a very Yoruba role so I wanted a Yoruba actor to play it. I initially offered the role to a different actor but Demi Banwo recommended Ola Rotimi who's a theatre actor and someone I had never heard of, but at the auditions, he nailed it and I knew I had found Kazeem.
Can you tell us about your experience portraying Obalola in Gangs of Lagos?
Tobi: The character development for Obalola started immediately. I delved into the script. I started building the character in my head. I also was able to go deeper into the creative process when I took lessons with the producer Lala Akindoju and also shared notes with Director Jade. This character was who he was because of his background, and life experiences.
Everything he did meant something or came from an exact place. I could relate to this character so much that we became one all through the time of the shooting. The problem then became unbecoming the character after we finished the shoot. I enjoyed being Oba, and I hope I get to play that character again in the future.
How did you prepare for the role of a character caught up in the world of crime and violence?
Tobi: For the action scenes, we had to take stunt and fight training with one of the best in Africa 'director tough'. I remember feeling muscle pains in places I didn't even know had muscles. We all just got into it. Everything about the project got all of the cast and crew willing to give their best and more. We shot most of the scenes in Isale Eko, the exact neighbourhood referenced in the movie. It felt like art was imitating life right around us. For some scenes we even had the locals join us in the shoot. It felt real on some occasions.
What would you say drew you to your character, Gift in Gang of Lagos?
Adesua: I love to see women in powerful roles. I loved that gift was fearless, I loved that she was physically and mentally strong and I loved her spunk. I also loved how loyal she was to her family. We are very similar and different in many ways and that made her very interesting to me.
Can you tell us about your experience working on Gangs of Lagos, and what drew you to this project?
Adesua: Working on Gangs of Lagos was and is the highlight of my career so far. I loved being on set no matter how hectic it got. I love my cast members and the crew, and I loved seeing the dedication of everybody that worked on this project.
I was drawn to this project first because Jade Osiberu was the creator and director. I was also drawn by the story and the relationships within it and I was drawn to the scale of the project.
Gangs of Lagos is a gritty and hard-hitting action-crime thriller. What challenges did you face while shooting the film, and how did you prepare for your role?
Adesua: Filming in Nigeria can be an extreme sport. Lol.
The question should be, what challenges didn't we face? With that being said, we were extremely lucky to have worked with such a fantastic cast and crew. We all cared about this project deeply so instead of dwelling on the challenges, we focused on finding solutions.
Preparing for this role involved Yoruba lessons, fight and stunt training, character breakdowns, rehearsals with the director etc. At the time I was also going through the experience of being a new mother who was 5 months postpartum and still nursing, so it was interesting, and incredibly challenging, to say the least.
I am so grateful that I worked with kind people – everyone made the task so much easier to execute, and the challenges easier to overcome. Kindness is so underrated.
How did you approach your role as Ify in Gangs of Lagos, and what was your experience like working on the film?
So when I read the script I mean I was excited but I could say that one of the things I did was sample the opinion of the other characters of what they thought about Ify because you know in my head, reading the script I had a certain way you know that I wanted to interpret the role but I also didn't want to be blindsided by the norms of what an Ify should be or what an Ify is expected to be you know so there were directions from the director of course and opinions from the cast and the other characters of how they would perceive Ify so all that helped me play the role.
Your character, Ify has big dreams of becoming a successful Afrobeats artist. What do you think are some of the challenges that young musicians face in Lagos today?
I mean one of the challenges I would say is getting to that point where you realise that you have to do the work. So one challenge that young musicians create is just like what Ify created for himself believing that oh you have to sign with a big record label before you can make any progress so because of how artists in these big labels are doing well it makes any artist who is up and coming or fast rising thinking that that's the first thing you need.
Another challenge is having people listen to and recognize you as an artist and of course, having to fund it because everybody now wants to get paid for their work no matter what.
Shooting Gangs of Lagos
Gangs of Lagos was shot in Lagos Nigeria with principal photography for more than a month. The title is written by Jade Osiberu and Kay Jegede.
Producers' credit includes Lala Akindoju, Akin Omtosho and Jade Osiberu.
Release Date
April 7th 2023 globally on Prime Video.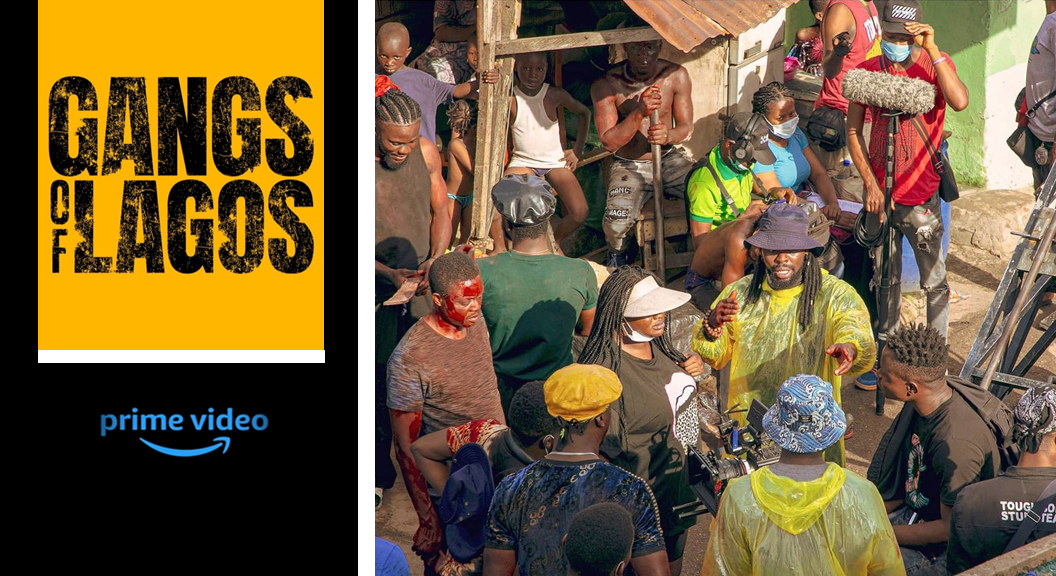 Thanks for Reading.
Shockng.com covers the big creators and players in the African film/TV industry and how they do business.
Let's be friends on @Instagram