The Story
The Nigerian film industry has experienced remarkable growth and transformation over the years, from production quality to technical expertise of creatives, this growth can be attributed to the entrepreneurial spirit of Nigerian filmmakers, the rise of digital technology, and the strong demand for local content.
In this exclusive, Director Moses Inwang takes us through his journey as a film director with over 20 years of experience under his belt. We walk through his journey, producing his first film in 2001 and directing his first film in 2006 how much the industry has changed in a decade + his new slate of projects coming soon.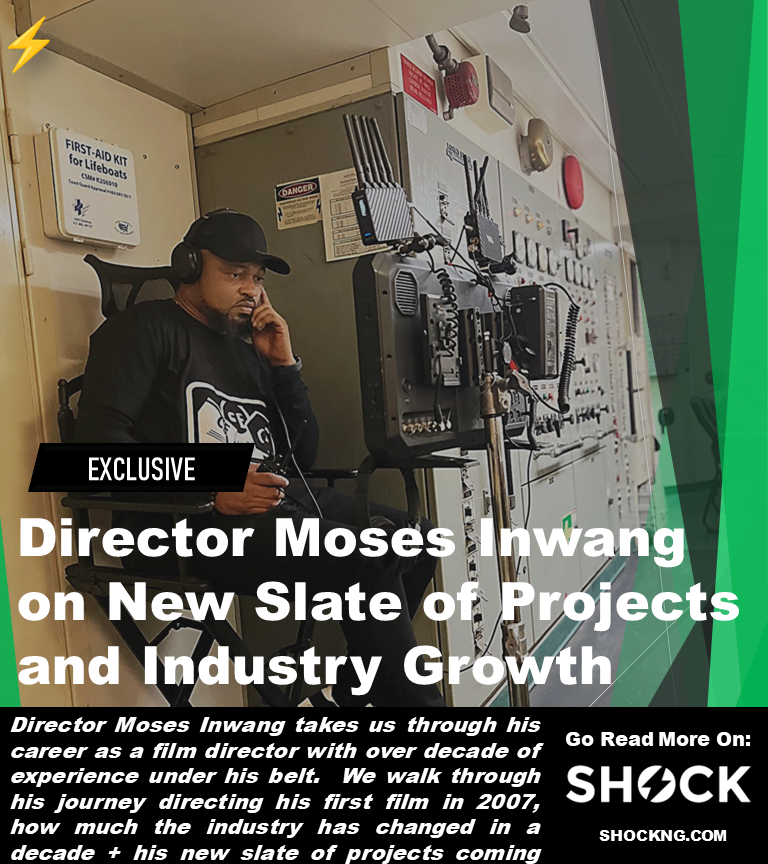 Can you share some of the products you're working on?
In the past six to eight months, I have been occupied with several film projects including Dead Serious. Devil is a Liar, a psychological thriller produced by Hedge Productions, Blood Vessel, and Merry Men 3.
I don't think I've shot films closely scheduled to each other like I've done in the last nine months but I was ready for the challenge and we made some of the best films you will see this year and next. Right now, I am now shifting my focus to post-production work for all these films.
As someone who enjoys the entire filmmaking process, I am always fully involved in the postproduction process from editing, sound design, ADR recording, colouring, and all the other aspects of post-production that are involved in bringing a film to life. So Right now, I'm in the studio doing some awesome work on all of these titles.
Dead Serious is a captivating title from my production company, Sneeze Films, in collaboration with Orange Films. It's a serious comedy filmed in Lagos and Maiduguri last year, and it holds a special place in my heart as it tells a story I crafted many years ago about Love and another highly sensitive topic that deeply resonates with many individuals, particularly the youth – suicide.
The project is produced by David, a talented member of my production team, and features a stellar cast including Sharon Ooja, Sabinus, Nkem Owoh, Deyemi Okanlanwon, and many other talented actors.
Blood Vessel seems to be a large-scale project, tell me more.
Blood Vessel is a Play Network production. Charles of Play contacted me late last year and they said they wanted to make this highly ambitious film and wanted me to direct it. When I read the first draft of the script I immediately called Charles and asked him, Bro are sure you're ready to do this FILM?
He said, let's do it! And that's exactly what we did.
We had auditions in three different states and got some of the most talented young actors and went straight into production. That's pretty much how it happened. It's a very huge project, probably the biggest film I've made.
I'm not allowed to disclose a lot of the details of this project. But this is the film I know the world is waiting for. It's just a whole lot, in terms of spectacle, scale, talent and diversity.
Just wait till you see it.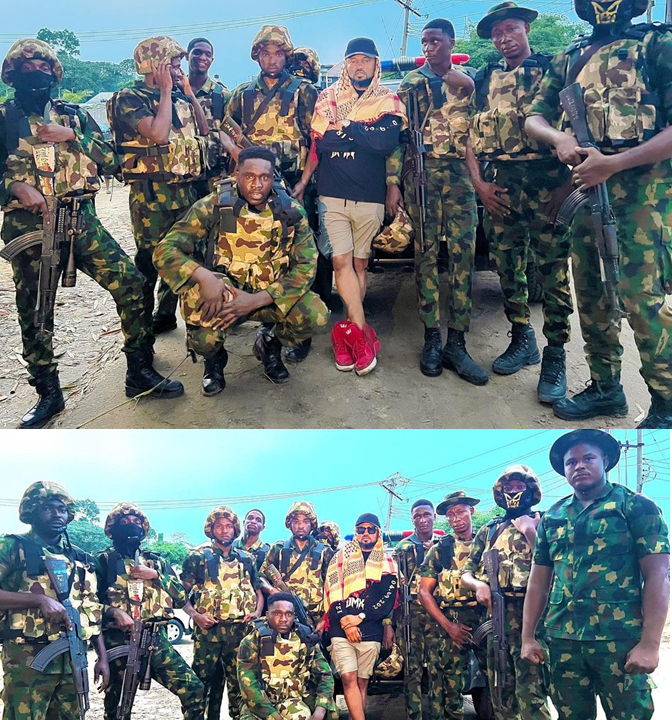 As a well-experienced filmmaker, what type of story or setting do you feel you haven't explored enough and would want to enough in the coming years?
As an industry and as individual filmmakers, there is still a lot of work to be done. We have explored various genres such as action, comedy, and drama, but we have not yet reached the highest levels of filmmaking as an art and as a business like the likes of Hollywood and Bollywood. We need to do bigger and better films to compete at the global level.
But so far we haven't done badly at all. One of the challenges we face is the budget problem, which obviously is an industry problem. A filmmaker cannot be bigger than the industry he works in, you can't be bigger than the available distribution, you can't be bigger than the license fees the streaming platforms and others have to offer to your region.
These are the issues. But we have to keep pushing the envelope and raising the stakes, one film at a time. And soon we can achieve the level of international standard filmmaking we aspire to.
Would you say these limitations have gotten better for you over the years? or it's still almost at the same level you were in when you shot your first couple of films that went to the box office
Look, it's gotten better.
As a filmmaker who has been consistent in making films for the past 20 years, I have witnessed the growth of the industry firsthand. I can say that it is getting better, especially with the prevailing distribution channels and the increasing licensing deals and project commissions. However, there are also some distribution companies that are only interested in their selfish commercial interests and are stifling the growth of the industry and the craft of filmmakers. This has slowed down the growth of the industry and prevented it from reaching its full potential.
As filmmakers, we are fighting against this and trying to ensure that content remains king. Without original content, all other money conversations and business talks are meaningless. We need to focus on creating quality content and ensuring that it gets the recognition and value it deserves. Only then can we truly progress as an industry and achieve our goals of competing at the international level.
What was the first time you went to the box office? And what was your experience in terms of box office revenue at the time?
It was a film I made in 2007, and we released it in 2008. It was at New Metro Cinemas being run by some foreigners. At the time, the two existing cinemas I think were Silverbird or Nu Metro cinema. By that time, none of them were showing local films. It was just the Hollywood films that were being screened. It was just two cinemas anyway, one at the Palms Mall and then Silverbird.
So we approached the New Metro with this film. I said, look, this film is really good. You should screen it. They saw it, they liked it, and they put it on. The awareness wasn't that huge at that point, it was just a starting point for us. But I think that was my first experience on the big screen.
I was making big films, big-budget films. At the time, if you make a ₦10 million film it means that's like the biggest budget film that you made. I'm talking about the entire industry. I think that film got up to ₦ 30-something million at the time. The title of the film is Cash Money, it was funded by Bank PHB and one other private equity investor. It had some of the top actors in it.
I think then HD was just coming to play, and I quickly grabbed a couple of those cameras and we did a camera shoot, which was a spectacle to behold at the time. So we did a showcase, New Metro liked it, and they put it on for a couple of weeks. And yeah, that was the first experience for me.
Although I was contracted to direct. I didn't follow up with the business side of things. I do know that they took it outside the country to get some distribution opportunities. The existing market for films was the Alaba and Idumota VCD market. And of course, at that point, there was no film of such quality in VCD, so it was a big deal for some of the distributors at the time.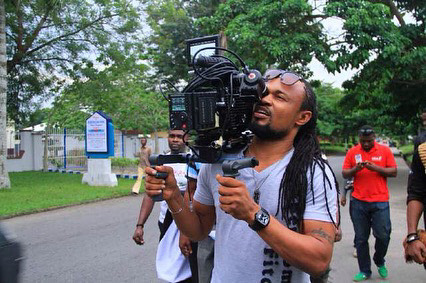 Has there been a significant increase in the pay for a director for hire in comparison to earlier years?
Despite the increase in the budget for films, the industry is still not where it should be in terms of pay for filmmakers. Many people who went to film school with me are now in Hollywood earning big bucks, but I find myself in Nigeria where cannot ask for that level of pay in Nigeria because the industry is not that big yet.
However, there has been a significant difference in pay from when I started to now. I can say it's better than many other industries in the country. But it's not near where our mates are, even though some producers here still think my fees are on the high side. Sometimes when charge producers my fee, they say it's enough to make another entire film. Funny right? But we're not even where we want to be yet.
Overall, the industry needs to grow more in order for filmmakers to earn the pay they deserve.
How do you manage producers or executive producers not influencing your creative decisions?
well, their input can be valuable, so it's good to listen and apply if it works for the film. However, as a director, it's important to maintain control and make the final decisions. If a producer suggests something that doesn't work for the film, it's important to politely explain why it won't work and find a solution that does.
Ultimately, filmmaking is a collaborative effort and everyone on the team has something to contribute. As a director, it's important to be confident in your vision while also being open to input from others. By working together, we can create something truly great.
The biggest issue I have with most Nollywood producers is their tendency to cut corners and compromise the quality of the story in order to save costs.
Producing is a skill that requires a lot of knowledge about the filmmaking process, including budgeting, scheduling, choosing the right crew and cast, and ensuring that everything is in place to make the film the best it can be. It's not just about having access to funds. Producers are quick to grab scripts with cars exploding and people jumping between buildings but when it gets to achieving these things they are quick to compromise because they suddenly can't make available the line items for these to happen. This is not a sustainable approach to filmmaking and it ultimately hurts the industry.
Producers need to understand that their role is not just about securing funds, but also about ensuring that the film is made to the highest artistic level possible. This requires competence and a deep understanding of the filmmaking process.
As a director, I strive to work only with producers who understand the importance of quality and are willing to invest all available effort in the film to make it the best it can be.
It's important for Nigerian filmmakers and producers to understand that filmmaking is more than just putting a camera in front of actors and pressing record. It requires planning, preparation, and attention to detail. It's not about cutting corners or settling for less than what the story requires.
Production companies and Film executives need to be professional and take their craft seriously.
This means hiring trained producers who can help manage the production and ensure that everything runs smoothly. It's important to have clear communication between the director, producer, and crew to ensure that everyone is on the same page and working towards the same goal.
Too often, Nigerian filmmakers prioritize personal relationships over professional experience and expertise. People will make their family members a producer over a thorough professional. This can lead to poor-quality films that lack coherence and fail to engage audiences. It's time to prioritize quality over personal connections and take Nigerian filmmaking to the next level.
In order to achieve this, there needs to be a shift in the industry. Producers and directors need to work together to create a culture of professionalism and excellence. There needs to be more investment in training and development, and more opportunities for young filmmakers to learn from experienced professionals.
By elevating the standards of Nigerian filmmaking, we can create films that not only entertain but also inspire and educate audiences. It's time to take our place on the global stage and show the world what Nigerian cinema is capable of.
In terms of your philosophy for making films, what influences your filmmaking?
There are directors that I admire for their work, their pictures, their composition, and the way they go about achieving the things they achieve in their pictures.
James Cameron. I went to see Avatar 2 and I've never had such an immersive experience by a film. He is a master at creating immersive worlds and pushing the boundaries of technology to bring his visions to life. His attention to detail and dedication to his craft is evident in every frame of his films.
As a filmmaker I always strive to improve my craft, to push the boundaries of what is possible, and to create films that are not just entertaining, but also meaningful and impactful.
If you were to give yourself advice ten years ago, what advice would it be?
Go to Hollywood, don't wait, don't stay in the same place. Just do everything to get out there. Yeah, it's happening for me here in Nollywood I'm not going to lie. We're heading somewhere great, the future looks bright. But looking back now, I feel like I should just have been out there doing big things, doing 25-million or 200-million-dollar films. I could have been doing that right now. If I tell myself that I should have done that a long time ago when I was free like a bird to just go anywhere I want.
But I don't regret my decisions because I think that we all have a unique purpose in life. If I had left the country my life would have turned out differently, and my kids would have been different people. But I love the ones that I have here so much and I'm glad I met their mother here.
So, wherever you find yourself, appreciate what you have going on.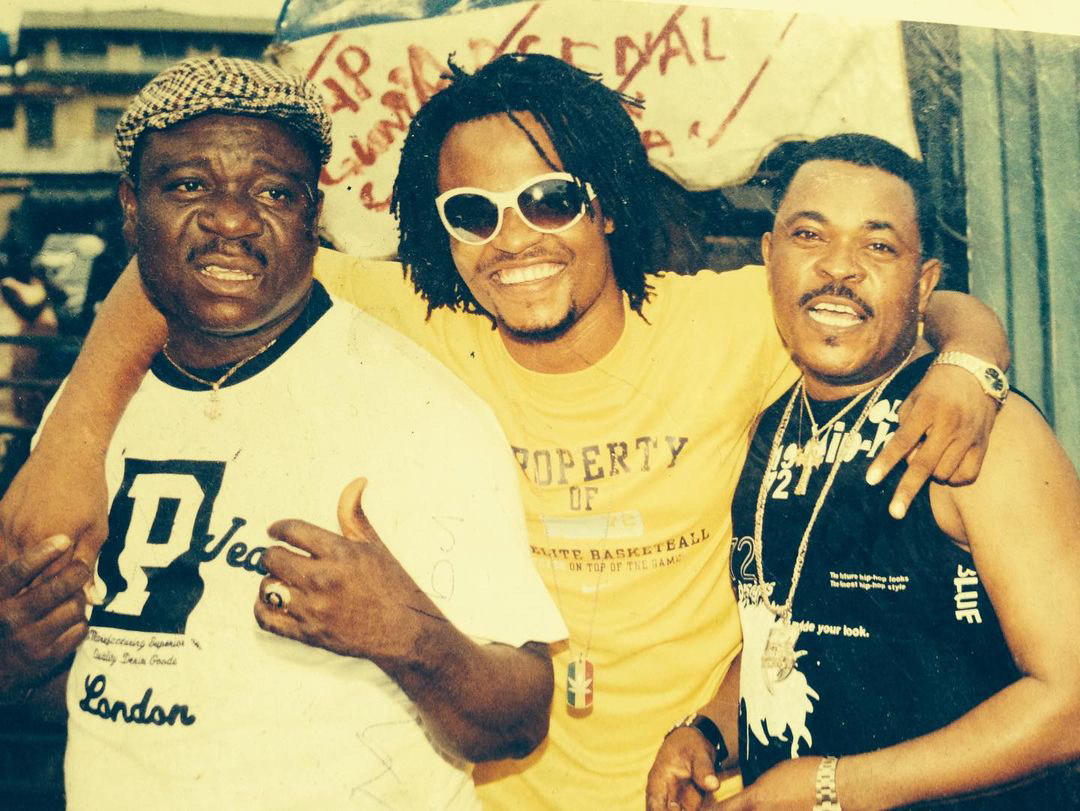 How do you manage fatherhood with filmmaking?
For me nothing and no one comes before my kids. I would rather cancel everything that is going to come between me and my kids. I love my two sons so much. Sometimes I hate that I have to work, and work would keep me away from them. Sometimes I hate that. I'm not like a lot of other people, I can't live away from my kids, so if we're going, we're all going and if we're staying, we're all staying.
I can't stay without them for weeks going. So when I'm working, if it's in a different state, the weekend, I always fly them in to just be with me for the weekend. When I'm filming in Lagos, then it's much easier. That's how I'm wired, it doesn't interfere with my work.
Thank you for your time, Director.
Thanks, Shock