The Story⚡
2022 is wrapping up and Inkblot is ready to face the box office consumers again.
Here is everything you need to know + the big question everyone really wants to know – does the Inkblot big screen rep still hold?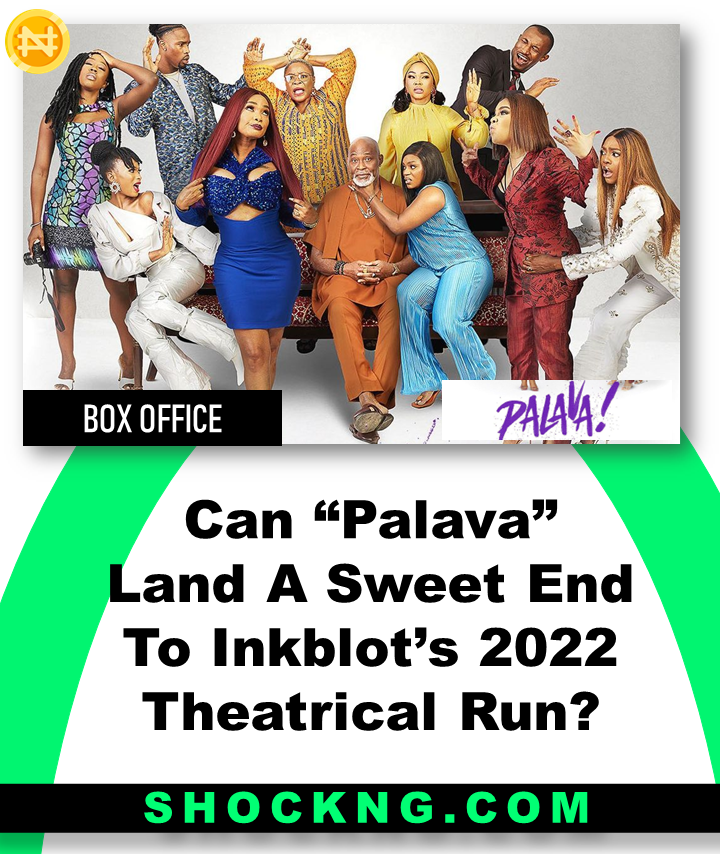 Tell Me More
Written by Anne Icha and Naz Onuzo, directed by Niyi Akinmolayan. Palava will debut nationwide on the 9th of December.
The comedy-drama tells the story of a high-life musician in the middle of a resurgence, whose life and family is turned upside down when a scandal is revealed on the eve of his 60th birthday.
Leading the ensemble cast is Richard Mofe Damijo, Bisola Aiyeola, Beverly Naya, Jemima Osunde, Neo Akpofure, Gideon Okeke.
Watch Trailer
Box Office Acceptance
Inkblot has the highest number of domestic titles this year but what are the results so far?
it hasn't been all that spectacular and acceptance has been tough. The blood Covenant still holds as the strongest outing with the title having the strongest opening 7-day demand and overall gross cume.
Based on this data, a very special hope is that Palava does well and lands the production company a sweet end.
A north of N100M cume is perhaps a good signal.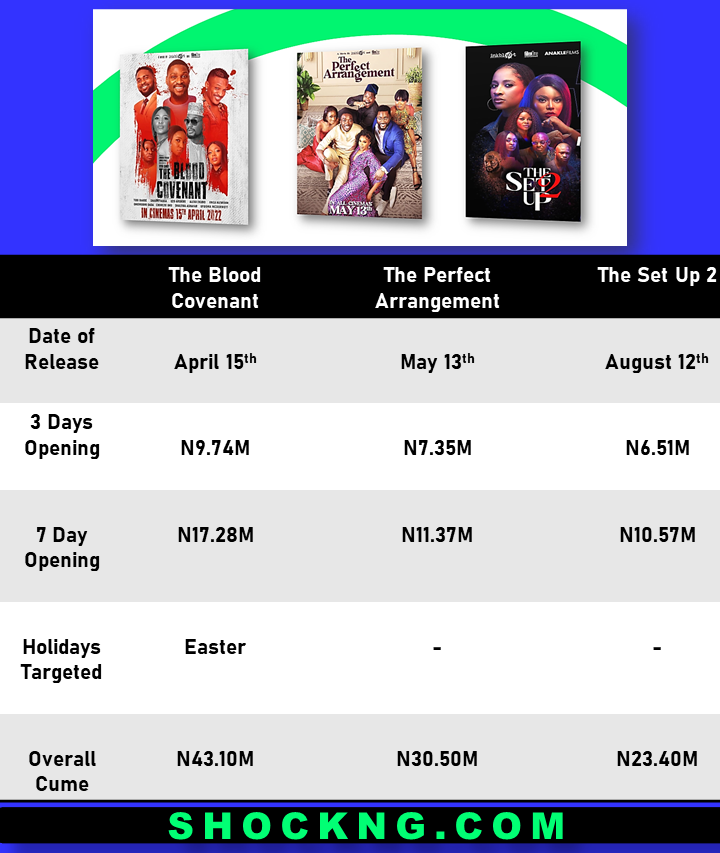 Output Deal
Early in the year, Prime video confirmed it signed an output deal with Inkblot. A great win for the company that had been consistently bringing products to the Nigerian box office.
This meant that their movies would have a home after a theatrical run is concluded. This deal matter greatly in two significant dimensions.
Revenue: In an output deal, no stress period waiting to hear back from the streamer on if they are interested or not. Licensing is pledged. Constant revenue is guaranteed for the company. What T's and C's that have been agreed upon are invoked once the product is done.
Increased Output: Per sources, inkblot's deal is 7/8 films per annual calendar for 3 years. This scales up the product line, more work for creatives and steady cash flow. This impacted the number of films headed to the box office and directly lands on the streaming platform.
In Summary
Palava's theatrical debut commences this Friday 09th December 2022. in competition with it for attention and screens are: Rising City of Dreams. Black Panther 2 and The Stand-up.
it has 7 days to prove its demand position ahead of the big 3 trios: Battle on Buka Street/Avatar 2/ Ijakunmo.
How do you think this all plays out? Share your thoughts with us.
🎄⚡️🤑Detty December Wave is here.
To understand how movie consumers are spending their hard-earned money, follow our special December office coverage with new data and insights every day by 1 pm only on @shockng