The Story ⚡
King of Thieves, an indigenous box office title has delivered over N240 million in ticket sales.
What's on the mind of its producers, cinema operators and industry aficionado is the question: is there enough demand to boost the title earnings by over N300M?
Tell Me More
King of Thieves produced by Euphoria 360 studios and Anthill Studios has set the box office on fire with some unexpected numbers right from its debut.
The data from the visual chart below shows how the indigenous title opened with over N42 Million in its first 3 days and 27 days later from its debut the picture has dashed into a mellifluous pool of N249 Million in ticket sales.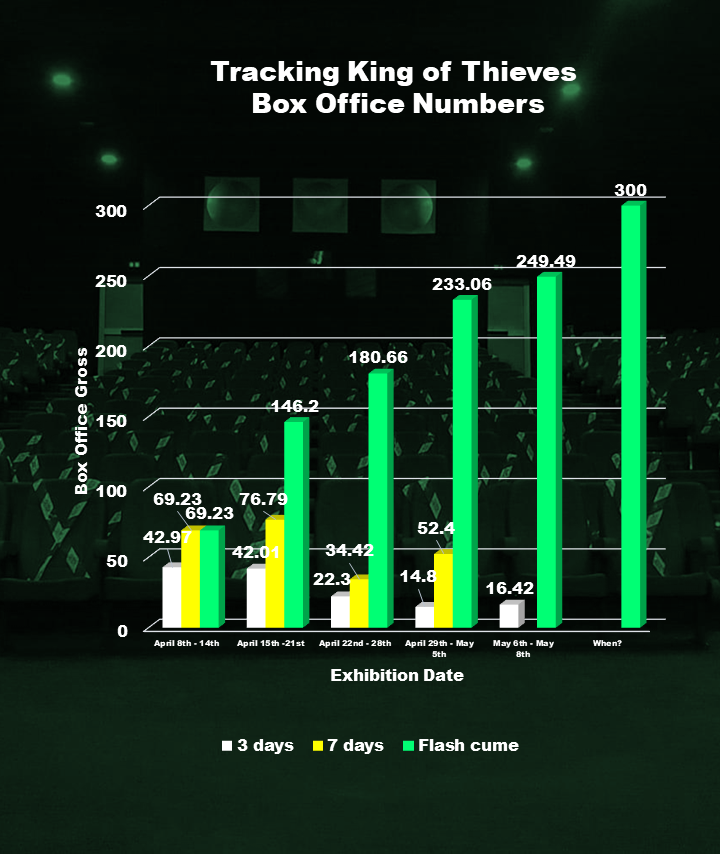 A closer look at the charts divulges how the week on week consumer demand of the picture doesn't follow the downward trend of ticket sales.
First week: N69.23 million
Second week: N76.29 million
Third week: N34.42 million
Fourth week: N52.40 million
This data matters because the title was released in a April that hasn't proven to be a window to mint a N200M blockbuster.
Ticket sales history of the NGN Box Office has shown how the dec/Jan influx is super critical for N200 million club members as seen in Christmas in Miami numbers.
Christmas in Miami
Christmas in Miami in its opening weekend made a ticket sale of 60.38 million in 3 days and a flash cume of 127.6 million.
These figures are driven up due to the December influx that consumers are known to increase their entertainment budgets.
In its second week, it made a sale of 42.91 million and 78 million at its weekend and seven days gross respectively. This clearly shows a steep fall from its opening week with a flash cume of 205.78 million at this.
From the 3rd week, a downward trend continues as the consumers switch from celebratory mood to savings mood.
Box Office Comparison
Though it is not enjoying the kind of December/January influx that set Christmas in Miami high in its opening week, King of Thieves has been able to rise to 249.49 million, beating Christmas in Miami numbers week on week up until the 3rd week period (Dec 31st – Jan 6th cash influx) wherein its numbers were boosted.
The data hints that King of Thieves has a good chance of cracking the N300 Million mark based on its current trajectory.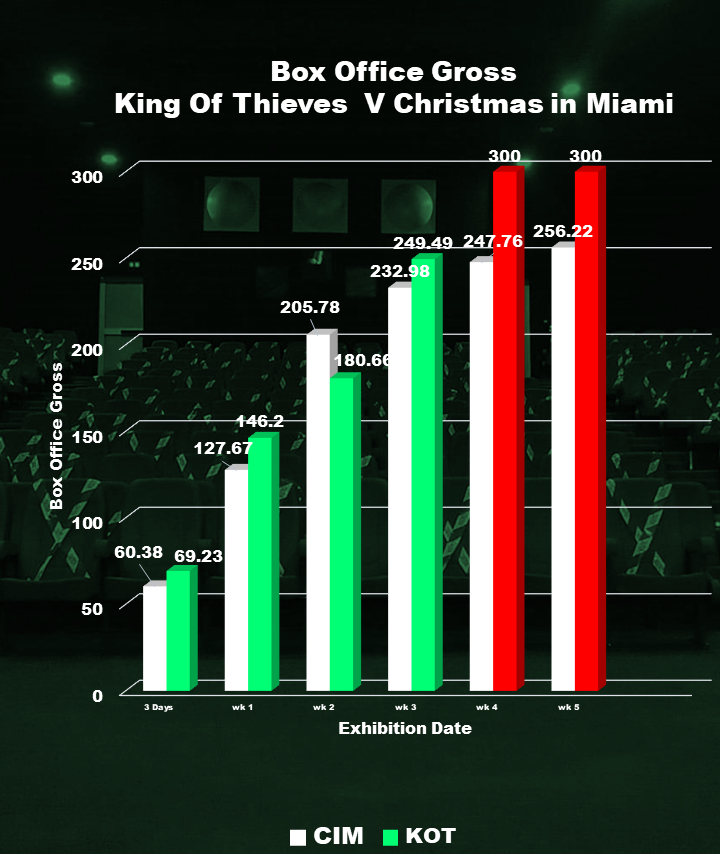 The numbers are encouraging enough, and they are speaking that it should also be able to rise to the 300 million bar in the coming weeks.
Conclusion
In its third week, King of Thieves has made a flash cume of 249.49 million, which has a very close margin to the 256.22 million that Christmas in Miami was able to make in its fifth week.
At this point, we predict that King of Thieves will excel above Christmas in Miami in its fifth week and should be able to hit 300 million.
This is a SHOCK Exclusive – Thank you for reading
Shockng.com Covers the Business of Film/TV and the Biggest Creators in Sub Saharan Africa.
Let's be Friends on Instagram @shockng