The Story ⚡
Here is a report of how cinemagoers spent for the Friday weekend of May 13th 2022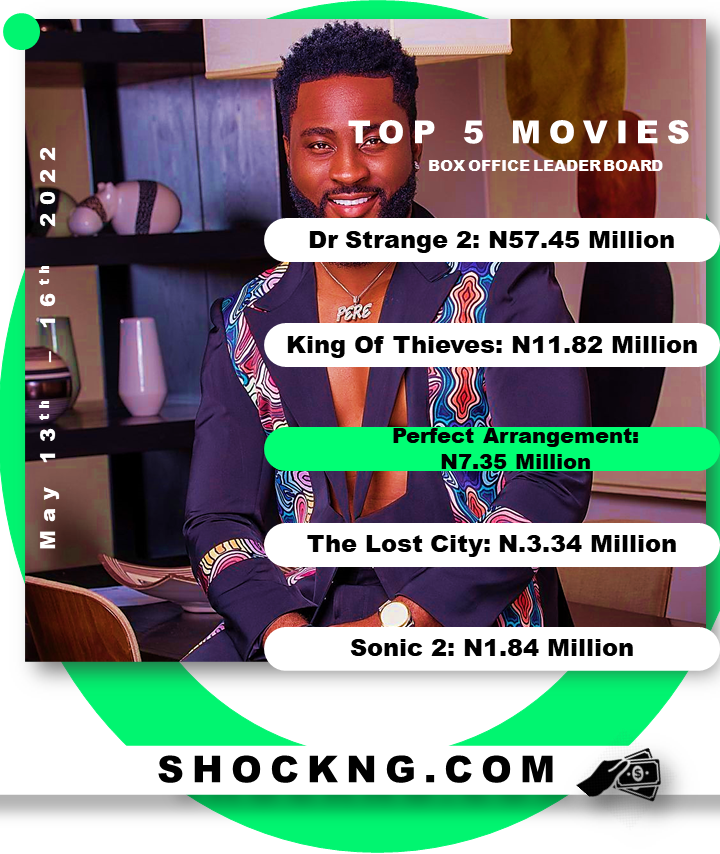 Tell Me More
Taking the fifth rank is Sonic The Hedgehog 2, directed by Jeff Fowler. After its 6th week in cinema, the game based animation IP made a ticket sale of N1.84 million last weekend, this pushes its cume revenue past the N106.64 million mark.
Coming in on number 4 is The Lost City. This weekend officially makes it 4 weeks at the big screens so far, the film made a sale of 3.34 million, pushing the total sale of the movie to N47.18 million.
The Perfect Arrangement, directed by Chinaza Onuzo, starring Bovi Ugboma, Mr Macaroni, and Sharon Ooja in a sibling love triangle arrived as the third top earner last weekend. Debuted last weekend, it made a gross revenue of N7.35 million. This metric reveals that despite the star power of a popular comedian and a BBN ex-housemate, the market demand still couldn't pull double digits.
Following its release six weeks ago, the epic film jointly produced by Euphoria 360 and Anthill Studios is still raving hard.
King of Thieves ranks second with a 6th weekend double-digit gross of N11.82 million. It is beautiful to watch as this indigenous production is warmly received by moviegoers.
Presently, it has made a cume revenue of over N268 million.
Topping the chart is Doctor Strange in The Multiverse of Madness which made a weekend sale of N57.44 million. Barely in its second week in cinema, the marvel IP has made a heavyweight sum of N238.86 million. No doubt, this film has a special place in the heart of moviegoers as it officially charts as the highest-grossing Hollywood film released in 2022.
Projections for the film indicate that the title might double this number in the next 3 weeks and that would just be madness.
This is a SHOCK Exclusive – Thank you for reading
Shockng.com Covers the Business of Film/TV and the Biggest Creators in Sub Saharan Africa.
Let's be Friends on Instagram @shockng