The Story ⚡
Here is an insider exclusive from Biyi Bandele, the co-director of Netflix's Blood sisters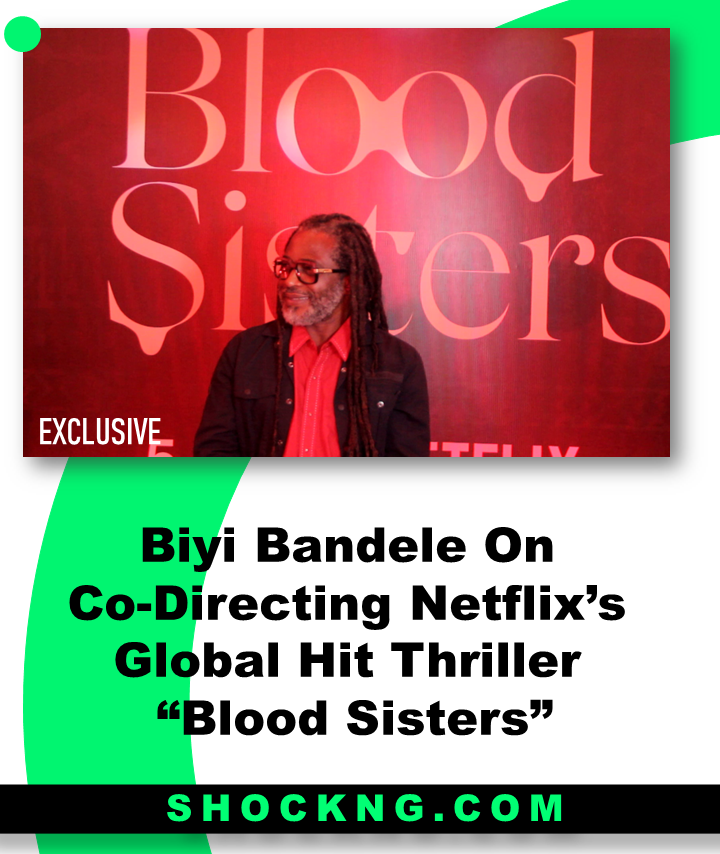 Tell Me More
Blood sisters shot last year for 3 months in and around Lagos and the director shares the scene that kept him up at night thinking of how to execute, how he met Kenneth Gyang and the actor that really was masterly with the camera.
Watch Right Now
Biyi: I directed Volumes 1 and 2 of blood sisters. It was such an ambitious shoot. We had literally thousands of people like extras and HOD knows how many locations. So, that was quite demanding.
But, there were two shots that really kept me awake weeks before we shot them. The first shot is actually the opening, the opening, the first scene in the entire series in volume 1. We shot it somewhere in Ikeja, on a street where a real red-light district.
So, when viewers see the film, they will see my actors but a lot of people in it are people who actually do things there. But, it went well. The scene that gave me headaches was the scene involving wild dogs, wild African dogs.
During production, i said for this scene if I could get wild dogs, that would look good and someone said oh, I know someone who can. That's how we had the dogs.
We met these dogs around 2 am. The night we shot it, they were really wild in the sense that you could not approach them. They are trained by the guy who owned them.
When you saw them around him, I swear to God they treated him as if he was one of them.
And you could see the way he was interacting with them and he knew they could just tear persons into pieces including himself so he was very, he treated them with a lot of respect. But it also meant I could not direct them because I could not go too close to them.
So, we did all sorts of things and in the end, we shot the scene that we needed to shoot with them at about 5 am.
And for like 45minutes they just did whatever they wanted to do and they began to gather again to the scene and they gave us exactly what we wanted.
So that scene was just amazing, I didn't direct it, the dogs just did their thing.
Apart from that, in the film just working with all the actors and then Ramsey who I never worked with before, it was just a joy watching him interact with the camera.
He was just masterly. There were lots of scenes where he doesn't have a word of dialogue but he carries it. He just goes with it.
The girls were amazing. Everything is scripted but we, played with it, and we worked on it so that it sounded the way we speak.
Working With Kenneth
It's great working with Kenneth. You know, Kenneth and I, we have a couple of things in common, he was born in Jos, I was born in Kafancha. That road, where I was born, was over 30minutes from Jos.
My ancestry is Abeokuta but I've never lived there. So, the last time I saw Kenneth before we did this together was at the New York African film festival where his film confusion Na Wa was screened.
I liked the film a lot and we connect.
So when Mo phoned me and said we've got this thing called blood sisters and we would like for you to direct a couple of episodes and we would like Kenneth to do the same.
I'm like great, let's do it.
For the series, we didn't actually direct any scene together.
We were shooting two parts almost simultaneously. Which was insane and we exchanged a lot of notes, we talked a lot, but we were just doing our thing but it was great.
It was lovely, we had a great crew, had some amazing actors, and the script was really good.
I'm nervous because you never know how audiences would react to anything. You know, but we love it.
This is a SHOCK Exclusive – Thank you for reading
Shockng.com Covers the Business of Film/TV and the Biggest Creators in Sub Saharan Africa.
Let's be Friends on Instagram @shockng